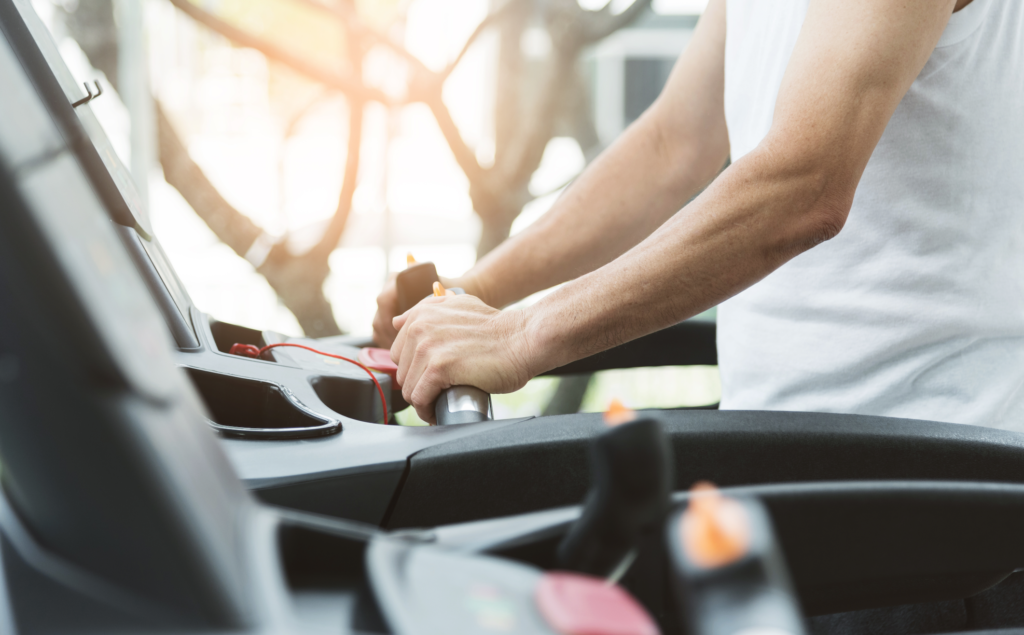 ProForm's 705 CST is a feature-rich treadmill at an affordable price. The 705 CST has a roomy deck, good shock absorption tread, and a quiet motor. It can also reach a top speed of 12 mph and 1a 2% incline for a lot of training variety. 
You can begin sweating with its 22 onboard programs or tread forth with its iFit-enabled capability to give you plenty of interactive workouts. Once you're done, you can easily fold the 705 CST to save some training space.
If you're looking for a quality treadmill on a budget, the 705 CST could be a great fit. But before you make that decision, make sure you read this review.
In this article, we'll take a detailed look at everything this treadmill has to offer. After reading, you'll know everything you need to to decide whether or not this is the right treadmill for your home gym.
Let's get started.
The ProForm 705 CST Treadmill
ProForm is owned by the ICON Health & Fitness company. ICON is a behemoth in the fitness world. It's a Utah-based gym machine manufacturer and owns many other commercial brands you may be familiar with, like NordicTrack and Freemotion.
ICON is also the parent company of iFit. So there goes the answer to why all fitness brands owned by ICON have iFit-ready machines.
ProForm specializes in budget-friendly home fitness equipment. Depending on your budget, they have many great options for cardio, HIIT, and elliptical trainers, but their treadmills are a huge hit. 
ProForm is one of the fantastic fitness brands, and they're known for having feature-rich equipment with long warranties. If you want to enjoy a lifetime guarantee for your machine, you'll love ProForm's higher-end selections like the Power 1295i treadmill.
I'm especially fond of this high-performing machine and it's a great bang for your buck. 
Their 705 CST has one of the longest warranties in this price range, but we'll discuss that later as we move forward with this review.
Pros
20″ x 60″ running surface

2. 75 CHP motor

Cushioning system

325 lb weight capacity

Folding deck

Max speed of 12 mph

Max incline of 12%

iFit-enabled

2" dual speakers

5" backlit display

Grip pulse heart sensors

Tablet holder

Cooling air

Decent warranty
Cons
No telemetry heart rate monitoring

Not strong enough for serious running
Running Surface
Let's begin by looking at the running surface. What I'm more interested in is the dimension of the running surface as it can tell a lot about the treadmill.
In case you're new to treadmill research, the running surface is the area you'll be walking and running at during your workouts.
It's also known as the deck or belt size. Its dimensions are measured in inches and are usually written in "width x length". (You can also check this guide for a more comprehensive tip.)
A bigger running surface is better as you can have plenty of room for your training. Too small of a belt size and it can make you feel confined or claustrophobic.
The length is important to make sure there's enough room to stretch out comfortably, especially if your routine involves running at higher speeds. This is also very important for tall users.
Width size indicates the elbow room. It's equally important with the belt length as it ensures you can comfortably wiggle from side to side.
A good running surface measurement is 20″ x 60″. It gives most people enough range of motion to feel comfortable, meaning you won't feel like you're walking or running on a tight rope.
Many models in this price range offer this much room, and the 705 CST easily checks this mark.
ProForm's 705 CST treadmill has a running surface of 20″ x 60″. Its spacious track makes it ideal for both running and walking exercises. It can accommodate a lot of heights and gaits, allowing you to sway a little safely during your training.
The 60″ length is fantastic for 6-footers. You can stretch out completely with the 705 CST and sprint comfortably without shortening your stride.
Besides its spacious deck, the 705 CST is designed with the company's ProShox™ Cushioning system. This works by absorbing the impact and reducing stress on your joints.
Thereby, as you walk, jog, or run with the 705 CST, you'll have a softer landing with every step. This makes it ideal for those with arthritis or joint concerns. You'll be able to enjoy a longer workout and faster recovery time.
Many 705 CST owners report how this machine is a game-changer for their joints. Running at home is smoother and safer for their feet, ankles, knees, and hips, compared to running on pavements.
The 705 CST comes with a heavy-duty frame. It's strong enough to hold users weighing up to 325 lb. 
Most treadmills at this price point offer a 300 lb frame capacity, so it's nice to see that the 705 CST goes beyond the average. At 325 lb, it can safely accommodate many users wanting to stay fit at home.
Its frame also folds for easy storage. You can save some training space right after using the machine. With its SpaceSaver design, folding the unit is very easy. You won't have to worry about lifting the heavy deck on your own.
So far, I'm enjoying the specs of the 705 CST. It has met my standards in terms of a comfortable deck, great cushioning system, a durable frame, and a space-saving feature. 
Motor
Now we'll move on to another key factor when choosing treadmills- the motor. When in doubt, remember the golden rule for motor strength: the stronger, the better.
A higher continuous horsepower (CHP) tells you that the motor is strong enough to handle any of your intense workouts. It can keep up with your training without having to work twice as hard. 
Treadmills with stronger motors operate quieter too, but I think it's a bit theoretical. There are stronger motors that release noticeable sounds during training, and some weaker ones are surprisingly quiet.
Quiet or not, it's best to always go for motors with a higher CHP for more efficient exercises at home.
If your routine involves running and sprinting, it's a good idea to look for at least 3.0 CHP. For low-impact exercises like walking, you can get along fine with less horsepower.
The 705 CST has a 2.75 CHP motor that can reach a max speed of 12 mph and a max incline of 12%. This power is very ideal for casual walkers and low-impact cardio training.
The 705 CST should be able to handle runners as well, but serious sprinters might consider models with more muscle under the hood. Again, go for those units with 3.0 CHP and higher.
Its 0-12% incline capability is impressive for this price range. You can condition your body for any hill or valley. 
Combing both speed and incline settings give you a variety of training options. If you want to burn more calories from a simple workout, consider walking at an incline.
Using the iFit with the 705 CST lets you enjoy training with Google Maps. You can train at any 7 continents and the machine will automatically match the incline with your chosen terrain. 
I've got to be honest, it's one of the most impressive interactive workouts on the market. You can visit and workout in any part of the globe without leaving home. It's the perfect training tool nowadays that we're spending a lot of time indoors.
The rollers are the parts that make contact with the belt, causing it to propel down the deck. Large rollers measuring 2″ and above are preferred, and they are often found in more powerful and sophisticated treadmills.
The 705 CST comes with 1.9″ precision-machined, balanced, non-flex rollers. These are a little on the small side, but fairly common for budget models.
Overall, when it comes to the motor, the 705 CST is packing enough power to comfortably handle walking and jogging without skipping a beat. Serious runners may want to consider a stronger machine.
Features
The ProForm 705 CT comes with the following features:
22 workout programs: It has 22 built-in workouts, which is generous at this price point. They're created by expert personal trainers and should offer you a variety of exercises to target any of your fitness goals.
If these are not enough to spark your motivation, you can spice up your routine with the iFit app.
iFit-compatibility: Like all other ProForm machines, the 705 CST is iFit-enabled. You can sync your iFit with the machine and enjoy the unlimited access to all sorts of exercises. You can check your progress data, have virtual exercises with training coaches, run with Google Maps, and even challenge another iFit user if you like a little competition.
The catch is that iFit isn't for free. You need to pay a monthly fee to enjoy this treasure trove of interactive training. 
5" backlit display: You can easily and comfortably see your progress metrics with its crisp LCD. You can watch your mileage, speed, calorie burn, heart rate, and time add up. And if you've synced your iFit with the 705 CST, you can conveniently watch your virtual training classes and terrains from Google Maps.
EKG grip pulse: Monitoring your heart condition is very important for a healthy and safe workout. The 705 CST has contact pulse sensors located on its handlebars. 
Grip pulse monitoring is good, but it has some disadvantages too. One of which is that you need to hold the handles firmly before a reading is achieved, and it might not be even accurate. Sometimes it can be inconvenient grabbing onto the handles when you're sprinting.
These problems are easily solved with a chest strap heart rate monitor (telemetry). However, the 705 CST isn't compatible with chest straps.
2″ dual speakers: The 705 CST has an audio auxiliary port that allows you to listen to your workout playlist at a higher volume. You'll be able to hear your music or videos with less complication. 
Tablet holder: The built-in tablet holder makes it easy to multi-task with the 705 CST without blocking the view of your console. Now, you can easily watch videos or check your social media.
Cooling fan: The 705 CST can keep you cool while working out with its two-speed fan settings.
Assembly
The 705 CST takes a simple assembly process before you can begin your in-home training.
I think ProForm does an amazing job with their assembly instructions. They've incorporated well-written instructions and images to describe clearly what needs to be done.
You might need a screwdriver to piece some parts together, and another pair of hands to assist you. Remember, treadmills are large, heavy pieces of equipment and safety comes first!
Overall, most people should do fine setting up the 705 CST without professional assistance. Most folks were able to get theirs done in an hour even without a technical background.
Warranty
The 705 CST is backed with the following warranties:
Frame: 10 years

Parts: 2 Years

Labor: 1 Year
I think ProForm has recently changed their warranty program. I feel like they used to offer lifetime warranties on pretty much all their frames- now it looks as though 10 years is their new standard.
It's a shame, because most high-end competitors are still offering lifetime guarantees on the frames.
The 2 year parts and 1 year labor warranties are pretty standard for this price range, no complaints there.
Final Thoughts
ProForm's 705 CST treadmill has a lot to offer for such an affordable treadmill- it looks like ProForm's reputation has been well earned. 
This treadmill is more hi-tech than most in this price range. With 22 built-in workouts and the option for more through an iFit subscription, this model is a smart choice for people looking to maximize workout options.
It also comes with a surprisingly spacious running surface.
With the motor strength where it is, the 705 CST is better suited for walking and jogging than it is for running, but it should work great for these lower intensity workouts.
Overall, the 705 CST is a great choice for those looking for a budget friendly treadmill. However, if you're looking for a little more muscle under the hood (and a better warranty), you might want to check out the Sole F63.