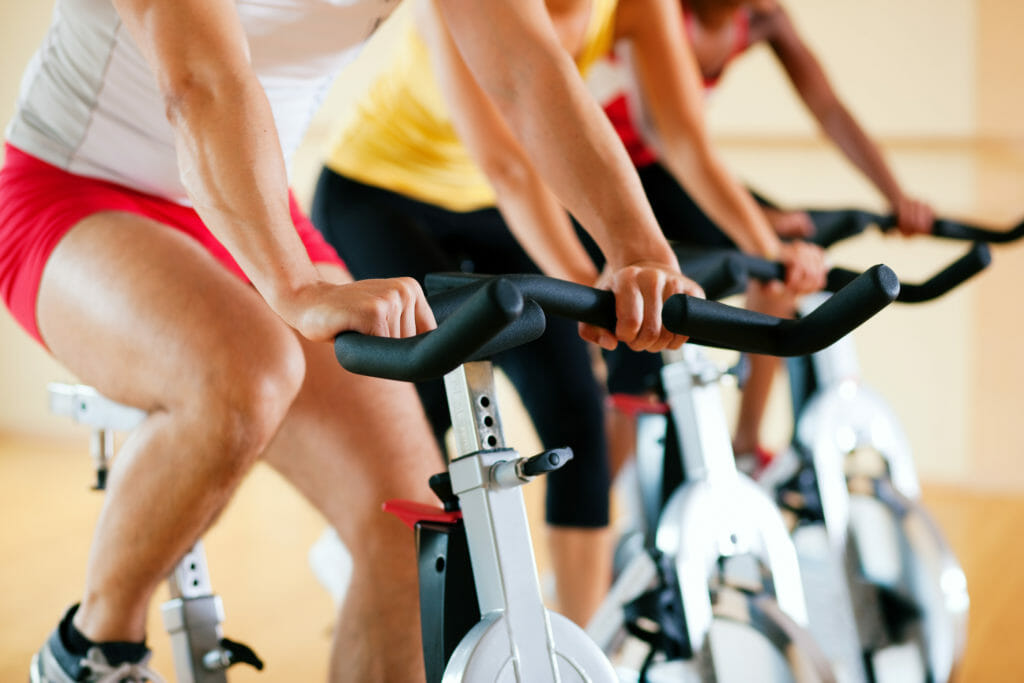 The ProForm 300 SPX Indoor Cycle Trainer is a budget friendly spin bike that's sporting a very well known brand name on its side.
With an asking price under $500, the 300 SPX is lacking many of the fancy features you'd find on more expensive models. But with a 44 lb flywheel and a fully adjustable seat, this bike has what it takes to provide a solid workout.
This spin bike is also backed by a surprisingly solid warranty, considering the price.
Overall, if you're looking for a straightforward, affordable spin cycle to add to your home gym, ProForm's 300 SPX might be just what the doctor ordered.
But before you buy, read this review. In this article, we'll take you on an up close and personal tour of everything this bike has to offer. After reading, you'll have a much better idea as to whether or not this is the right bike for you. 
Let's get rolling!
The ProForm 300 SPX Indoor Cycle Trainer
ProForm is one of the most popular brands for home fitness equipment. They provide fitness equipment that falls in the budget to moderately priced ranges and they've made quite the reputation for themselves.
ProForm is often compared to NordicTrack. They're like the Coca-Cola vs Pepsi in their league. But interestingly, both ProForm and NordicTrack are owned by the same company- Icon Health and Fitness. 
Although ProForm is better known for their treadmills and HIIT trainers, they also have strong contenders in their cycling and elliptical lineups.
The 300 SPX is one of ProForm's lowest priced exercise bikes. With a sales price well-under $500, this bike easily falls into the budget category.
Here's the 300 SPX in a nutshell:
Pros:
Solid frame design

44 lb flywheel

Fully adjustable seat

Height adjustable handlebars

250 lb max weight capacity

Low maintenance

Easy assembly 

Affordable price
Decent warranty
Cons:
No console

No heart monitoring

Felt resistance
Flywheel
I like to start my bike reviews with a discussion on the flywheels because they usually relate directly to your comfort during use. If you're new to exercise bikes, the flywheel is the part of the bike that spins as you pedal.
Heavier is better because it creates more momentum as it spins. This added momentum makes for a smoother riding motion.
But how heavy is good enough? Tough question- everyone has their own thoughts.
Generally speaking, anything around or above 30 lbs is considered "heavy". This should be enough to give you really smooth rides for your workout.
Heavy flywheels also provide more resistance for you to work against. The heavier the flywheel, the more energy it takes to get it moving from a cold start (but the extra weight usually makes it a little easier to keep moving).
With this in mind, the 300 SPX comes with a 44 lb flywheel. This is a massive flywheel and should be more than enough weight to keep your pedal strokes smooth and steady throughout your workouts.
At 44 lb, the 300 SPX is one of the heaviest flywheels you're going to find in this price category. 
Unfortunately, like pretty much all spin bikes in this price range, the 300 SPX uses a felt resistance system. This is a direct contact form of resistance.
As you turn the dial to increase or decrease your resistance, you're moving a felt pad closer to (or farther away from the rotating flywheel).
This type of resistance system is opposed to the magnetic type found on nicer, more expensive bikes. The felt system technically provides "unlimited" resistance levels, but the felt will eventually break down and have to be replaced.
On a magnetic system, there is no direct contact, so there's no breakdown occurring (these systems are smoother too).
But given the price range we're talking here, a magnetic resistance system is unrealistic.
Overall, the 300 SPX is packing a lot of muscle under the hood with its 44 lb flywheel. Like most bikes in this price range, it uses a felt resistance system.
Seat
The 300 SPX has a fully adjustable seat. It can be adjusted vertically and horizontally (fore/aft).
This particular feature is great as it helps you find your most comfortable sitting position. You can angle your seat according to your height and shape. You'll less likely experience strains and aches.
Speaking of comfort, indoor cycle trainers have seats that are uncomfortable especially if you're a beginner. They're designed to mimic the experience of riding outdoor bikes. But you'll learn to get used to it over time. 
Users experiencing discomfort with their seats switched them for some store-bought gel-padded options. But if you don't want to spend a dime, you can easily solve this problem by placing a towel to enjoy a more padded seat.
Overall, the fore/aft adjustment in the 300 SPX is awesome as it offers enhanced comfort to users. Other models at this price point can only go for vertical adjustments only.
Handlebars
Similar to its seat, the 300 SPX has non-slip, vertically adjustable handlebars. 
Some bikes come with fully adjustable handlebars, allowing you to adjust the horizontal position as well as the vertical height. At this price range, this feature is pretty rare though.
Although the handlebars aren't fully adjustable, they are multi-grip.
The 300 SPX has 5 handlebars in total. Four of them run parallel to the wheel, while the remaining one is parallel to your hips. Having plenty of handlebars gives you the freedom to place your hands where it's most comfortable.
They're also padded to protect your hands and fingers from sores and blisters. This is especially great for those hardcore trainees as their hands can become sweaty during more energetic workouts.
Overall, the 300 SPX scores pretty highly in the handlebar category. The multi-grip options allow for plenty of customization during your workouts.
Frame
The 300 SPX is constructed with a heavy-duty steel and aluminum frame. It can withstand the stress of accommodating users weighing up to 250 lb.
This weight limit is a little lower than the expected 300 lb limit that most decent spin cycles offer these days.
I find this a little surprising considering this is ProForm we're talking about here. And also that this bike looks solid (and weighs roughly 100 lb fully assembled).
There are many other budget friendly spin bikes that come with 300 lb weight limits, so larger users shouldn't fret. But as long as you fall safely within this weight capacity, you shouldn't have an issues here.
Although, it sounds like many users have had issues with damage during delivery. I've read many users recount how their 300 SPX's arrived with damaged frames.
Features
ProForm is known to have feature-rich machines, but I guess they've made quite an exception with some of their earlier models, like the 300 SPX.
The 300 SPX doesn't have a console. Yup, you've read that right.
If you've been enjoying those smart consoles from other high-end units, you'll likely miss them on the 300 SPX. You can't see your progress metrics as you exercise, let alone monitor your heart rate.
I think it's important to be able to monitor your workout parameters as they help you determine if you've reached specific milestones. 
Anyway, there are other smart gadgets you can buy these days that can help you track the basic exercise parameters, like miles, speed, and heart rate. These could be a good option too.
Without the console, the 300 SPX is obviously not iFit-compatible too. iFit is an interactive training app that gives you unlimited access to different virtual workouts and other engaging activities. Most ProForm units are iFit-enabled.
The 300 SPX comes with a water bottle holder, which seems generic for any exercise machine. 
Overall, this is a very basic model, lacking a console or really an additional features whatsoever. To be fair though, many spin bikes lack a console (regardless of price range).
Assembly
Upon purchasing the 300 SPX, expect to get a pre-built body, some mechanical parts, a manual, and a basic toolkit. It has everything you need to assemble your bike.
Like most ProForm machines, the 300 SPX is pretty straightforward to assemble. You'll be responsible for attaching the stabilizers, the pedals, the handlebars, and seat.
Overall, the process is pretty simple. I think most users should be fine getting the job done themselves. I'd bet most people can have this bike unpackages and functioning within an hour.
When fully assembled, this bike has the following dimensions: 44.1 x 34.7 x 9.1" (L x W x H). It weighs about 101 lb, but it has transport wheels for easier mobility with your indoor cycle.
Assembling the bike is a task that can be simply done by one person. But of course, if someone else is willing to help, that'll make the job easier. 
Warranty
The 300 SPX offers the following warranty:
Frame: 5 years

Parts: 90 days

Labor: 90 days
It's a decent warranty offering at this price point. The 5-year warranty on frame is pretty good given the price. The 90 day parts and labor guarantees are pretty weak, but this is a budget bike.
Overall, I think the warranty is pretty fair.
Final Thoughts
ProForm's 300 SPX isn't one of the best spin bikes around, but it is a very affordable option with some redeeming qualities.
Besides having the ProForm name painted on the side (which I consider a plus), it comes with a very heavy flywheel and a fully adjustable seat.
It's also backed by a nice warranty, given the price.
I'm not really a fan of felt resistance systems, but I shouldn't really hold that against this model since pretty much all spin bikes in this price range use them. After all, there are reasons budget bikes are "budget".
Overall, I like ProForm as a brand, but I'm not convinced the 300 SPX is a smart buy. I guess it depends on what price you find it at (last time I checked it was running around $400 or so).
Personally, when it comes to affordable spin bikes, I'm a big Sunny Health & Fitness fan. Their bikes come with heavy flywheels and sturdy frames. Their Pro II Indoor Cycle is a great example.