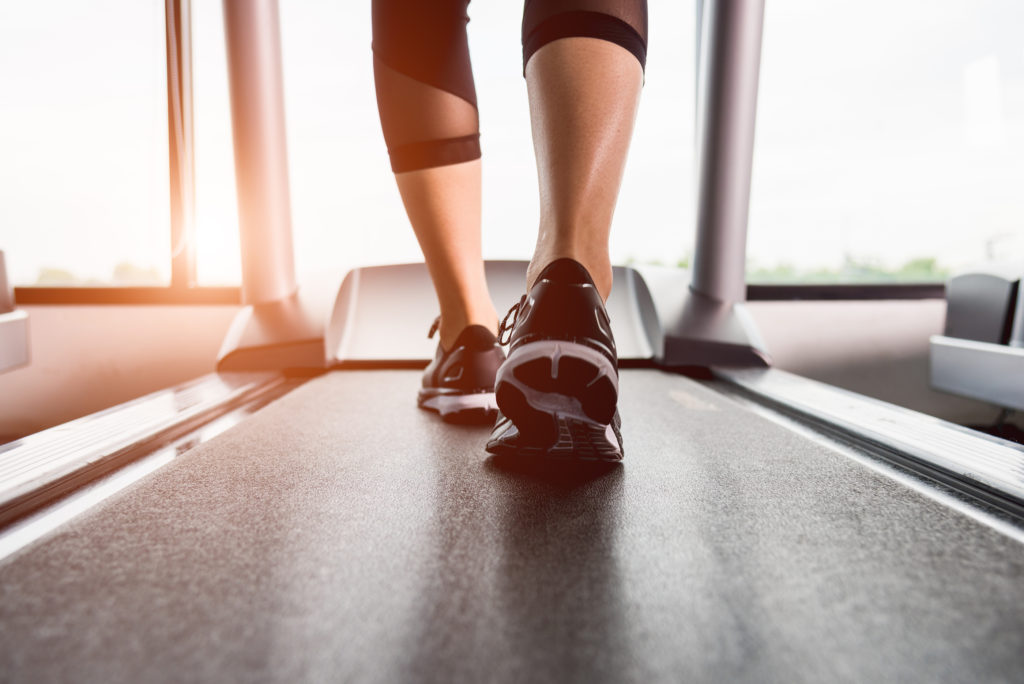 Among the many budget-friendly treadmills, the ProForm 305 CST is one of the best. It has all the decent features to meet the training needs of a beginner. 
The 305 CST offers a variety of workout programs to choose from. It has a top speed of 10 mph and an incline of 10%. Its motor operates smoothly while using its compact deck space of 16″ x 50″.
For its console, you can easily check your progress metrics on its 5″ screen. It has awesome dual speakers and readily monitors your heart rate via its grip pulse sensors.
It's also telemetry-ready, which seems a refreshing feature for treadmills at this price point.
The 305 CST treadmill is also foldable, letting you save even more training space after your workouts.
If you're on a tight budget, the 305 CST is definitely worth considering. But before you decide, make sure to continue reading this review and find out whether it's the perfect match for your fitness needs.
The ProForm 305 CST Treadmill
Before getting into the good stuff, here's a little background on the manufacturer of the 305 CST treadmill.
ProForm is one of the most popular brands for home fitness. They are especially known for their HIIT trainers and treadmills, but they do offer an excellent selection for bikes and ellipticals as well.
ProForm is owned by ICON Health & Fitness company. It's a big multi-brand organization based in Utah that also owns other fancy fitness brands like Weider and NordicTrack (which also happen to be the tough competitors of ProForm).
Interestingly, ICON is the parent company of iFit. Now it's very understandable why all ICON-owned fitness brands have iFit-compatible machines.
ProForm easily makes everybody's shortlist because of their heavy-duty frames, sophisticated features, and great warranties.
Their equipment lineup falls under the $500 to $2000 price category, which just seems fitting for the premium machines they're offering. 
You get premium treadmills that work the way they're supposed to. ProForm gives everybody access to high-quality fitness equipment that won't break the bank.
To cut the chase, ProForm is a great and trusted home fitness brand. You can almost always expect the best from their roster. But let's see what their entry-level 305 CST has to offer:
Pros
Foldable frame 

Top speed of 10 mph

Power incline to 10%

16 built-in workout programs

2.5 CHP motor

iFit-compatible

Tablet shelf

5" high contrast LCD

EKG Pulse sensors 

Telemetry-ready

2" dual speakers

300 lb max weight capacity

Good warranty
Cons
Small workout area (16" x 50")

No backlit display
Running Surface
The first thing people should be interested in when shopping for treadmills is the price. I get it, and I'm guilty of that too. We like checking the price tags first for practicality's sake.
But let's assume that you've already worked on a budget and the 305 CST makes the cut. Now what?
When looking for the best value treadmill, I'd always prioritize its running surface. 
Running surface describes the actual dimensions of the belt area you will be using. It's where you do all your walking and running. It's measured in inches (width x length).
The running surface should be roomy enough to make you safe and comfortable during exercise. 
If it's too narrow, you'll feel uneasy, worrying about falling off anytime as you run or walk. Too short and you'll shorten your stride, which seems very inconvenient when you're sprinting.
Any of these situations can make you feel self conscious as you train. It loses your focus, reduces your comfort level, or puts you at risk of accidents.
The gold standard for home treadmills is 20" x 60". The 60" length gives your legs plenty of room to stretch out as you run, while the 20" width offers more elbow room. 
The 305 CST has a small workout area with 16″ x 50″. It's designed as a compact treadmill, so its modest belt size is quite expected, but won't work for everyone.
This should be enough for many users, but it would be better if ProForm offered a more comfortable size for a better range of motion. With its 50" length, it's not ideal for running, especially if you're tall. Most will need at least 55" for that.
For its running surface, the 305 CST is a good home gym partner for low impact exercises. If you're into walking, this treadmill could be a good fit for ya.
The deck is also equipped with ProForm's ProShox™ Cushioning system. It acts as a shock absorber to give you softer landing with every step. It reduces stress on your joints, thereby letting you enjoy a longer workout session and a faster recovery time.
With this, the 305 CST an ideal treadmill for those aging adults or anyone with joint problems. Training with the 305 CST should be easy for your joints; it won't suffer as much as other training brands.
When it comes to frame strength, its max user capacity is 300 lbs – which is pretty standard for quality treadmills at this price point. 
The 305 CST can safely hold most users, but if you're larger, you might feel safer using other units with a more durable frame. There are newer models out there with higher weight capacities of up to 400 lb. 
Being a compact treadmill, the 305 CST already comes with a small footprint when not in use. This shouldn't occupy too much space at home. But its foldable design and Easy Lift Assist technology can be very handy for those with limited training spaces.
To wrap it up, the 305 CST has the standard specs for entry-level machines. It's a small treadmill that's ideal for light exercises. Its frame can accommodate many users, and it offers simple storage solutions to organize your room.
Motor
Now, let's talk about horsepower.
Motor strength is another crucial factor when selecting treadmills. It ensures how smooth and quiet your exercise will be. Stronger motors give smoother, quieter, and more long-lasting workouts (because the motor won't have to work as hard during use).
Motor strength is measured in continuous horsepower (CHP) and that's what we should look into. 
More CHP means better. It proves that the machine can keep up with you, especially for longer workout sessions. You can sprint and do more intense workouts without feeling as if the motor is struggling.
Most treadmill motors are within the 2.0 to 4.0 CHP range. For heavy sprinters, you need at least a 3.0 CHP. But if your routine consists mostly of walking, a 2.0 CHP motor may do.
The 305 CST comes with a 2.5 CHP motor, which falls on the low end of the spectrum. But considering the price, this is expected.
It has a top speed of 10 mph, which should be more than fast enough for most users. Again though, serious runners need to consider a larger, more powerful treadmill (check out our running treadmill guide for more info).
The 305 CST has QuickSpeed® buttons so you can adjust your intensity instantly- a nice touch.
Another awesome feature of the 305 CST is its 0 to 10% Digital Quick Incline™ Control. You can practice walking or running on an incline position. This tool is fantastic if you're conditioning your body for a road race or hiking adventure.
It should also be a very exciting feature if you'll use it with Google Maps (through the iFit app). The 305 CST will automatically adjust its incline levels depending on your chosen terrain.
The newer models from ProForm come with a mind-blowing incline and decline settings (yes, you've read it right). Consider their Pro 2000 that gives -3 to 15%.
Well, it comes with a higher price tag, but it's a great bang for your buck if you're looking for a more powerful model.
But at 10 mph and 10% incline settings, the 305 CST is already enough to give you a variety of challenging workouts. It can target any of your training needs. But if you prefer low impact exercises, you can burn so many calories just by walking at 10% incline.
Overall, the motor quality of the 305 CST is perfect for gentle routines. It can probably keep up with jogging, but it's not designed with faster running in mind.
Features
The 305 CST has good features for a budget-friendly price:
16 on-board workouts: For a cheap unit, having this many built-in programs is a plus. All are designed by a certified personal trainer. This offers a fun mix of challenges and should meet any of your fitness goals, whether calorie-burn or speed.
iFit-enabled: You can sync your fitness data, access unlimited exercises, attend virtual workout classes, choose a workout path with Google Maps, or invite another iFit user for a friendly match.
You can watch video workouts with celebrity personal trainers or choose trails from Google Maps™. The machine will automatically adjust the incline to match your chosen terrain. 
The iFit is a very cool fitness technology, and it's awesome that you can enjoy plenty of interactive workouts with the 305 CST. The catch is that you have to pay a monthly fee for the iFit subscription. 
Subscribing to iFit is based on your preferences. I believe anyone can exercise and burn tons of calories without the app. But it's really a refreshing option if you like taking on new adventures with your 305 CST.
5" high-contrast LCD: It's a decent screen size for an affordable treadmill. It neatly displays your progress metrics, like heart rate, speed and incline, miles, time, total distance, and etc. It would be better if it's backlit, so you don't have to squint or slouch when checking your stats under low light conditions.
EKG pulse grip sensors: You can monitor your heart rate by gripping the hand bars. Pulse grip sensors are common for this price range, but the 305 CST goes a step above its competition by being telemetric.
The 305 CST Treadmill is BLE Chest Belt Compatible. It's a wireless heart monitoring feature that is better and more accurate than pulse grip sensors. However, you may need to buy the chest strap monitor separately. 
The dilemma with pulse grip sensors is that it's very awkward to use. Running at high speed while gripping the handlebars can be a challenge. The telemetry-enabled feature of the 305 CST is a good option, in case you need more reliable cardio readings.
Audio auxiliary port: The 305 CST has 2" dual speakers that come with volume. It's compatible with most MP3 players. You can hook your device to play your favorite workout tunes for a more entertaining experience.
Tablet holder: It's located in the middle of the console, so you'll have to block your view of the display screen if you choose to watch Netflix or use your tablet.
Assembly
Most 305 CST users don't have any problem putting up their units, so it should be easy to assemble. Its package consists of the parts, basic toolkit, and a manual. 
ProForm provides well-written instructions on their manual, but each step is also illustrated for an even simpler guide. Other users rely on video tutorials online, which is a good back-up plan in case you're having difficulties piecing the 305 CST.
The 305 CST weighs around 205 lb when delivered to your doorstep. It's very heavy, so you'll likely need an extra pair of hands to help you move it around your home. Most should be able to assemble the 305 CST in an hour or so.
Warranty
ProForm backs their 305 CST with the following warranty: 
Frame: 5 years

Motor: 5 years

Parts: 90 days

Labor: 90 days
It's a pretty generous offering at this price point. Speaking of which, depending on where you find this treadmill (I don't think ProForm offers it any more), you likely pay less than $500.
And for this price, warranties aren't a given.
ProForm has a reputation for offering great warranties. So if warranties are very important for you, ProForm machines are great options to consider. 
And all things considered, I think this is a pretty good warranty for this treadmill.
Final Thoughts
ProForm's 305 CST is small, entry-level treadmill that is best suited for folks looking for an affordable walking treadmill.
Considering the price, this model comes with a few surprising features, like 16 built-in workouts, chest strap compatibility, and the ability to sync up with iFit.
It's also backed by a good warranty for the price range.
But given its small running surface and weak motor, there are better options out there if you're interested in running. Check out our budget treadmill guide for some great affordable options that are better suited for running.