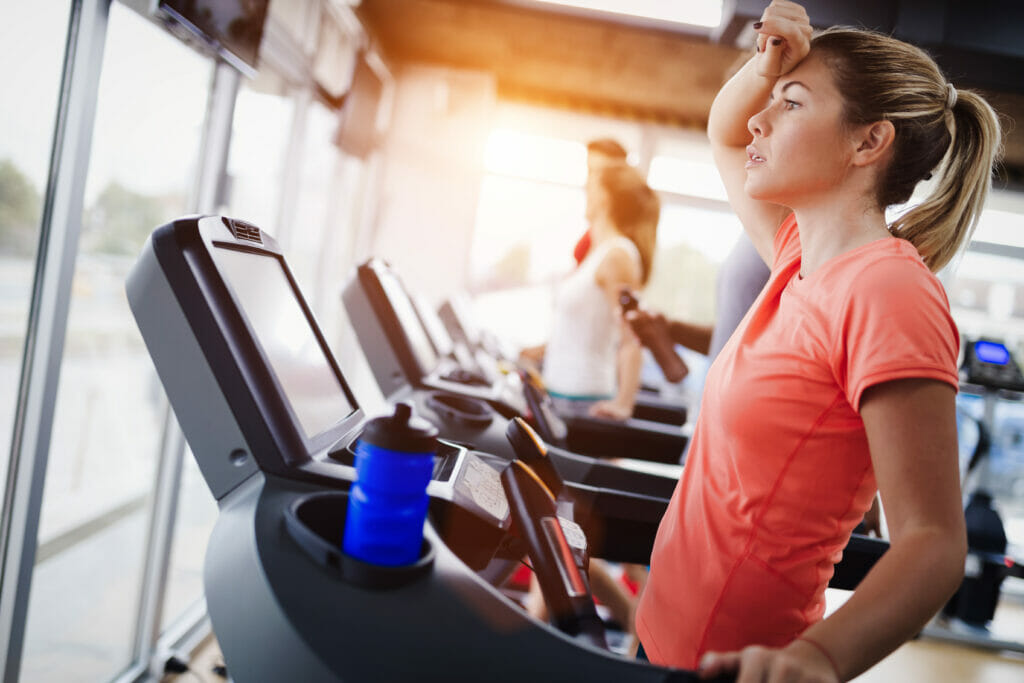 I wanted to start a new series of articles where I compare different leading fitness equipment brands together to see how they stand up to each other.
I thought there was no better place to start than with NordicTrack and ProForm, 2 of the most popular home fitness brands around.
My goal for this comparison is to look at objective data, like key performance specs for some of their biggest models, as well as subjective user reviews to come out with a clear winner.
This might be easier said than done, but I'm gonna give it a go anyway.
Alright, let's dive right in and see where this takes us.
NordicTrack vs ProForm
If you've ever compared NordicTrack and ProForm machines against each other, you might've noticed that there are a lot of similarities between them.
Well, this is probably because these 2 brands are actually owned by the same parent company: ICON Health & Fitness.
ICON is a huge fitness company that owns these 2 huge brands, as well as several smaller brands you may've heard of, like Freemotion, Weider, and Weslo to name a few.
ICON also owns the fitness app, iFit, that is found on most NordicTrack and ProForm machines (which makes sense, knowing that the same parent company owns all of these brands).
So basically, whether you purchase a NordicTrack or a ProForm, the same company wins in the end.
Let's start our comparison with a general review of NordicTrack and a quick look at their lineup. Then we'll take a look at ProForm and what they have to offer.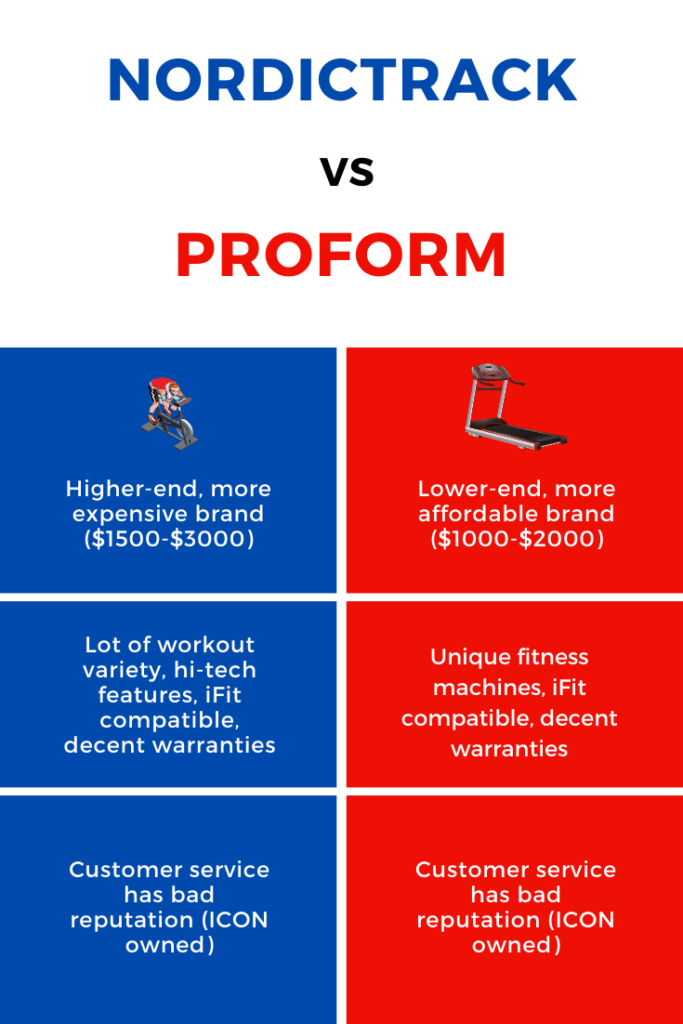 The NordicTrack Brand
NordicTrack is one of the most popular and most recognizable home fitness brands around. It all started back in the 1970's when Edward Pauls invented the original cross-country ski machine in an attempt to train for an upcoming ski event.
And the rest, as they say, is history.
The NordicTrack cross-country skier was a huge innovation at the time and was responsible for putting this brand on the map.
Over the decades, NordicTrack obviously branched out a lot, and now offers a little bit of everything home fitness related.
Even though they offer some strength training equipment (like their Fusion CST), the brand specializes in cardio equipment, like treadmills, bikes, ellipticals, and rowers.
I consider NordicTrack to be a moderately priced brand, meaning most of their fitness equipment costs under $3000 (and they have many models under $2000).
This price range is a sweet spot for home fitness equipment because it's where you find a lot of the best options in terms of the features to price ratio.
In other words, you get a lot for the price.
When it comes to their treadmills, NordicTrack currently has 2 major lineups: their T-Series and their Commercial series (there's also their incline trainers, which can reach crazy incline levels of up to 40%).
The T-Series is their more budget friendly lineup, with models ranging between $1000-$2000. Their Commercial lineup is higher-end, with prices between $2000-$3000.
NordicTrack has some great options when it comes to bikes and ellipticals as well, like their popular Commercial S22i which is giving Peloton a run for its money.
They've also got a new hi-tech rower, the RW900, which is in direct competition with The Hydrow.
When it comes to performance specs, NordicTrack usually scores fairly well when compared to other similarly priced brands.
Their treadmill motors tend to run in the 3.0 – 4.0 CHP range and weight capacities generally run in the 300- 350 lb range, which is expected for quality home machines.
When it comes to warranties, NordicTrack offers 10- year frame guarantees and usually 2 years on parts, which isn't as generous as some of the other big names in the industry (like Sole).
In other words, their warranties aren't awful, but they could be a lot better.
Speaking of things that could be better, when it comes to NordicTrack's customer service, there's all kinds of room for improvement.
The customer service department is where this brand see's most of their complaints. I mean let's be real- things happen, equipment gets damaged during delivery, parts can be missing- these things happen to every brand under the sun.
But NordicTrack's customer service has a pretty nasty reputation for being sub-par.
Top complaints include taking forever to hear back from them, frequency of parts arriving damaged, and difficulty with arranging deliveries/service.
All of which can be very frustrating when you're just purchased a new piece of fitness equipment and are excited to get it up and running.
Even though their customer service is known to suck, NordicTrack as a brand is still pretty trustworthy.
They have a pretty large variety of equipment to choose from and their large, HD touchscreens make them popular with the folks looking for hi-tech features.
The ProForm Brand
ProForm's history isn't quite as intriguing as NordicTrack's- after all, they don't have a unique fitness machine to thank for their success.
Instead, it was their take on treadmills (and folding treadmills especially) that put them on the map.
The ProForm brand has also been around for a good 30 years or so and has seen its fair share of success.
And knowing that ICON owns both ProForm and NordicTrack, it's easy to see how ICON has become one of (if not the) largest home fitness company in the world.
Generally speaking, ProForm is a lower-end, more budget friendly brand. I could be wrong, but I don't think they have any machines that cost more than $2000.
Their lineup is fairly similar to NordicTracks- they too primarily specialize in cardio equipment: treadmills, bikes, ellipticals, rowers, etc.
But they do have something that NordicTrack doesn't- their HIIT trainers.
These compact cardio machines remind me of what you'd get if a stepper and an elliptical got busy. The foot pedal pattern is vertical, similar to a stepper, but the arms can move, like an elliptical.
As their name implies, they're designed for intense, interval style workouts that can get your heart rate up and burn a ton of calories in less time.
I think ProForm is a fine brand for the price range they're in, but I will say that I think their HIIT trainers are the best products they offer.
ProForm's "Pro" series of treadmills is a very popular lineup and their treadmills are pretty impressive for the under $2000 price range.
Key specs include motors in the 3.0 – 4.- CHP range, folding decks, and iFit compatibility.
When comparing models, often times the specs will be comparable, but the size of the touchscreen will change. I'd like to point out that both ProForm and NordicTrack push their iFit subscriptions pretty hard.
And this makes sense, there's gotta be a ton of money in it.
I mean come on- recurring monthly fees? That's a goldmine.
So, obviously they want everyone to sign up for these memberships. But I want to make sure everyone knows you don't have to sign up for iFit if you don't want to- it's completely optional.
A lot of these ProForm and NordicTrack machines come with a ton of workout variety built-in. You get more workouts if you opt for the iFit subscription, but you'll still have a lot of workouts to choose from without it.
That said, the large touchscreens that come on a lot of this equipment would pair well with iFit.
Besides the HIIT trainers, ProForm also offers another unique series of machines with their Hybrid Trainers, which are a combination of an elliptical trainer and a recumbent bike.
The result is a fun little machine that could be a good choice for someone who wants the option of exercising on both (although the Hybrid Pro isn't a particularly nice example of either).
Warranty wise, ProForm is usually identical to NordicTrack: 10 year frame warranties are common, as are 1-2 years on parts and labor.
Like NordicTrack, ProForm's customer service department has a pretty bad reputation. Basically just a big ditto to everything I mentioned for NordicTrack.
It must be an ICON issue.
Overall though, most folks are pretty happy with their ProForm gear. If you're looking for a more affordable alternative, it's a good brand to consider.
Final Thoughts
NordicTrack and ProForm are 2 of the biggest names in home fitness equipment. There are a lot of similarities between the 2 brands, but this makes sense considering they're both owned by the larger company, ICON Health & Fitness.
Generally speaking, NordicTrack's equipment is a little higher-end and a little more expensive.
Their cardio machines are usually a little more robust and a little more technologically advanced than ProForm's.
In terms of specs, NordicTrack usually wins.
In terms of warranties, it's a tie- both brands tend to offer the same guarantee.
Both brands also have the same Achille's heel: customer service.
Personally, if I were choosing between a NordicTrack and ProForm product, I'd probably go with NordicTrack. But if you're looking for a more affordable option, ProForm does make sense.
So, officially speaking, NordicTrack is our winner here, but it's a pretty close race.