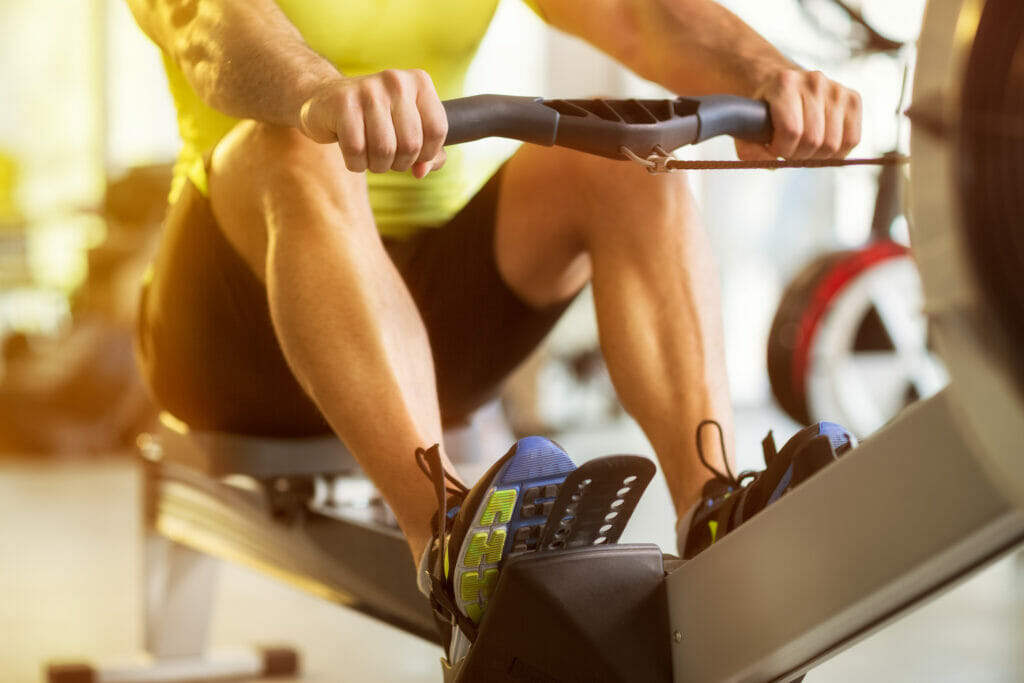 If you're in the market for a tech-savvy rowing machine, odds are you've come across both the Hydrow and NordicTrack's RW900.
It's pretty safe to say both models are at the top of the list when it comes to hi-tech, streaming rowers.
But even though these 2 elite machines have a lot in common, there's also plenty of differences between them, both in terms of workouts and the technology they use.
If you find yourself stuck between these 2 rowers, you could rest a little easier knowing they're both great options, but let's be real- you wanna know which one is better.
Well, that's exactly what I plan to help you figure out.
In this article, I'll provide a head-to-head comparison of the Hydrow and the NordicTrack RW900.
We'll take a look at all the key specs and features each has to offer in an attempt to help you decide which is the best option for your home gym.
Let's begin.
The Hydrow
The NordicTrack RW900
Resistance
Computer-controlled magnetic system
Magnetic/air combo
26 magnetic levels, 10 damper settings
Weight Capacity
375 lb
250 lb
Folds
No
Yes
Bluetooth compatible (headphones)
Yes
Yes
Chest strap compatible
Yes
Yes
Streaming workouts
Filmed on water
Access to non-rowing workouts as well
Filmed in studio
Access to non-rowing workouts as well
Built-in workouts
No
30
Warranty
5 year frame
1 year parts
1 year labor
10 year frame
2 year parts
1 year labor
Streaming service cost
$38/month
$39/month
(1st year of iFit free)
Price
$2245
$1599
The Hydrow vs The NordicTrack RW900
Both of these rowers are streaming machines, meaning both offer you the option of accessing live/on-demand, instructor-led workouts.
Workout streaming has become quite the craze over the last decade or so (we probably have Peloton to thank in part for this)- it seems like every week there's a new brand joining the movement.
That said, it doesn't seem like rowing machines have gotten on board with the whole streaming thing as fast as bikes and treadmills have.
The Hydrow was the first streaming rower I became aware of, although I don't know for sure whether or not it actually came out first (and I'm feeling too lazy now to do the research).
Regardless, I'm pretty sure the whole streaming thing is here to stay and I'm sure we'll be seeing more and more streaming models coming out in the future.
But back to the Hydrow and the RW900.
As I write this, I think the best way for me to organize my thoughts is to go over the Hydrow first and then the RW900- then I'll provide a final section going over which one I think is better and why.
I think this will be the easiest way to include everything I want to make sure I include, so I hope it works for ya.
The Hydrow
At first glance, the Hydrow is about as elegant as they come.
Not only is that seamless, one piece frame gorgeous, but it serves another purpose in increasing the stability of the rower.
The frame on the Hydrow is made out of steel and aluminum. With an assembled weight of 145 lb, the Hydrow is going to feel rock-solid during workouts- you shouldn't have to worry about any unwanted rocking or swaying as you row.
Seeing a weight capacity of 375 lb is another indicator as to how heavy-duty this rower actually is.
The single piece frame is great for the added stability, but it doesn't allow the Hydrow to fold for storage like many other rowers can.
The Hydrow can be stored vertically, although you have to purchase the vertical storage kit separately.
When it comes to frame integrity, the Hydrow scores very highly, but let's get to the more interesting stuff.
The most notable feature of this rower is the 22″, HD touchscreen display mounted to the front of it.
Not only does this make it a piece of cake to make your selections, but it's also very easy on the eyes- you won't be squinting trying to see what's going on during your workouts.
Speaking of workouts, you have to subscribe to Hydrow's streaming service to access the instructor-led workouts- there are no built-in workouts to choose from.
You can still row freestyle without a paid membership, but that's really all you can do.
Last time I checked, a Hydrow membership costs $38/month. With a membership, you get unlimited access to both live and on-demand rowing workouts.
One thing that really sets Hydrow apart from the rest, is that the rowing workouts are filmed on real waterways with elite rowers, meaning you get to see a real boat slashing through the water as you row.
They've also added other types of workouts, like Pilates and strength training, to their growing library of workouts to choose from.
Even though the monitor is the real show-stopper here, the most sophisticated feature in my humble opinion is the state-of-the-art resistance system Hydrow developed.
When talking rowers, generally we talk about 4 main types of resistance: hydraulic, magnetic, water, or air.
True, many rowers (like the RW900 we'll be discussing shortly), use a combination of both air and magnetic systems, but even then most of them are basically magnetic systems.
(If you're interested in learning more about the differences between the different types of rowers, check out my full rowing machine guide for more info).
The Hydrow is technically a magnetic rower, although it works differently than the magnetic systems you're familiar with.
The resistance system on this rower basically combines the benefits of both a magnetic system and a water/air system- the result is a smooth, quiet rower with resistance that is dependent on the speed/force of your rowing.
Most magnetic rowers provide a consistent resistance regardless of how fast you row- this is nice, but it doesn't mimic the feel of real rowing (where you get more resistance from the water as you pull harder/faster).
The magnetic system on the Hydrow is computer-controlled to adjust depending on how hard you pull.
This means there aren't any resistance levels on this rower- if you want more resistance, pull harder (and vice-versa for less resistance).
The Hydrow does have a drag level you can adjust to change the overall feel of your row (0-300, with a suggested starting point of 104), but you won't be messing with resistance levels during your workouts.
This is the only rower I've come across with this type of advanced resistance system. And users seem to agree it feels great during workouts.
The last thing I want to mention real quick before we move on is the warranty. The Hydrow is backed by the following guarantee:
5 year frame
1 year parts
1 year labor
Overall, this warranty is pretty solid when compared to the other elite home rowers, but as you'll see below, there are better guarantees out there.
In a nutshell, the Hydrow is a heavy-duty, advanced magnetic rower that's packing a huge, HD touchscreen console. If you're looking for the nicest home rower around, this is it.
For more info, check out my full Hydrow review.
Ok, now let's take a look at the RW900.
The NordicTrack RW900
The RW900 isn't quite as sleek looking at first glance. Instead, it looks more like the rowing machines we're used to seeing.
That said, it can do something the Hydrow can't- fold.
This rower hinges right around where the foot plates are, allowing it to basically fold in half for storage- something that could be very helpful if you're working with limited floor space.
The RW900 isn't quite as heavy-duty as the Hydrow either.
With an assembled weight of about 130 lb, it's a little lighter, but with only a 250 lb weight capacity, this rower isn't capable of holding larger users like the Hydrow is.
Which is a little disappointing, considering most high-end rowers come with at least a 300 lb limit.
Moving on.
The RW900 also comes with an impressive, 22″ HD touchscreen console.
The console can swivel, allowing you to watch the monitor comfortably when not on the rower. This comes in especially handy when doing other, non-rowing related iFit workouts.
Speaking of iFit- iFit is NordicTrack's streaming fitness app (it's also used with ProForm machines, since both brands are owned by the same company).
iFit is also a paid membership app and it costs $39/month I believe.
Through this app, you get access to a large library of instructor-led workouts.  These include pretty much anything you could think of- running, cycling, weight training, Yoga, etc.
And unlike the Hydrow, the RW900 also comes with 30 built-in workouts to choose from.
This means that you can still access a ton of workouts even if you don't want to pay the monthly iFit subscription (P.S.- you get a year of iFit for free when you purchase).
The rowing workouts for the RW900 are filmed in a studio vs on the water like for the Hydrow, but through iFit you can access a few scenic rows as well.
The console on the RW900 is the same size as that of the Hydrow and both are compatible with bluetooth headphones and heart rate monitors.
The RW900, as I mentioned briefly already, uses a combo resistance system that's part magnetic and part air.
Like most combo machines, this means that most of the resistance is coming from the magnetic system.
This rower comes with 26 resistance levels to choose from, as well as 10 damper settings for the air resistance.
The way I think of it is like this- setting your magnetic resistance level is like setting your baseline resistance- regardless of how fast you row, you're always going to feel at least this much.
If you start rowing harder and faster, the air resistance is going to kick in, providing additional resistance for you to pull against.
Setting the damper gives you a little more control over how much air resistance kicks in (more air equals more resistance).
This combo resistance system is nice, because it allows you to row slowly against higher resistances, yet take advantage of extra resistance via the fan when rowing harder.
When it comes to the warranty, NordicTrack does a nice job. They offer the following guarantee on the RW900:
10 year frame
2 year parts
1 year labor
This is a great warranty for a rowing machine.
Not only is it 2x as long as the one offered by Hydrow, but it's about as long as any rower warranty you're gonna find (except for Sole's RW500).
Overall, the RW900 isn't nearly as heavy-duty as the Hydrow and the resistance system isn't nearly as advanced, but the fact that it comes with 30 built-in workouts is a nice perk in case you get tired of paying that subscription fee.
For more info, check out my full RW900 review.
Final Thoughts
Ok, so that was a quick run down on each rowing machine.
The biggest differences you'll find between these 2 models include the following:
Hydrow has higher weight capacity than RW900
Hydrow workouts on filmed on water, RW900 workouts (iFit) are filmed in studio
Hydrow uses computer-controlled magnetic resistance, RW900 uses magnetic/air combo
RW900 comes with built-in workouts, Hydrow doesn't
RW900 folds, Hydrow stores vertically (with optional storage kit sold separately)
RW900 has better warranty
Did I miss anything there?
Ah, what about price?
Prices may vary a little depending on where you buy these rowers, but generally speaking, the RW900 costs about $650 less than the Hydrow ($1600 vs $2245).
And that's comparing the purchase price of just the rowing machines- Hydrow offers a few different bundles that are more expensive, depending on whether or not you want the mat, bluetooth headphones, and chest strap included.
And since the monthly subscription fee for both streaming services are almost identical, that doesn't really play a part in determining cost.
All things considered, I think the Hydrow is a much nicer machine than the NordicTrack RW900.
But is it $650 nicer?
Well, that's a question only you can answer for yourself.
If you have the budget for it, I would say yes, the upgrades you get with the Hydrow are worth the extra cash…only if you're ok with paying the monthly subscription fee.
If you don't plan on paying for the streaming workouts, I wouldn't recommend buying the Hydrow- without the subscription, all you can do is row in manual mode.
Even though I'm picking the Hydrow as the winner in this head-to-head battle, if you're working with a smaller budget or don't like the idea of paying a monthly fee, the RW900 is a great alternative.
With the built-in workouts, you can still get plenty of use out of it without the iFit subscription.
I could also see going with the RW900 if you already have an iFit subscription through another machine- it would be a hard pill to swallow to pay for 2 different streaming services.
Alrighty, that about does it.
I hope you found this comparative review helpful.
Overall, when it comes to the Hydrow vs the RW900, I'm going with the Hydrow every time (I think the Hydrow is the nicest overall rower currently on the market).