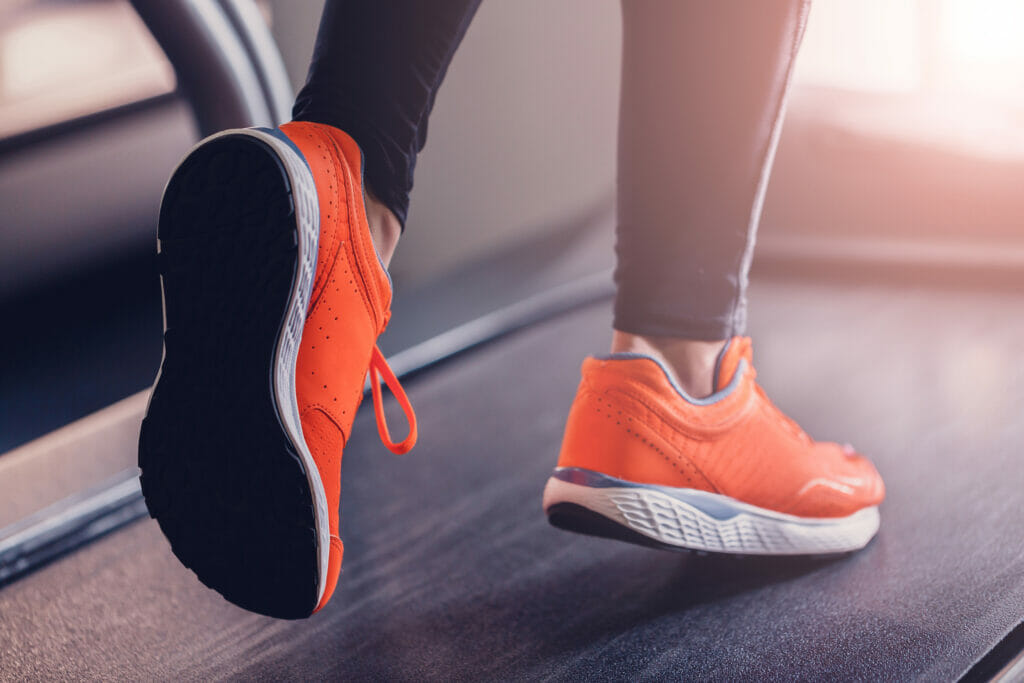 NordicTrack's Commercial 2450 and Sole's F85 are two of the hottest home treadmills in their respective price ranges and each has a lot to offer folks looking to take their home workouts to the next level.
But these two models are very different from each other, so the right option for your home likely depends entirely on what you're looking to get out of your treadmill.
The Commercial 2450 is loaded with high-end tech features, not to mention a 22″ HD touchscreen display, so if you're looking to get your stream on, the 2450 may be the smarter choice.
The F85 can't compete with the 2450's console, but with more impressive performance specs across the board and a longer warranty, this treadmill would make more sense for folks who are more focused on performance than anything else.
If you still aren't sure, don't worry – I got your back.
In this article, I'll compare these two elite treadmills head to head so you can get a better idea how they stand up to each other in all categories.
After reading, you'll know which treadmill makes more sense for your home gym.
Alright, let's do this.
NordicTrack Commercial 2450
Sole F85
Running Surface
20" x 60"
22" x 60"
Motor
3.6 CHP
1.9" rollers
4.0 HP
2.75"/2.36" rollers
Warranty
10 year frame
2 year parts
1 year labor
Lifetime frame/motor
3 year parts
1 year labor
Features
22" HD touchscreen
iFit
AutoAdjust
ActivePulse
Bluetooth
Speakers
Fan
Able to decline to -3%
15.6" touchscreen
10 workout programs
Entertainment apps
Screen mirroring
Bluetooth
Wireless charging
Speakers
Fan
Can decline to -6%

Price
~$3k
~$2k
The NordicTrack Commercial 2450 vs The Sole F85
    
Above images courtesy of NordicTrack and Sole Fitness, respectively.
NordicTrack and Sole are both big names when it comes to home fitness, so I don't really feel the need to provide either with much of an intro.
So, I'll introduce these two treadmills a little instead.
At the time of writing this, the Commercial 2450 has become one of NordicTrack's highest-end treadmills, second only to their Incline Trainer Series.
This happened when NordicTrack retired their Commercial 2950, which you can still probably find on other retailers like Amazon (fyi, they also added a new treadmill to their lineup, the Commercial 1250).
Anyway, it's worth noting that NordicTrack has recently updated their Commercial 2450 and it's the "New" Commercial 2450 that I'll be comparing to the F85 in this article.
Most of the upgrades have to do with the console and tech, but the New Commercial 2450 does come with a sleeker looking frame.
It's also worth noting that the "old" Commercial 2450 (which is still available at the time of writing this, but for how long I'm not sure) does come with a stronger motor and larger rollers.
So, NordicTrack has definitely been switching things up with regards to their treadmill lineup.
Sole has also been making some updates lately, mostly with regards to the consoles found on some of their machines.
The F85 is one of their mid-range models and it's been riding pretty steady over the years, although its console did get an upgrade recently.
Anyway, let's start things off with a rundown on the performance specs these two treadmills have to offer.
Running Surface
A treadmill's running surface is arguably the most important performance spec because it largely dictates how comfortable you're gonna be using it.
Larger is pretty much always better because let's be real – having more room is always nice.
Larger running surfaces allows us to sway and move around more without having to be nervous about stepping off the belt or stepping on the frame.
Most higher-end treadmills these days come with running surfaces that are at least 20″ x 60″ because at this size, they can comfortably fit pretty much all users, regardless of how fast they're walking/running.
With this in mind, the Commercial 2450 comes with a 20″ x 60″ running surface and the Sole F85 comes with a 22″ x 60″ running surface.
So, the F85's belt is 2″ wider.
Having the extra width is nice (especially for someone like me who sways quite a bit when running), but the 2450's running surface is still easily large enough to offer a comfortable workout experience.
If we're keeping score, the F85 wins here, but again – this by itself isn't a dealbreaker either way.
When thinking about the running surface and frames in general, I also like to compare weight capacities and assembled weights because these specs give us a good idea as to how heavy-duty or stable the treadmills are in general.
The idea being that seeing higher numbers in these areas means we should expect a treadmill to feel more stable.
Anyway, these 2 treadmills vary quite a bit when we look at these specs.
The 2450 comes with an "in box weight" of 303 lb and the F85 comes with an assembled weight of 319 lb.
NordicTrack provides the "in box weight" for all their products for some reason and it means with have to subtract the weight of the packaging to get an idea what the treadmill actually weighs.
I'm not sure how much the packaging would weigh for this treadmill, but I think an estimate of 40 – 50 lb is nice and conservative.
Assuming that's in the right ballpark, that would put the 2450's true weight somewhere around 260 lb… which isn't bad for a home treadmill.
But 308 lb is still quite a bit heavier.
The 2450 comes with a weight limit of 300 lb and the F85 comes with a weight limit of 375 lb – the difference here is much easier to see.
With a heavier assembled weight and a higher weight capacity, I feel comfortably calling the F85 is a heavier-duty treadmill, something larger users should certainly consider.
Motor
Talking about the running surface and frame is important stuff, but let's be real – talking about motors is more fun.
Top speeds, horsepower, rollers… it's interesting stuff.
And this stuff is really important to think about when comparing treadmills too.
Having a stronger motor is beneficial because it basically means the treadmill doesn't have to work as hard to keep up with the demand your workouts are putting on it.
This means the treadmill can work more efficiently, which should mean the treadmill functions more smoothly.
And since stronger motors shouldn't have to work as hard, it should also theoretically mean that they will last longer (but that isn't always the case).
These days, most home treadmills come with motors in the 2 – 4 CHP range and in this price range, we should expect pretty much all motors to be of the DC variety.
Anyway, with this in mind, the Commercial 2450 comes with a 3.6 CHP motor and the F85 comes with a 4.0 HP motor.
It's interesting to see that NordicTrack uses the "CHP" or "continuous" horsepower rating while Sole opts for simply horsepower.
Continuous horsepower usually refers to the amount of power the motor can sustain for extended periods and is generally considered a better measurement of a motor's capabilities than horsepower, that usually refers to the motor's peak output.
At first glance, it looks like the F85 comes with a stronger motor, but if these brands are using different classifications for their motors, the difference could be quite minimal.
Either way, I'm not sure it really matters because both motors are powerful enough to support running.
Both treadmills also come with a top speed of 12 mph, so no differences there.
The 2450 comes with a max incline of 12% and the F85 can reach a top incline of 15%, so the F85 can go a little steeper.
The 2450 can reach a decline of -3% as well, allowing for downhill training – something the F85 can also do, reaching a decline angle of -6%.
The last thing I want to mention here is roller size.
The rollers are what make contact with the belt, allowing it to move smoothly across the deck and having larger rollers is a good thing in terms of smoothness of operation and overall durability.
And most home treadmills come with rollers in the 1.9″ – 3″ range.
The Commercial 2450 comes with 1.9″ rollers and the F85 comes with 2.75″/2.36″ (front/rear) rollers.
So, the F85's rollers are quite a bit larger than the 2450's, which is really just another indication of how much heavier-duty this treadmill is.
Overall, the F85 comes with a questionably stronger motor, but its rollers are much bigger, which is always a good thing when it comes to durability.
The F85 can also reach a steeper incline/decline angle, but the 2450 can decline as well.
Features
So far, the F85 is basically winning in every performance category, but as we switch over to the features department, the Commercial 2450 will certainly make a comeback.
The most notable feature on the 2450 is its 22″ HD, touchscreen console that can also tilt and pivot for easy viewing whether you're on or off the treadmill.
This large screen is there because this treadmill is meant to be paired with iFit, NordicTrack's streaming service which gives you access to instructor-led workouts, metric tracking, scenic routes, and all that stuff.
NordicTrack includes 30 days of iFit with your purchase, then you're probably looking at a monthly streaming fee of $39/month to continue using it.
iFit also gives you access to the AutoAdjust feature, which lets the instructors control your speed/incline settings during workouts and the ActivePulse feature, which does the same to keep you in your heart rate zones (heart rate strap sold separately).
Other features for the 2450 include:
Speakers
Bluetooth capabilities (headphone and heart rate monitor)
One Touch speed/incline buttons
Folding frame
Cooling fan
Integrated tray (water bottle holders)
The Sole F85 comes with a 15.6″ touchscreen display that is equipped with apps like Netflix, YouTube, Amazon Prime, and all the other popular entertainment apps.
And even though you can access thousands of instructor-led workouts through the Studio app, the F85's console doesn't offer the same kind of seamless streaming options the 2450 does.
But what it does offer, is screen mirroring from your phone or tablet – this means you could access any fitness app you want through your phone and view it through the console.
This means you aren't limited to just 1 streaming app like you are with most streaming machines.
With the F85, you also don't need a streaming membership to make the most of what the F85 has to offer.
This treadmill also comes with:
6 standard workouts
Bluetooth speakers
Bluetooth compatibility
Wireless charging
Cooling fan
Tablet holder
Folding frame
Integrated tray
So, the Commercial 2450 certainly comes with the more advanced console, but a lot of the awesome features on this treadmill are dependent on having an ongoing iFit membership.
The F85's console isn't quite as advanced, but it still comes with a lot of great features and you don't have to keep a monthly membership to use all of 'em.
Warranty
NordicTrack backs their Commercial 2450 Treadmill with the following home warranty:
10 year frame
2 year parts
1 year labor
And Sole backs their F85 Treadmill with this home warranty:
Lifetime frame/motor
3 year parts
1year labor
Ok, so the differences here speak for themselves.
NordicTrack backs all of their products with the same warranty and even though it isn't bad for some of their more affordable models, it's pretty short for a treadmill in this price range.
Sole's warranty, on the other hand, is about as long as you'll find in this price range.
Yup, Sole offers some of the best warranties in the business, which certainly helps add peace of mind when purchasing from them.
Price
Ok, before I finish things up here, I want to mention price a little.
I always hesitate to include numbers here because these numbers can change the second I publish this, but what the hell, I'm gonna do it anyway.
At the time of writing this, these treadmills cost the following:
NordicTrack Commercial 2450 – $2999
Sole F85 – $2299
Again, these prices can change, so don't hate me too much if these numbers aren't accurate by the time you see this.
But basically, the 2450 costs about $700 more than the F85.
Based on the specs, features, and warranty, I would argue the F85 is priced quite reasonably; with the 2450, it's a little harder to tell.
There aren't that many streaming treadmills that aren't NordicTrack to compare it to.
ProForm's Pro 9000 is very similar, it comes with a 22″ HD console and almost identical performance specs, but it's not quite as heavy-duty and the console doesn't move – and it's going for around $2300.
And then there's Peloton's Tread, which comes with a 24″ HD touchscreen console, similar specs, and a much shorter warranty and it's going for $3500…
So, I'm inclined to think the Commercial 2450 is maybe a little overpriced, but who knows.
Either way, it's definitely a lot more expensive than the F85.
Final Thoughts
Alright, I think that's about all I got when it comes to these two treadmills.
All things considered, I like both of these treadmills and think either could make a great addition to people's homes, but choosing the right one really depends on what you're looking for.
If you're confident you want to join the iFit family and are all-in with streaming, the Commercial 2450 makes a lot more sense.
If you simply want an elite treadmill that's easy to use and not dependent on streaming, the F85 makes a lot more sense.
Personally, if I had to choose one of these treadmills today, I'd go with the F85.
I like that it's heavier-duty and backed by a longer warranty… and it doesn't hurt that it costs almost $1k less either.
And I think the screen-mirroring feature opens up a lot of possibilities too.
So, to answer my original question, I would say the F85 is the better buy, but there are certainly no losers here.