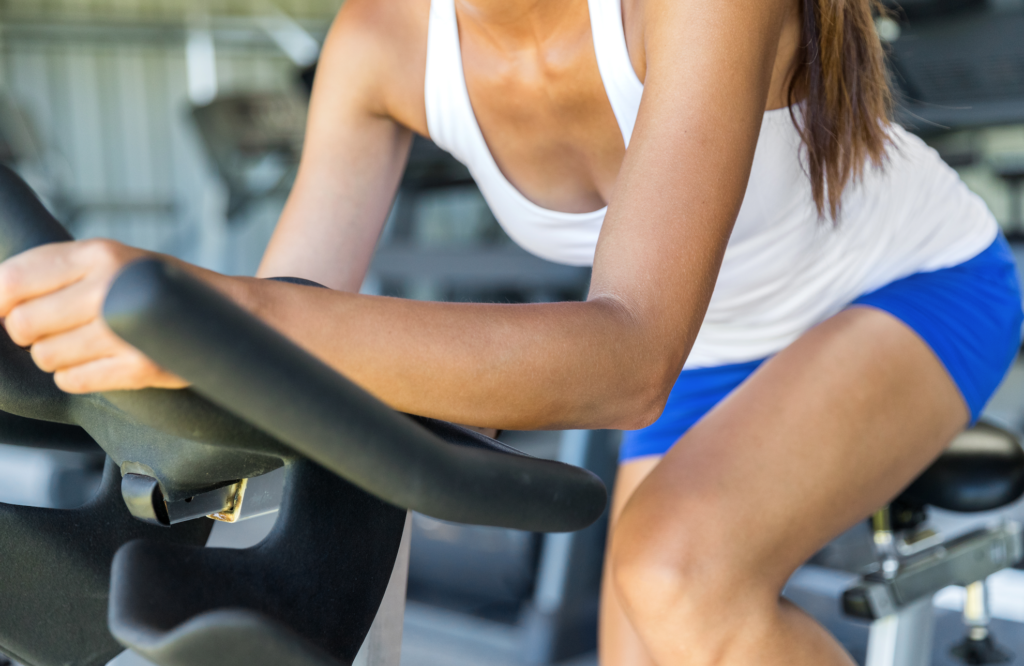 The U616 is Nautilus's mid-range model in their upright bike lineup, and if you ask me, this is where you tend to find the best bang for your buck.
As such, it comes with a good combination of features and specs, as well as some fairly significant upgrades over their most budget-friendly model, the U614.
Standout features include a 22 lb flywheel, 29 workout programs, and 25 levels of magnetic resistance.
If you're looking for a quality upright bike that won't break the bank, the Nautilus U616 might just be what the doctor ordered. And that's exactly what this article is here to help you figure out.
In this review, we'll go over everything this bike has to offer. After reading, you'll be well equipped to determine whether or not this is the right exercise bike for your home gym.
Let's get started!
The Nautilus U616 Upright Bike 
Nautilus is a very well-known home fitness company. The Nautilus brand is actually just one member of Nautilus, Inc. that also owns some other familiar brands like Schwinn, Bowflex, Octane Fitness.
They've made a name for themselves (Nautilus that is) by offering budget-friendly home fitness gear that works pretty darn well.
Their current lineup consists of a little bit of everything cardio related, including bikes, treadmills, and ellipticals. When it comes to upright bikes, their lineup consists of 3 different models: the U614, U616, and U618.
As I mentioned earlier, the U616 is their mid-range model and provides a good combination of features and specs for the price.
Pros
29 training programs

25 resistance levels

Health and goal tracking

Ergonomic design

Smart connectivity options (Bluetooth and MP3-ready)

Sync with RideSocial App

Built-in LCD console

Fully adjustable seat

Media shelf

In-console speakers

Low maintenance

Easy assembly
Cons
Limited warranty

Uncomfortable seat
Flywheel
When it comes to exercise bikes, the first question most people ask is how heavy the flywheel is. And by most people, I include myself.
That's because flywheel weight directly relates to how smooth your ride is going to be. Heavier flywheels are preferred because they build more momentum as they rotate.
This momentum reduces any lag between pedal strokes and makes for a smoother feel.
The U616 comes with a 13 lb flywheel and it is equipped with a high inertia drive system. For a bike in this price range, 13 lb is pretty average, considering most cheaper models come with 12-14 lb flywheels.
To help you control this flywheel, Nautilus gives you 25 levels of magnetic resistance to play with.
Being magnetic, you don't have to worry about felt pads breaking down or having to be replaced- there's no contact between the flywheel and magnets.
When it comes to resistance levels, more is also better because it gives you more play on selecting your workout intensity. With 25 levels, you can make small incremental increases or decreases during your workouts.
Overall, the U616 is pretty average when it comes to the flywheel, but it does have a lot of resistance levels to work with.
Seat
The U616 scores highly in the flywheel department, but what about the seat? Well, let's discuss that next. This bike has a contoured and padded seat which is fully adjustable, meaning you can set the vertical and horizontal position (fore/aft).
Riders can easily adjust their seats to whichever angle suits them best. Whether you want to lean closer to the handlebars while cycling or stay at an upright position, you can adjust and maneuver the seat post to fit your preferred style. 
But in terms of overall seat comfort, like most stationary bikes, the U616 has room for improvement. Most users agree the seat is a tad uncomfortable.
Unfortunately, this is a common truth for most stationary bikes (well, not as much a concern for recumbent bikes).
Luckily, their seat post comes with a standard attachment system to its slider. Thus, you can easily remove and replace with whichever seat you prefer.
And if you've decided to change its seat, you've got plenty of options to choose from in most bike shops. 
Handlebars
The handlebars on the U616 aren't adjustable. Adjustable handlebars are nice because they give you another level of customization.
But they are designed to offer users with multi-grip features, so one can choose the possibility to adopt standard, race, or parallel grips at every ride.
Since the handlebars are coated with a rubberized material, your hands will be less likely to slip, even when wet or sweaty. 
The handlebars also come with built-in grip heart rate sensors. The lower parts of the handle have metallic grip sensors to detect and monitor your pulse, allowing you to keep an eye on your heart rate during your workouts.
Frame
The last thing you'd want to happen is to ride a wobbly machine. Not only can it be dangerous, but unwanted wobbling or swaying is definitely going to interrupt your workout.
One easy way to tell if a machine is strong enough is to visually inspect the frame. Quality machines should have thick frames and components.
Skinny frames or frames that look wimpy, tend to be, well, just that.
The U616 seems to have a fairly robust frame at first inspection. More objectively, we can look at the weight capacity. Machines with higher weight limits should be sturdier- after all, they're designed to withstand larger users.
This bike has a very respectable weight capacity of 300 lb. Not only does this allow this bike to accommodate most users safely, but it lets us know this bike is pretty well built.
With an assembled weight of roughly 63 lb, the U616 is a lightweight model, making it easy to move if necessary. This is good when it comes to moving the bike, but more advanced users will probably prefer a heavier, more robust exercise bike.
Features
Here are U616's features at a glimpse:
Quick start capability

DualTrack™ 2 blue backlit LCD window system

Bluetooth connectivity

USB connectivity

In-console speakers with the MP3 input port and USB charging

Easy access and date sync to Nautilus ConnectTM, Nautilus TrainerTM App and MyFitnessPal

12 profile programs (including 4 fun rides, 4 mountain rides, and 4 challenges)

9 heart rate programs with custom settings

2 fitness test programs

4 user profiles

1 recovery test program

Heart rate monitoring through contact sensors (on the grip or on the chest strap)

Media shelf for your tablet or magazine

Adjustable 3-speed fan

Water bottle holder

Transport wheels
To start with, the fact that this bike comes with 29 training options is a big wow factor. Folks that are looking for a ton of workout variety will appreciate this.
This includes 4 Heart Rate programs: 50%-60%, 60%-70%, 70%-80%, and 80%-90%. Choose any of these programs and your Nautilus U616 Upright Bike will make sure to keep your heart rate within its limits by adjusting the resistance automatically.
Whether it's burning calories or reducing weight, this bike can track your goal progress. This feature can help keep you motivated to do and achieve more. Think of this model as a training tool and a friendly coach at the same time. 
The Nautilus U616 comes with 4 user profiles. Meaning, it can accommodate 4 different users and store each user's unique programs and progress tracking. Folks can save their name, age, gender, weight, height, and other workout parameters.
This bike is also Bluetooth friendly, allowing you to sync your data with apps including the Nautilus TrainerTM App, MyFitnessPal, RideSocial App and ConnectTM.
You can readily download all data to a USB drive with your Nautilus Connect portal. If you'll integrate it with your MyFitnessPal, it lets you track your goals more easily.
The U616 comes with Nautilus's DualTrack™ two LCD window system for you to scan, read, and watch up to 13 different display feedbacks conveniently. Its interface is sleeker and offers better visibility than the U614 model.
The workout metrics include:
User

Goal

Achievement

Heart Rate

Calories

Heart Rate Zone

Speed

Time

Distance

Level

Program

Intensity

Revolutions Per Minute
The upper, larger display shows your goal, progress, and selected training program. It reveals your heart rate interval from the integrated heart monitoring sensors located on its grips or enabled chest trap telemetry.
Here you can also check the level of incline and resistance. 
On the other hand, the lower, smaller screen shows the speed, distance, RPM, and burned calories.
This equipment also allows you to enjoy music while you sweat. It comes with in-console speakers that come with an MP3 input port.
This bike also comes with built-in transport wheels. You can easily move your Nautilus U616 around or place it wherever you want. 
Overall, the U616 comes with a rather impressive collection of features, given that the asking is price is south of $500.
Assembly
If you're worried about putting the U616 together by yourself, don't. It's surprisingly easy to assemble. Including plugging the bike up, there are only 9 steps from unpacking to having this bike ready to ride.
It basically just consists of bolting the stabilizers on, attaching the mast and console, and connecting the seat. You have to attach the pedals too (the bike doesn't work that well without them).
All necessary tools are included and the instruction manual is easy to follow.
Most folks should be able to have the U616 assembled in less than an hour.
Warranty
The Nautilus U616 comes with the following warranty:
Frame: 10 years

Parts: 3 years

Electronics: 3 years

Labor: 1 year
Overall, not an awful guarantee, but it would be nice to see a lifetime warranty on the frame. Many high quality home bikes offer this. Given the price range though, it's forgivable. 
Three years for parts and electronics is good and a year for labor is industry standard.
Final Thoughts
Overall, I'd say that Nautilus has a pretty solid upright bike on their hands with the U616. Their U616 model is arguably one of the most advanced fitness models at this price point.
At under $500, this machine is perfect for individuals who are looking to burn calories, reduce weight, and improve their endurance without destroying their budget.
I likethat this bike comes with so many workout programs and resistance levels. Definitely a lot of features for a bike in this price range.
It's also really easy to assemble and quiet to use- which comes in handy for the folks trying to exercise while family members are resting.
The frame warranty could be better, but even that's not that bad given the low price.
The U616 didn't quite make my list for best stationary bikes this year, but it's still a good buy. Recommended.