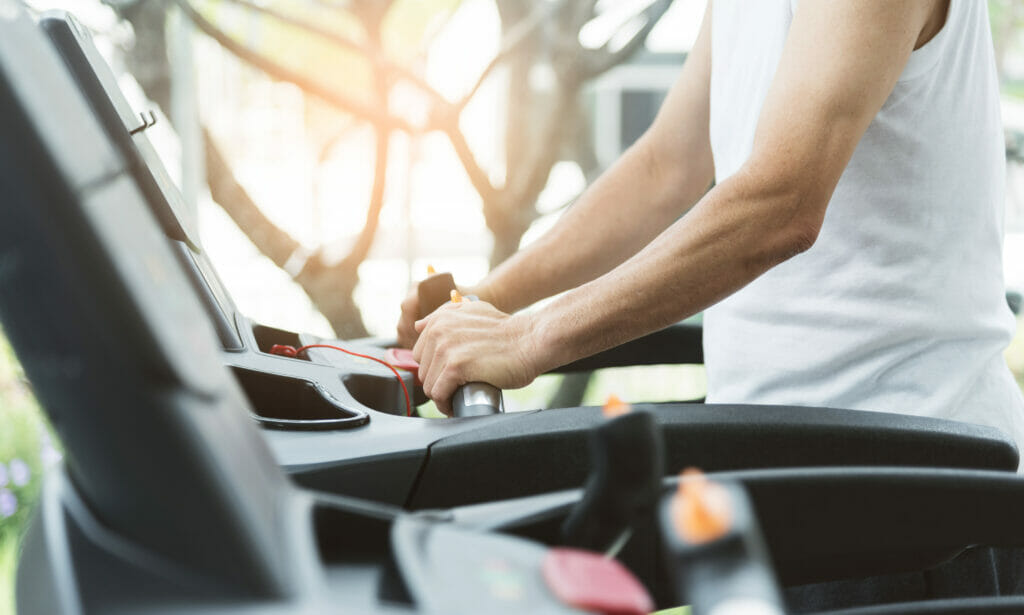 Matrix's TF50 is a high-end folding treadmill with a great mix of performance specs and console features.
This heavy-duty treadmill comes with a 3.25 HP motor, a 20″ x 60″ running surface, and a robust frame that can handle users weighing up to 400 lb.
These specs alone would be enough to earn street cred, but the TF50 also comes with option to choose between 4 different consoles, depending on tech needs and budget.
The most advanced of which is a 22″ HD touchscreen with built-in entertainment apps, iFit, bluetooth, screen mirroring, and even a web browser.
To make things even more interesting, Matrix backs this treadmill with one of the best home warranties on the market.
The only real thing to complain about here is the price, which, depending on the console you choose, can be quite substantial.
All things considered, I think the TF50 is a beast of a treadmill, but given its cost, you need to really make sure it's the right treadmill for ya before you starting pulling out credit cards.
And that's where I can help.
In this review, I'll go over everything this treadmill has going for it, as well as where it falls a bit short; I'll also try to compare it to some of the other top options in its price range to see how it stacks up against the competition.
After reading, you'll know whether or not the TF50 is the right choice for your home gym.
Let's do this.
The Matrix Treadmill TF50
Matrix is a high-end fitness brand that offers both residential and commercial machines.
I'd put 'em in the same league as brands like Life Fitness and Precor, although I think Matrix tends to be priced a bit better.
Anyway, when it comes to their home lineup, Matrix has a handful or so of treadmill to choose from and the TF50 is their highest-end folding model to date.
To be fair, they only offer two, with the other being the TF30.
The TF50 is a little larger than the TF30 and comes with more console options and a better warranty, but both treadmills are quite nice.
At the time of writing this, the TF50 comes with a starting price of around $4k, but it can go up as high as $6k depending on which console you choose.
Pros
3.25 CHP motor
Choice of 4 consoles
Heavy-duty frame
400 lb weight limit
Folds nearly to 90°
Top speed of 12.5 mph
Top incline of 15%
2.4″ rollers
Built-in entertainment apps (depending on console)
Screen mirroring (depending on console)
30 days of iFit included
Built-in safety rail
Bluetooth
Great warranty
Cons
Would be nice if running surface was 22″ wide
Advanced consoles get pricey
Running Surface
Whenever I'm checking out a new treadmill or writing a review, I always start with the running surface because I think this is one of the most important specs to look at.
This spec isn't particularly exciting or interesting to think about, but when it comes to comfort during workouts, it's a big one.
The running surface tells you exactly how much room you'll have to stretch out during use and if this spec is too small, your workouts are gonna suffer.
Personally, I think having more room is always a good thing because it gives you more wiggle room on the belt.
Not only will you be able to stretch out fully when sprinting, but you'll also be able to sway a little side to side without having to worry about stepping off the belt.
To be fair though, the length component of the running surface is more important for taller runners because shorter folks are more unlikely to (literally) run out of space.
With all of this in mind, the TF50 comes with a running surface that measures 20″ x 60″.
At this size, folks of all heights will be able to us this treadmill comfortably without fear of running out of belt or having to shorten their stride while running at faster speeds.
But that said, for this price, I'd kinda expect to see a 22″ width.
A lot of the higher-end treadmills are coming with a 22″ x 60″ running surface and even though this extra room isn't essential, it still makes for a more spacious feel while using it.
And I'm talking treadmills that cost a whole lot less than the TF50.
Examples include Horizon's 7.8 AT, Sole's F85, NordicTrack's X22i… and the list could go on.
So again, it would be nice to see a 22″ wide belt on the TF50, but I don't consider this a deal breaker by any means.
I'd also like to point out that the TF50 weighs in at 346 lb.
This is very heavy for any home treadmill and yes, this thing will be a bear to move, but all that weight is also going to make it rock solid while you're on it.
My Horizon 7.8 AT weighs about 330 lb and that thing feels very stable – so you won't have to worry about this treadmill feeling flimsy or wobbling on ya during use.
All this girth also allows the TF50 to handle users weighing up to 400 lb, which is impressive for any home treadmill.
Overall, it would be nice to see a little more width on the belt, but I love how heavy-duty and robust the TF50 is.
Motor
Moving on, it's time to talk horsepower.
Treadmill motors come in various strengths and having a stronger treadmill is never a bad thing.
After all, a stronger treadmill doesn't have to work as hard as a weaker one, meaning it should provide a smoother feel and sound less like it's struggling to keep up.
Most home treadmills max out at around 4 HP and if you plan on doing a lot of running, it's usually a good idea to go with one with at least 3 horses under the hood.
Just to make sure the treadmill can comfortably keep up.
Well, the TF50 comes with a 3.25 CHP, DC motor that can reach a top speed of 12.5 mph.
This is strong enough to handle runners and walkers alike and it also comes with a power incline that can reach 15% for added workout variety.
In this price range, you'll see stronger motors that go upwards of 4 HP, but to be fair, a lot of the similarly-priced Life Fitness and Precor home treadmills use 3.0 HP motors.
I also want to point out that in this price range, you could see some AC motors, but DC motors are still the norm.
DC motors are found in most home models, while AC models are often found in commercial models (because they're can handle longer run times each day).
The TF50 also comes with 2.4″ rollers, which are pretty large for a home treadmill.
The rollers are what the belt makes contact with at each end of the deck and having larger rollers is a good thing because they make for smoother belt action.
Larger rollers also just add an extra layer of heavy-dutiness to the deck.
Most home treadmills come with rollers somewhere in the 1.9″ – 3″ range, so at 2.4″, this treadmill scores pretty well.
Overall, with a powerful motor and large rollers, you can expect smooth operation regardless of what speed you're working at.
Features
The Matrix Treadmill TF50 comes with the following features:
Choice of console- you get to choose between 4 different consoles, from the most affordable XR with its LCD screen, to the most expensive XUR and it's 22″ HD touchscreen.  The features you get will vary a little depending on which console you go with and the price will vary quite a bit.
Entertainment apps- the XER, XIR, and XUR consoles  are all HD touchscreens of varying sizes and they all come with built-in entertainment apps you can view during workouts. We're talking titles like Netflix, Spotify, YouTube, and more.
iFit- Matrix machines are also compatible with iFit, the fitness streaming platform found on NordicTrack and ProForm machines. Through iFit, you can access unlimited instructor-led workouts, as well as scenic routes and metric tracking. Matrix includes a free 30 day iFit trial, then you'll be responsible for keeping up with the monthly fee if you want to continue using it (but you don't have to).
Workouts- you'll get anywhere from 5 – 13 built-in workout profiles, depending on which console you select. And all the touchscreen consoles come with screen mirroring, so you can access any fitness app you want from your phone and watch it through your console.
Bluetooth- all consoles are bluetooth compatible with heart rate monitors and headphones (when applicable).
Safety rail- the TF50 comes with a cool built-in safety rail that goes around the front of the console, giving you a convenient hand hold any time you need it.
Water bottle holders- and yes, there's room to store 2 cold beverages, so you won't have any issues staying hydrated during workouts.
Assembly
If you decide to purchase the TF50, white glove delivery is required as part of the transaction.
This means the treadmill will be delivered to the room of your choice and assembled for you if you like.
Don't quote me on this, because the rate might be different depending on where you live, but for my area, white glove delivery was only $250, which is pretty good such a heavy treadmill.
That said, Matrix acknowledges that white glove delivery won't be available in all areas, in which case you'll get a refund for the delivery fee.
If that happens, you could find yourself having to assemble the TF50 yourself – but don't fret, it's not too complicated.
The hardest part will be getting the treadmill to whatever room it has to go before putting it together – again, this thing is really heavy.
But the assembly process itself is pretty straightforward, it's just a matter of connection the uprights, the console, and several covers.
As always, make sure you don't pinch any console wires during the process.
Warranty
Matrix backs their TF50 with the following home warranty:
Lifetime frame/motor/cushioning
7 year parts
2 year labor
Yup, that's a great warranty.
The lifetime frame/motor warranty is awesome, but it's the 7 year parts warranty that stands out most to me.
To be fair though, for this price, I'd expect a long warranty.
In terms of comps, Life Fitness offers a very similar warranty on their similarly-priced T5 (although they only offer 10 years on the motor) and Precor offers a 10 year parts warranty on their TRM 445 (which is about $1k more than the TF50).
Overall, Matrix holds its own and then some in the warranty department.
Final Thoughts
Ok, there's the TF50 in a nutshell.
As I mentioned in the intro, there isn't much to complain about here.
The biggest deficit I see is that it would be nice if the running surface was a little wider at 22″, but I don't consider that a big deal.
I like how big and heavy-duty this treadmill is and it's nice that you get to choose between 4 different console options.
And the warranty is great.
It's pretty easy to argue that this is a really nice treadmill, but is it really worth that asking price?
That's a tougher call, but based on the Life Fitness and Precor comps, I'd say it's priced in the right ballpark.
And I think Matrix's consoles are easily much better than either's, considering you can get HD touchscreens with built-in apps, iFit, and screen mirroring.
So, if you're looking for an elite home treadmill with ton's of cool console features, I think Matrix's TF50 could make a lot of sense.