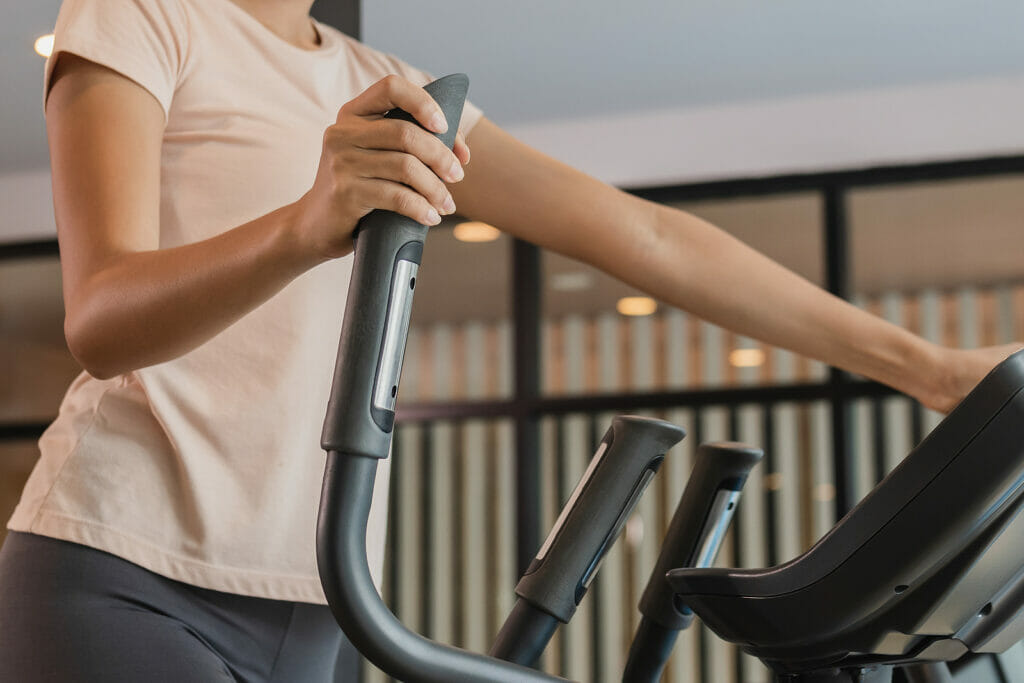 The A30 is one of Matrix's higher-end elliptical machines and I can confidently say it's one of the nicest home ellipticals I've ever personally tried.
Having the ability to choose your console is nice because you can save a lot of cash if you don't care about the touchscreen display, but that XIR console is pretty sweet.
With access to built-in entertainment apps, screen mirroring, and iFit, there's not much this fancy console can't do, but the A30 can perform superbly on its own too.
Highlights of this elliptical include a stable frame, a 30 lb flywheel, 20 resistance levels, and an adjustable power incline.
And this is Matrix we're talking about, so of course it's backed by a great warranty.
Overall, I really like this elliptical, but there's no getting around the fact that it's pretty pricey.
So, is it really worth the asking price?
Well, that's what I'm here to help you figure out.
In this review, I'll go over everything the A30 does and doesn't have going for it – after reading, you'll know whether or not this is the right elliptical for you.
Let's begin.
The Matrix Elliptical A30
Matrix is part of the Johnson Health Tech family, a fitness corporation that also owns Horizon and Vision Fitness.
Matrix started as a commercial fitness brand back in 2001, but has been offering residential equipment as well since 2016.
Generally speaking, I like Matrix as a brand and I would put 'em on the same pedestal as the other elite brands like Life Fitness and Precor.
With Matrix, you can expect heavy-duty machines and good warranties, but they usually tend to be a little more affordable than say a Life Fitness or Precor machine.
Matrix also has nice consoles, but more on that later.
The A30 we're here to go over now is one of their Ascent Trainers, simply meaning it comes with a power adjustable incline (their E30 and E50 ellipticals don't come with this feature).
The A30 is Matrix's second highest-end elliptical to date, with only their Elliptical A50 out ranking it.
The price for the A30 will vary depending on which console you go with, but you can expect to pay somewhere between $4000 – $5500 for this elliptical.
Pros
20 – 24″ stride length
30 lb flywheel
20 levels of magnetic resistance
Power adjustable incline
Nearly silent operation
Heavy-duty frame
350 lb weight limit
8.7″ step-on height
Choice of console
Access to entertainment apps*
Access to iFit*
Screen mirroring*
Internet browser*
Bluetooth
Heart rate strap included*
Built-in workouts
USB charging*
Large, non-slip pedals
Great warranty
Cons
Expensive
Stride length might me too long for shorter users
*depending on console
Stride Length
Let's start things off by talking about the A30's stride length.
I like to start here because I consider this to be the most important spec for any elliptical – basically, if the stride length is too short (or too long) for ya, you aren't gonna be comfortable using the elliptical.
And regardless of how many nice features it has, if you aren't comfortable during workouts, you probably aren't going to keep using it.
Anyway, the stride length refers to how far apart your feet move with each step and any self-respecting elliptical will provide this info.
The A30 comes with a stride length that varies between 20 – 24″ depending on which incline angle you're at.
This is a very spacious stride length and should allow taller users to be able to stretch out comfortably, but shorter folks might actually find this to be a little too long.
At 6'1″, I found it very comfortable, but again, 20″ at the shortest end of the range might be a little too long for folks under 5'3″ or so.
Of course it has a lot to do with personal preference as well.
Most nicer ellipticals come with a 20″ stride length because it's been shown that folks of most heights can comfortably use an elliptical of this size.
I do want to point out that even though Matrix refers to their stride length as "variable length", it's not like you can control the stride length separately from the incline.
The change in stride length occurs because of the change in incline – the two aren't independent from each other.
Not that this matters, but I did want to make sure we're all on the same page regarding how this elliptical works.
You'll also notice that this elliptical looks a bit different than most you've probably seen before.
This is because Matrix uses a "suspension design" instead of the more traditional wheel and track designs found on other front-drive ellipticals.
According to Matrix, the suspension design reduces noise and improves durability because there's less friction.
Well, I can't speak to the improved longevity of this design, but I can tell ya the A30 is damn near silent during use.
Without exaggeration, it's as quiet as any elliptical I've ever used and the stride action is crazy smooth as well.
I also want to mention that this elliptical is extremely heavy – this thing weighs 313 lb assembled.
This is huge for a home elliptical (the E98 mentioned earlier weighs in at around 246 lb and that's a heavy-duty elliptical in its own right).
This added weight makes this elliptical a lot harder to move, but that's a good thing – it means it won't wiggle on ya while you're using it.
And I can attest to how stable the A30 feels during use, it's rock solid.
This bulky frame also allows this elliptical to safely hold users weighing up to 350 lb.
Overall, the A30 scores very highly with its large stride length, quiet operation, and robust frame, but shorter folks might want to try one out before purchasing to make sure the stride isn't too long for comfort.
Resistance
The A30 is a high-end elliptical, but it still uses a weighted flywheel and traditional magnetic system to create its resistance.
These systems work exactly like the magnetic systems on most indoor cycles work – that is, by moving a magnet closer to/farther away from a spinning metal flywheel.
The closer the magnetic gets to the flywheel, the more resistance you feel; the farther away, the less (Eddy current braking).
These systems can work really well, but ellipticals usually benefit from having a heavier flywheel because the extra weight builds more momentum, which in turn helps keep the pedals moving a little between strides.
The result is a smoother pedaling motion.
Well, the A30 uses a 30 lb flywheel, which is about as heavy as you can expect to see on any home elliptical (although Sole's E98 does use a slightly heavier 32 lb flywheel).
Either way, 30 lb is easily heavy enough to create a smooth pedaling motion, especially when combined with Matrix's suspension design.
The result is a silky-smooth feel that's as close to silent as you can get with moving parts.
The A30 also comes with 20 resistance levels, giving you a nice range of intensities to work with and I don't know the watt ratings, but I found the resistance to be very heavy when I cranked it all the way up to 20.
Not an intensity I'd be able to maintain for any extended period.
And unlike Matrix's entry-level ellipticals (the E30 and E50), the A30 also comes with power adjustable incline for added variety.
The A30 starts at a resting incline of 24% and can go all the way up to 54%, so you basically have 30% worth of incline to play with.
When adjusting the incline though, you don't start out at "24" or anything like that, you simply start at "0" and work your way up (I think they use a 0 – 100 scale and you go up by '5's, so you essentially get 20 levels of incline).
The system makes it hard to know exactly what level of incline you're on at any given time, but I don't think that really matters.
What does matter is that the incline works as smoothly as the stride and you do feel your glutes starting to kick in more as you crank that incline up (it makes it feel like you're hiking uphill).
Overall, the A30 scores highly with its smooth acting magnetic resistance, heavy flywheel, and effective power incline system.
Features
Matrix's Elliptical A30 comes with the following included features:
Choice of console- you get to choose between 3 different consoles and the features you get will vary deepening on which one you go with. The XR console is a simple LCD display with little to no updated tech features; the XER is a 10″ HD touchscreen and the XIR is a 16″ HD touchscreen, both of which come with a lot more fun stuff.
Workouts- the number of built-in workouts you get access to will vary between 5 – 13, depending on which console you choose.
iFit- all consoles are iFit compatible, but the XER and XIR consoles allow you to access iFit directly through their touchscreen displays. And yes, this is the same iFit NordicTrack uses for all their instructor-led workouts and metric tracking. But unlike NordicTrack, Matrix doesn't require an iFit membership to use all the other cool features.
Entertainment apps- the XER and XIR consoles come with built-in entertainment apps (Netflix, Hulu, etc.), allowing you to watch your favorite shows and movies while working out.
Screen mirroring- the XER and XIR also come with screen mirroring, allowing you to hook your phone up and view anything you have on your phone through the console.
Internet browser- the touchscreen consoles come with built-in web browsers, so you can surf the web while exercising.
Bluetooth- all consoles are bluetooth compatible with heart rate monitors (or headphones for the XER/XIR consoles) as well. Speaking of heart rate monitoring, the XER and XIR consoles even come with included straps.
USB port- the XER/XIR consoles come with USB ports allowing you to charge your devices during workouts.
Handle bar controls- you can easily adjust your resistance and incline settings with the controls located on the stationary handles.
Oversized pedals- the pedals are large and extra grippy for a comfortable, secure feel for your feet.
Water bottle holder- and yes, there's even a place to put your water bottle.
Assembly
If you decide to purchase the A30, you'll likely be taking advantage of the white glove delivery, which includes delivering the elliptical to the room of your choice and assembling.
This is great because this is a really heavy elliptical and it could be really hard to move around and put together.
That said, if white glove delivery isn't available in your area, Matrix will deliver it to your front door and refund you the cost of shipping.
In this case, you'd be responsible for assembling yourself.
The actual assembly process shouldn't be that hard because it's really just a matter of bolting on several components and covers and hooking up the console.
But again, remember how heavy this thing is – you'll want at least 2 people to handle this thing.
Personally, I think this is one of those cases where paying for professional delivery/assembly is worth the cost.
Warranty
Matrix backs their Elliptical A30 with the following home warranty:
Lifetime frame
5 year parts
2 year labor
Lifetime on the frame is awesome, but at this price point, we should expect this – so at least Matrix doesn't disappoint.
Five years on the parts is also quite good and this matches what Life Fitness offers on their similarly-priced E5 Elliptical Cross-Trainer.
And 2 years for labor is better than the 1 year Life Fitness and most home brands offer as well.
Overall, a great warranty.
Final Thoughts
Well, I think that about does it for the A30.
This is a heavy-duty, smooth acting elliptical with the option to get some great console features – and it's backed by a great warranty too.
In other words, there's not much to complain about here.
The biggest downer is obviously the cost because with a starting price of around $4k, there's no denying that this thing is pricey.
But considering what it has to offer and how the other elite home ellipticals are priced, I would argue it's priced pretty reasonably.
It kinda goes along with the whole getting what you pay for concept.
So, if you're looking for a quiet, comfortable elliptical that's built to last, the A30 is likely worth the investment.