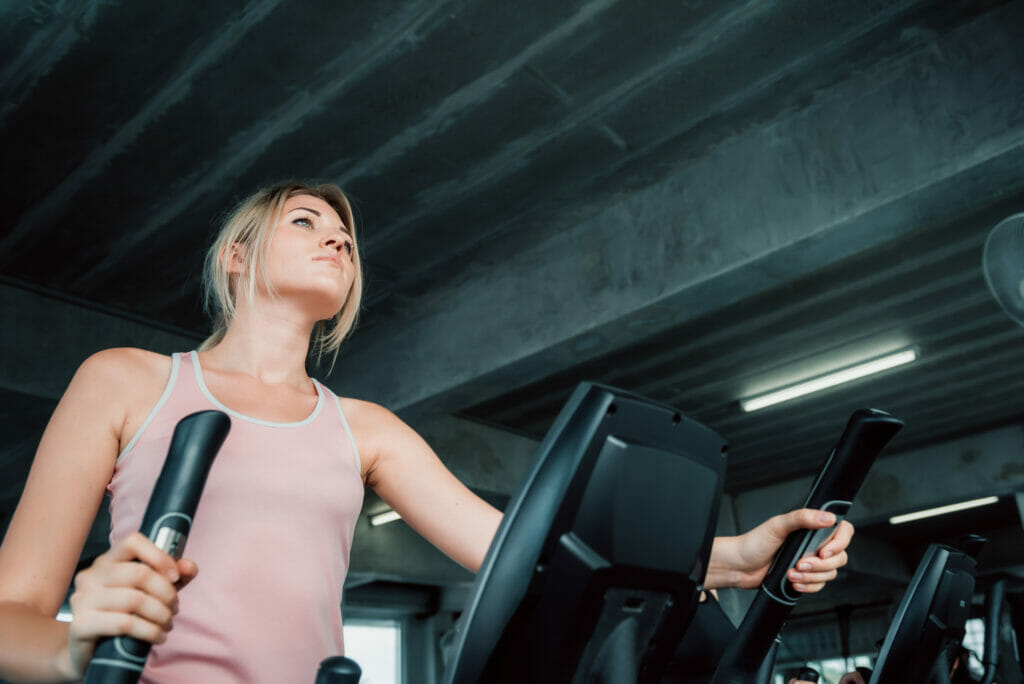 With an easy to access frame, a smooth stride motion, and tons of resistance and incline settings to work with, Matrix's Elliptical A50 might be the perfect home elliptical machine.
There, I said it.
Ok, so maybe it isn't perfect, nothing is, but it's definitely my new favorite elliptical.
The A50 is loaded with all the features we'd expect from an elite elliptical machine and it gives you the option to choose your console too.
So, you go all-in with a huge HD touch screen that's loaded with entertainment apps and iFit or keep things simple with a smaller LCD option.
And with one of the longest warranties in the biz, you won't have to worry about the A50 crapping out on ya because you'll be covered.
The biggest downside is the cost, but shorter users might find the stride length is a little too long as well.
Overall, I love the A50, but before you decide on an investment like this, you really need to do your homework – and that's exactly what I'm here to help with.
In this review, I'll go over everything you should know about this elliptical machine, including all the perks and disadvantages that come with buying it.
After reading, you'll know whether or not the A50 is the right option for your home gym.
Ok, let's do this.
The Matrix Elliptical A50
Matrix is part of the Johnson Health Tech family, so if you're lucky enough to live by one of Johnson's stores, you should be able to stop by and try out any of their equipment.
I live about 20 minutes away from one and they're great.
It's like walking into a small commercial gym – they have all their equipment assembled and plugged in and you can stroll in and try anything you like out first hand.
This is awesome when it comes to trying out Matrix or any of Johnson's other brands out, but they also carry several other elite brands not owned by Johnson (including NordicTrack).
It's nice to be able to try equipment out before purchasing, especially when considering something that costs as much as the A50.
I spent some time at my local Johnson store trying out and playing with the A50 and I was really impressed (so much so that if I was in the market for an elliptical myself, I'm pretty sure this is the one I'd go with).
The A50 is Matrix's highest-end elliptical to date and is part of their Ascent Trainer lineup (along with the Elliptical A30), which refers to their ability to incline.
The price for the A50 varies quite a bit depending on which console you choose, but expect to pay anywhere from $4,500 – $6,500 for this elliptical.
Pros
Long stride length
Smooth operation
Exceptionally quiet
Sophisticated magnetic resistance system
30 levels of resistance
Power adjustable incline
Heavy-duty frame
350 lb weight limit
8.7″ step-up height
Multi-grip handles
Large, comfy pedals
Choice of console
Access to entertainment apps*
iFit
Screen mirroring*
Web browser*
USB charging*
Bluetooth
Built-in workouts
Great warranty
Cons
Expensive
Stride length could be too long for shorter individuals
Stride Length
Personally, I think an elliptical's stride length can make or break the whole experience.
This spec tells us how far apart our legs will be moving with each step, but it really gives us an idea of how comfortable we can expect our workouts to be.
Because if the stride length is too long or too short (more likely), it can effect the quality of our workouts.
Your optimal stride length with vary depending on your height and preferences, but most quality ellipticals come with a 20″ stride length because this length fits most users pretty well.
With this in mind, the A50 comes with a stride length that varies between 20 – 24″.
Now the A50 doesn't exactly come with a variable stride length like some ellipticals, but instead the stride will vary depending on which incline setting you have it set at.
At 6'1″, I found this generous stride length range to be quite comfortable – I was able to stretch out fully, imagining myself as a graceful gazelle gliding through the plains…
But I wouldn't be surprised if some shorter users found the A50's stride length to be a little too long.
You'll notice this elliptical looks a little different than most – instead of rails, Matrix uses a suspension design, which they say reduces friction, making for a smoother, longer lasting machine.
Well, there must be something to this because I can tell ya this elliptical is as smooth as butter and nearly silent during operation.
You wouldn't have to worry about waking sleeping family members while using this elliptical early in the morning and you could totally watch tv (or built-in entertainment apps) without having to worry about noise from the machine interfering.
It really is kinda like walking on a cloud – as I write this, I realize how goofy this sounds, but I'm not sure how else to describe it.
It's also about as low impact as I can imagine any cardio machine being, so I could see it working well for people dealing with arthritis and achy joints.
The A50's stride motion is remarkably smooth, but the frame itself is also robust and stable.
The machine itself weighs 375 lb, so you won't have to worry about it moving around on ya and with a weight capacity of 350 lb, folks of all sizes will be able to use it safely.
I also like how the suspension supports extend out, giving you a convenient place to hold on as you step on the pedals (and with a step up height of only 8.7″, it's surprisingly easy to access).
Overall, the A50 scores highly with its long, smooth-acting stride length and heavy-duty frame, but the stride could actually be a little too long for shorter users.
Resistance
The resistance on this elliptical is just as smooth as the pedaling motion.
A lot of home ellipticals use weighted flywheels to help improve the smoothness of operation and this can be a successful tactic.
Basically, making the flywheel heavier helps it build momentum as it spins, reducing lag between pedal strokes (the spinning flywheel helps keep the pedals moving as you pedal).
This is a smart way to make an affordable elliptical feel smoother, but higher-end ellipticals using more sophisticated resistance systems can often achieve the same goal without adding weight to the flywheel.
Case in point, the A50.
The A50 doesn't use a weighted flywheel (or at least a heavy one) – instead, they use a more advanced magnetic system.
Most magnetic resistance systems operate by moving the magnets closer or farther away from the flywheel, but with the A50's Exact Force™ Induction Brake, there are no moving magnets.
The magnetic force is increased or decreased by sending more power to the magnet itself.
This system creates instant resistance changes, but more importantly, it eliminates the chances of those moving magnets getting stuck (when a magnetic resistance system stops adjusting, it's usually because the magnets have gotten stuck in one position).
When using the A50, you don't hear any moving parts or anything for that manner when adjusting the resistance.
And with 30 levels to work with, you get a lot of control over the intensity of your workouts.
I found the resistance on the A50 to adjust smoothly and things started getting very challenging once I got to level 20 or so – anything higher and I wouldn't be able to maintain for long.
The A50 also comes with a power adjustable incline system, allowing you to change the feel of the terrain (or the muscle groups being targeted) during workouts.
According to Matrix, the A50 starts at an incline setting of 24% and can incline all the way up to 54%.
I'm gonna be honest, this doesn't mean much to me because I have a hard time picturing these angles – and at incline level 0, it feels pretty level to me.
So, the resting angle of 24% doesn't make a ton of sense to me, but that's ok.
More importantly, the incline works smoothly and as you bump up those levels (I think it goes from 0-100 in increments of 5, giving you around 20 incline levels), you feel as if you're starting to climb a flight of stairs.
The higher that incline level goes, the more you start to feel your glutes and hamstrings kicking in, but the quietness or smoothness never changes.
Overall, the A50's resistance and incline systems are top notch. I've never personally used a smoother or quieter elliptical machine.
Features
The Matrix Elliptical A50 comes with the following features:
Choice of console- the most notable feature on this elliptical is that you get to choose between the following consoles: XUR (22″ HD touchscreen), XID (16″ HD touchscreen), XED (10″ touchscreen), and the XR (8.5″ LCD). The features you get will vary greatly depending on which console you go with, as will the price. The touchscreen consoles come with a bunch of higher-tech features, while the LCD console is pretty old school.
Entertainment apps- all 3 of the touchscreen options come with pre-loaded entertainment apps (like Netflix and Hulu), giving you easy access to all your favorite streaming data. You still need your own subscriptions to each app though.
iFit- the touchscreens also come with built-in access to iFit, the popular streaming workout app. The XR console is bluetooth compatible with iFit, but you'd have to view the workouts on your own device. iFit gives you access to instructor-led workouts, scenic routes, and metric tracking and Matrix gives you a free 30-day trial with purchase.
Bluetooth- all of the consoles are bluetooth compatible, allowing you to connect with heart rate monitors and headphones, if applicable.
Screen mirroring- the touchscreen consoles also provide the ability to connect your phone to the screen, viewing anything from your phone through the built-in console. This essentially gives you access to any app you have on your phone.
Web browser- the touchscreens come with a built-in web browser as well, so you could surf the web while working out.
Heart rate monitoring- there are built-in grip monitors in the stationary handles, but the XUR, XID, and XED consoles also come with included heart rate straps for more accurate measurements.
Built-in workouts- all consoles come with built-in workouts to choose from, but the number you get will depend on which console you choose.
Multi-grip handles- the moving handles on the A50 are large, comfy, and offer several different grip options depending on personal preference.
Oversized pedals- the pedals are also large and grippy for added comfort.
USB port- the touchscreen consoles also come with a USB port for device charging during use.
Water bottle holder- and there's even a water bottle holder, so no excuses for not staying properly hydrated!
Assembly
If you decide to purchase the A50, Matrix requires you to get their white glove delivery (it's really the only kind of delivery they offer).
This means the delivery team will deliver the elliptical to the room of your choice and assemble it for you.
Personally, I see this as good news because if I'm investing this much into a piece of fitness equipment, I want to make sure it's assembled correctly.
That, plus the fact that this thing weighs almost 400 lb, so it would be a bear to try and move around yourself.
If for some reason white glove delivery isn't available in your area, Matrix will deliver it to your doorstep and waive the delivery fee.
In this case, you'd be responsible for getting it inside and assembling yourself.
If this happens, don't freak out – if you're confident with following directions, you should be fine.
Just make sure you have a friend or 2 available to help because again, this thing is big and heavy.
Warranty
Matrix covers their A50 with the following home warranty:
Lifetime frame
7 year parts
2 years labor
This is a really good warranty.
Lifetime on the frame is awesome, but it's the 7 years on parts that stands out the most to me here.
Most decent home brands will offer somewhere between 2-5 years on parts (think NordicTrack, Sole, Horizon, etc), but even some of the elite brands (like Life Fitness) max out at 5 years for similarly priced ellipticals.
That said, there are some brands out there with 10 year parts guarantees (like Spirit and Precor, I believe), but not many.
Two years on labor is also better than the 1 year most brands offer.
Overall, Matrix offers a wonderful warranty for this elliptical.
Final Thoughts
Alright, that'll about do it for the A50.
I really like this elliptical and I had a lot of fun playing with it – and I don't have much at all to complain about.
This is a high-end elliptical machine with a smooth-acting resistance system/pedaling motion and a sturdy, easily accessible frame.
It's awesome that we get to pick our console because not everyone cares about having a touchscreen with built-in apps and all that.
But those who do, can go all-in and have at it (I still think it's cool that you can access iFit workouts through this elliptical).
The cost is obviously the biggest downside here, but you know what they say about getting what you pay for.
That said, shorter folks (likely under 5'4″ or so) might want to try one out before purchasing just to make sure the stride isn't too long for comfort's sake.
All things considered though, I think the A50 is a great elliptical and easily one of the best options currently on the market.
If I had the room for an elliptical, it would officially be on my wish-list.