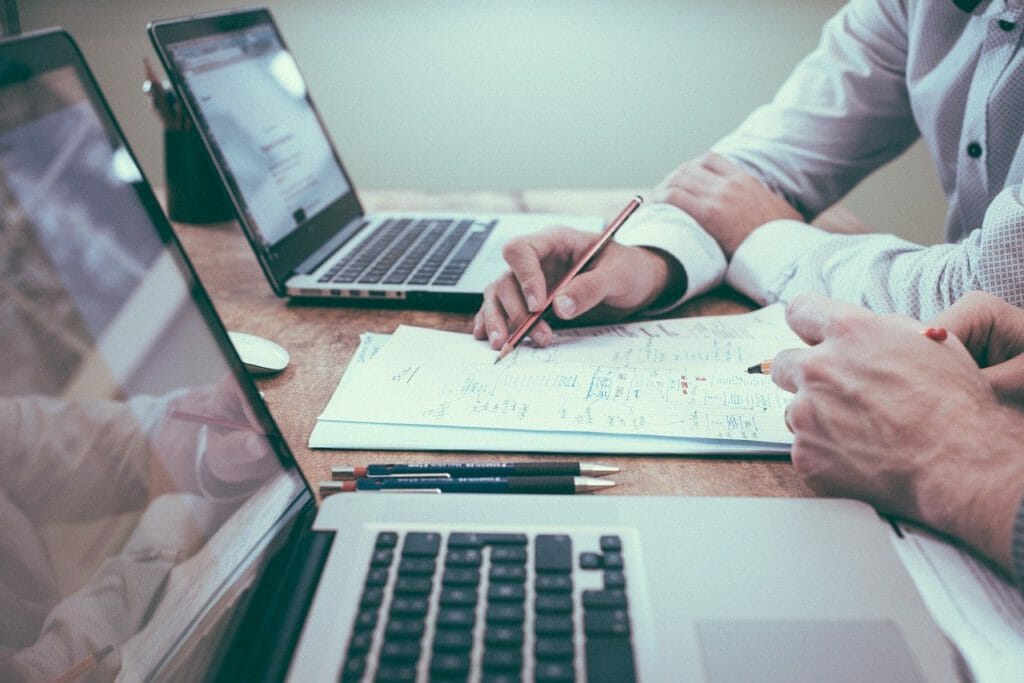 One of the more popular treadmill desks around is LifeSpan Fitness' TR800-DT3. It sports a compact track size and all the basic features for entry-level use.
And with an affordable asking price well under $1000, it's easy to see why this model has become so popular.
The fact that it comes with a motor that can support brisk walking while operating quietly (so it won't disturb coworkers or family members) is also a plus. 
If you're looking for an affordable under desk treadmill, the TR800-DT3 may be a good choice.  And this review will help you determine if it's the perfect desk companion for you.
In this article, we'll go over everything this treadmill has (and doesn't have) going for it. I'll also share some tips on what to look for in a treadmill desk.
The LifeSpan TR800-DT3 Under Desk Treadmill
LifeSpan Fitness isn't as famous as Precor or Cybex, but they've carved a name in the industry due to their high-quality offerings at affordable prices. They're often mistaken with Life Fitness, which is a top-tier luxurious brand. 
At first look, there's nothing special about LifeSpan Fitness' products. They aren't fancy or coated with all the bells and whistles. But when you check their specs, they're easily one of the best in their league.
In fact, LifeSpan Fitness have several award-winning machines and have earned commendations from many blogs and fitness review sites (such as ourselves here at The Home Gym).
They offer the usual training machines, like treadmills, bikes, rowers, and ellipticals. But it's their less common products like their treadmill desks (and cycle boxer) that  separate them from most other fitness brands on the market.
The TR800-DT3 is their smallest treadmill desk and is considered to be a lightweight user option. Nevertheless, it boasts more features and is vastly more reliable than all the competitors at the $800 price category.
Pros
Compact size

2.0 HP motor

4.0 mph top speed

Quiet operation

Intelli-Step™

Intelli-Guard™

Bluetooth integration

USB charging port

Good warranty

Great price
Cons
Narrow deck (18")

200 lb weight limit

3-hr continuous usage limit
Running (Walking) Surface
One of the most important features I'd like to look at a treadmill is the running surface. It's the belt size or deck area you'll use for walking or running. 
Just by checking the running surface, you can easily tell if the treadmill is safe and comfortable to use.
If it's too narrow or small, you'll feel like walking on a fine line. You won't be able to move freely and you'll likely be conscious about your gait pattern. 
A large running surface is better because of the extra wiggle room. 
Regular treadmills should have roomy decks as they're used for walking and running. Hence, users don't have to worry about their stride length, especially when sprinting.
On the contrary, treadmill desks are used solely for walking. You won't need as much length as you do on a running treadmill.
So, how big is big enough for comfortable walking?
Well, that depends a little on your height and leg length, but generally speaking, most people can walk comfortably with a deck that is 40-50″ long.
This might sound short (and it certainly is compared to running treadmills), but given the slow speed you'll be walking at while working, it'll get the job done.
When it comes to width, most under desk treadmills will be 18-20″ wide (unlike the extra-spacious Unsit that comes with a 30″ wide walking surface).
Although you might not need the extra length when walking at slow speeds, I think most people are still going to appreciate any extra width because it'll give you more room to roam laterally as you walk (wider is always better, no matter how fast you're walking).
The TR800-DT3 has a walking belt size of 18" x 45", which is a pretty decent offering at this price point. Wider would be better, but at this size, most users can comfortably walk on the treadmill. 
It's designed to be a compact machine, so it comes with a small footprint (60.5″ x 26″). This will come in handy if floor space in your office is limited. 
The TR800-DT3 is 2.5" narrower than other LifeSpan Fitness office treadmills. You can easily place the TR800-DT3 next to your office chair on most 5- or 6-foot standing desks.
But just in case you're looking for more spacious walking tracks, their TR5000-DT3 and TR1200-DT3 may be a good fit for your needs. They have a large and roomy deck and should feel extra comfortable if you have enough space at the office. 
As mentioned earlier, the TR800-DT3 is considered a lightweight user option because its maximum user weight capacity is only 200 lb. If you're heavier, you'll feel safer walking on treadmills with a higher weight limit.
By looking at the max weight capacity of a machine, you can easily size up its frame integrity. Those with higher weight limits definitely have a more robust build. 
The TR800-DT3 does come with 6 independent compression shocks to minimize the impact on your joints and make each step more comfortable. 
With its well-cushioned design, many users agree that the TR800-DT3 feels better and softer than walking outdoors. It's comfortable to use and can help keep their focus at work.
It's also easy to move and transport the TR800-DT3 because it comes with 2 front-mounted transport wheels.
Overall, the TR800-DT3 has enough track size for a comfortable walking session. It's compact and designed with small workspaces and small users in mind.
Motor
If we were reviewing commercial or residential treadmills, I'd immediately tell you to look for treadmills with stronger motors. They should have a higher horsepower to support any of your high-intensity training needs.
But since treadmill desks are designed for walking, their motors don't need to pack as much HP as running treadmills. They usually come with motors in the 2.0 to 3.0 CHP range, which should be enough muscle to fuel your walks.
The TR800-DT3 comes with a 2.0 CHP motor and supports a top speed of 4.0 MPH. 
Keep in mind you'll be working while you walk. In fact, most people walk at a speed less than 2 mph while at a desk.
So, you won't likely need to reach 4 mph, but it's nice to know you can in case you want to take a break from work and go for a faster paced stroll.
The TR800-DT3 operates quietly, so you won't disturb your workmates or lose your focus. You can take phone calls without interruption.
The TR800-DT3 doesn't have incline features, which is acceptable for an under desk treadmill. I don't see it as a problem as walking on an incline while working at your desk may hurt your back and joints.
It may put your body at an unfavorable position, and we don't want that.
The incline and/or decline capacities are great for running treadmills as they offer more training varieties. They're also ideal if you're preparing for a trailing or hiking adventure. 
But we're talking under desk treadmills here, so no inclines.  
Something worth noting is the fact that the TR800-DT3 can only tolerate operating for 3 hours a day. Again, this is a light-duty treadmill that can't tolerate more strenuous usage.
Its light usage has been a deterring factor for athletes or users who love walking. But for entry-level users or workers who just want to hit the recommended 10,000 steps daily, the TR800-DT3 can do the trick.
If you're thinking about buying a treadmill desk for everyone's consumption, the TR800-DT3 may not have enough power to support longer operational hours. You may need a more powerful machine that can withstand several uses in a day.
Overall, the TR800-DT3 has enough muscles under the hood for walking and is ideal for light use, but its 3 hour max usage time (and low weight capacity) will be a deal-breaker for some folks. 
Features
The TR800-DT3 and TR800-DT5 share almost the same specs, especially with the track size and motor power. However, they differ largely with their console and other features as the TR800-DT3 only has the following:
Power button: The TR800-DT3 is easy to operate by simply pressing a button.
Console: The main difference between both TR800 models is the console. The TR800-DT3 is inferior to the sophisticated-looking console of its upgrade, the TR800-DT5. 
The TR800-DT3 has a red LED display that's similar to many cheap units. Nevertheless, it serves its purpose by also being reader-friendly. Users don't have any problem reading the display from any angle.  
It shows the usual stuff like distance traveled, time, calories burned, speed, weight, and step count. You can press the Mode button to select which readout you'd want to view. 
Bluetooth integration: There's a button to let you activate the Bluetooth connection so you can wirelessly sync your fitness data with the LifeSpan app or LifeSpan Fitness Club.
Intelli-Step™: It works like a pedometer. It automatically counts your steps as soon as you step into the deck.
Intelli-Guard™: It's an added safety feature of the TR800-DT3 that automatically stops the belt 20 seconds after you step off the deck.
USB charging port: There's 1 USB port for you to hook and charge your device.
Assembly
Assembly is something you won't have to worry about with the TR800-DT3. It comes fully assembled straight out of the box and is ready to use.
The TR800-DT3 is a very convenient and compact machine. It only weighs 96 lb and is simple to roll into position with its front-mounted wheels.
All that's left to do is to plug in the power cord and console connector. After that, you can begin walking on your standing desk treadmill.
Maintenance wise, Life Span recommends you lubricate the belt every 50 hrs (or 3 months) for smooth operation. They recommend a 100% silicone lubricant and you can purchase one directly from them on their website.
They also offer instructions for adjusting the belt tension or location on the deck in their instruction manual.
Warranty
The TR800-DT3 comes with the following warranty:
Frame: Lifetime

Motor: 3 Years

Parts: 1 Year

Labor: 1 Year
Having a lifetime warranty for a machine that's priced around $800 is pretty fantastic. Other units offer several years max. 
The motor, parts, and labor warranties are very decent too. LifeSpan Fitness surely lives to their reputation of providing great coverage for their units. 
Overall, the TR800-DT3 has an awesome warranty offering. I would even say it's surprisingly good considering the price of this treadmill. 
Final Thoughts
As someone who's been blogging for the last few years, sitting while working comes with the territory. I spend inordinate amounts of time sitting and I know it isn't good for me.
But between the hectic work schedule and online meetings, it's almost impossible to dedicate some time daily to my fitness regime.
I haven't thought about treadmill desks until a friend pitched the idea for my workstation. These machines sound pretty cool since you can give equal attention to your body as you work.
After reviewing the TR800-DT3, I might just have to invest in one.
The TR800-DT3 is a small, budget-friendly under desk treadmill that has all the basic features you need to start walking at your desk. It's also backed by a generous warranty.
The biggest disadvantages I see are the low weight capacity and the 3-hr daily usage limit.
But given the price, I think the TR800-DT3 is one of the best under desk treadmills around.