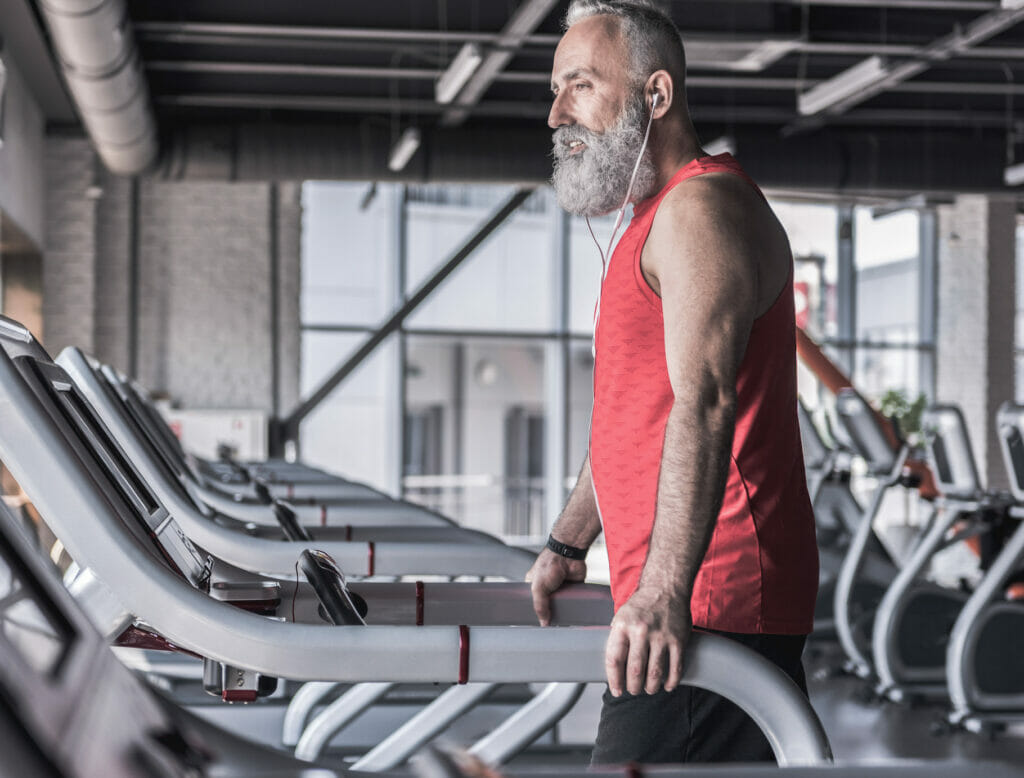 The T5 is a mid-range treadmill in Life Fitness' impressive residential lineup and as you'd expect, it's got a lot to be proud of.
More specifically, this treadmill is packing a 22″ x 60″ running surface, a 3.0 HP motor, and a very heavy-duty frame.
And since this is Life Fitness we're talking about here, of course the T5 comes with their patented FlexDeck Shock Absorption System and choice of 2 different consoles.
But the T5 also offers users the ability to adjust the firmness level of their deck, something none of their other treadmills come with.
Add in a great home warranty and the T5 seems to have it all – but is it really worth the large asking price?
Well, that's what I'm here to help you figure out.
In this review, I'll go over everything this treadmill does and doesn't have going for it; I'll also compare it to some of the other top treadmills around to see how it stacks up.
After reading, you'll be well-equipped to decide for yourself whether or not the T5 is the right choice for your home gym.
Alright, let's get to it.
The Life Fitness T5 Treadmill
Life Fitness is mostly known as a commercial brand, but they've got a pretty extensive lineup of residential machines these days too.
They remain one of the most popular fitness brands around and they've earned a stellar reputation over the years for producing equipment that lasts.
The fact that these treadmills are so expensive and continue to sell out regularly says a lot to the happiness of their customers.
Their treadmills are also known for being especially comfortable to use, thanks mostly to their FlexDeck system.
Their treadmill lineup consists of 6 different models, ranging from the most budget-friendly Run CX to their highest-end Platinum Club Series (I love that name).
The T5 falls right in the middle of that spectrum and goes for around $5k or so, depending a little on which console you choose.
Pros
22″ x 60″ running surface
3.0 HP motor
Top speed of 12 mph
Top incline of 15%
Quick start functions
Very heavy-duty frame
400 lb weight limit
FlexDeck Select Shock Absorption System
Choice of consoles
Good warranty
Great brand reputation
Cons
Expensive
Have to buy upgraded console for bluetooth
No lifetime warranty on motor
Running Surface
A treadmill's running surface is a simple spec that tells you the usable dimensions of the belt – it's usually measured in inches and written as "width x length".
This spec may not stand out as much as some others, but I think it's the most important stat to assess for any treadmill.
And I say that because the running surface tells you exactly how much room you'll have during workouts.
And if a treadmill is too small for ya, your workouts are going to suffer (and you probably won't be happy).
Luckily, that shouldn't be an issue with the T5.
With a running surface of 22″ x 60″, the T5 should be large enough to accommodate walkers or runners of all heights without fear of running out of room.
A 22″ x 60″ running surface is about as large as home treadmills get, although there are a few out there with 62 – 63″ lengths.
And even though I consider 20″ x 60″ to be the gold standard for home treadmills, most top models are going the extra mile and giving us the 22″ width.
So, the T5 is right where I'd expect it to be in terms of running surface, but it scores highly in terms of heavy-dutiness too.
With an assembled weight of 341 lb, the last thing you'll have to worry about is this thing feeling lightweight or unstable during workouts.
I like the idea of having a heavy treadmill because the extra weight makes for a more stable base, but yes, it does make them more difficult to move.
Cheaper treadmills tend to feel "cheaper" in part because they weigh less and move/wobble more during use.
The T5 is quite the opposite and is very heavy compared to most home treadmills, although Sole's TT8 (which costs about $2k less) isn't far behind with an assembled weight of 322 lb.
The T5's overall build quality is also evident when we check out its weight capacity.
Seeing a high weight limit is another indicator of a heavy-duty frame and with a 400 lb weight capacity, the T5 doesn't disappoint.
I've mentioned the FlexDeck Shock Absorption System a couple of times too, well that's Life Fitness' popular feature that reduces the impact your legs experience with each step.
According to Life Fitness, it's as much as a 30% reduction in impact, but who knows.
Anyway, with the T5, you can choose between 3 levels of firmness, giving users the ability to customize the feel of their run a little.
The T5 is the only treadmill in Life Fitness' lineup that offers this feature and I think it's a nice perk to this model.
Folks with achier joints can opt for more cushioning, while others can more closely mimic the feel of road racing with a firmer surface.
Overall, when it comes to the frame, the T5 scores highly. It comes with a spacious running surface, a nice shock absorbing system, and a very heavy-duty construction.
Motor
When it comes to treadmill motors, stronger is generally a good thing.
Stronger motors don't have to work as hard to provide the same output as weaker motors, making them smoother and even quieter sometimes.
Stronger motors can also reach top speeds faster than weaker motors, something that may be important when working on interval training.
Most home treadmills come with motors somewhere in the 2 – 4 HP range and if you plan on running on the reg, going with at least a 3 HP motor is a smart idea.
With this in mind, the T5 is packing a 3 HP motor, which can reach a peak output of 6 HP (but can't maintain this power rating for long).
At 3 HP, the motor on the T5 is strong enough to support walkers and runners alike, but most treadmills in this price range are packing more muscle.
Honestly, treadmills that cost half this are packing 4+ HP motors.
And while motor strength is definitely something to consider (I know I'm preaching this all the time), it's also important to consider the sophistication of the motor.
The motor on the T5 is designed with MagnaDrive motor control and designed to use less energy when working with smaller users and at slower speeds.
I'm not exactly sure what MagnaDrive is, but I looked it up and it sounds like a system that helps reduce the energy expenditure of the motor, while extending it's life.
So, even though the motor on the T5 isn't rated as highly in terms of HP, it's probably more advanced than the motors found on more affordable treadmills.
That said…
This is a $5000 treadmill – I'd like to see at least 4 HP and maybe even an AC motor (which are found on commercial treadmills because they can handle extended use better).
Anyway, the T5 can reach a top speed of 12 mph and a top incline of 15%, all of which is pretty standard for elite treadmills.
I like to find roller size as well when talking motors and Life Fitness doesn't always make it that easy to find this spec.
With a little research, I found a few different answers to this question, but it looks like the rollers on the T5 are likely around 2.5″ in the front and 2″ in the back.
By the way, the rollers are what allow the belt to glide smoothly across the deck and having larger ones is preferred because it makes for smoother operation.
Quality home treadmills usually come with rollers in the 2 – 3″ range.
So, the T5's rollers fall within that range, although given the price, I'd like to see them closer to 3″.
Overall, the motor on the T5 could be stronger for the price, but it's still strong enough to get the job done for walkers and runners. And users don't seem to have many complaints regarding the smoothness of its operation.
Features
The Life Fitness T5 comes with the following features:
Track Connect/Go Console- most of Life Fitness' home treadmills come with the option to choose between these consoles and the T5 is no different. The Track Connect console is more expensive and comes with bluetooth, more custom workouts, and more user profiles, as well as a media shelf. The Go console doesn't have bluetooth, but still comes with 12 standard workouts.
Quick start- the T5 can remember you preferred walking, jogging, and running speeds making it easy to simply hit a button and get moving at your desired intensity.
Heart rate monitoring- there are built-in grip monitors in front of the console and the Track Console is compatible with strap monitors as well.
Accessory tray-  this gives you a place to conveniently place stuff like keys and remotes during workouts.
Water bottle holders- there are 2 cup/water bottle holders ensuring easy hydration during workouts.
Assembly
If you decide to purchase the T5 directly through Life Fitness, I think they require their white glove installation, which covers delivery and professional assembly.
In that case, you won't have to worry about putting this thing together and you can enjoy your day.
If you purchase elsewhere, you may opt to save a little cash and assemble yourself.
The biggest issue with doing that is really just the sheer size and weight of the T5- remember when I sad this thing weighs well over 300 lb?
So, if you do decide to assemble yourself, just make sure you have plenty of helpers around to help you move it.
Otherwise, assembly shouldn't be too bad.
You won't have to mess with the main deck other than removing a cover at the base before attaching the uprights.
Then it's just a matter of bolting in the uprights, attaching the console, and adding a few covers.
Having a second person around is very helpful when it comes time to attach the console, fyi.
And as always, make sure not to pinch any cable wires.
Personally, given the weight of this thing, I'd opt for professional assembly, but it's not that complicated of a process.
Warranty
Life Fitness backs their T5 with the following residential warranty:
Lifetime frame/deck
10 year motor
7 year parts
3 year console
1 year labor
Ok, I think this is a really good warranty.
The only minor complaint I have is that I'd like to see a lifetime motor guarantee at this price.
Otherwise, a lifetime warranty on the frame and 7 years on parts are great. And a year on labor is pretty standard for any price range.
Overall, well done Life Fitness.
Final Thoughts
Ok, so that's the T5 in a nutshell.
This treadmill comes with a large running surface, a pretty strong motor, and very heavy, non-folding frame. It also comes with a clever, customizable shock absorption system.
I've complained about the choice of consoles in the past, so I might as well do it again – I think it's silly to have to pay an extra $600 to get bluetooth.
I realize they do this so they can give folks the option to save some money with a simpler console, but like all top end treadmills come standard with bluetooth these days – it's not a luxury feature anymore.
Just make the Track Connect console the standard option.
Anyway, Life Fitness redeems themselves with the warranty, although I think the motor should be covered for life too.
Put all this together and it's hard to deny the T5 is a great treadmill, but like most Life Fitness treadmills, I think it's overpriced.
There are plenty of more affordable treadmills packing more impressive specs, but I know the Life Fitness name goes a long way.
But in this case, I don't think the T5 is a great buy.
In Life Fitness' lineup, I think it makes more sense to save some cash and go with one of their more affordable models (like their Run CX) or go all in with one of their premiere models.
I think the T5 is kinda stuck in the middle and costs way too much for what you're getting.
Especially when there's more affordable treadmills like Spirit's CT850 out there that are packing 4.0 HP AC motors…