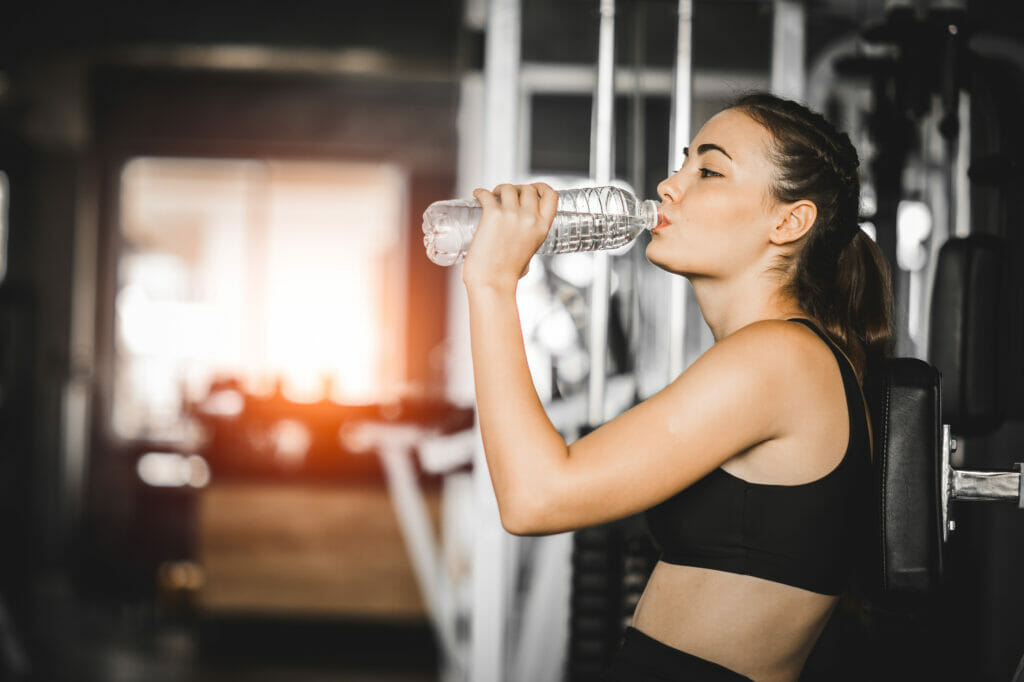 The G2 is Life Fitness' most affordable home gym to date, but it can still hang with most of the top gyms out there.
I guess we shouldn't be surprised, I mean this is Life Fitness we're talkin' about here.
Anyway, the G2 is a classic fixed-motion gym machine and comes with all the traditional stations we've come to expect, like a press arm, lat pulldown bar, and leg developer.
But with its variable arc press arm, it allows for greater range of motion and added versatility when compared to traditional single stack home gyms.
And it's compatibility with an optional leg press station gives the ability to grow over time as well.
It's also backed by a pretty awesome warranty, which never hurts.
All things considered, I think the G2 is a very nice home gym, but it's not perfect.
Before you decide, you should learn everything you can to see if it's the right gym for you – and that's where I come in.
In this review, I'll go over all the specs and features this home gym has to offer, as well as where it falls a bit short.
After reading, you'll know whether or not the G2 is worth investing in.
Let's begin.
The Life Fitness G2 Home Gym
Life Fitness is a brand most of us probably already know.
If you've ever worked out in a commercial gym in the United States, odds are you've used one of their machines.
Life Fitness is one of the biggest commercial fitness brands around, but they've also got an impressive lineup designed for home use as well.
They offer several home cardio machines that are top of the line as well as plenty of strength training gear too.
When it comes to home gyms, they only offer a few to choose from.
The G2 we're here to discuss now is their entry-level gym, but there's also their upgraded G4 which is very impressive.
There's also their G7, but that's more of a functional trainer (which still makes a great home gym, it's just a much different design than the classic single stack gym).
Life Fitness has a great reputation for producing high quality machines, but they also have a reputation for being very expensive.
That said, the G2 is priced more competitively than a lot of their products – with an asking price under $2k, it's priced effectively for home use.
Pros
Full body workout
25+ exercises
160 lb stack (upgradable to 210 lb)
Heavy-duty frame
300 lb weight limit
Variable arc press arms
Compatible with leg press station (sold separately)
Includes standard handles
Great warranty
Fair price
Cons
Can't do shoulder presses
Difficult assembly
Frame
When checking out a new home gym, I think it's a good idea to start by getting an idea as to how heavy-duty the machine will feel.
Honestly, this is a Life Fitness machine, so it's reallllly unlikely that the G2 would feel flimsy or low quality, but it's still a good idea to cross your 'T's' and dot your 'I's'.
The best way to assess how stable a gym is going to feel without trying it out first is to look at the gauge of steel used and the assembled weight.
And since the gauge of steel refers to the thickness of the metal, gyms made out of lower gauge steel should come with higher assembled weights.
(Recall that when it comes to steel gauges, lower numbers indicate thicker steel).
So for example, a 12-gauge steel frame would be thicker and heavier than a 14-gauge steel frame.
Life Fitness doesn't disclose the grade of steel used on the G2, but considering it has an assembled weight of 391 lb, I'm guess it's at least 11-12 gauge steel, or even thicker.
Keep in mind 160 of those pounds are coming from the weight stack itself, but even so, the G2 is heavy.
For the sake of comparison, Marcy's popular 150 lb stack home gym weighs about 280 lb… and there's only a 10 lb difference in the stack.
With such a heavy frame, you shouldn't have to worry about the G2 wobbling or feeling unstable during use.
This gym also comes with a 300 lb max weight capacity, which is pretty standard for any self-respecting home gym.
The G2 takes up a foot print of roughly 6′ x 4′ (L x W), which is pretty standard for a single stack system, so it doesn't require a ton of space.
Overall, I like how how heavy-duty the G2 is – something that certainly sets elite home gyms apart from the rest.
Stations
Ok, I realize talking about the assembled weight of frames is pretty boring, so let's move on to something a little more interesting- workout stations.
Looking at the stations a home gym comes with gives ya an idea as to the exercises you'll be able to perform on it.
Most single stack home gyms come with more or less the same stations, but there can be a few surprises.
The G2 comes with the following included workout stations:
High pulley- this is a staple for any quality home gym machine because it allows you to perform all the classic lat pulldown exercises, as well as tricep extensions and high rows of all varieties.
Variable arc press arms- the G2 takes your standard multi-press arm station and adds a twist. With the pivoting handles, you can some extra range of motion to your chest presses, as well as perform chest flys from the same station. Facing the seat, you can use this same station to perform rows or target your posterior delts as well.
Leg developer- this station is all about building your legs. You can perform quad extensions and hamstring curls with this built-in attachment.
Low pulley- the low pulley is a great station that allows you to perform all kinds of lifting exercises. You can attach a bar to this pulley and do moves like bicep curls and high rows, or you could attach a single handle and do lateral shoulder raises. You can also attach an ankle strap and target your hips with exercises like hip abduction/adduction/extension.
Optional leg press- the G2 is compatible with a separate leg press station that let's you perform the popular leg strengthening exercise while utilizing the same stack. The leg press station is sold separately and is kinda pricey (around $800 I think), but it's nice having that option if you want to expand your gym in the future.
The only thing really missing here is the ability to adjust the seat/press arm angle – this means you can't perform incline chest press or shoulder presses on the G2 (this feature is included on the upgraded G4).
Resistance
The G2 is a single stack home gym with a 160 lb stack included (10 lb increments).
This means the stack of weights is used as the resistance for all exercises performed on this home gym.
Life Fitness doesn't mention anything about the pulley ratio for the G2, but most home gyms like this utilize a 2:1 pulley ratio.
This means it feels like you're lifting half the weight racked on the stack. So, for example, racking 100 lb would provide about 50 lb worth of resistance.
That means that 160 lb stack would provide about 80 lb of resistance for any exercise.
If this doesn't sound like enough, you can add an additional 50 lb worth of plates to this gym for added cost, bumping that stack up to 210 lb (of 105 lb worth of resistance).
This is more resistance than most of us will need for these fixed motion exercises, but if you're a serious weight lifter, this likely won't cut it.
But realistically, if you're a serious lifter, you probably aren't considering the G2 anyway- you're probably more of a free weights person.
Few single stack gyms come with more than 210 lb worth of plates anyway.
Of course, going with a single stack gym comes with other perks too, like not having to store dumbbells or plates and not having to worry about having a spotter and whatnot.
Overall, the G2 is pretty standard with its 160 lb stack, but it's nice having the option to add an extra 50 lb if necessary.
Accessories
The G2 comes with the following accessories included:
Lat pulldown bar
Lat row bar
Ankle strap
Exercise booklet/cards
Yup, that's it.
This gym doesn't come with a ton of included accessories, but it comes with everything you'll need to get started.
It would be nice if it came with a single handle too, for doing moves like lateral shoulder flys or single arm bicep curls, but you can always pick up a set of handles pretty cheaply.
You could also always pick up some different tricep bars or ropes too if you like.
Overall, the G2 doesn't really come with any interesting or exciting accessories, but it does come with all the basics you'll need to get started.
Assembly
If you decide to purchase the G2, it's a good idea to go all in with professional assembly.
As you can imagine, this home gym comes with a lot of pieces, a lot of hardware, and the assembly process is quite involved.
You'd be responsible for putting the whole frame together, adding the plates, and routing the cables (something most people aren't interested in messing with).
Not to mention the fact that this thing weighs damn near 400 lb.
If you purchase directly through Life Fitness, I believe they require you to use their white glove installation, which includes delivery and assembly.
But personally, I think it's a smart move to go with professional assembly whether they require it or not – you're gonna want your new gym working perfectly.
Warranty
Life Fitness backs their G2 Home Gym with the following residential warranty:
Lifetime frame
Lifetime parts
3 year wear items
Yup, that's a pretty awesome warranty.
You can't beat a lifetime guarantee on the frame, but a lifetime parts guarantee is even better (the parts guarantee includes all the welds and pulleys).
Three years on the wear items isn't bad either, which also includes the cables.
Overall, I think this is a very generous warranty. An extended warranty like this is another key feature that tends to separate the high-end gyms from the lower-end models.
Final Thoughts
Ok, that's about all I got regarding the G2, time to wrap this up.
I think the G2 has a lot going for it.
In terms of stations and accessories, it's pretty standard – although the variable arc arm feature is nice because it allows you to perform chest flys without the need for a separate pulley station.
I also like that it's compatible with a separate leg press station.
But what really sets this gym apart is how heavy-duty it is.
Well, that and its warranty.
The biggest downside I see is that you can't perform shoulder presses on the G2, but that's not necessarily the end of the world.
The G2 is also priced pretty competitively when you look at other elite single stack home gyms.
Overall, I think the G2 is a very nice home gym system. If you're looking for a heavy-duty gym that should last a lifetime, it's a very smart buy.