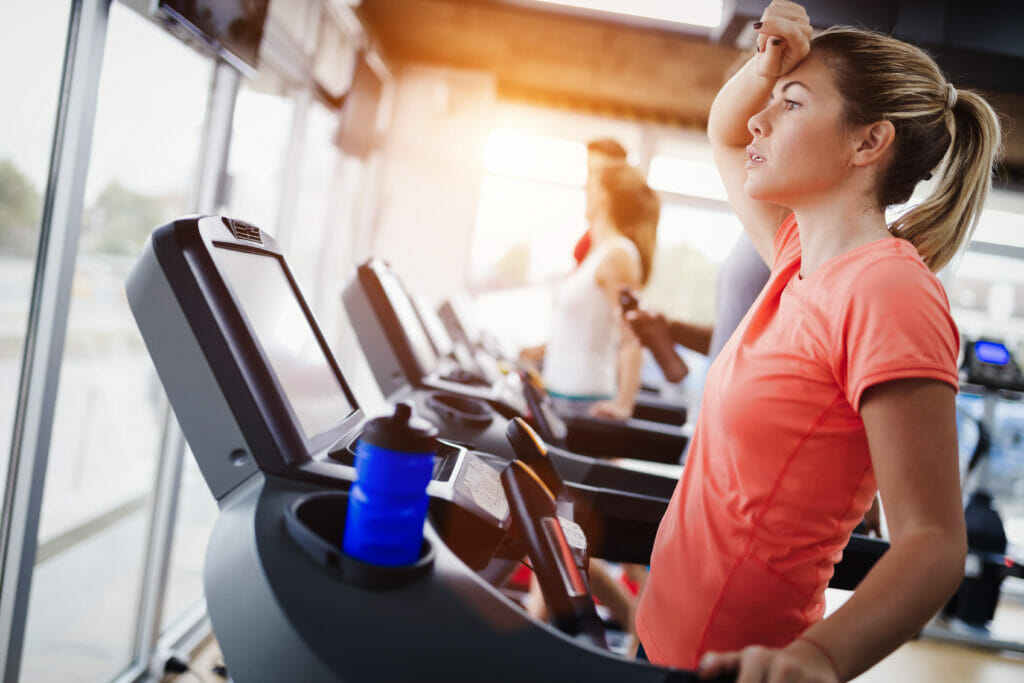 The F3 is a popular home treadmill offered by Life Fitness, one of the most famous fitness equipment brands in the world.
And to be honest, all Life Fitness treadmills are pretty impressive, but the F3 does something none of their other models can do – fold.
As a folding treadmill, the F3 gives folks with smaller workout areas the ability to enjoy all the perks of going with a Life Fitness product.
Folding aside, this treadmill has plenty else to offer too, like Life's patented FlexDeck cushioning system, the ability to choose between 2 different consoles, and a solid warranty.
That said, the performance specs for the F3 aren't quite as impressive as I'd expect for a $3000 treadmill- most notably, the running surface is on the small side.
With so many options to choose from these days, does it really make sense to invest in the F3?
Well, that's what we're here to help you answer.
In this review, I'll go over everything this treadmill does and doesn't have going for it. I'll also provide a few comparisons to some of the other top treadmills available to see how it stacks up.
After reading, you'll know whether or not the F3 is the right treadmill for your home gym.
The Life Fitness F3 Folding Treadmill
I love Life Fitness as a brand.
Back in the day, when I was still going to Gold's to workout, I always used a Life Fitness treadmill and it felt great.
Life Fitness is of course most well-known for their commercial lineup of machines, but they've got a growing home fitness lineup these days too.
There's no getting around the fact that this is an elite brand with luxury priced machines – even their most affordable models are more expensive than most other brands' top tier models.
But, that's the price you have to pay to get your hands on a machine of Life Fitness' caliber.
Life Fitness has several home treadmills to choose from and the F3 is one of their most affordable.
The final price depends on which console you choose (more on that later), but you're looking at at least $3k to purchase the F3 (which is affordable for Life Fitness, who also offers a $10k home treadmill).
Pros
3.0 HP motor
Up to 12% incline
Folding frame
350 lb weight capacity
FlexDeck shock absorption system
Choice of consoles
Bluetooth compatible (Track Connect console)
Plenty of built-in workouts
Strap heart rate monitor included
Good warranty
Life Fitness has amazing reputation
Cons
Running surface only 20″ x 55″
No lifetime motor warranty
Connect console expensive
Running Surface
I want to start this review by looking at the F3's running surface, which just happens to be this treadmill's most disappointing spec.
In case you're unfamiliar with the term, the running surface describes the physical dimensions of the belt.
That is, how much usable space you have at your disposal during workouts.
Having a larger running surface is beneficial because it gives you a more spacious feel, but it's especially important for taller folks to ensure they don't literally run out of room.
Most high-end treadmills come with a running surface of at least 20″ x 60 because most people, regardless of height, can comfortably walk or run on a machine of this size without having to shorten their stride.
With this in mind, consider that the F3 comes with a running surface of only 20″ x 55″.
55″ is short for a $3k treadmill and something taller runners should certainly consider before purchasing.
At this length, most people will probably be fine when walking or jogging, but our stride increases when running at faster speeds.
And if you're over 6′ tall, you could find yourself having to shorten your stride when sprinting.
And when it comes to the width, I was being a bit generous when I said most high-end treadmills are at least 20″ wide – these days, most are 22″ wide.
Considering there are so many more affordable treadmills that are packing significantly larger running surfaces, it's disappointing to see that Life Fitness gave the F3 smaller dimensions.
My guess is they wanted to keep it as compact as possible to go along with the whole folding aspect.
On the plus side, the F3 does come with the same renowned FlexDeck shock absorption system as all their more expensive models.
The FlexDeck system is known to reduce stress through joints, making for a more comfortable workout experience.
When it comes to the frame, we already know this bad boy folds vertically for storage, but how heavy-duty is it?
It's hard to get a sense of this without taking it for a test spin (which isn't always possible these days), but looking at the machine's assembled weight is a good place to start.
After all, this spec tells us literally how heavy the treadmill is.
And heavier treadmills tend to feel more stable and more commercial-like than lighter ones.
The F3 comes with an assembled weight of 263 lb, which isn't bad for a folding treadmill, but again, there are plenty of less expensive models that are much heavier.
Like Sole's F85 which weighs in at 308 lb or Horizon's 7.8 AT that weighs in at around 330 lb, both of which cost a good $1k less than the F3.
That said, users seem to be very happy with the feel and stability of this treadmill.
The F3 comes with a max weight limit of 350 lb, allowing it to hold folks of all sizes safely.
Overall, the F3's running surface is small for a treadmill in this price range and it isn't quite as bulky as some of the other top home treadmills, but users don't seem to mind.
Motor
Ok, let's move on to one of the more interesting specs to talk about – horsepower.
I doubt you'll be surprised to hear that when it comes to treadmill motors, being stronger is a good thing.
That's because stronger motors provide smoother operation – more muscle means the motor doesn't have to work quite as hard to get the job done, which results in a smoother feel.
Most quality home treadmills come with motors in the 3.0 – 4.0 HP range
And if you're a runner, it's a good idea to go with a treadmill with at least 3 horses under the hood to ensure smooth operation at higher speeds.
With all of this in mind, consider that the F3 comes with a 3.0 HP motor.
This is on the low end of the expected range and it's also weaker than the 4.0 HP motors found on many of the top home treadmills (including the Sole and Horizon models mentioned above).
The F3 also comes with a slower top speed of only 10 mph (compared to the 12 mph top speed of most other home models).
Now to be fair, 10 mph is still a lot faster than most of us will ever need, but still…
This treadmill also comes with a max incline of 12%, which again is plenty for most of us, but still less than the 15% incline offered by many competitors.
I always like to look at roller size too when talking about motors and whatnot because they play an important role in smoothness of operation too.
The rollers are what the belt glides over as the motor does its thing and having larger rollers is a good thing.
And that's because larger rollers make more contact with the belt, putting less stress on the belt and rollers themselves.
Most high-end home treadmills come with rollers in the 2.5 – 3″ range.
Life Fitness doesn't disclose the size of the F3's rollers, but I know that the F3 comes with the same motor as their new Run CX treadmill.
And I also know that the Run CX comes with 2.5″ rollers because I contacted Life directly and got a prompt response from one of their reps.
So, I'm assuming the F3 also comes with 2.5″ crowned rollers, which is pretty good and certainly large enough to provide smooth operation.
Overall, the F3 isn't packing as much muscle as many of the other top home treadmills around, but it's strong enough to handle runners and walkers alike.
Features
The Life Fitness F3 Folding Treadmill comes with the following features:
Choice of console- a key feature of most Life Fitness treadmills is the ability to choose between 2 or more consoles. With the F3, you can choose between the simple LCD Go Console or the upgraded Track Connect console (which costs about $500 more).
Plenty of workouts- regardless of which console you choose, you still get plenty of workouts to choose from. The Go comes with 12 workout profiles and 2 custom workouts, while the Track Connect comes with 16 workout profiles and up to 12 custom workouts.
Bluetooth- the Track Connect console is bluetooth compatible with Life Fitness' Connect App (as well as plenty of others), giving you access to metric tracking and on-demand workouts. The Go console is not bluetooth compatible.
Heart rate monitoring- both consoles are compatible with telemetry heart rate monitors and the F3 comes with an included strap for accurate measurements during workouts.
2/4 user profiles- the Go console allows you to save 2 users profiles, while the Track Connect can save up to 4.
2 water bottle holders- there's also space to store 2 beverages of your choice.
Assembly
If you decide to purchase the F3, assembly shouldn't be too stressful.
Luckily, the main deck comes pre-assembled, so you won't have to mess with anything there.
All you really have to do is attach the 2 uprights to the deck, attach the console bridge to the uprights, and then connect the console.
You'll have to make sure not to pinch the console wires as they snake up the left upright because if they do get pinched, you might find the console not working after assembly (which would be very disappointing).
All necessary tools and hardware are included and the assembly manual is easy enough to follow.
Overall, getting the F3 put together should be very doable.
Warranty
Life Fitness backs their F3 Folding Treadmill with the following warranty:
Lifetime frame
10 year motor
5 year parts
3 year console
1 year labor
Ok, all things considered, a pretty good warranty…but it could be better.
Lifetime on the frame is obviously great because you can't get any longer than lifetime.
But 10 years on the motor is a little disappointing – for this price range, I'd like to see a lifetime motor guarantee as well.
Five years on parts is pretty good and a year on labor is pretty standard for all price ranges.
Overall, I think this warranty is pretty good, but it would be even better with a lifetime motor warranty.
Final Thoughts
Alright, that's about all I got.
I have to be honest – I don't love this treadmill.
I know it's Life Fitness and they're rock stars in the fitness world, but if I'm being fair and judging this machine on the specs and features we have in front of us, then I have to admit that I'm a little disappointed.
For a $3k treadmill, I expect a larger running surface and maybe even a stronger motor.
I'm also not sure how Life Fitness justifies charging an extra $500 for the Track Connect console which basically just gives you a few more workouts and bluetooth capabilities (something all treadmills should come with these days anyway).
I'm also disappointed that Life Fitness doesn't offer a lifetime warranty on their motor.
If you're eager to add a Life Fitness treadmill to your home (which I get, they are Life Fitness after all) and you absolutely need the folding feature, I could see going with the F3.
But…
If you're ok with your treadmill not folding, I think the Run CX is a much smarter buy.
Their Run CX comes with a much heavier-duty frame, a larger running surface, a better warranty, and a lower asking price.
Oh, and the Track Connect console comes standard with it… just sayin'.