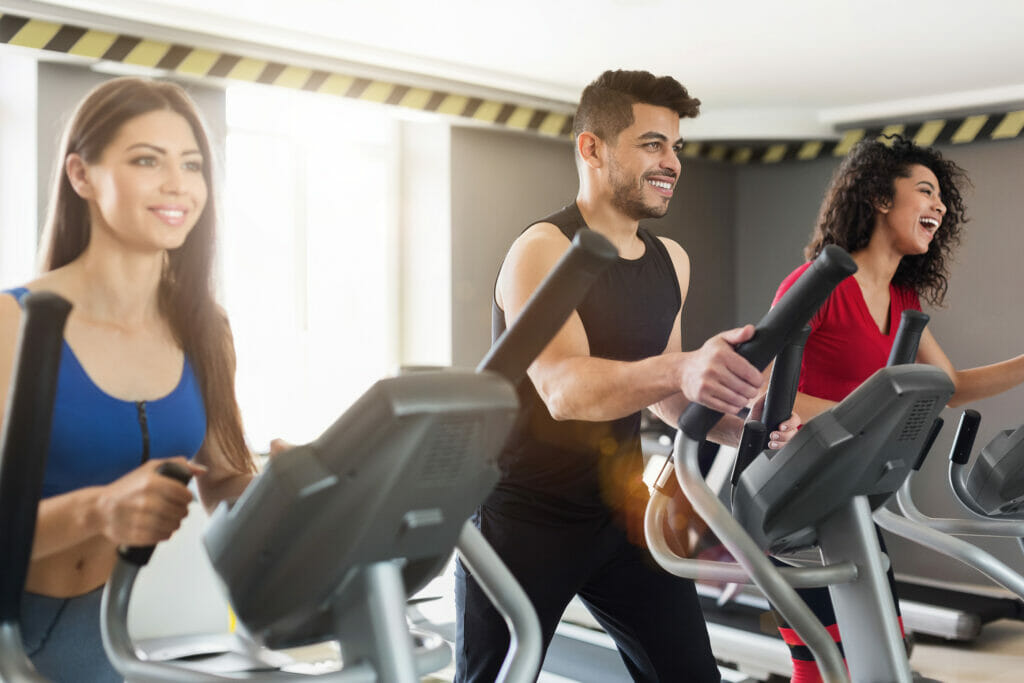 The Club Series+ is one of Life Fitness' top of the line elliptical trainers and there's really no denying that it's high-end from top to bottom.
With a 20″ stride length, 25 levels of magnetic resistance, and over-sized everything, the Club Series+ is literally the kind of elliptical you'd find in your local commercial gym.
And with 3 different consoles to choose from, you get to customize your machine to match your needs (and budget).
But as nice as this elliptical is, does it really make sense to invest this kind of cash into it?
Well, that's what I'm here to help you figure out.
In this review, I'll go over everything this elliptical does and doesn't have going for it.
After reading, you'll know whether or not it's worth investing in.
Let's begin.
The Life Fitness Club Series+ Elliptical Cross-Trainer
Life Fitness makes some of the best fitness equipment around.
And when it comes to brand reputation, it's going to be hard to find another one with as many happy customers as Life Fitness.
I mean their machines are great, but they're also quite expensive – and they still sell out of their highest-end models all the time.
Crazy.
I guess it just goes to show people are willing to pay for quality.
And even though Life Fitness' higher-end models are pretty pricey, they do offer more affordable options, like their E1 and E3 ellipticals.
Anyway, the Club Series+ is the second most high-end elliptical in Life Fitness' lineup, with only their Platinum Club Series Elliptical costing more.
Prices may vary a little depending on promotions and whatnot, but expect to pay $6-8k for the Club Series+, depending on which console you choose (but more on that later).
Pros
20″ stride length
Very heavy-duty frame
25 levels of resistance
400 lb weight limit
Large, comfortable pedals
Choice of 3 consoles
Tons of features (depending on console)
Heart rate monitoring
Handle resistance controls
Quiet, smooth operation
Good warranty
Cons
SE3 HD console quite expensive
Parts warranty could be longer
Stride Length
An elliptical's stride length tells us how far apart our legs will move with each step, but what it really tells us is whether or not we're going to be comfortable during our workouts.
Because if the stride length is too short, you're not going to be able to stretch out far enough with each stride – which could give you the feeling like you're marching in place.
Which isn't a good thing.
Well, the Club Series+ comes with a 20″ stride length, so that shouldn't be a concern.
A 20″ stride length has become the norm for most quality home ellipticals because at this length, most users can hop on and get a comfortable workout.
Especially tall (or short) users might find even a 20″ stride uncomfortable, but the vast majority of us will do great with a stride length of this size.
And the stride length on this elliptical is fixed, meaning you can't adjust it.
The Club Series+ also comes with large, comfortable pedals that should be able to fit even the largest shoe sizes as well.
The stride is great on this machine, but it's also quite heavy-duty.
And yes, I know that term gets thrown around so much these days that it's basically lost all meaning, but when I use it I'm being quite literal.
This elliptical weighs 301 lb.
With a unit weight this high, you won't have to worry about it feeling lightweight or wobbly during workouts.
For the sake of comparison, Sole's E98, which is one of the heavier-duty home ellipticals out there, weighs in at around 249 lb.
Just sayin'.
The Club Series+ comes with an impressive weight limit of 400 lb too, allowing folks of all sizes the ability to use it safely.
It's worth mentioning though, with all this strength and weight, comes a larger footprint – this elliptical isn't compact by any means.
With a footprint of 86″ x 29″ (L x W), the Club Series+ takes up a fair amount of floorspace, so if you're considering it, just make sure you have plenty of room.
It's also worth noting that this is a rear-drive elliptical and as such, provides a flatter movement pattern than the front-drive machines we see so often.
This is a good thing if you're looking for a more natural, comfortable stride (which comes in really handy for achy joints), but it's a bad thing if you're looking for higher incline angles.
Because the Club Series+ doesn't offer any incline settings whatsoever – definitely something to think about.
Overall though, when it comes to the stride length and frame, the Club Series+ scores very highly. The 20″ stride makes for a comfortable feel and the heavy frame makes for a stable base during workouts.
Resistance
Most ellipticals, like indoor cycles, use weighted flywheels and magnetic resistance systems to create the resistance we get to work against during workouts.
And generally speaking, having a heavier flywheel is a good thing because the extra weight helps provide a smoother pedaling motion.
This is especially true for cheaper home models that are lacking the sophistication of a higher-end model.
Most quality home ellipticals come with flywheels weighing in the 20 – 30 lb range, although there are some nicer models that are packing lighter wheels too.
Anyway, the Club Series+ comes with a 22 lb flywheel, which falls nicely in that expected range mentioned above.
A flywheel this heavy helps create a smooth pedaling action and with Life Fitness' advanced engineering, you can rest assured this elliptical provides a quiet, smooth workout.
This machine comes with 25 resistance levels to work with too, giving you a lot of control over the intensity of each workout.
I was lucky enough to get access to a Life Fitness Platinum Club Series elliptical on a recent trip to a local ski resort and that model also comes with 25 resistance levels.
Just for frame of reference, I was comfortably coasting on levels 10-12 for extended periods and I went up to level 20 a couple times for short intervals.
I wouldn't have wanted to spend any extended time on any resistance levels higher than 20.
My point is, these Life Fitness ellipticals are capable of providing a lot of resistance and should be able to challenge users of all fitness levels.
And when it comes to smooth, quiet pedaling action, few brands can compete.
Features
The Life Fitness Club Series+ Elliptical comes with following features:
Choice of console- this elliptical gives you the option to choose between 3 consoles: the SL, ST, and SE3 HD. The most affordable SL is a basic LCD console that comes with 18 workouts and is compatible with heart rate monitors/apps via bluetooth. The ST console has a 16″ touchscreen display and gives you access to all kinds of interactive workouts, as well as the ability to watch live tv directly through the elliptical. The most expensive SE3 HD console is also a touchscreen, but comes with a bunch of fitness and streaming entertainments apps built-in. The SE3 HD console is easy to use and pretty awesome, but it's expensive – choosing this options adds about $2600 to the price as compared to the most affordable SL console.
Heart rate monitoring- this elliptical has grip monitors built-into the moving handles (which is a lot more convenient than having them in the stationary handles like so many other ellipticals do) and is also compatible with strap monitors for more accurate readings.
Handle controls- the moving handles also have resistance controls built-into them, making it easy to adjust the intensity of your workout without having to remove your hands from the handles.
Water bottle holder- yup, there's even a place to store your water bottle for convenient hydration.
Assembly
Given the sheer size and weight of this elliptical, I would recommend going with Life Fitness' white glove delivery, which includes getting the machine to your desired location and assembling it for you.
The pros will even move other machines/furniture out of the way too if necessary.
Yes, this will add a few hundred bucks to your bill, but given the size of this investment and the peace of mind it'll provide, I'd say it's well worth it.
Actually, with some of Life Fitness' higher-end machines, you have to opt for white glove delivery – they don't give you the option to self-assemble.
I'm not sure if that's the case with the Club Series+ Elliptical or not..
Warranty
Life Fitness backs their Club Series+ Elliptical Cross Trainer with the following residential warranty:
Lifetime frame
3 year parts
1 year labor
6 months cosmetic items
A lifetime frame guarantee is great, but kind of expected at this price range.
Three years on mechanical and electrical parts is pretty good, but considering the price range, I think it would be nice to see at least 5 years on parts (Precor offers 10 year parts warranties on some of their higher-end models).
One year on labor is pretty standard, so no complaints there.
Overall, I think Life Fitness offers a fair warranty, but I think there's room for improvement in the parts department.
Final Thoughts
Alright, that about does it for Life Fitness' Club Series+ elliptical.
There's really not much to complain about when it comes to this machine – it's kind of awesome.
This trainer comes with a comfortable, 20″ stride length and a very heavy-duty frame. It also comes with a sophisticated resistance system that can provide more than enough resistance to challenge folks of all fitness levels.
It's also nice that you get to choose between 3 different console options because it gives you the chance to save some cash if you aren't concerned with a fancy touchscreen display.
Speaking of which, if I had to complain about something (and I do), I would say the SE3 HD console seems a bit too expensive to me.
I mean $2600 seems like a lot for that console – I can get a 80″ tv for less.
But I have to admit, the SE3 HD console is pretty sweet…
Expensive consoles aside, I think the Club Series+ is a great elliptical.
If you're looking for a commercial grade machine to add to your home gym, it's certainly a nice option. Just keep in mind it doesn't offer any incline settings, so if that's something you're interested in, you should consider other brands.
But if you're looking for a smooth, gentle pedaling motion, the Club Series+ is a safe bet.