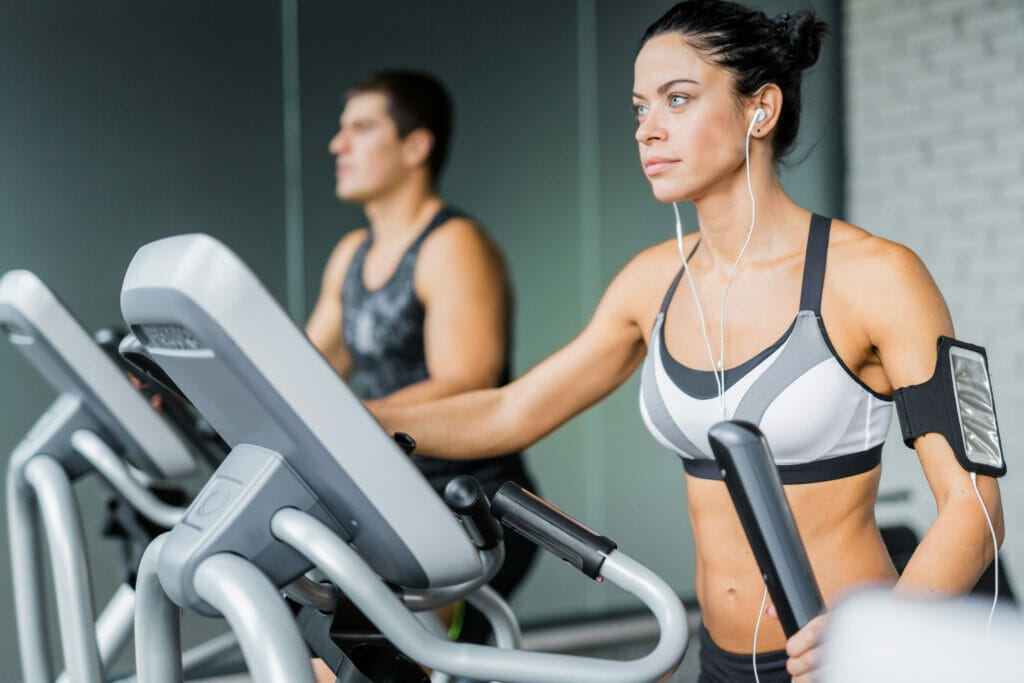 The E3 is one of Life Fitness's mid-range elliptical trainers, allowing home gymers the ability to get an elite machine at a fairly reasonable price.
Well, reasonable compared to other commercial grade ellipticals that is.
With Life Fitness's WhisperStride technology, rear-drive design, and low step-up height, the E3 is a smart choice for folks looking for a quiet, low-impact workout.
Other highlights include 20 levels of resistance, multi-grip handles, cushioned pedals, and the choice between 2 different consoles.
And since this is Life Fitness we're talking about here, of course the E3 is heavy-duty and backed by a good warranty.
Long-story-short: I think the E3 is a great elliptical, but it's got a few drawbacks you should be aware of before purchasing.
But that's what I'm here for.
In this review, I'll cover all the pros, cons, and pretty much everything else in-between you should know before deciding.
After reading, you'll know whether or not the E3 is the right elliptical for your home gym.
Well, without further ado…
The Life Fitness E3 Elliptical Cross-Trainer
Life Fitness is one of the most well-known and beloved fitness brands on the planet.
A lot of us have used their machines in commercial gyms around the world, setting our expectations for what fitness equipment is suppose to feel like.
Unfortunately, other brands often fail to meet these expectations.
But if you've got the budget for it, Life Fitness has a pretty extensive home lineup too.
And as premiere cardio machines go, Life Fitness actually has some pretty affordable options.
The E3 we're here to talk about now is one of their mid-range models and goes for around $4k, give or take depending on which console you choose.
If you like the E3, but are working with a slightly lower budget, it would be worth your while to check out their E1 Elliptical Cross-Trainer – very similar in terms of performance, but with just a couple of subtle downgrades.
Pros
Rear-drive design
Flatter, natural pedal motion
Quiet operation
20 levels of resistance
Heavy-duty frame
400 lb weight limit
Multi-grip handles
Resistance controls in handles
Large, comfortable pedals
Coach Zone feature
Heart rate monitoring
Choice of consoles
Good warranty
Cons
No adjustable incline
"Track Connect" console expensive
Stride Length
I'm a firm believer that the stride length makes or breaks an elliptical.
If you've ever been on an elliptical that felt awkward to use or that something just wasn't quite right, odds are the stride length was too small.
This lowly spec simply tells you how far apart your feet will be moving, but it also tells you whether or not you're gonna be comfortable.
Most quality home ellipticals these days come with at least a 20″ stride length because this size can comfortably accommodate folks of most heights.
A lot of higher-end ellipticals also come with adjustable stride lengths, where you can manually or automatically change the stride length based on user preference (like Life Fitness' E5 or Sole's E95S).
The E3 comes with a 20″ stride length, allowing most folks to hop on and take off comfortably, so no concerns there.
Something worth noting is that the E3 is a rear-drive elliptical, meaning the flywheel and main unit are in the back of the frame.
This is a good thing if you're looking for a flatter, more natural running/walking pattern.
It's also a good thing if you're dealing with arthritis or achy joints because rear-drive ellipticals tend to be a little lower impact than the front-drive models.
But if you're looking for an elliptical with adjustable incline angles, the E3 probably isn't your best option because this elliptical doesn't come with any.
Some rear-drive ellipticals do, although they usually can't reach higher angles like front-drive models can.
Definitely something to think about.
On the plus side, the E3 is quite heavy-duty. With an assembled weight of 225 lb and a max weight limit of 400 lb, you won't have to worry about this elliptical feeling flimsy or wobbling during use.
Oh, the E3 also has a 6′ step up height, which is very low – this makes it easier to get on/off of and people with low ceilings won't have to worry about bumping their heads (unless you're really tall…or your ceiling is like crazy low).
Overall, the E3 scores highly with its 20″ stride length and heavy-duty frame.
And the rear-drive design is a plus for folks looking for a gentle, comfortable workout, but it's no bueno for folks looking for steeper incline angles.
The E3 also uses Life's WhisperStride technology (found on all their ellipticals) and users agree it's very quiet during operation.
Resistance
Most home ellipticals provide resistance like exercise bikes do, using a spinning flywheel and magnets that moved closer (more resistance) or farther away (less resistance).
These systems work great because they provide smooth, quiet resistance and require little to no maintenance.
And like exercise bikes, generally speaking, having a heavier flywheel is usually beneficial in terms of smoothness of operation.
With this in mind, the E3 comes with a 16 lb flywheel.
This isn't heavy as home ellipticals go, considering plenty of more affordable models pack flywheels in the 20 – 30 lb range, but it seems to be heavy enough to get the job done because the E3 doesn't get many complaints regarding smoothness of operation.
Keep in mind, the quality of the magnetic resistance system itself plays an important role too.
And when it comes to quality, few brands can compete with Life Fitness.
I think the fact that this is a rear-drive elliptical probably helps a little too when it comes to smooth pedaling motion.
Regardless, the consensus is that the E3 is comfortable to use.
It also comes with 20 resistance levels, giving you plenty of control over the intensity of your workouts.
But as I mentioned above, there are no adjustable incline settings.
Overall, the E3 doesn't use a particularly heavy flywheel, but users seem to agree that this elliptical is more than capable of providing a smooth (and challenging) workout.
Features
The E3 Elliptical Cross-Trainer comes with the following included features:
Choice of console- like many Life Fitness machines, you get to choose your console. The "Go" option is more affordable, comes with 12 workouts, and a couple of user profiles, but isn't bluetooth compatible. The "Track Connect" comes with a few more workouts, 4 user profiles, a media shelf, and is bluetooth compatible with fitness apps, but costs like $500 more. Personally, I think it's silly to have to pay extra for bluetooth these days, but that's how Life Fitness plays it. Even the "Track Connect" console isn't particularly advanced though, and even though the E3 doesn't get a lot of complaints, most of the ones it does get are regarding the basic-ness of the consoles.
Coach Zone- this little indicator near the stationary handles helps you target different upper/lower body muscles during workouts.
Multi-grip handles- the E3 comes with bigger handles than their E1, offering multiple grip options. You can also control the resistance settings conveniently from the moving handles.
Heart rate monitoring- there are grip heart rate monitors built-into both the stationary and moving handles. The "Track Connect" console is also compatible with telemetry straps and I believe one is even included with purchase.
Upgraded pedals- the pedals on the E3 are cushioned and covered with a non-slip surface to make for a more comfortable experience (another upgrade over the E1).
Water bottle holders- and don't worry, there are plenty of room to store your water bottles.
Assembly
If you purchase the E3, you get to choose between self-assembly and paying a pro to do the job for ya (you don't get to choose with some of Life Fitness' higher-end models).
If you're a little handy or have a friend/family member who is, assembling the E3 should be very doable.
The main housing for the drive mechanism is pre-assembled, so you won't have to worry about messing with that stuff.
What you will have to do is attach the front stabilizer, attach the mast, connect the moving handlebars, connect the console, hook up cables, and attach a few covers.
Some users have complained about the E3's manual being hard to follow and I agree, it could be better.
The images are pretty easy to follow, but I think it would be helpful to have some written instructions too.
Overall, I think self-assembly should be very doable, but I'd expect to spend 1-2 hrs getting the job done.
Warranty
Life Fitness backs their E3 Elliptical Cross-Trainer with the following residential warranty:
Lifetime frame
5 year parts
3 year console
1 year parts
Ok, so I think this is a pretty good warranty.
You can't do better than lifetime on the frame, so no complaints there.
And 5 years is good for parts, but the E3 is getting into that price range where we might expect a little longer, say 7-10 years.
Three years on the console isn't bad, but 5 years would be better.
And a year on labor is pretty standard operating procedure.
Overall, I think the warranty on the E3 is good, but at this price point there is room for improvement, especially considering brands like Precor and Spirit offer 10 year parts guarantees.
Final Thoughts
Ok, I think it's about time to wrap this up.
I think it's pretty easy to say that the E3 is a very nice home elliptical.
It's well-designed, heavy-duty, and offered by one of the most trusted fitness brands in the market.
I think this elliptical would be well-suited for people looking for a dependable machine that's comfortable to use and easy to access.
But folks who are interested in adjustable incline angles or advanced consoles should look elsewhere.
Speaking of consoles, having to pay extra for bluetooth is still a hard pill to swallow – why not just make the "Track Connect" console standard?
Well, if Life Fitness did that, I guess they'd set the standard price based on that console and folks who didn't care about bluetooth wouldn't have a more affordable option to go with.
I get it.
Overall though, I think the E3 is a pretty good buy.