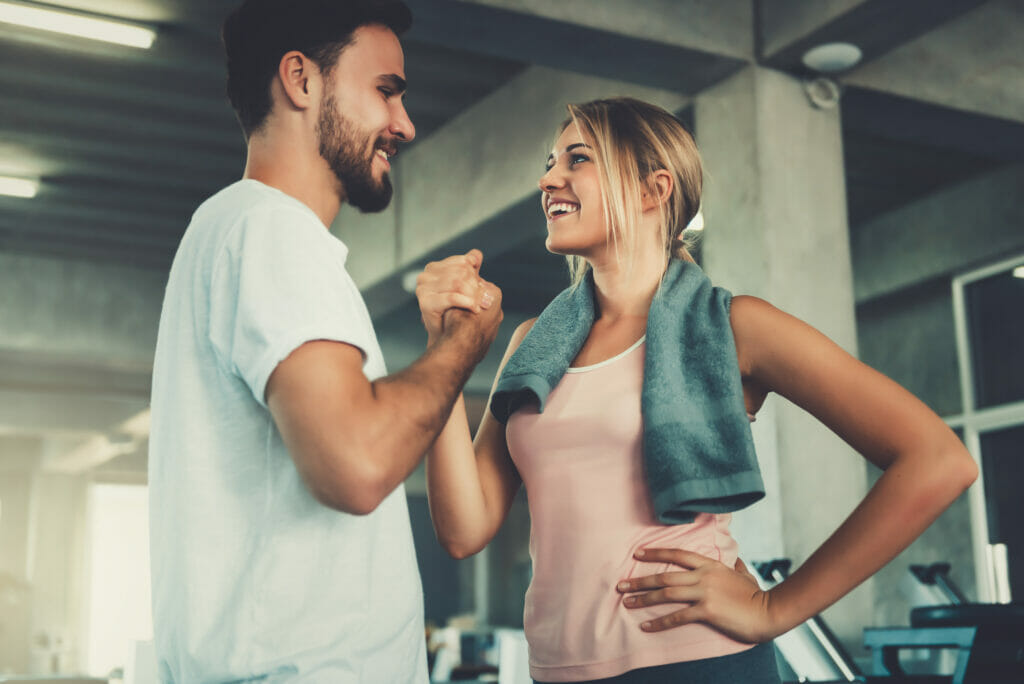 Inspire's SF3 is a unique home gym system that combines the functions of a Smith machine and a functional trainer into a pretty compact unit.
Well, I take that back – there are plenty of Smith machine/functional trainer combos out there.
So what really makes the SF3 special is that it's Smith bar doesn't require weight plates.
That's right, the Smith bar and the pulleys uses the same weight stacks, so that means there's no messing around with weight plates whatsoever.
Not having to invest in weight plates (and worry about storing them) is awesome, but this also makes the SF3 incredibly convenient to use.
Being able to rapidly switch between pulley and bar exercises, while spending little time between transitions, makes for one hell of an efficient workout.
And with dual 165 lb weight stacks, two fully adjustable pulleys, the Smith bar, and a built-in accessory rack, the SF3 has a lot to offer for such an affordable home gym.
The only real kicker is that you have to be a Costco member to purchase this bad boy (but given the great discount you get on it, one could argue it's worth becoming a member just to purchase this gym).
But I'm getting ahead of myself here.
Let's slow down and take a close look at everything the SF3 Smith Functional Trainer has to offer, as well as where it falls a bit short.
After reading, you'll know whether or not this is the right option for your home gym.
The Inspire Fitness SF3 Smith Functional Trainer
I don't get the impression Inspire Fitness appreciates the same level of brand recognition as some of the other top players, but they're a great home fitness brand.
They've got a few cardio machines and even some commercial weight machines in their lineup, but if you ask me, home gyms are their true speciality.
Especially their functional trainers.
The SF3 we're here to talk about now is just one of several functional trainers in their lineup.
As I'm writing this, Costco has the SF3 listed for $2499, which is $500 cheaper than the $2999 retail price listed on Inspire's website.
In the hierarchy of Inspire's lineup, this puts the SF3 somewhere between the FTX and the FT1, both of which are great functional trainers in the own rights.
Pros
Dual 165 lb weight stacks
Two fully-adjustable pulleys
Integrated Smith bar
Max resistance of 330 lb for Smith bar
Heavy-duty frame
Fairly compact footprint
Built-in accessory storage
Comes with a lot of accessories
Folding bench included
12 months of Inspire's fitness app included
Pull up bar
Easy to switch between pulleys and Smith bar
Lifetime warranty on everything
Great price
Cons
Not compatible with weight stack upgrades
Have to start and stop Smith bar exercises from same position
Highest pulley height only 68″
Frame
Before we dive into the different functions the SF3 has to offer, I want to start with a few quick words on its construction.
For starters, I want to point out that this gym is made out of  11-gauge, round/rectangular steel components.
Now we can expect any home gym to be made out of steel, but 11-gauge is the thickest we're going to see in this price range – and given its strength, anything thicker would be over-kill on a system like this.
This heavy-duty steel is going to give the SF3 a stable base, so you won't have to worry about it moving around or rocking on you while doing pull ups.
The heavy-dutiness of this gym is also apparent if we check out the assembled weight.
The SF3 weighs in at around 631 lb, which is heavy for any functional trainer in this class, especially considering the weight stacks are only 165 lb.
I love to see a heavy piece of equipment because I know it's going to make the machine feel more secure every time I use it.
The SF3 also only takes up a footprint of 59″ x 46″ (L x W), which is pretty compact for a home gym machine (just keep in mind you'll need extra floor space to use it and this footprint doesn't include the bench).
The frame comes in a matte black powder coating for protection from unwanted scratches as well.
Overall, the SF3 is good looking, heavy-duty piece of equipment.
Functional Trainer
Alright, now that I've got that out of my system, let's get to the good stuff.
The SF3 is a combo unit, combining the functions of a functional trainer and a Smith machine.
We'll get to that Smith bar in a second, but let's start with the functional trainer.
FYI, "functional trainer" sounds fancy, but it's just the technical term used to describe these dual-pulley gyms.
Functional trainers are awesome because they're as versatile as any gym out there and all the resistance is self-contained in the weight stacks (although some trainers do still use weight plates for resistance).
Anyway, the SF3 comes with 2 adjustable pulleys that can be positioned along the entire height of each upright and each pulley comes with its own 165 lb weight stack.
Each pulley can extend to a maximum length of 98″, giving you plenty of room to perform any rotational move you want, regardless of your height.
The highest position each pulley can be set at is 68″ (lowest is 11″) – us taller folks might find this a little shorter than we'd like for certain exercises, but it's far from a dealbreaker.
Each pulley uses a 2:1 pulley ratio, meaning that the resistance you feel is half the weight loaded on the stack (loading 50 lb feels like 25, etc).
This is normal for a functional trainer, although there are trainers out there with different pulley ratios (4:1, 1:1, etc).
If we keep that 2:1 pulley ratio in mind, that means the SF3 can offer a max resistance of 82.5 lb per side for its functional trainer.
That's not bad.
More accomplished weight lifters might want a little more weight, but unfortunately, the SF3 isn't compatible with any weight stack upgrades.
So 165 lb per side is all you get.
Overall though, I think this'll be plenty of resistance for most of us.
Smith Machine
The functional trainer on the SF3 is great, but it's the Smith bar that really sets this gym apart from most (especially in this price range).
Smith machines allow you to perform barbell exercises with the added safety of having the bar attached to guide rods and having built-in safety stops eliminates the need for a spotter.
As I've mentioned before, most Smith machines are plate loaded, however the Smith bar on the SF3 uses the same 165 lb stacks mentioned above.
You can easily swap between using the pulleys and using the Smith bar by switching a cable from the pulley swivels to the Smith bar.
Once you've done this on both sides, the bar is now attached to the stacks.
This is really cool, but it gets better.
When you unlock the bar and move it to whatever starting position you need, you automatically set your pulleys to act as your safety stoppers.
This is super convenient because you don't have to waste the time setting the safety positions on each side individually.
But there's a downside to it too – you have to finish your set by placing the Smith bar back on those safeties.
This means if you're squatting, you have to finish your last rep in the deepest position of the squat, which is opposite of what most of us are probably use to.
Since you have to place the bar on the safeties to adjust their position, there's no way to have separate starting and stopping positions.
This is an interesting quirk and certainly something to consider before purchasing.
Using both stacks simultaneously, the Smith bar has access to 165 lb of resistance, which isn't going to be enough weight for a lot of lifters – especially for moves like squats and bench press.
Luckily, Inspire designed the SF3's Smith bar with a weight multiplier feature.
The weight multiplier doubles the weight felt when using the bar, giving you access to the full 330 lb in the combined stacks (essentially changing the pulley ratio to 1:1).
To use the weight multiplier, you simply connect an additional cable to each side of the bar and off ya go.
It's this Smith bar system that really sets Inspire Fitness apart from the rest and the fact that you can get it for such an affordable price from Costco is a sweet deal (fyi, the FT2 also comes with the Smith system and it costs north of $4k).
Attachments
Inspire Fitness' SF3 Smith Functional Trainer comes with the following included attachments:
Triceps rope
2x rubber D-handles
Dual-hook curl bar
Ankle strap
Chin/dip belt
Folding adjustable bench
Pull up bar
I think Inspire does a nice job with their attachments and this is a generous selection to include with purchase.
All the handles here will give you everything you need to get started and keep in mind you can use any handle from any other brand too.
It's cool that they include the belt for assisted pull ups, but it's really cool that this bundle includes a folding bench.
Now to be fair, this is a very lightweight bench, but it comes with 6 different adjustable positions and has a 500 lb weight capacity.
And it can store directly on the built-in storage rack too, which is nice.
Overall, I don't have any complaints when it comes to the accessories the SF3 comes with.
Assembly
I don't think Costco offers any assembly services, so if you purchase the SF3, you'll have to take care of assembly yourself (or hire a pro separately).
The assembly on this gym is fairly involved, what with the pulleys and having to route the cables and whatnot.
There's a fair amount of hardware to keep track of and you better be comfortable with reading the assembly instructions because there are quite a few of 'em.
But if you're comfortable with following directions and have a helper, you'll likely be fine.
Most users report taking 3-4 hours to get assembly completed with 2 folks.
Warranty
Inspire Fitness offers the following home warranty on their SF3 Smith Functional Trainer:
Lifetime frame
Lifetime parts
Yes, Inspire covers the SF3 from top to bottom with a lifetime warranty.
This includes the frame, the hardware, the cables, pulleys, everything… even the upholstery.
Inspire is known for offering some of the best warranties around and this is proof that their reputation is well-earned.
I mean you can't beat a lifetime guarantee, especially at this price.
Final Thoughts
Alright, I think that'll about do it.
All things considered, the SF3 isn't perfect, but I think it's a nice gym for the price.
The fact that you get a Smith machine and a functional trainer in a single machine for $2500 is great, but Inspire also throws in a ton of attachments and a lifetime warranty on everything.
Oh, you also get a free 12 month membership to Inspire's fitness app too, but I've heard it kinda sucks…
Regardless, the SF3 comes with smooth acting pulleys, a ton of workout variety, and a solid amount of resistance for beginning to moderate level lifters.
And I like that the resistance can be doubled when using the Smith bar too.
The biggest downside I see is that issue with having to start and stop all Smith bar exercises from the same position – this could get annoying, especially when trying to lift heavier weights.
Even so, I think the SF3 has a lot to offer for such an affordable system and is still a good deal.