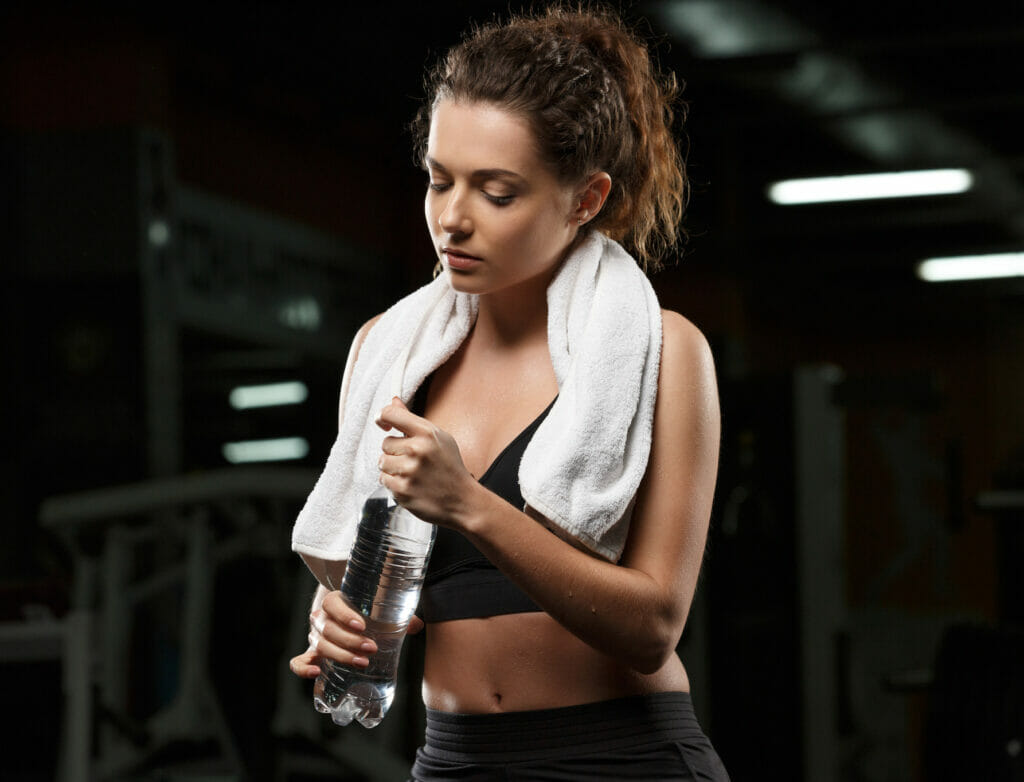 ICG's IC5 is an advanced indoor cycle that has a lot to offer both elite and recreational cyclists alike.  And it's priced competitively too, which never hurts.
With a fast spinning flywheel, a heavy-duty frame, and 100 levels of magnetic resistance, the IC5 has what it takes to provide smooth, quiet, and challenging workouts.
It also comes with a sophisticated console that makes it easy to gauge your workouts based on exertion.
All things considered, there isn't much to complain about when it comes to the IC5 – it's kind of an awesome bike.
But that doesn't necessarily mean it's the right cycle for you.
In this review, I'll go over all the key specs and features this bike has to offer. After reading, you'll know whether or not the IC5 is the type of cycle you'd want to bring home.
Let's do this.
The ICG IC5 Indoor Cycle
ICG is a German manufacturer of indoor cycles that was recently purchased by the same company that owns Life Fitness.
And this was a pretty sweet merger for Life because now they get to use ICG to fill their cycling lineup.
ICG offers several indoor cycles to choose from and the differences from model to model can be fairly subtle – and sometimes the difference can be as small as one model coming with a console and another not (as is the case with the IC4 and IC5).
In all, there are 6 or so ICG cycles to choose from and I would consider all of them to be high-end.
And they're not cheap either – their most affordable IC2 goes for over $1k and their most advanced IC7 costs well over $3k.
The IC5 we're here to discuss now is one of their mid-range cycles and usually goes for somewhere around $2400, give or take.
Pros
Fast spinning flywheel (1:10 gear-ratio)
100 levels of magnetic resistance
Belt drive
Heavy-duty frame
330 lb weight limit
Fully adjustable seat
Fully adjustable handlebars
WattRate Console
Coach by Color feature
Access to free ICG app
Heart rate strap compatible
Dual water bottle holders
Sleek design
Cons
Frame warranty could be longer
Resistance
When it comes to indoor cycles, the resistance systems consist of a weighted flywheel and either a magnetic or friction brake based mechanism.
The IC5 uses a magnetic system, so we can skip the friction brake speech for now – just know that magnetic systems are generally preferred because they tend to be smoother and don't require maintenance.
When it comes to the flywheel, it's all about providing a smooth pedaling motion.
Most budget-friendlier bikes achieve this smooth pedaling motion by using heavy flywheels.
The idea being that the extra weight builds momentum as the flywheel spins, which in turn helps the flywheel stay in motion, reducing any awkward gaps between pedal strokes.
Heavy flywheels can work very effectively, but there's another way to create that same momentum – taking a light flywheel and get it spinning really fast.
This is the principle many of the higher-end cycles (like the Keiser M3i) are using and users are pretty unanimous that it provides a great experience.
With all of this in mind, the IC5 comes with a 9 lb flywheel.
This is very light, but it's light on purpose.
With a 1:10 gear-ratio, that 9 lb flywheel gets spinning really fast during your workouts, and it's that speed that creates the momentum necessary to provide a smooth feel.
You probably noticed that the flywheel on the IC5 is mounted in the rear – yes, this looks awesome, but it also technically helps keep it clear from sweat during workouts.
ICG pairs that fast spinning flywheel with 100 levels of magnetic resistance, giving you a ton of control over the intensity of each workout.
Anybody that's familiar with Peloton will recognize the 100 level scale and if you plan on ever using Peloton's app, this will come in handy.
As a Peloton owner myself, I love the 100 level scale because you can make very small changes to the resistance, fine tuning the intensity as you go.
Oh, I almost forgot – the IC5 uses a belt drive too, which is generally preferred over chain drives because they're quieter and don't require any maintenance.
Overall, the IC5 scores very highly with it's fast spinning light flywheel and 100 levels of magnetic resistance. Users are pretty unanimous that this bike provides an elite spinning experience.
Frame
The IC5 has got it going on when it comes to performance, so let's see how the rest of the bike measures up.
I'm a fan of a stable, heavy-duty bike that isn't going to wobble or feel flimsy when I'm using it, so the last thing I want is a bike that's going to rock from side to side every time I stand up.
Now looks can be deceiving, so it can be hard to figure out if a bike is really heavy-duty from looks alone.
A better way is to check out the assembled weight spec because this stat tells you exactly how heavy-duty it is.
And having a heavier assembled weight is always a good thing if you ask me, because the heavier bikes are going to feel more secure.
Anyway, the IC5 weighs in at around 112 lb fully assembled.
This is pretty impressive in its own right, but keep in mind this cycle doesn't have a massive flywheel inflating the assembled weight – it's flywheel only weighs 9 lb.
That means all this bulk is coming from the frame.
Speaking of which, now is as good a time as any to say that the IC5 is a great looking bike.
I know looks don't mean anything when it comes to performance, but still- this cycle is as sleek as they come.
Anyway, with such a heavy frame, you shouldn't have to worry about the IC5 feeling unstable. And with a max weight limit of 330 lb, this cycle can hold folks of all sizes safely.
Overall, the IC5 scores very highly with it's heavy-duty frame and high weight limit (and it's very easy on the eyes too).
Seat & Handlebars
I don't have a lot to say about the seat on this cycle, but it's worth mentioning that it comes with a standard road seat, meaning folks who aren't accustomed to riding might find it a bit uncomfortable.
After all, standard saddles are small and pretty firm and it usually takes a little getting used to at first.
Luckily, if your bum doesn't get used to it, it's easy enough to put a gel-overlay on it for added comfort.
The seat on the IC5 is fully adjustable, meaning you can adjust both the height and fore/aft position, making it easy to find a comfortable riding position.
Speaking of which, according to ICG, folks between 5′ and 7′ tall should be able to ride this cycle comfortably.
The handlebars are also fully adjustable and offer all the standard hand grips you'd expect from an indoor cycle.
Overall, nothing too crazy going on in this department, but it's nice that the seat and handlebars are both fully adjustable.
Pedals
The IC5 comes with dual-compatible pedals, allowing you to ride with sneakers (toe-cage) or SPD compatible riding cleats if you so choose.
It's nice to have the option because it allows folks who don't want to use cleats (or family members who might not have any) to ride as well.
I will say that if you've never tried riding with cleats, it's something worth experiencing – it certainly improves pedaling efficiency.
The IC5 also comes with a narrow Q-factor (155 mm), mimicking the feel of riding a real road bike.
Features
The ICG IC5 comes with the following additional features as well:
WattRate Console- the console on the IC5 is large enough to see clearly and easy to use. It also very accurately measures your watt output, hence the name. You can also opt to use the train by color feature which changes the color of your console based on which training zone you're in.
ICG app- the IC5 is compatible with the free ICG app, giving you access to free instructor-led workouts, scenic rides, and metric tracking (did I mention that this app is free to use?).
Heart rate monitoring- this bike is compatible with strap heart rate monitors, making it easy to track your heart rate during workouts. You can also use your heart rate to track which zone you're in as part of the coach by color feature.
Water bottle holders- there are dual water bottle holders attached to the handlebars, making for convenient hydration during workouts.
Assembly
Most indoor cycles are pretty easy to assemble and the IC5 is no different.
Most of the cycle comes preassembled – you won't be messing with anything under the hood here.
If you decide to purchase and assemble yourself, you'll really only be responsible for attaching the front/rear stabilizers, the handlebars, the console, and the pedals.
There are also a couple of covers to attach and don't forget the batteries for the console.
The owner's manual is easy to follow, with large images making it easy to see what piece goes where.
All things considered, most folks should be able to get the IC5 unpackaged and assembled without too much trouble. I'd guess most people can have it up and running in 30 – 45 min.
Warranty
The ICG IC5 comes with the following residential warranty:
5 year frame
3 year mechanical components
1 year other parts
1 year labor
This warranty isn't bad when compared to most of the other elite cycles in town, but I'm a stickler – I want a lifetime frame warranty.
Although to be fair, 5 years is kind of industry standard, but there are a few brands out there (like Sole and Spirit) that offer lifetime frame warranties on their cycles.
Three years on mechanical parts is good and a year on wear items is fine too.
A year on labor is also pretty standard across the board.
Overall, for this price range I'd like to see a lifetime frame warranty, but there aren't many brands that offer that (but hey, I gotta find something to complain about here).
Final Thoughts
Ok, that about does it for the IC5.
As I mentioned in the intro, there's really not much to complain about here – this bike is awesome.
The IC5 provides a smooth feel with its fast spinning, lightweight flywheel and I love that it comes with 100 levels of magnetic resistance.
I also love how heavy-duty this bike is and how sleek it looks with the shrouded frame and rear-mounted flywheel.
The console is also pretty advanced, especially for folks interested in accurate power readings, and it's awesome that ICG offers free instructor-led workouts through their app.
If I have to find something to complain about, I would say that frame warranty could be longer, but that's a minor offense at best.
Overall, if you're looking for an elite indoor cycle that's built to last, I think ICG's IC5 is a great choice, but if you're considering this cycle you might want to check out their newer Ride CX Indoor Cycle too – very similar and costs about $1k less.