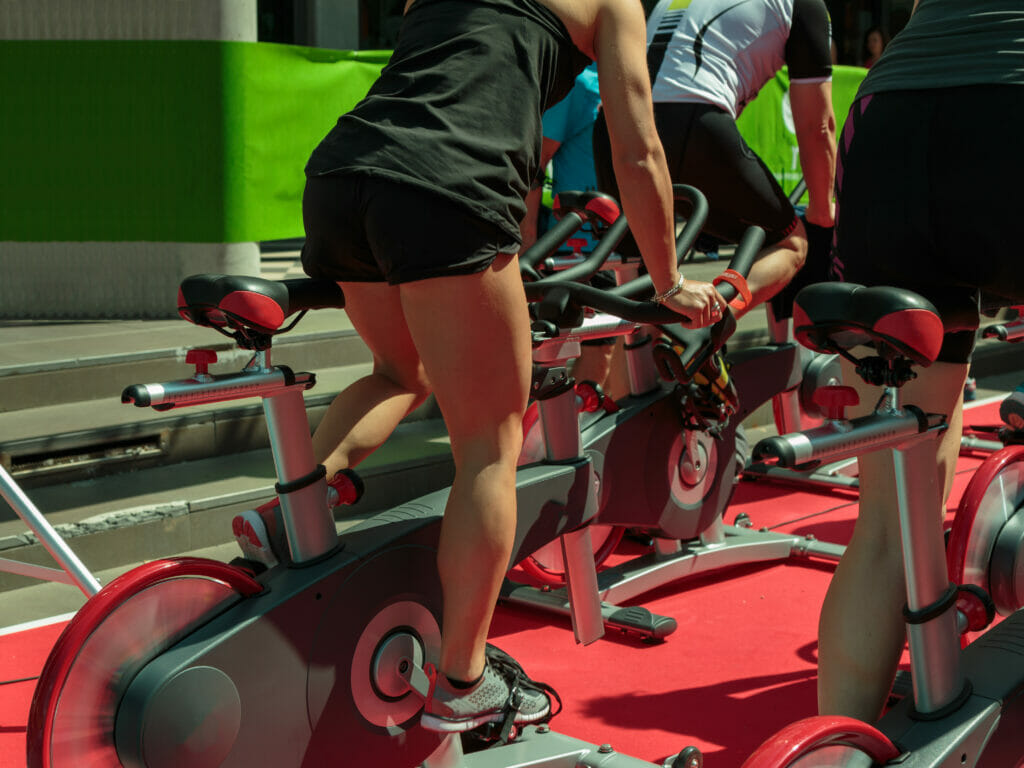 The 1260sc is the newest addition to Diamondback's impressive arsenal of home spin cycles. And as you'd expect (this is Diamondback we're talking about after all), this bike is high-end from top to bottom.
From the 31 lb rear mounted flywheel to the fully-adjustable seat and handlebars, the 1260sc has a lot going for it.
And unlike all previous Diamondback cycles, the 1260sc is designed to be paired with fitness apps.
Basically, if you're looking for a sleek indoor cycle that's built to withstand the most strenuous workouts you can throw at it, the 1260sc is a fine choice.
But no bike is perfect.
Before you decide to buy, it's important to learn as much as you can- and that's exactly what this review is here to help with.
In this article, I'll provide a detailed look at everything Diamondback's 1260sc has to offer. We'll also discuss all the key specs and features you should consider when searching for a quality spin bike.
After reading, you'll know everything you need to in order to decide whether or not this is the right cycle for your home gym.
The Diamondback 1260sc Rear Wheel Studio Cycle
Diamondback is a pretty well-known name when it comes to bikes. They started out in the '70s as a manufacturer of BMX style bikes, but eventually progressed to providing all kinds of mountain and road bikes as well.
With the popularity of their road bikes, they decided they'd try their luck in the home fitness realm and Diamondback Fitness was born.
Diamondback Fitness offers a few ellipticals in their lineup, but exercise bikes really are their speciality.
The brand is probably most well-known for their spin cycles, which routinely find their ways on fitness bloggers' "best of" lists year after year.
And that's no coincidence- it's a known fact that Diamondback bikes are well built.
The brand obviously focuses more on performance than anything else. Something all of their models share is that they come with durable frames and high-end components (a great combination if you ask me).
The 1260sc is the brand's newest and most expensive spin cycle to date. Other spin bikes in their lineup include the 910ic and their entry-level 510ic.
Pros
31 lb, rear-mounted flywheel
16 levels of magnetic resistance
Belt drive
Lever resistance control
Fully adjustable seat
Fully adjustable handlebars
Heavy-duty frame
300 lb weight limit
Dual-action pedals
ANT+ and bluetooth compatible
Self-generating power source
Decent warranty
Cons
No preprogrammed workouts
No chest strap included
Flywheel
If you've read any of my other spin bike reviews, you know I like to start off by discussing the flywheel (you know, the round disc that spins as you pedal).
The flywheel of a spin cycle is its heart- this is where your resistance comes from as well as the overall feel of your ride.
Most home spin bikes create a smooth ride by using a heavy, perimeter-weighted flywheel. They do this because it's an affordable way to create more momentum as you pedal (and more momentum equates to a smoother feel).
Using this train of thought, it would make sense that the heavier the flywheel, the better, especially if you're trying to mimic the feel of riding a bike outside (for a more in-depth discussion on flywheel weight, check out this article).
The 1260sc comes with a 31 lb flywheel.
Being well over 20 lb, I would consider this to be a "heavy" flywheel. And at 31 lb, this bike shouldn't have any problems providing a smooth feel during your rides.
That said, it's actually the lightest flywheel found of all their spin cycles (the 510ic uses a 32 lb flywheel and the 910ic uses a 40 lb flywheel).
I'm a little surprised they didn't just use the same one they use on the 510ic- it seems to be close enough in size.
At 31 lb, this flywheel is pretty average for high-end spin bikes in terms of weight, but what's worth noting is that it's located in the rear of the bike.
It's kinda hard to miss this fact.
Putting the flywheel in the rear doesn't only look cool (there's no denying these rear-mounted bikes look kinda futuristic), but it does serve a function of protecting the flywheel.
When it's in the back, it's away from all the sweat pouring off you during your workouts, which keeps it clean and protected from the corrosion that can occur over time.
Diamondback switched things up by placing the flywheel in the rear, but they also switched things up with the lever resistance control (the other models use up/down buttons on the console for adjusting resistance).
You can easily switch between the 16 magnetic resistance levels available with the red lever in the front of the bike.
The 510ic also comes with 16 resistance levels, but the 910ic comes with 32. Given the price point, I kinda wish Diamondback would've put 32 resistance levels on the 1260sc.
It doesn't necessarily mean you get more overall resistance, but it allows you to makes smaller adjustments.
Overall though, the 1260sc scores pretty highly in this department with it's heavy, rear-mounted flywheel and lever resistance adjuster.
Seat
Most spin cycles come with standard road bike seats because these exercise bikes are designed to mimic the sensation of riding a real road bike- sore butt and all.
Many beginning riders complain about the lack of comfort in these seats (myself included) and let's be real- bike seats are small, hard, and uncomfortable to sit on for long periods.
The good news is that with time, you'll get used to those small seats and feel more comfortable (and if you don't you can always add a gel cover).
Well, the 1260sc is no different.
This cycle comes with a standard bike seat as well.
What's worth noting though is that the seat is fully adjustable, meaning you can adjust the height and horizontal position (fore/aft) easily.
This is great because it makes it easier for you to find your optimal riding position, which will reduce your chances of developing any unwanted aches and pains.
P.S.- being a standard road bike, you can easily swap it out for another more premium seat if you like.
Handlebars
The handlebars are multi-grip, which is key for a proper spin cycle. There are traditionally 3 riding positions you'll use during your workouts (referred to as position 1, 2, and 3) and each position requires a different grip.
They basically refer to narrow, wide, and widest. The hand position you use depends on whether you're riding a flat road, jogging, or climbing a hill.
You'll hear your instructors use these terms if you use instructor-led workouts.
Anyway, the 1260sc comes equipped with any hand grip you can imagine.
And, just like the seat, the handlebars are fully adjustable.
Not all high-end spin cycles off fore/aft positioning of the handlebars, and I don't think it's a critical feature, but it's a nice feature to have all the same.
After all, the more customization options you have, the more able you are to put yourself in a comfortable riding position.
Frame
At first glance, the 1260sc reminds me a little of Life Fitness's IC6, with its black frame and red accents. Both bikes are rear-mounted as well.
But looks aside, the frame on the 1260sc is quite heavy-duty.
This is obvious when we look at 2 specs: the total assembled weight and weight limit.
For both specs, I think heavier is better because higher numbers in these 2 categories equate to a stronger bike. I mean, a bike that can handle 300 lb users has to be "heavier-duty" than a bike that can handle 250 lb users? Right?
And a heavier bike is going to be less likely to rock or wobble during use.
The 1260sc has an assembled weight of 130 lb, which is significant for a spin bike, which tends to be smaller and sleeker than other exercise bike styles to begin with.
This bike comes with a weight limit of 300 lb, which is also pretty good for a spin cycle.
And not only can this bike handle folks weighing up to 300 lb, but it can also accommodate people who are up to 6'5″ tall.
In other words, the 1260sc can hold most people safely. And with such a heavy assembled weight, you shouldn't have to worry about the bike wobbling on ya (I own the 510ic, which weighs about 100 lb, and that thing is rock solid).
Pedals
Most spin cycles come with pedals that are designed to be used with sneakers (toe cage) or riding cleats (clipless).
Some, like the 1260sc, come with dual-action pedals that can be used with sneakers or cleats. This is the best of both worlds because you can use it with whatever type of shoes you want.
It's also convenient for homes with multiple users where everyone might not have their own pair of cleats.
One side of the pedal as the standard toe cage to be used with sneakers, and the other side has the SPD compatible clipless system.
P.S.- If you've never used cleats before, it's worth trying. With cleats, you can pedal faster and more efficiently since you're attached to the pedal…I love it.
Monitor
All of Diamondback's spin cycles come with small, fairly simple monitors (not all spin bikes do), but the brand decided to change things around a little with the one found on the 1260sc.
Unlike the monitors on the 510ic and 910ic, this one is ANT+ and bluetooth compatible, allowing it to sync with most of the popular fitness apps out there.
It's also compatible with wireless heart rate monitors, watches, and other activity monitors that use bluetooth or ANT+.
This is great, because you can pair this cycle with a fitness app to monitor and store all your workout stats. It also makes the 1260sc a great option to use for streaming workouts.
Speaking of workouts, this monitor doesn't come with any preloaded workouts.
There's a "watt trainer" function that basically cues you to help you maintain a certain watt output, but no traditional workouts on this model.
Oh, and this monitor runs off self-generated power. That's right, as you pedal, you power this thing, meaning you don't have to worry about plugging it in.
Otherwise, the monitor displays all the basic metrics you'd expect. I like that it constantly shows your watt output, something that'll come in handy if you do use this with a streaming service like Peloton.
Warranty
Diamondback offers the following warranty on their 1260sc Studio Cycle:
5 year frame
3 year brake
1 year parts and electronics
90 day labor
Overall, this warranty isn't bad, but there's definitely room for improvement here.
5 years on the frame is pretty standard, even for high-end spin cycles like this one (although Sole does offer a lifetime frame warranty).
Given the price, I'd like to see 2-3 years on parts and 1 year on labor.
P.S.- Diamondback writes their warranty as a "lifetime" frame guarantee, but if you keep reading you'll see that they consider the normal lifetime of the bike to be 5 years.
Final Thoughts
I like Diamondback as a brand and I can't remember if I mentioned it above or not, but I own their 510ic and have been very happy with it.
Their bikes are very-well built, sturdy machines that function exactly as they're supposed to.
And with all of this in mind, I think the 1260sc is a great addition to their lineup.
Rear-mounted spin bikes are becoming more popular and I think it makes sense for Diamondback to add one to their arsenal.
And this being Diamondback, their rear-mounted spin bike is going to be more durable than most others out there.
I like the heavy flywheel, the fully adjustable seat/handlebars, and that they finally added bluetooth to their monitor.
It would be nice if the monitor came with a few preprogrammed workouts, but with most of us using streaming workouts now anyway, that's probably not that big a deal for most riders.
Overall, I think Diamondback has a winner here. The 1260sc is one of the nicest rear-mounted spin cycles I've seen. Highly recommended.
P.S. – you can use the promo code HOMEGYM10 for 10% off.