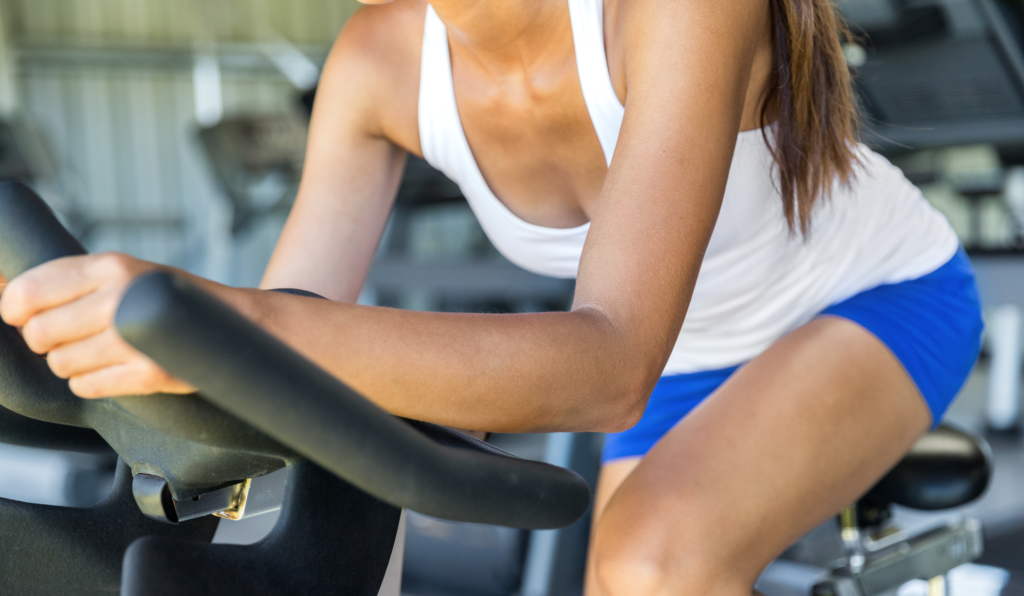 Life Fitness is a brand well-known for their commercial fitness equipment, but they also offer a fairly wide range of machines designed for home use.
With impressive specs and high-tech features, the IC6 Indoor Cycle is a great example of what we should expect from such a prestigious company.
It also just so happens to be a strong contender for best-in-class spin bike. But the competition is fierce- with names like Schwinn, Keiser, and Peloton crushing the market, it's easy to overlook some of the less marketed cycles.
My goal for this review is to provide a thorough look at what the IC6 Indoor Cycle has to offer. I also want to discuss whether or not it has what it takes to stand up against the big dogs.
Let's start from the beginning with a quick look at what Life Fitness is all about.
Who Is Life Fitness?
If you've worked out in a commercial gym anytime in the last few decades, you've probably used a Life Fitness exercise bike or treadmill.
They've become one of the more popular commercial fitness equipment providers, but it certainly wasn't an overnight success.
Life Fitness technically started about 45 years ago with the Lifecycle exercise bike, which was also the first electronic piece of fitness equipment.
"Lifecycle" was the name of the company for several years while they specialized in exercise bikes. The name was changed to Life Fitness in the '80s after Bally Total Fitness purchased the company.
Years later the company was purchased by Brunswick Corporation, and long-story-short, they diversified. With the acquisition of a few other companies, Life Fitness started producing treadmills and strength training equipment.
Nowadays, the company offers a wide range of cardio and strength training equipment for both commercial and home use.
Life Fitness has become a well-known brand over the years because of their reputation for creating high-quality products.
These quality products come with a pretty steep asking price unfortunately (as tends to be the case with companies that produce both commercial and home use equipment).
Often the home equipment looks a lot like the commercial grade stuff they are making. Which is a good thing, because the home models usually have a lot of the same commercial grade parts.
The home models will have different warranties and are usually a little less heavy duty because they won't have to withstand use from as many users.
In terms of their indoor cycles, they are definitely designed to look like a cycle you'd find in a commercial gym. Speaking of which, let's see what the IC6 is working with.
The Life Fitness IC6 Indoor Cycle
The IC6 is one of Life Fitness's higher-end models, with only the IC7 and commercial IC8 sporting higher price tags.
At first sight, the IC6 is a sleek looking cycle that looks as if it would fit in just fine somewhere in a cycling studio with 20 or 30 of them lined up in symmetrical rows.
I'm a fan of the black and red color scheme (obviously)- it's classic and just looks sharp (similar to the design used on the Peloton).
The next quality that stands out to me is how robust the frame and components appear. Again, it looks like a bike you would see in a commercial gym.
Pros
Quiet, magnetic resistance system
Maintenance free belt drive train
Fully adjustable seat
Fully adjustable handlebars
User assist feature to make adjusting handlebars easier
Heavy duty frame with 330 lb weight limit
Dual sided pedals, compatible with cleats and sneakers
Self-powered console with Coach by Color feature
Solid warranty
Cons
Additional cost for Myride VX Personal Console
Some complaints about Life Fitness customer support
Flywheel
The flywheel is a good place to start when discussing a spin bike (indoor cycle). Most riders will tell you heavier is better, because it gives you a smoother, more fluid feel.
Most nice indoor cycles come with flywheels that weigh anywhere between 30-50 lb. The folks at Keiser would disagree however- they only use an 8 lb flywheel on their famous M3i.
The folks at Life Fitness agree with the Keiser school of thought- that is, if you have a high-quality magnetic resistance system and a proper gear ratio, you don't need a heavy flywheel to achieve a smooth momentum.
The IC6 utilizes a 9 lb flywheel (which is considered very light in the spinning world) and users seem to be happy- there aren't many complaints when it comes to the smoothness of the IC6.
The design of the gears and the automotive grade Poly-V belt drive enable the flywheel to reach high speeds. Combined with the frictionless magnetic resistance, you get a smooth, nearly silent ride experience.
The awesome thing about having a belt drive system is that it's maintenance free. Unlike chain drives, you don't have to worry about lubricating belts.
They're also quieter than their chain counterparts. The same goes for magnetic resistance- since there are no touching parts to create the resistance, there's less risk of breakdown.
The IC6 utilizes a lever to adjust the resistance. Instead of turning a dial, which is common in a lot of the popular high-end cycles, you move a lever arm up or down. This sounds a little odd to me, but I'm used to the dial. Really, I don't think it's a big deal either way.
A nice touch though, Life Fitness placed the resistance lever on the handlebar- the intention was to make it easier to reach when standing.
This I like, because from experience I know it can be a little awkward to reach down and increase your resistance from a standing position when the resistance dial is lower down on the frame.
Having the resistance lever higher on the handlebar makes it easier to use.
You probably noticed that the flywheel is in the rear of the IC6. This is a popular design element that Keiser started. Not only does it look cool, but it actually protects your flywheel from sweat damage.
Overall, the IC6 utilizes a sophisticated magnetic resistance system with a belt drive train and lightweight flywheel to deliver an exceptionally smooth, quiet ride.
Seat
The important thing to consider when looking at spin cycle seats is how adjustable they are. A cycle at this price point should be fully adjustable, meaning you can change both the height and horizontal (fore/aft) position of the seat.
The IC6 does come with a fully adjustable seat, giving you the ability to find the perfect fit for your ride.
Bicycle seats are known for being uncomfortable, especially for novice riders. That said, users find the IC6 to be comfortable. Life Fitness has labeled the included seat a "sport saddle", but it looks pretty standard to me.
The good thing though, is that if the seat is too uncomfortable, you can swap it out for another seat or throw a gel cushion on it for extra comfort.
Handlebars
The IC6 comes with fully adjustable handlebars, giving you the ability to adjust their position to fit you perfectly. The handlebars are also multi-grip, which means you have plenty of options for where you decide to rest your hands.
The curvy nature of the handles should add a little comfort as well.
Something I never realized until I started riding regularly, was how much pressure goes through your upper body on an indoor cycle.
It's important to change your grip up regularly to relieve pressure. You also need to use different grips based on the type of workout you're doing (sitting vs standing, climbing a hill, etc).
A great feature Life Fitness has included here is the "user-assist post", which makes it a lot easier to adjust the height of the handlebars.
Making this adjustment is kind of difficult on most bikes because this post is heavy. On the IC6, it's a lot easier though because of this user-assist feature.
Frame
This bike comes with a heavy-duty steel frame. All the internal components are hidden and guarded, which works well for design reasons, but also keeps everything protected from damage.
This sturdy frame has a max weight capacity of 330 lb, which is impressive considering most indoor cycles max out around 300 lb.
This shows that the IC6 really is built tough, just like their commercial grade machines. With a weight capacity this high, this bike will be able to safely accommodate most users.
The IC6 has the following dimensions when fully assembled: 52″ (L) x 20.5″ (W) x 47.2″ (H).
Speaking of assembly, putting the IC6 together is pretty straightforward. Like most spin bikes, the flywheel and all internal components arrive fully assembled. It's your job to attach the stabilizers, seat, pedals, and handlebars.
Pedals
Most high-end indoor cycles are compatible with cleats. If you've never used cleats on a spin bike before, they definitely add to the experience.
They allow you to pedal faster and more efficiently. Of course you have to purchase them separately if you don't already own a pair.
The nice thing about the pedals on the IC6 is that they are dual-sided. One side is compatible with SPD cleats and the other is a toe cage that works with sneakers. Regardless of which type of shoe you want to wear, these pedals will be compatible with you.
Life Fitness markets that this bike has a 155 mm Q-factor. Unless you're an avid cyclist, you probably don't know what that means.
The Q-factor refers to how far apart the pedals are. The general idea is that having them closer together puts less stress through your knees and hips.
From a physical therapist's point of view, this makes sense I guess. But personally, I've never been on an indoor cycle where the Q-factor was so large that it was noticeable to me.
I think my point here is that experienced cyclists will appreciate this fact, the rest of us probably won't notice.
Console
You have 2 options here when it comes to the console. The standard grade console is their "Wattrate Color TFT Computer". That's a mouthful, so from now on I'll refer to it as simply the "TFT" monitor.
Anyway, this console is pretty neat. First of all, it's self-powered, meaning that there's a small generator on the bike that produces electricity as you cycle- your workout actually powers this console, no batteries or wall plug necessary.
Second, the "wattrate" part is referring to a sophisticated watt meter Life Fitness developed to give you a precise measurement of your work. This is paired with their "coach by color" system to let you know which workout zone you're in.
Similar to other systems that use heart rate zones to determine your effort, this console will change the color of it's screen based on your effort (which is derived based on your wattage output).
The TFT console is sleek and simple to use. It shows all the usual workout metrics we'd expect. You can choose between 4 different display views during your workout.
This console is also compatible with wireless chest strap heart rate monitors.
The other console option is the Myride VX Personal console. This option provides a tablet that connects to the handlebars, allowing you to access different instructor lead workouts.
The console comes with 3 built-in apps: world view, tour coach, and studio coach.
World view allows you to watch 5 minute videos from over 500 different locations around the world as you ride- giving you the feeling of riding in mountains or fields from around the world.
The tour coach app includes 4 50-min instructor lead workouts and 4 30-min HIIT workouts.
The studio coach app includes 12 15-min HIIT drills, 4 30-min classes, and 4 50-min classes, each with instructor guidance and music to keep you motivated.
The Myride VX Personal console costs an extra $800 or so, but sometimes Life Fitness will have promotions where it's included. Click on the banner below to see if they are having a sale now.
Warranty
The IC6 comes with the following warranty from Life Fitness:
5 year frame
3 year mechanical parts
1 year other parts
1 year labor
This is a pretty good warranty for a spin bike and very comparable to what the other high-end bikes are offering. Five years is pretty standard for the frame, although Schwinn does offer a 10 year warranty on the AC Performance Plus.
One year on wearable parts is better than most that just offer 6 months or so. One year on labor is also standard. Overall, a pretty solid warranty.
Final Thoughts
The IC6 Indoor Cycle is a great example of what we should expect from a high-end exercise bike.
With impressive specs and high-tech features, the IC6 is an arguable contender for best in class indoor cycle (and it did make its way onto my best spin bikes of the year list).
There's no doubt about it, this is a great bike. The real question we should be asking is whether or not it's worth the asking price.
The only way I know to answer that question is to compare it to the other leading spin bikes on the market (you know, check the comps).
Without the Myride Personal console, the IC6 is priced very similarly to the Peloton, Keiser M3i, and Schwinn AC Performance Plus.
The IC6 has all the specs and features to hold its own with these bikes too.
It's actually a little higher tech than the M3i and AC Performance Plus with its self powered console.
If you have to pay full price for the Myride console, the IC6 becomes the most expensive bike of the bunch.
Of course with the Peloton, you are paying a monthly subscription fee for the workouts, but in my opinion the Peloton touch screen has this console beat hands down.
And I can personally attest to the quality of their instructor lead spin classes.
So, long story short, I think the IC6 bike itself is worth the money.
It's a great bike with some really cool high-tech features that's backed by a great warranty. I wouldn't pay extra for the Myride console though- I'd probably wait until it's included with a promotion or just use a separate fitness app.