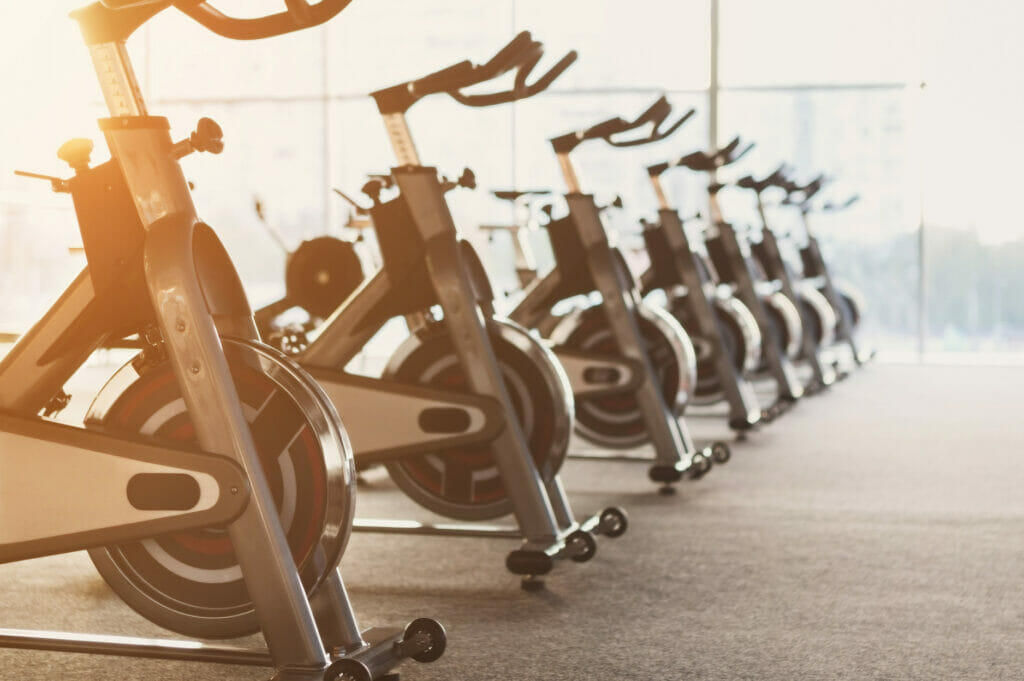 If you're looking for a rock-solid, no-BS spin bike, Diamondback's 910ic should definitely be on your short list. Especially if you just want an easy to use cycle and aren't looking for monthly subscriptions to streaming services.
The 910ic boasts some of the most impressive performance specs you're gonna find in its class, including a 40 lb flywheel, 32 levels of magnetic resistance, and a self-generating power source.
It also comes with plenty of workouts to choose from and is chest strap compatible.
In other words, I think Diamondback's 910ic is a class act from top to bottom- but you really shouldn't just take my word for it (and there's really no need to, these specs speak for themselves).
Before buying, it's important to do your homework- you know, cross T's, dot i's, and then double check your work.
And this is where this review comes in.
In this article, I'll go over everything the 910ic has to offer. After reading, you'll be more than well-equipped to decide whether or not this is the right spin bike for your home gym.
The Diamondback 910ic Indoor Cycle
I'm not sure if Diamondback is a household name or not. I would guess they don't have the same brand recognition as a NordicTrack or a Bowflex, for example (few do).
And that's a shame because Diamondback is on par with or better than both of the aforementioned brands if you ask me.
Maybe they do get the respect they deserve, I mean their exercise bikes are usually found on any "best of" list that has any idea of what they're talking about (mine included).
Ranting aside, Diamondback Fitness is a very legit company.
They're mostly known for their exercise bikes, but they do have a select lineup of ellipticals as well.
As a brand, they're known for providing straightforward equipment that's designed to function well. In other words, performance over thrills.
You won't see a lot of fancy tech features on these products, but you will see heavy flywheels, robust frames, and durable components.
The 910ic is the big brother to the very popular 510ic (which I own by the way) and was their most advanced spin cycle until they recently revealed their new 1260sc Studio Cycle.
Pros
40 lb flywheel
32 levels of magnetic resistance
Belt drive
Fully adjustable seat
Fully adjustable, multi-grip handlebars
Heavy-duty frame
325 lb weight limit
12 workout programs
Polar chest strap compatible
Self-generating power source
Good warranty
Cons
Chest strap not included
No bluetooth capabilities
Flywheel
Most folks consider the flywheel to be the most important part of the bike, so we might as well start there. After all, this is the heart of the bike- it's what spins as you pedal, creating your resistance as well as the overall feel of your ride.
Most home exercise bikes are designed in such a manner that heavier flywheels are preferred.
It's all about momentum- the more you can create as you pedal, the smoother your ride is going to feel (and the closer your workout is going to feel like riding a bike outside).
The easiest way to create more momentum is by adding weight to the flywheel (although Keiser has shown that light flywheels can work just as well if the flywheel is spinning fast enough).
The extra weight on heavy flywheels helps the wheel keep spinning between pedal strokes- this reduces any unwanted lag between strokes, making for a smoother ride.
A heavy flywheel also takes more energy to start, which mimics the feel of riding a road bike.
We're seeing heavier and heavier flywheels these days, but personally, I consider anything over 20 lb to be pretty heavy.
Keeping the above background info in mind, I want to point out that Diamondback's 910ic comes with a 40 lb flywheel. This is double the 20 lb line in the sand I draw, so I feel very comfortable referring to this as a "heavy" flywheel.
The extra weight will make for a smooth ride, but it'll also make for a substantial workout.
You'll feel that extra weight when beginning from a cold start.
And when you pair that heavy flywheel with 32 levels of magnetic resistance, you've got all the tools necessary to create as intense a workout as you're looking for.
This is 2x as many resistance levels as the 510ic.
Having more is nice because it gives you room to fine tune your intensity- you know, you can make smaller incremental changes in the resistance.
Speaking of resistance levels, on the 910ic (as well as the 510ic) you adjust the resistance digitally by pushing the up and down buttons on the monitor.
This is one of the reasons I was drawn to the 510ic a few years ago.
For people that don't want to mess with turning a dial, the resistance controls on this spin cycle will be an obvious perk.
Overall, the 910ic scores very highly in this department, with its (very) heavy flywheel and high number of magnetic resistance levels to work with.
Seat
Most spin bikes get complaints regarding the comfort of their seats. A lot of this is probably because people unfamiliar with riding aren't aware of just how uncomfortable bike seats are to begin with.
Myself included.
Well, before I started riding regularly anyway.
When I first purchased the Diamondback 510ic, I found the seat uncomfortable and I even purchased a gel seat cushion (which did help a lot by the way).
The good news is that as you ride more, your bottom will get used to the seat and you'll be more comfortable.
Spin bikes come with standard riding saddles, which are small and pretty firm- that's just the way it is. Keep in mind spin bikes are trying to mimic the sensation of riding a road bike, uncomfortable seat and all.
The 910ic comes with the same uncomfortable seat all spin bikes come with, but what's worth mentioning is that the seat on this bike is fully adjustable.
This means you can adjust the position vertically as well as horizontally (fore/aft).
This is preferred because it gives you a much better chance of finding your most comfortable riding position. And the more comfortable you are during workouts, the more likely you are to actually exercise.
As well as decrease your chances for unwanted aches and pains along the way.
So, the takeaway here is that the 910ic gets points for the fully adjustable seat. You can always swap the seat out for another upgraded bike seat if you really want to, it's an easy procedure.
Handlebars
The handlebars on this bike are also fully adjustable, giving you a lot of room to customize and find the best riding position. Like the seat, you can adjust the height and fore/aft position easily.
I don't think having horizontally adjustable handlebars is quite as important as it is for the seat, but it's still a nice feature in case you ever need to use it.
It's a little surprising how many elite bikes don't include full adjustable handlebars (Peloton doesn't).
Anyway, the 910ic does, and even if you don't find yourself having to tinker with it, it's nice to know it's there.
The handlebars are multi-grip, allowing you to grab 'em in any position you see fit. You've got the wide grips (handy for standing), the narrow grips, and everything else in between.
Frame
Frame integrity is important for a spin bike- the last thing you want if for your cycle to wobble or feel flimsy during your workouts.
I like a heavy-duty frame that doesn't move or rock as I pedal, even when standing and climbing steep hills.
You can look at images of a bike and try to see how heavy-duty it looks, and sometimes you can just tell a bike isn't that robust by looking at it, but the best way (other than taking it for a test drive) is to look at the bike's weight and weight capacity.
These numbers will tell you a lot about how heavy-duty it really is.
And higher is better in both cases.
The 910ic has a fully assembled weight of 135 lb.
This is exactly how much my Peloton weighs and I can tell you from experience that this is very heavy for a spin cycle (and the 910ic doesn't have a huge monitor adding to the overall weight!).
It's also about 30 lb heavier than the 510ic, which doesn't move at all when I ride it.
The 910ic comes with a max user weight of 325 lb, which is also impressive for a spin cycle.
And according to Diamondback, this bike can comfortably handle users who are up to 6'6″ tall, which means the majority of us should fit just fine.
Overall, this bike comes with a heavy frame that will provide a sturdy base for you to ride on. You won't have to worry about any wobbling or rocking, regardless of how hard you pedal on those hills.
Pedals
When it comes to pedals, spin bikes either come with toe cages which are to be used with sneakers, or clipless pedals that are designed to be used with riding cleats.
Some bikes will even come with dual action pedals, with a toe cage on one side and clipless insert on the other, allowing you to use either type of shoe.
The 910ic only comes with the toe cage pedals.
This is just fine if you don't want to worry about purchasing riding cleats- you can simply hop on and ride with whatever sneakers or shoes you want to.
But if you do want to use cleats, you'd have to purchase separate pedals and swap them out yourself (which isn't difficult).
Monitor
Not all spin bikes come with monitors, but more and more are these days. The 910ic comes with a small monitor that will display all your key metrics, as well as allow you to control the resistance and choose your workouts.
The monitor isn't very fancy, but it's easy enough to read. And easy to use.
It also comes with 12 pre-programmed workouts to choose from. These include options like "beginner", "advanced", and "sporty", all differing a little on the size and intensity of the hills.
There are also heart rate guided workouts which will adjust the resistance to keep your heart rate within your chosen "zone".
The monitor on the 910ic is compatible with Polar chest straps, making it easier for you to keep track of your heart rate during these workouts.
But the coolest part of this monitor is that it's self-powered- you don't have to keep it plugged in.
This means you can put this bike anywhere you want without having to worry about placing it near an outlet (although you will have to plug it in before your first workout and then charge once every month or so I believe).
Overall, this monitor is pretty basic, but it's easy to make your selections, chest strap compatible, and self-powered.
Warranty
Diamondback Fitness backs the 910ic Indoor Cycle with the following warranty:
5 year frame
5 year brake
3 year parts and electronics
1 year labor
90 day wear items
I think the 910ic is a great spin bike, but if I had to nitpick (and I do since I'm writing this review), I'd say the warranty is where my biggest complaint would be.
Diamondback describes their frame and brake warranty as a "limited lifetime" warranty, but to them the lifetime of the bike is limited to 5 years.
I don't think the frame on this cycle is going to break down in 25 years, much less 5, but I'd still like to see a straight up "lifetime" guarantee on the frame.
I know, a lot of premiere spin bikes don't offer lifetime frame guarantees (although Sole does), but I'd still like to see it here.
To be fair though, when you compare this warranty to other luxury spin bikes that cost 2x as much, it still holds up pretty well.
I think 3 years on parts and a year on labor is all fine and good- that's par for the course.
Overall, the guarantee on this bike is good, but I think they could offer a lifetime warranty on the frame (or at least stop describing it as one when it's only 5 years).
Final Thoughts
Ok. Well, that's about all I have on Diamondback's 910ic. If I had to pick one word to describe this cycle, it would have to be "heavy-duty".
Everything on this bike is heavy and I mean that in the best way possible.
From the flywheel to the frame, this bike is built like a tank.
And with 32 resistance levels, 12 workout programs, and a self-generating power source, this bike is well-equipped to kick your butt day in and day out.
The monitor is pretty basic and it's lacking any kind of bluetooth/app capabilities, but it is very easy to use.
And you don't have to worry about paying any monthly subscription fees just to use your bike.
Overall, I think Diamondback's 910ic is an awesome spin cycle. I think it would make a great choice for someone looking for an easy-to-use cycle that can still provide an intense workout. Highly recommended.