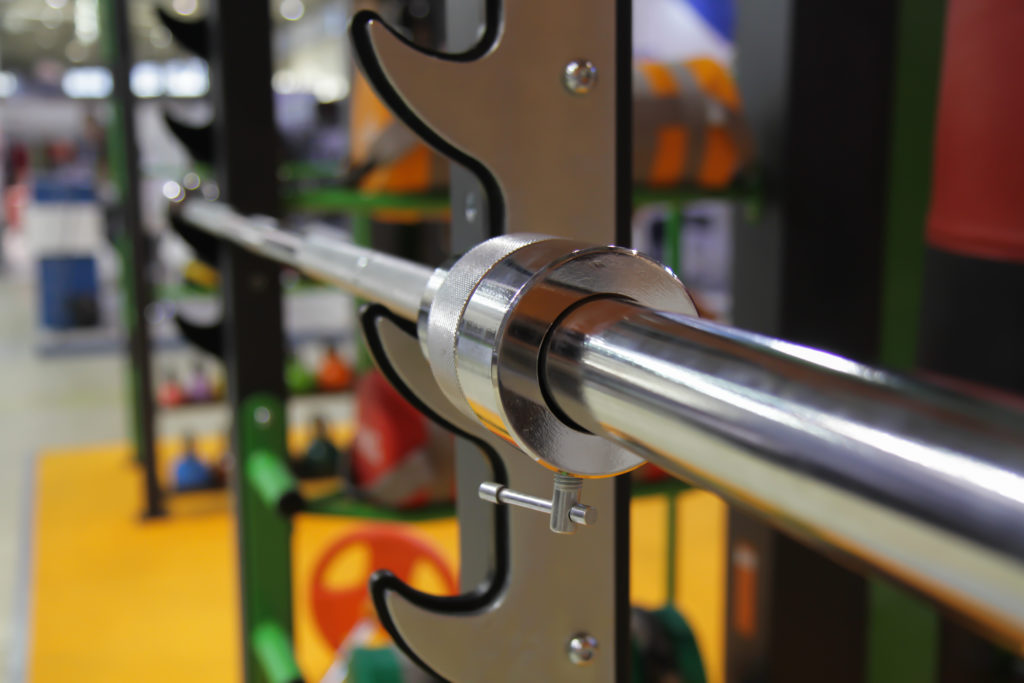 The Deltech Fitness Linear Bearing Smith Machine is a simple, no-thrills home Smith machine. The name tells ya exactly what you're getting here, no surprises. Which should be comforting if you don't need all the extra attachments and pulleys that a lot of Smith machines come with these days.
Cutting out all the extras allows Deltech to concentrate on delivering a Smith machine that's built tough and operates smoothly. It also lets them keep the price low, which is a sweet benefit for us.
This review will walk you through everything the Deltech Smith machine has to offer. I want to start with a quick intro to Smith machines in general because it will provide a foundation for the key features we should be looking at when comparing models.
Smith Machines 101
I'm a big fan of Smith machines. Some aren't, and I get that. It really all depends on your lifting style and what your primary goals are I guess. Personally, I like them because they enable you to perform a lot of power moves safely by yourself.
I understand that the machine makes the moves easier and that my muscles aren't working quite as hard as they would with a free barbell.
But I don't care. I'm not a professional body builder or training for a strongest man contest.
I like the idea of having a build-in spotter at all times. I also like the idea of being able to lock the bar out anywhere within the range of my exercise if I get stuck.
These 2 perks come in especially handy when you're working out by yourself in your home gym.
Finally, Smith machines give you more workout variety than you might initially think. We see people doing squats on them all the time (and they work great for squats), but you can do all kinds of moves with these machines.
For example: bench presses, shoulder presses, calf raises, upright rows, shoulder shrugs, lunges, bicep curls, bent-over rows.
With some creativity, I'm sure you could come up with some more too. Point is, these are versatile machines. They work really well in home gyms if you have the room for them. It's also nice that you don't have to completely break the bank for a decent model.
When searching for a home Smith machine, I recommend you consider the following features/specs:
Linear bearings- these ball bearing systems are a must if you want a smooth acting Smith mechanism. Not all Smith machines have them! Cheaper machines (anything under $600) probably won't.
Weight capacity- another crucial feature to consider. The weight limits for home machines vary greatly. Most Smith machines will hold somewhere between 300 – 1000 pounds. If you're planning on lifting some serious weight, make sure you find a machine that can handle it.
Warranty- something that should always be considered when purchasing fitness equipment. Just like everything else, warranties on Smith machines vary greatly. Frame warranties can vary from 2 years to lifetime depending on the brand. More expensive machines tend to come with better warranties.
Features- some Smith machines come with a ton of attachments and weight stacks, turning it into a complete home gym system. This is great if this is what you want, just know that you don't have to get all the extra goodies if you just want a Smith machine. There are basic models out there that work great, plus you'll probably save yourself some cash if you opt out for the extra attachments.
The Deltech Fitness Linear Bearing Smith Machine
I'm not familiar with Deltech, so I had to do a little research. Looks like they are based out of Louisville, Kentucky. They specialize in weight training equipment like power racks and benches. Their goal is to produce equipment that will outlast the competition.
The name for their Smith machine isn't exactly catchy, but it does tell you exactly what you're getting. As far as I can tell, this is the only Smith machine Deltech produces, although you can get it with a lat pulldown and weight stack.
Pros
Great price
Durable construction
Smooth operating linear bearing system
Weight capacity of 700 lb
Olympic bar
4 Olympic weight storage pegs
Pull up bar included
Lifetime warranty on frame
Great customer service
Cons
Assembly can be challenging
Construction/Features
Deltech's Smith machine is built out of 11 and 14 guage steel tubing components, giving it a solid frame that feels sturdy during use. Users are pretty unanimous in their feelings that the sturdiness of this machine is surprising for how affordable it is.
Not quite as rock steady as a commercial machine, but good considering this rack's size and weight. Keep in mind adding some weight plates to the storage pegs is going to stabilize the frame some too.
This machine has a weight capacity of 700 lb. This is pretty incredible considering the price range. Just another indicator of how well-built the frame is.
The white and black powdercoat paint gives it a clean look, but some users have noticed that the paint scratches pretty easily during use. Not a deal breaker though.
Most importantly, this Smith machine does come with a linear bearing system (as the name implies). The ball bearings allow the Olympic barbell to move effortlessly over the polished solid steel support bars. Again, users are pretty unanimous with their excitement over the smooth operation of this product.
Deltech points out that you're not likely to find another home Smith machine with linear bearings for this price- they're right as far as I can tell. I haven't been able to find a cheaper unit that still uses linear bearings.
I mentioned that this machine uses an Olympic bar- this is good news if you plan on using Olympic plates. There's also 4 Olympic plate storage pegs attached to the frame.
There's 2 adjustable safeties with shock absorbing springs- a must have for safe lifting. Set the safeties to the appropriate height and you don't have to worry about locking out the bar in case you get stuck.
There's also a straight chin up bar running across the front of the frame. A nice little added bonus, giving you some more exercise variety.
That's about all the comes with the standard unit. You can add a lat attachment and stack separately if you want to.
Assembly
Most users agree assembly is pretty reasonable considering the size and weight of the product you're putting together. Several users highly recommend having 2 people for assembly.
Most folks agree the instructions are ok, but could use a little work to make the whole process a little clearer.
Fully assembled, this Smith machine has the following dimensions: 81″(H) x 86″(W) x 49″(L); weight: 276 lb.
This width is including the width of the barbell, which is crucial because the ends will extend past the actual footprint of the frame. Keep in mind you need some wiggle room for getting the plates off and on each side.
Apparently Deltech has great customer service, in case you have any issues with your product once delivered.
Warranty
Deltech backs their Smith machine with a lifetime warranty on the frame, as long as their inspection verifies that the defect didn't occur from improper usage on assembly.
I couldn't find any mention of a moving parts warranty on their website. If you're interested in purchasing, you may want to contact them directly for clarification.
Either way, a lifetime frame warranty on a machine this affordable is pretty amazing. Well done Deltech.
Price
Price is the last thing I'd like to cover before we wrap this review up. At roughly $800, this Smith machine is one of the most affordable home units on the market. I wasn't able to find another Smith machine with linear bearings that cost less either.
The Yukon Caribou III is very similar in price, but doesn't include the linear bearings, you have to pay extra for them. When you add that cost in, the Caribou III ends up about $200 more expensive.
The Valor BE-11 is another comparable Smith machine. It's a great choice and does come with a linear bearing system, but it's still about $150 more than the Deltech.
Long-story-short: the Deltech Smith machine is priced to move.
Final Thoughts
The Deltech Fitness Linear Bearing Smith Machine has more to offer than might initially meet the eye. This Smith machine might look basic, but what it lacks in additional features it more than makes up for in construction and operation.
With a sturdy frame and smooth operating linear bearing system, the Deltech Smith machine was designed to perform. And with a 700 lb weight capacity, it should be able to handle pretty much any workout you can throw at it.
Considering the price, Deltech easily has one of the best Smith machines on the market today. Throw in a lifetime frame warranty and it's game over.