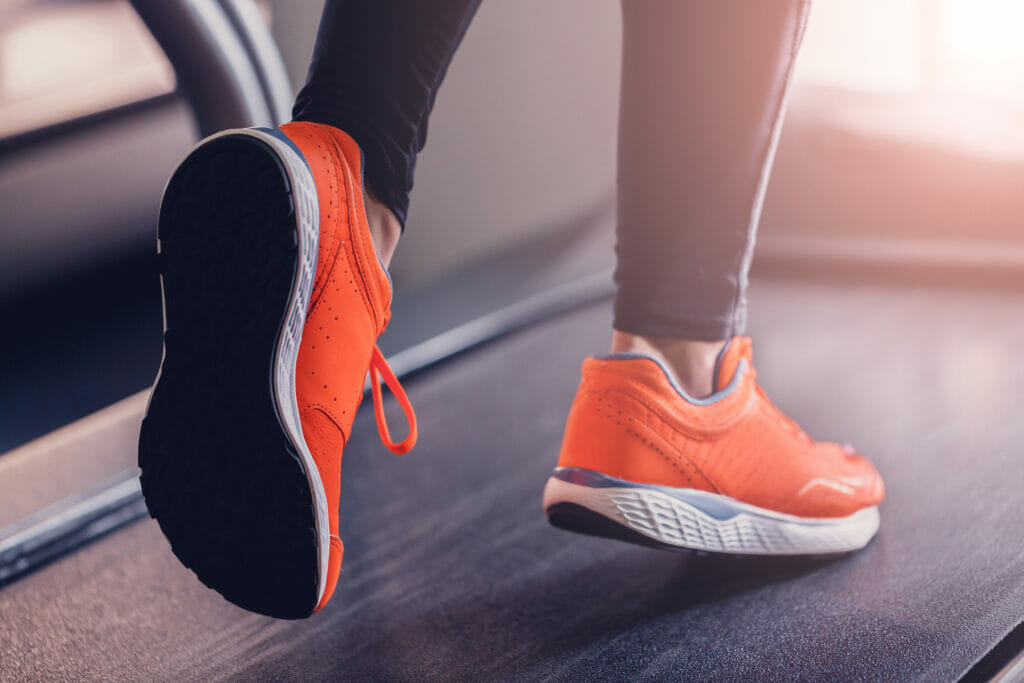 Bowflex's most recent addition to their treadmill lineup, the BXT8J, has one of the least-catchy product names I've ever come across.
But luckily, product names mean exactly jack squat when it comes to performance.
Forgettable names aside, the BXT8J offers a refreshing glimpse of what treadmills used to be before everything needed a touchscreen and a monthly subscription to use.
Yup, this treadmill is pleasantly simple, but still comes loaded with impressive features, including a 20″ x 60″ running surface, 26 built-in workout programs, and a power incline up to 15%.
It also comes with a robust folding frame and a solid warranty for the price.
The motor could be a little stronger, but given the reasonable asking price, I wouldn't necessarily consider this a dealbreaker.
Long-story-short, I think the BXT8J is a decent entry-level treadmill, but I think there are better options out there in this price range.
If you're interested in the longer story, keep reading.
In this review, I'll go over everything this treadmill does and doesn't have going for it; I'll also offer my humble opinion regarding how it stacks up against some of the other treadmills in this price range.
After reading, you'll know whether or not the BXT8J is worth investing in.
The Bowflex BXT8J Treadmill
Bowflex is a pretty respectable brand – they've been around for a long time and they've had some cool products over the years.
It doesn't seem like their power rod home gyms get any attention these days, but I always thought they were pretty cool and worked well.
Anyway, Bowflex still offers a few of their home gym systems directly, but these days it seems like they focus more on their cardio equipment.
As I'm writing this, they've got a couple of bikes, a few ellipticals, and 3 treadmills to choose from in their lineup.
The BXT8J we're here to go over now is their entry-level treadmill, but it's also the newest addition to their treadmill lineup, which also consists of the Treadmill 10 and the Treadmill 22.
As I'm writing this, Bowflex has the BXT8J listed for $1299, making it a pretty moderately-priced machine.
Pros
20″ x 60″ running surface
Heavy-duty frame
300 lb weight capacity
Folding frame
Top speed of 12 mph
Power incline up to 15%
26 built-in workout programs
USB charging
Chest strap heart rate monitor included
3-speed fan
JRNY compatible
Media shelf
Quick-touch speed/incline buttons
Good warranty
Cons
Motor could be stronger
Lot of competition in this price range
Running Surface
A treadmill's running surface tells us the dimensions of the belt and it's an important spec to pay attention to.
As mundane as it might seem, this spec is actually telling us how much space we'll have while using the treadmill and I'm of the opinion that having more space is always a good thing.
Treadmills' running surfaces vary quite a bit, but generally speaking, cheaper machines come with smaller running surfaces.
This is actually one of the big reasons affordable treadmills are affordable to begin with.
Anyway, the BXT8J comes with a 20″ x 60″ running surface, which is great for a home treadmill – this is actually as large as most home treadmills come.
And even though there are plenty of treadmills in this price range packing a running surface of this size, it's not a given.
With a running surface this large, folks of all heights will be able to stretch out and run as fast as they like without having to worry about shortening their stride (which can be a real concern with shorter treadmills).
The size of the running surface is good, but I also like how heavy the BXT8J is – with an assembled weight of about 254 lb, this is a meaty treadmill.
I like to see high assembled weights because it means the treadmill should feel more secure during use.
And the BXT8J is certainly heavy-enough to accomplish this goal.
Finally, I want to mention that this treadmill comes with a max weight capacity of 300 lb.
This is pretty average for a treadmill in this price range, but it still folk of all sizes the ability to safely use this machine.
Overall, the BXT8J scores highly with its large running surface and heavy-duty frame.
Motor
Motor strength is one of the most important specs to look for when comparing treadmills because you need to make sure whatever treadmill you go with is strong enough to handle the type of workouts you plan on doing.
Having a stronger motor is never a bad thing, but it's crucial for folks who plan on spending a lot of time running at faster speeds.
Most home treadmills come with DC motors that range in power from 2 – 4 HP and if you plan on running often, it's a good idea to go with one with at least 3 horses under the hood.
That's not to say you can't jog on a treadmill with a weaker motor, it just means a stronger motor will offer a smoother experience and will likely hold up better.
With all of that in mind, the BXT8J comes with a 2.5 HP motor that can reach a top speed of 12 mph.
This isn't bad for a treadmill in this price range, but it isn't great either, considering Sole's F63 and Horizon's 7.0 AT both come with 3.0 HP motor.
The BXT8J also comes with a power incline that can reach up to 15% for added challenge and workout variety.
Overall, this treadmill comes with a motor that's a little weaker than what some of the top competitors are offering, but it should still be able to handle walkers and joggers.
Features
The Bowflex BXT8J Treadmill comes with the following features:
DualTrack displays- this treadmill comes with 2 small LCD screens, allowing you to see all your workout stats simultaneously. Nothing too special going on here, but both screens are backlit for clear viewing.
26 built-in workout programs- if you're a fan of old school workout profiles, you'll appreciate that the BXT8J comes with a boatload of options to choose from.
JRNY compatible- you won't find any touchscreen consoles or instructor-led workouts on this treadmill, but it is compatible with Bowflex's JRNY app. JRNY gives you access to instructor-led workouts, metric tracking, and all that stuff and you can connect the BXT8J to it through your phone or tablet. JRNY requires a monthly subscription, but Bowflex includes a free trial with purchase.
Chest strap heart rate monitor- Bowflex also includes a free chest strap heart rate monitor, making it easy for you to keep track of your heart rate during workouts.
Quick-touch buttons- you can instantly set your speed and/or incline with the handy quick-touch buttons located front and center on the console.
USB charging- there's a USB charging port located on the rear of the console, allowing you to charge your phone or tablet during use.
3-speed fan- the adjustable speed fan might help keep ya a little more comfortable during workouts.
Tablet holder- there's a large tablet shelf located above the LCD screens, giving you a good place to place your tablet or phone in case you want to use JRNY or watch Netflix during workouts.
Water bottle holder- finally, there's a place to put a water bottle on each side of the console.
Assembly
If you decide to purchase the BXT8J and are decent at following instructions, you shouldn't have too much trouble putting it together.
The process is pretty straightforward and comparable to what you'd have to do for pretty much any home treadmill.
The deck comes mostly pre-assembled, so you don't have to really mess with anything there.
You'll be responsible for attaching both uprights to the frame, attaching the console, connecting a few cables, and attaching the cross bar and a few covers.
And I think Bowflex even pre- snakes the cables through the right upright, so you won't even have to mess with doing it manually (which I always find to be a lot more tedious than it should be).
Overall, the assembly process should be pretty painless, but it's still a good idea to have a second person around to assist – remember, this is a heavy treadmill, so having a helper will make things easier.
Warranty
Bowflex covers their BXT8J with the following home warranty:
10 year frame
3 year parts
1 year labor
Overall, I think this is a pretty solid warranty – doesn't blow me away, but it doesn't offend me either.
Actually, if Bowflex would offer a lifetime frame guarantee, this warranty would be quite good, because 3 years on parts is generous for this price range.
Horizon and Sole both offer lifetime frame warranties on their 7.0 AT and F63, respectively, so longer frame guarantees are out there in this price range.
But Bowflex's parts warranty beats out the 2 year parts guarantee on Sole's F63.
And realistically, it's unlikely the treadmill's frame is going to breakdown anyway.
A year on labor is standard operating procedure, so nothing too fancy going on there.
Again, all things considered, a solid warranty.
Final Thoughts
Alright, that's about all I have when it comes to Bowflex's BXT8J.
I'd like to say one more time for the record that I hate this treadmill's name – it sounds more like a droid you'd see on Star Wars than a home running machine.
But jokes aside, I think Bowflex has a respectable treadmill here.
I like the spacious running surface and heavy-duty frame and I respect that it comes with a classic console that doesn't require any streaming memberships or any of that jazz.
And again, it's warranty is pretty good.
The only problem is that there are some other heavy-hitters in this price range that I would recommend over the BXT8J.
Specifically, I'm talking about Sole's F63 and Horizon's 7.0 AT.
The F63 comes with a 20″ x 60″ running surface, a 3.0 HP motor, a heavier-duty frame, similar features, and is priced around $1200.
The 7.0 AT also comes with a 20″ x 60″ running surface, a 3.0 HP motor, a heavier-duty frame, quick-dial controls, a heavier-duty frame, and a better warranty.
And the 7.0 AT is also quite a bit cheaper, costing around $1k.
Long-story-short, I think the BXT8J is a decent entry-level treadmill, I just think there are better buys in this competitive price range.