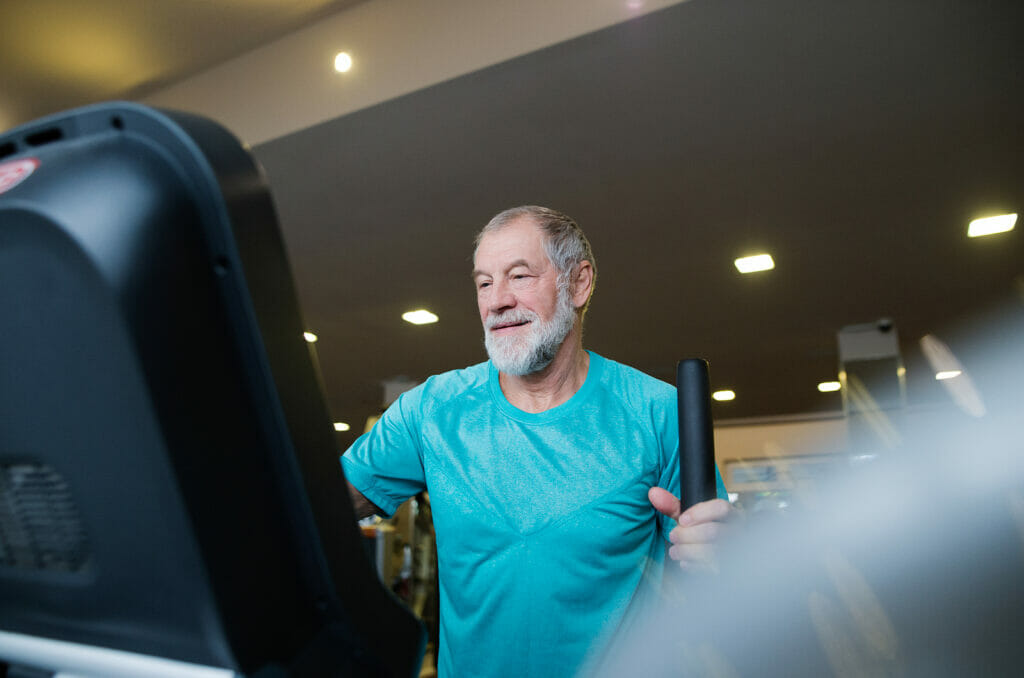 Ellipticals are great for folks of all ages because they can offer a full body workout while taking it relatively easy on our joints.
In fact, it's their low impact motion that makes elliptical machines a popular choice for seniors looking to improve their cardiovascular health, improve their lower body strength, or just simply keep their joints moving comfortably as they age.
And even though ellipticals are low impact, they still require us to stand and weigh bear, meaning we're likely to burn more calories than we would using a stationary bike.
All good stuff.
But before you decide to invest in an elliptical for yourself or a senior in your life, it's a good idea to know what to look for when comparing options.
This way you can hopefully avoid getting a lemon or an elliptical that won't meet your needs.
Well, that's exactly what I'll be going over in this article.
In this guide, I'll go over the top specs seniors should consider before investing in an elliptical; I'll also offer my two cents regarding which ellipticals I think would work best for seniors to use at home.
After reading, you'll know everything you need to in order to find the right elliptical for the job.
Let's begin.
Finding The Right Senior-Friendly Elliptical
As a home health physical therapist, I get the pleasure of working with seniors all the time.
I find it to be a very rewarding job and I certainly get my fair share of interesting stories, but I'm not gonna lie – it isn't always easy.
A lot of the seniors I'm working with have serious health concerns or are suffering from pretty significant functional mobility deficits.
In other words, folks don't get physical therapy for the fun of it.
This can make treating my patients more challenging, especially considering I'm treating them in their homes, where my space and access to equipment is often limited.
Anyway, I wanted to mention this because as we start discussing these ellipticals and whatnot, I don't want to come off like I'm making assumptions about all seniors.
I admit, I may be a little jaded because most of the seniors I work with have strength deficits, mobility issues, weakness, or some other condition that makes getting around more challenging.
But I also realize there are plenty of seniors out there who are pain free, without mobility deficits, and who are in better shape than me.
So, even though I'll be gearing this discussion around seniors who may have some mobility deficits or issues with pain, I realize all seniors don't fall into this category.
The seniors out there that aren't dealing with achy joints can use any elliptical a younger person can – there aren't any ellipticals specifically designed for seniors.
Folks of all ages can use ellipticals and the stuff we should look for when buying one is pretty much the same regardless of age.
That said, seniors dealing with arthritis or who have a harder time getting around should pay a little more attention to some specs than others.
Stride Length
One of the most important specs to look for when comparing ellipticals, regardless of age, is the stride length.
This spec tells us how far apart our legs will stretch out with each step and it gives us a good idea what our workouts are going to feel like.
If the stride length is too short, it'll feel more like we're marching in place; if it's too long, it'll feel like we're being overstretched with each step.
Either scenario is less than optimal.
The most comfortable stride length for you will depend largely on your height and available range of motion – that said, most nicer ellipticals come with a stride of 20″ because this size will fit most users pretty comfortably.
But for our seniors, it can actually be beneficial to go with a stride length that's a little shorter (closer to 18″) because the smaller step length can be more comfortable for stiffer joints.
This is especially true for seniors under 6′ tall.
(For more info on stride length, check out my full guide on the topic).
Flywheel
The flywheel is an internal component and it spins as you use the elliptical and it's this spinning flywheel, paired with magnets, that creates the resistance you work against.
This is just like how most home exercise bikes work too.
Anyway, this flywheel comes in various sizes and having a larger, heavier flywheel is usually a good thing because they tend to provide a smoother, more fluid pedaling motion.
Heavier flywheels build more momentum as they spin, which helps keep the flywheel (and pedals) moving a little between pedal strokes – the result is a smoother, less hiccupy feel.
The flywheel weight on an elliptical will usually vary based on price, with cheaper options coming with lighter flywheels and more expensive models coming with heavier ones.
Elliptical flywheels can go upwards of 30 lb, but anything around 20 lb is usually heavy enough to ensure a pretty smooth feel.
FYI, higher-end and commercial grade ellipticals don't always use heavier flywheels – with their more advanced resistance systems, they can offer achieve a smooth feel without adding weight to the flywheel.
Step-Up Height
An elliptical's step-up height refers to how far off the ground the step is at its lowest position – ie, how high you need to get your foot off the ground to get on the elliptical.
And this spec is really important to consider for seniors with mobility issues because if you can't get on the elliptical safely, nothing else is going to matter.
A lot of standard front-drive home ellipticals come with step-up heights of 12-14″, which could be challenging to get of for folks with stiff hips and knees.
Center- and rear-drive ellipticals tend to have lower step-up heights, with some as low as 7-8″, making them a lot easier to access.
Definitely something to consider for folks who may have a hard time getting up stairs or lifting their leg up and over a tub.
Warranty
The warranty is something all of us should pay attention too, not just our seniors, but it's important so I figured I'd include this one here too.
Elliptical warranties are usually broken up into 3 components:
The frame warranty should be the longest and the top brands will offer lifetime guarantees.
When it comes to parts, most home brands max out at 5 years, although some (like Spirit) go the extra mile and offer 10 year parts warranties.
A year on labor is pretty standard, although some will go as long as 2 years.
Features
Ellipticals come with various features and there's no right or wrong answer when it comes to this stuff – this is the fun part, it just depends on what you're looking for.
The one feature I did want to talk about a little though is power incline – some ellipticals offer adjustable inclines, others don't.
Adjusting the incline setting on an elliptical makes it feel like you're going uphill and it can add an extra layer of difficulty and variety to your workouts.
But seniors who are dealing with arthritis or achy joints might want to avoid steeper incline angles because they could make things more uncomfortable.
For seniors who don't have joint issues, go for it, tackle those hills.
Other features commonly found on home ellipticals include:
Speakers
Cooling fans
USB charging
Bluetooth compatibility with apps
Built-in workouts
Quick-touch resistance/incline buttons
Heart rate monitoring
Tablet holders
And for those seniors looking for a streaming elliptical, there aren't a ton of options out there, but NordicTrack and ProForm do offer a few models with HD touchscreen consoles for iFit streaming.
What About Recumbent Cross Trainers?
I'm here to go over senior-friendly ellipticals, but I did want to mention that recumbent cross trainers are a great option for seniors too.
Recumbent cross trainers are basically seated elliptical machines – they're also very low impact and allow you to work your arms and legs out at the same time.
These machines could work well for folks who aren't comfortable getting off/on a standing elliptical because of mobility issues, pain, or activity tolerance issues.
Recumbent cross trainers are also usually more comfortable to use than recumbent bikes because the pedal motion tends to be even lower impact.
Ok, I think it's time to get to the fun stuff already…
The 7 Best Elliptical Machines For Seniors
#1 Life Fitness E1 Elliptical Cross Trainer
It wasn't easy ranking these machines (and I'm still not sure I got it right), but ultimately I went with the E1 as my top ranked elliptical here because it's easy to get on/off of, it's comfortable to use, and it's backed by a great warranty.
And the fact that it comes from one of the best fitness brands in the world doesn't hurt either.
The E1 comes with some solid performance specs, including a 16 lb flywheel, 20 levels of resistance, and a heavy-duty frame that can hold users weighing up to 400 lb.
But it's the 6.5″ step-up height that makes this elliptical so senior friendly.
With a step-up height this low, most ambulatory seniors should be able to get on/off comfortably and as a rear-drive machine, the pedal motion on this elliptical is flatter than most.
This pedaling motion more closely resembles walking on flat ground, which will likely be more comfortable for stiff or achy joints.
Speaking of which, the E1 doesn't come with any incline options, so if that's a feature you're looking for, this is not the right elliptical for ya.
The E1 also allows you to choose between a few different consoles and it's backed by a great warranty: lifetime frame, 5 year parts, 1 year labor.
Overall, I think this would be a great option for seniors looking for a straightforward elliptical that offers smooth operation and that's easy to access.
It isn't cheap, but if you've got the budget for it, I doubt you'll be disappointed. See full review.

#2 TRUE Fitness M30 Elliptical
TRUE Fitness' M30 is another elliptical that deserves a spot near the top of this list because it's another advanced elliptical machine that's very easy to access.
The M30 is a center-drive elliptical, meaning the flywheel is located in the middle of the machine and as such, it too offers a very low step-up height compared to most front drive models.
More specifically, the M30 has a step-up height of 9″, which is a little higher than that found on the E1 above, but still pretty doable for seniors with decent mobility.
And this elliptical has another feature that makes getting on and off it easier too – side steps.
Yup, there's a place to stand on each side of the machine, so you can step up on the frame instead of having to step up onto a mobile step directly.
It's a convenient feature that you'll really only find on a center-drive elliptical.
Other highlights of the M30 include 25 magnetic resistance levels, several built-in workout programs (including "Quick Start" and heart rate controlled options), and a heavy-duty frame.
The console is a bit dated looking, but it's easy to navigate and there aren't any incline options on this elliptical either.
The stride length is 21″ for this elliptical, so shorter seniors might find this a little too long, but TRUE's warranty is very competitive: lifetime frame, 5 year parts, 1 year labor.
Oh, I also wanted to point out that the M30 is pretty compact for an elliptical too – it only takes up a footprint of 42″ x 30, but you'll need an additional few feet of length to safely use it do how the foot plates/handles extend out from the frame.
Overall, if you're looking for a high-end elliptical that's easy to get on, TRUE's M30 is worth considering.

#3 Body-Solid Endurance E300
If you like the idea of the E30 just mentioned, but are working with a smaller budget, Body-Solid's E300 is certainly worth considering.
This is another center-drive elliptical with similar specs, but the E300 comes with an asking $1k less, making it a little more approachable.
With an 8″ step-up height, the E300 offers easy access and with a 300 lb weight capacity, it can safely hold seniors of all sizes.
This elliptical also comes with a max stride length of 21″, so it might be best suited for the taller seniors out there or folks who have pretty good hip range of motion.
Additional features include 20 levels of magnetic resistance, 6 present workout profiles, 2 custom user workouts, and a simple LCD console.
And Body-Solid's home warranty is impressive too – lifetime frame, 5 year parts, 1 year labor.
So, folks looking for a smooth acting, reasonably-priced center-drive elliptical should definitely check this one out (and Fitness Factory normally has it on sale).

#4 Sole E35 Elliptical
The E35 could be a great choice for seniors who aren't as worried about low step-up heights and are just looking for a classic front-drive elliptical for their home.
Sole is one of my favorite home fitness brands because they offer simple, heavy-duty machines and back them with some of the best warranties in the biz.
And their E35 is no exception.
Anyway, the E35 is one of their more affordable options, but it still comes with some great specs and features, especially for the price.
This model comes with a 20″ stride length, a 25 lb flywheel, 20 resistance levels, and an impressive weight capacity of 375 lb.
And since this is a front-drive elliptical, it also comes with 20 levels of power incline – so if you like the idea of working against hills, the E35 can certainly accommodate.
The only kicker here is that the step-up height is 14″, so it's a little more taxing to get on/off of.
But if you don't have any mobility issues, this shouldn't be much of a concern.
The console on this elliptical is pretty straightforward, but it still comes with 10 workout programs, bluetooth speakers, USB charging, and it's compatible with chest strap heart rate monitors.
And Sole's warranty can hang with any in this price range- lifetime frame, 5 year parts, 2 year labor.
Overall, if you're looking for well-priced elliptical with some serious muscle, Sole's E35 is a smart choice. See full review.

#5 Spirit XE195 Elliptical
Spirit's XE195 is very similar to the E35 mentioned above and Sole and Spirit are even owned by the same parent company, so there's really no wrong answer when choosing between them.
I placed the E35 a spot ahead of the XE195 on this list because the E35 is usually a little more affordable, but it's still a good idea to compare prices when choosing here.
Like the E35, the XE195 is a front-drive elliptical with a 20″ stride length.
The flywheel on this elliptical is just a hair lighter, weighing in at 24 lb, but that's still more than enough weight to provide a smooth pedaling motion.
This elliptical's step-up height is 11.25″, so it is a little easier to access than the E35, but unlike the E35, it doesn't come with an adjustable incline.
Other features include 6 built-in workouts, 20 levels of resistance, and a built-in cooling fan.
The XE195 is very heavy-duty and it too comes with an impressive 350 lb weight limit.
And Spirit's warranties are just as good as Sole's – lifetime frame, 5 year parts, 1 year labor.
So, if you're looking for an easy to use elliptical with a great warranty, Spirit's XE195 could be a good fit. See full review.

#6 NordicTrack Commercial 9.9 Elliptical
NordicTrack's a name we all probably recognize and even though they started out with their now classic Cross Country Skier Machines, these days they're known for their HD touchscreens and streaming workouts.
Pretty much all of their current machines come iFit ready, so, if you like the idea of being able to access instructor-led workouts from your elliptical, the Commercial 9.9 might be exactly what you're looking for.
With a 7″ HD touchscreen display, you can access iFit directly through the console and with its AutoAdjust feature, you an even let the instructors control your resistance if you like.
NordicTrack doesn't disclose the step-up height for this elliptical, but as a front-drive machine, it's safe to assume it's somewhere around 14″ (which is the norm for most of these ellipticals).
The 9.9's stride length is a little shorter though – with an 18″ stride, this elliptical could be more comfortable to use for shorter folks or seniors with a little less range of motion.
The Commercial 9.9 also comes with 22 resistance levels, a 25 lb flywheel, a 350 lb weight limit, and a power incline that can go up to 20%.
NordicTrack's warranty isn't as good as the ones we've seen above (10 year frame, 2 year parts, 1 year labor), but it isn't awful for this price range either.
Overall, if you're looking for an affordable streaming elliptical, the Commercial 9.9 is a good option. See full review.

#7 Horizon EX-59 Elliptical
Rounding out my list is an affordable model from Horizon, another one of my favorite home fitness brands.
I think the EX-59 could be a good choice for seniors because it's easy to use, easy to get on, and it won't break the budget. It doesn't come any many fancy features, but it'll work just fine for getting you up and moving.
More specifically, the EX-59 comes with a step-up height of 10.75″, which is pretty good for a front-drive elliptical.
It also comes with an 18″ stride length, which should be pretty comfortable for most seniors to use.
The EX-59 doesn't come with any incline settings, but it does come with a 14 lb flywheel, 10 levels of resistance, 10 built-in workout programs, a tablet holder, and USB charging.
It also has a weight limit of 300 lb and is backed by a solid warranty for its price – lifetime frame, 1 year parts, 1 year labor.
Speaking of price, at around $600 (at the time of writing this), the EX-59 is priced fairly in my humble opinion, considering everything it comes with.
Overall, if you're looking for an affordable front-drive elliptical that's easy to use, Horizon's EX-59 should be on your short list. See full review.
Final Thoughts
Ok, I think that'll do it.
If you're looking for an elliptical for yourself or a senior in your life, you've got a lot of great options to choose from.
When thinking about these different models, budget will likely play a large part.
Center-drive ellipticals tend to come with lower step-up heights, making them a lot easier to on/off of, but they also tend to come with higher price tags.
As do rear-drive ellipticals.
Front-drive ellipticals come with higher step-up heights, but they're a lot more affordable and they can still come with a lot of great features.
Regardless of which style you go with, the most important thing is safety – it's important to make sure we limit fall risk as much as possible when getting on these ellipticals.
This could mean going with one with a smaller step-up height, but it could also mean making sure you have someone with you anytime you use your elliptical.
Anyway, I hope you found this guide helpful – I know I certainly enjoyed researching for it and writing it.
As always, if you have any questions (or know of any ellipticals that deserve a spot on this list), please leave a comment below and I'll get right back to ya.