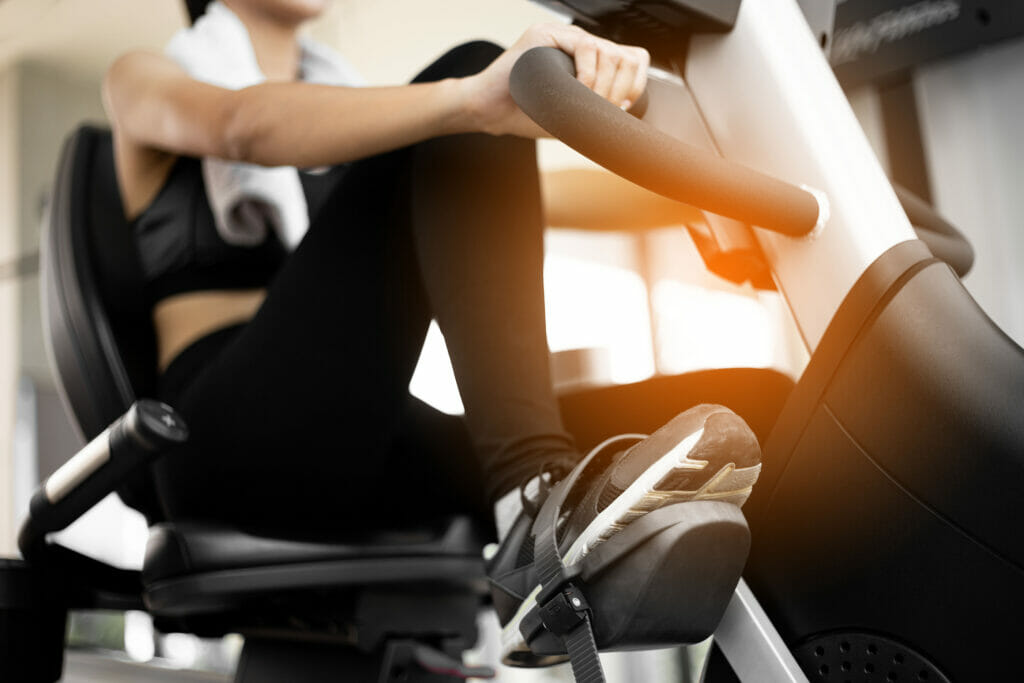 When it comes to home recumbent bikes, XTERRA's SB500 is a pretty budget friendly model, but you'd be hard pressed to tell by looking at the specs.
With a 22 lb flywheel, 20 levels of resistance, and a solid step-through frame, this affordable recumbent bike seems to have it going on everywhere it really counts.
It doesn't hurt that it comes with an included chest strap and is backed by one of the best warranties in the industry either.
Basically, if you're looking for a heavy-duty recumbent in the $1000 or less price range, XTERRA's SB500 should be at the top of your list.
But before you decide, it's important to do your homework- you know, check comps, read reviews, compare specs, etc.
And that's exactly what I'm here to help with.
In this review, I'll go over everything the SB500 has to offer. I'll also compare it to some of the other top bikes in this price range to show how it measures up.
After reading, you'll be well prepared to decide whether or not this is the right exercise bike for your home gym.
The XTERRA SB500 Recumbent Bike
XTERRA is one of my favorite budget fitness brands.
Their products are high-quality, which is important, but it's their warranties that really set them apart from most other budget brands.
If you've ever read any of my other reviews, you know I'm a sucker for a generous guarantee. So the fact that XTERRA offers a lifetime warranty on most of their frames is quite enticing for me.
A warranty like this is expected for more expensive equipment, but it's far from the norm for budget models.
I also like how extensive XTERRA's lineup is.
I've mentioned that they're a budget brand (with most of their equipment costing under $1000), but they even offer a ton of options at different price levels within that range.
They have a ton of cardio machines to choose from, offering plenty of treadmills, bikes, rowers, and ellipticals to choose from in all varieties.
The SB500 is their most advanced recumbent model to date and will cost ya about $1000.
Pros
22 lb flywheel
20 levels of magnetic resistance
Heavy-duty, step-through frame
300 lb weight capacity
Comfortable seat
12 workout programs
Included chest strap heart rate monitor
Self-leveling, adjustable pedals
Great warranty
Cons
Frame
One of the biggest setbacks of a budget bike is the lightweight, flimsy frame that so many models come with. You know the ones I'm talking about, they look like they might crumble the second you sit on 'em.
Well, the SB500 isn't one of those.
The best way to get an idea of how heavy-duty or solid a recumbent is without actually sitting on it and taking it for a test drive, is to look at 2 key specs: weight capacity and assembled weight.
Higher is better in both cases and a heavier bike usually has a higher weight capacity.
When we look at these 2 specs for the SB500, we see that this bike comes with a weight limit of 300 lb and an assembled weight of 128 lb.
A 300 lb weight limit is pretty standard for quality home bikes, although it's certainly not a guarantee in this price range.
And a machine weight of 128 lb is heavier than most- and heavier is a good thing, because it's going to make for a more stable base during your workouts.
For the sake of comparison, the Nautilus R618 weighs 107 lb and Schwinn's 270 weighs in at a whopping 87 lb (both of which are 2 of the most popular recumbent bikes around).
So, in terms of frame stability, the SB500 scores very highly.
It's also a good idea to consider flywheel weight when comparing recumbent bikes because this spec is important when it comes to how smooth operation is going to be (and how substantial the resistance can feel).
Heavier is better, because a heavier flywheel will build more momentum as it spins. This extra momentum reduces any lag between pedal strokes, making for smoother operation.
Recumbent bikes, especially budget models, tend to come with lighter flywheels, but this isn't the case for the SB500.
With a 22 lb flywheel, this recumbent comes with one of the heaviest flywheels in its price range.
This even beats out the 20 lb flywheel found on the Sole R92, which happens to be one of the best recumbents in this price range if you ask me.
(PS- the Schwinn and Nautilus bikes mentioned above come with 13 lb flywheels, which is pretty average for bikes in this price range).
XTERRA pairs this heavy flywheel with 20 levels of magnetic resistance, giving you plenty of control over the intensity of your workouts.
Overall, when it comes to the frame and resistance system, the SB500 blows most competitors out of the water.
Seat
I like to mention the seat specifically in my recumbent reviews because this is one of the key features that most folks are thinking about when they decide on this type of bike in the first place.
Generally speaking, recumbent bikes come with larger, more comfortable seats than the other exercise bike varieties (spin cycles, uprights, etc).
This, combined with the lower impact horizontal position, makes recumbent bikes a comfortable alternative for people who might be dealing with achy joints or other mobility issues.
As you'd expect, the seat on the SB500 is large, cushioned, and contoured for extra comfort.
It's also easy to adjust the horizontal position (height adjustment) by using the lever in front.
Some recumbent bikes allow you to adjust the recumbent position of the seat back, however this model does not (that feature isn't that common, especially in budget models).
But the seat back is meshed and designed to promote proper lumbar positioning.
Overall, most users find the seat to be very comfortable and easy to adjust during workouts.
Features
The XTERRA SB500 comes with the following features:
6.5″ LCD console- the display isn't fancy or anything, but it's large enough to see easily during workouts. It's also blue backlit, making it more visible in poor lighting. It displays all the metrics you'd expect, including time, speed, cadence, distance, calories, and heart rate.
12 workout programs- this bike comes with several workout programs to choose from. These include 7 preset profiles, 2 heart rate guided workouts, 2 custom saved workouts, and a manual mode.
Chest strap heart rate monitor- not only is this bike compatible with telemetry heart rate monitors, but XTERRA does ya one better and includes one with purchase. This is great, because it gives you access to the heart rate workouts from day one.
Audio jack- you can connect your phone of mp3 player up to the console and listen to your favorite workout jams through the built-in speakers.
Cooling fan- there's a built-in fan to help keep you a little more comfortable during those more strenuous workouts.
Adjustable pedals- the pedals are large, cushioned, and self-leveling. You can also easily adjust the strap size for a secure fit regardless of shoe size.
Accessory tray- calling this an accessory "tray" is a bit misleading, it's basically a small space in the console where you could fit a phone, but it's a convenient place to keep your phone if it's connected to the audio jack.
Assembly
I think XTERRA could do a little better job with their assembly manual. I'd like to see them split the process up into a few more steps, with less going on in each.
This way, they could make the images a little larger, making it a little easier to see what goes where.
That said, the process itself is pretty straightforward.
You'll be responsible for attaching the seat and console to the frame- each of which requires several parts. You'll also have to attach the pedals.
The main frame and flywheel housing all comes preassembled, so you won't have to deal with anything too technical.
I do like that XTERRA clearly states which hardware is to be used with each step.
Overall, the images could be larger, but otherwise it shouldn't be too hard to get the SB500 unpackaged and assembled. Most able bodied folks should be able to get the job done without hiring professional assistance.
Warranty
XTERRA Fitness backs the SB500 up with the following residential warranty:
Lifetime frame
Lifetime brake
3 year parts
1 year labor
See, told ya XTERRA doesn't mess around when it comes to the warranties!
This is a great guarantee from top to bottom- I have zero complaints here.
You can't beat a lifetime frame guarantee, that's as good as it gets (and pretty rare in this price range). Three years on parts is also quite generous, considering most offer 1-2 years.
A year on labor is pretty standard.
Overall, the generous warranty on this bike is one of the key features that sets it apart from most (this matches the awesome warranty Sole offers on their R92).
For the sake of comparison, Schwinn offers 10 years on their frames, 2 years on parts, and 90 days on labor… just sayin'.
Final Thoughts
Ok, that about does it for the SB500.
I really don't have much to complain about here- this bike has a lot going for it and its weakness are all minor.
Performance wise, it's going to be difficult to find a heavier flywheel or heavier-duty frame in this price range.
The console is pretty basic, but it's really no less sophisticated than any other console in this price range. At least it comes with an included chest strap.
It would be nice to see bluetooth capabilities, but I don't see that as a dealbreaker.
Especially given how awesome the warranty is.
I didn't mean to come off like I was hating on Schwinn or Nautilus earlier, but I wanted to point out how this model compares to 2 of the most popular home recumbents.
And honestly, this bike wins over those 2 in every category.
This recumbent stacks up very closely to Sole's R92, which is priced identically. The only thing the R92 has over the SB500 is bluetooth speakers.
Overall though, I think XTERRA has a home run here. The SB500 is easily one of the best recumbents for under $1000. Highly recommended.