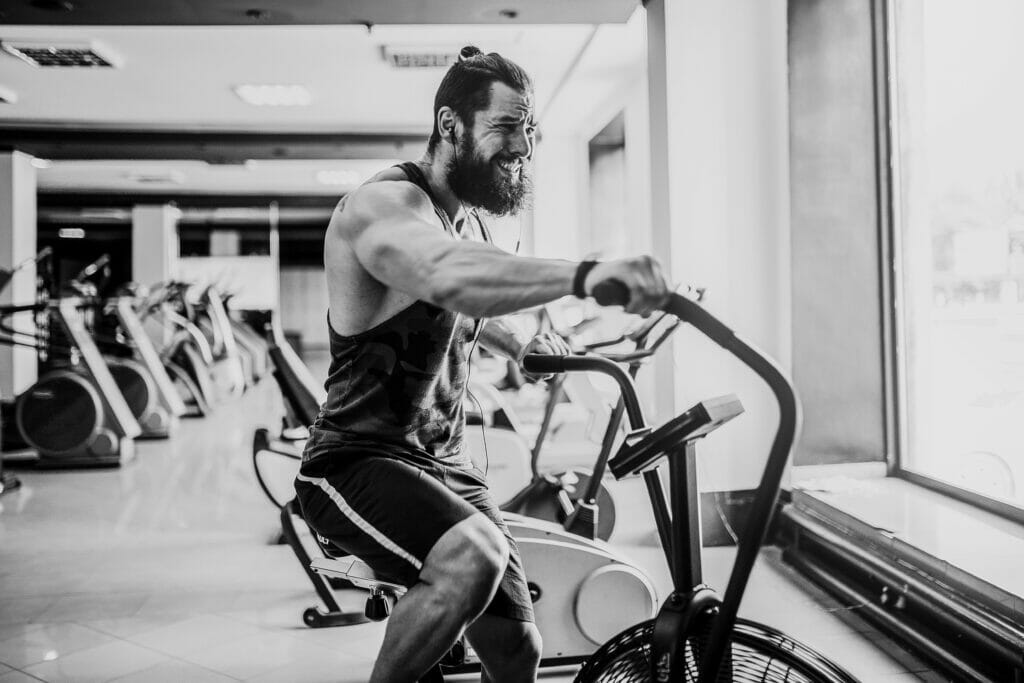 The AIR650 Air Bike Pro is XTERRA's highest-end air bike to date and with it, they've officially thrown their name in the hat to compete with the other big air bike brands around.
And at first glance, it would appear this bike can hold it's own – after all, it's heavy-duty and backed by a solid warranty.
But does the AIR650 really have what it takes to compete with the likes of Rogue and Assault Fitness?
Well, that's what I'm here to help you figure out.
In this review, I'll go over everything this air bike has to offer. We're talking specs, features, warranties, and pretty much anything else you can think of.
I'll also compare this bike against the big names mentioned above to see how it stacks up.
After reading, you'll know whether or not the AIR650 is worth investing in.
Let's do this.
The XTERRA AIR650 Air Bike Pro
XTERRA is an interesting brand in the fact they that they offer both really affordable and higher-end cardio machines.
Many brands specialize in either budget equipment or more expensive models, but XTERRA decided to go all-in and offer both.
The result is a brand that has a HUGE lineup.
Even though they do offer higher-end, more expensive models too, I still tend to think of them more as a budget brand – and I don't mean that in a bad way.
As budget equipment goes, XTERRA easily offers some of the best stuff out there.
Which isn't surprising, knowing that XTERRA is owned by Dyaco, the same company that owns Spirit Fitness and partners with Sole Fitness.
Anyway, the AIR650 falls into the high-end category when it comes to air bikes.
With a price tag just over $1000, it's one of the more expensive air bikes out there.
Pros
27″ fan
Unlimited resistance
Heavy-duty frame
350 lb weight capacity
7 included workout programs
Chest strap heart rate monitor compatible
Multi-grip handles
Fully adjustable seat
Easy assembly
Good warranty
Cons
Resistance
The AIR650 is an air bike, I've mentioned that a few times already (and the model name is kind of a big hint too), meaning this bike uses air to create its resistance.
As such, when you pedal and/or use the handles, fan blades that are attached to the flywheel start spinning.
The harder/faster you pedal, the faster those blades are going to spin, and the more resistance you're going to feel.
There are no resistance levels or incline settings or any of that stuff to mess with on an air bike like this – the resistance is controlled 100% by how fast you pedal.
This means theoretically there is no max resistance an air bike can provide – the only limitation is how hard you can push.
And this is why these bikes have become so popular, especially with Cross Fitters.
The ability to provide such intense resistances makes these bikes potent calorie burners and perfect tools for interval training, not to say you can't ride them more casually too.
Anyway, the AIR650 is a true air bike, so it provides resistance based on the same principle just mentioned.
When comparing air bikes, I like to look at the size of the fan too though, because physics tells us that a larger fan should be able to provide more overall resistance when compared to a smaller fan.
Bigger fan = more air = more resistance.
The AIR650 comes with a 27″ fan, which is the same size found on all the other elite air bikes like the Rogue Echo, the Assault Bike, and Schwinn's Airdyne AD7.
More affordable air bikes come with smaller fans, which can still provide great workouts, but the larger fans found on these heavier-duty bikes are preferred for more advanced workouts.
Something else worth noting is that the AIR650 uses a chain drive, which is technically a little louder than a belt drive, but realistically you aren't going to hear the difference – the air these bikes produce is pretty loud.
For the sake of comparison, Assault also uses a chain drive I believe, but Rogue and Schwinn both use belt drives on their respective bikes.
Overall, the AIR650 scores highly with its large fan that's capable of providing unlimited resistance.
Belt drives are typically preferred to chain drives, although personally I don't think it makes much of a difference either way with air bikes.
Frame
Let's move on and check out the rest of the frame.
I know looks shouldn't be important and I agree you can't judge a book by it's cover, but I still feel obliged to mention that this isn't the snazziest looking bike I've ever seen.
In terms of looks, I'd have to say the other air bikes have it beat.
But enough of the pettiness, let's get to the stuff that actually matters.
And when I say that, the biggest thing I'm looking for is how heavy-duty the frame is.
Looking at the images, the AIR650 certainly looks heavy-duty and robust, but looks can be deceiving.
A better way to get an idea as to how heavy-duty a bike is, is to literally look at how heavy it is- to do this, we go to the assembled weight.
The AIR650 comes with an assembled weight of 115 lb, which is about 20 lb heavier than the Assault Bike Classic and almost identical to the weight of the AD7 (113 lb).
Rogue's Echo has it beat with a weight of 127 lb, but still, the AIR 650 holds its own pretty well here.
The AIR650 also comes with a max weight limit of 350 lb, matching all the other elite air bikes.
Overall, based on the assembled weight and high weight capacity, I think it's fair to say the AIR650 is quite heavy-duty.
It also stacks up well against the other big names in the industry.
Features
Air bikes are very simple machines by design, but let's see what included features the AIR650 has to offer:
LCD console- the console isn't fancy, but it's large enough to see fairly clearly during workouts. That said, it isn't backlit, so it's recommended to have it in a well-lit room for best visibility. The console can track all the key metrics you'd expect, including watt output.
7 workout modes- there are 7 included workout programs, including 3 different interval settings and 4 goal oriented workouts (time, distance, calorie, and heart rate).
Heart rate monitoring- yes, the console on the AIR650 is compatible with chest strap heart rate monitors, but one isn't included with purchase (that would've been a nice touch).
Multi-grip handles- the handles are robust, padded, and offer multiple grip options, allowing you to customize your workout and target different upper body muscles along the way.
Fully adjustable seat- the seat on this bike is a standard saddle and it's fully adjustable, meaning you can adjust the height and horizontal (fore/aft) position easily.
Standard pedals- the pedals on this bike designed for use with sneakers, so no need to worry about cleats.
Overall, not a lot of advanced features on the AIR650, but that's how all the air bikes are.
Some of Assault's higher end bikes (Elite and Pro) are compatible with bluetooth apps, but that's the only real difference I see.
Assembly
If you decide to purchase this bike, you won't have to worry about a cumbersome assembly process – putting this bike together should be a piece of cake.
The main components, like the fan and chain drive come pre-assembled, so there's no need to mess with that stuff.
All you'll be responsible for doing is attaching the front/rear stabilizers, connecting the handles/pedals/seat, and attaching the console.
All necessary tools/hardware should be included and it only takes a handful of bolts and washers to get the job done.
I think XTERRA does a pretty good job with their manual too – it's easy to read and the images make sense.
Overall, the assembly process should be painless.
I bet most folks can have the AIR650 up and running within 20-30 min.
Warranty
XTERRA Fitness backs their AIR650 Air Bike Pro with the following residential warranty:
Lifetime frame
1 year parts
1 year labor
Ok, let's take this one piece at a time.
Right off the bat, I love the lifetime frame guarantee. Not only is this as good as it gets, it's also longer than the frame warranty on any of the other air bikes we've been talking about.
Rogue only offers 2 years on their Echo (WTF?), Assault offers 5-10 years depending on model, and Schwinn offers 10 years on the AD7.
One year on parts is a bit short though, especially for a bike in this price range, especially considering most of the other brands offer 2 years.
One year on labor is pretty standard regardless of price range, although Schwinn only offers 6 months.
Overall, I think XTERRA's warranty on the AIR650 is pretty good. It certainly holds its own well when compared to the other top air bikes.
Final Thoughts
Well, that about does it.
Looks aside, I think XTERRA has a really nice air bike on their hands here.
The AIR650 comes with a large fan and a heavy-duty frame that can compete with any elite air bike out there.
It also comes with a solid console that can track all your metrics, comes with built-in workout programs, and is chest strap compatible.
It's also backed by a really good warranty.
The only real issue I have is that I think it's a bit over priced when compared to the other elite air bikes.
I mean the AD7 costs roughly $1000 and it's still a couple hundred bucks cheaper.
And Rogue's Echo and Assault's Pro edition are both several hundred bucks cheaper, falling more in the $800 range.
That lifetime frame warranty is awesome and all, but I'm not sure it's worth the extra cash over these other elite bikes.