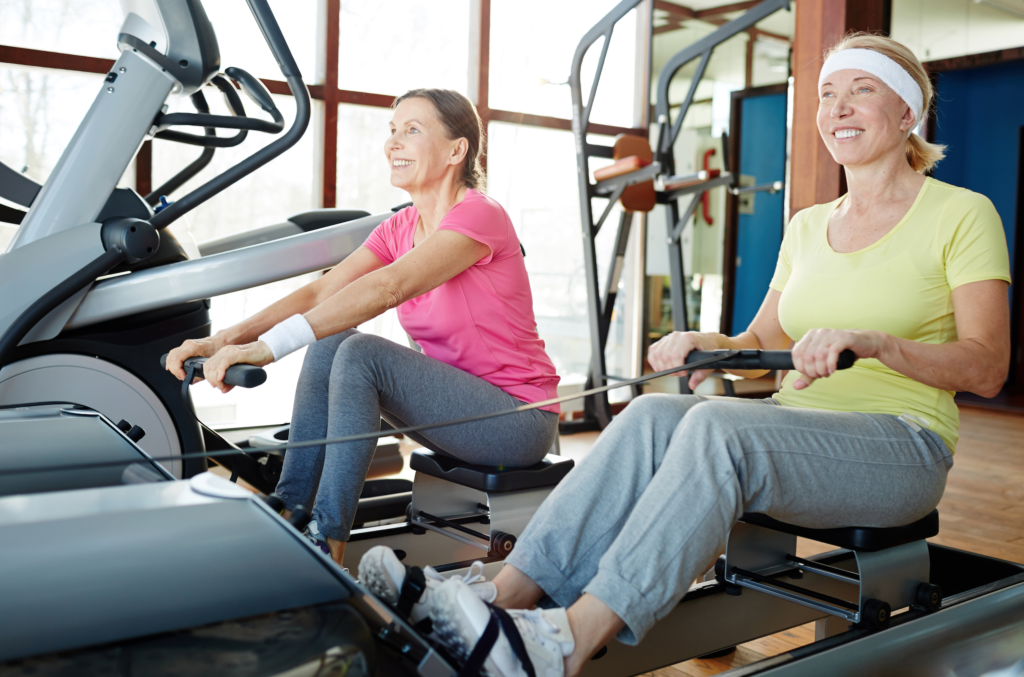 If you're looking for a quiet, affordable rowing experience, the Velocity Exercise Magnetic Rower might be a good fit. As the name implies, this is a magnetic rowing machine, meaning it can provide an even resistance without the added noise of a fan.
This rower has more going for it than just a smooth resistance system though. Other key highlights include 12 workout programs, a 275 lb weight capacity, and an included chest strap heart rate monitor.
In a nutshell: the Velocity Exercise Magnetic Rower has a lot offer for the price and even earned its way onto my list of best rowers of the year.
For a more detailed look at this rower, continue reading.
This review will discuss everything this rower has (and doesn't have) going for it. After reading, you should know whether or not this is the right rowing machine for your home gym.
The Velocity Exercise Magnetic Rower
If you're like me, you probably have no idea who Velocity Exercise is. I know I had never heard of them before I started researching for this article.
Velocity Exercise is part of the CAP fitness family. You may be familiar with CAP, especially if you're into strength training. They started out as a provider of quality barbells and weight benches.
Over the years, they've accumulated a few other brands to branch out and provide a little bit of everything fitness related.
Velocity Exercise is one of their budget cardio brands. This is the only magnetic rower they offer (which I guess is why there's no confusion with this generic name). They also have an air rower that looks a little more sophisticated.
Pros
Quiet, magnetic resistance system
275 lb weight capacity
Folds for storage
Oversized foot pedals
12 workout programs
Chest strap heart rate monitor included
Easy assembly
Affordable price
Cons
Resistance
Rowing machines can be categorized based on the type of resistance they use. The Velocity Exercise rower is a magnetic rowing machine, which refers to the fact that it uses magnets to produce the resistance you pull against.
There are also air, water, and hydraulic rowers and each type has its own advantages and disadvantages. I don't want to go into all of this here, but if you'd like more info check out my rowing machine guide I linked to up above.
I would like to briefly discuss the advantages of magnetic rowers though, since it's applicable in this case.
There are 2 advantages to using a magnetic rower. First, they are almost completely silent (well, the good ones anyway) because there are no fans pushing against air or water.
Second, they are able to provide a consistent level of resistance regardless of how fast or slow you row. This is different than air and water rowers that provide more resistance the faster (or harder) you pull.
Magnetic rowing machines allow you to row slowly and still feel significant resistance, something a lot of users love.
The best I can tell, the Velocity Exercise rower does come with adjustable resistance levels, but I can't say exactly how many levels you get. Based on user reviews, it sounds like you get at least 6 levels to play with, but could be more.
The resistance is adjusted digitally from the monitor and most users agree the resistance is smooth and quiet.
That said, several users agree this rowing machine is best suited for beginners because the total output probably isn't strong enough for more experienced rowers.
Frame
Frame integrity is another key aspect you should look at when comparing rowing machines. Having a durable, sturdy frame is important because you don't want to feel the machine rocking and shaking during your workouts.
It can be difficult to figure out which rowers are solid, especially in the budget price range.
I like to look at the weight capacity as a good indicator of frame quality- machines with higher weight capacities are going to have stronger frames (because if they didn't they wouldn't be able to handle the higher weights).
The Velocity Exercise rower comes with a 275 lb weight capacity. This isn't bad for a magnetic rower in this price range.  Most comparable models have weight limits between 250 – 300 lb.
Like many rowing machines, this rower's frame can fold vertically for storage. This is a nice space saving feature, but it also comes in handy to keep small children from messing with it too much.
This rower uses a nylon belt drive as opposed to a chain. Most magnetic rowers use belts because they're quieter and don't really require any maintenance. It's true chain drives are a little noisier, but they tend to last longer.
The pedals on this machine are large and the adjustable straps make them easy to accommodate shoes of all sizes.
When it comes to seat comfort, it sounds like this rower is pretty average. The seat is cushioned, but a lot of folks will still most likely be feeling it a little after 20-30 min of rowing.
This is the case for pretty much all rowing machines though. As you get used to it, you'll probably be able to row for longer periods before your bum starts crying for mercy.
Monitor
Rowing machine monitors, especially in this price range, are usually pretty simple. Many only consist of a small LCD screen that shows time, calories, distance, etc.
This rower comes with a monitor that's a little more sophisticated than that.
This monitor comes with 12 different workout programs, including 6 preset programs, a heart rate program, 4 custom workouts, and the manual setting.
The fact that this rower comes with any workout programs is pretty impressive, many don't. I also like that this rower is compatible with heart rate monitors- Velocity Exercise even includes a chest strap with purchase.
Within each program, you can digitally adjust the resistance using the up and down arrows.
The screen size is larger than most too, making it easier to see all your workout stats during your workouts. You can see all metrics at the same time, so you don't have to wait for your desired metric to scan across the screen (which is tedious).
Overall, the Velocity Exercise rower's monitor is surprisingly advanced compared to the comps in this price range.
Assembly
Putting this rower together should be pretty straightforward for ya. There aren't that many pieces to begin with, it's really just a matter of attaching the console to the frame and then attaching the seat and pedals.
It's a good thing there aren't that many steps because the assembly instructions are kinda weak.
I found the images to be small and there aren't many written instructions to describe what's going on. You'll have to go back and match the hardware to the numbers to know which piece is used where.
Again, the process is pretty straightforward, but they could've done a better job on the instructions.
I still think most folks should be able to assemble themselves. I'd expect to spend 30-60 min getting the job done.
Warranty
The Velocity Exercise Magnetic Rower comes with the following warranty:
5 year frame
90 day monitor
30 day parts
It's never a great sign when a warranty is measured in "days". There's no getting around the fact that the warranties on the monitor and parts are short.
For this price range though, they're pretty par for the course. The comparable Sunny Health & Fitness Magnetic Rower comes with a 180 day parts guarantee, but only 3 years on the frame.
Speaking of the frame, I think 5 years is actually a pretty good guarantee for this rower.
Overall, the warranty could be longer, but for a budget rower it's in the ballpark.
Final Thoughts
I think the Velocity Exercise Magnetic Rower could be a good fit for a lot of folks. More specifically, the folks looking for a budget friendly rowing machine that'll work well for causal rowing.
The most impressive feature in my opinion is the monitor- it's going to be hard to find a rower in this price range with this many workouts to choose from and that is chest strap compatible (and that also comes with one).
Most users also agree this rowing machine operates smoothly and is as quiet as should be expected.
The biggest downside is the short warranty, but unfortunately most budget rowers come with short guarantees.
Overall, if you're looking for a quiet, easy to use magnetic rower that won't break the bank, this model by Velocity Exercise is a good choice. More advanced rowers should consider a more powerful machine though.