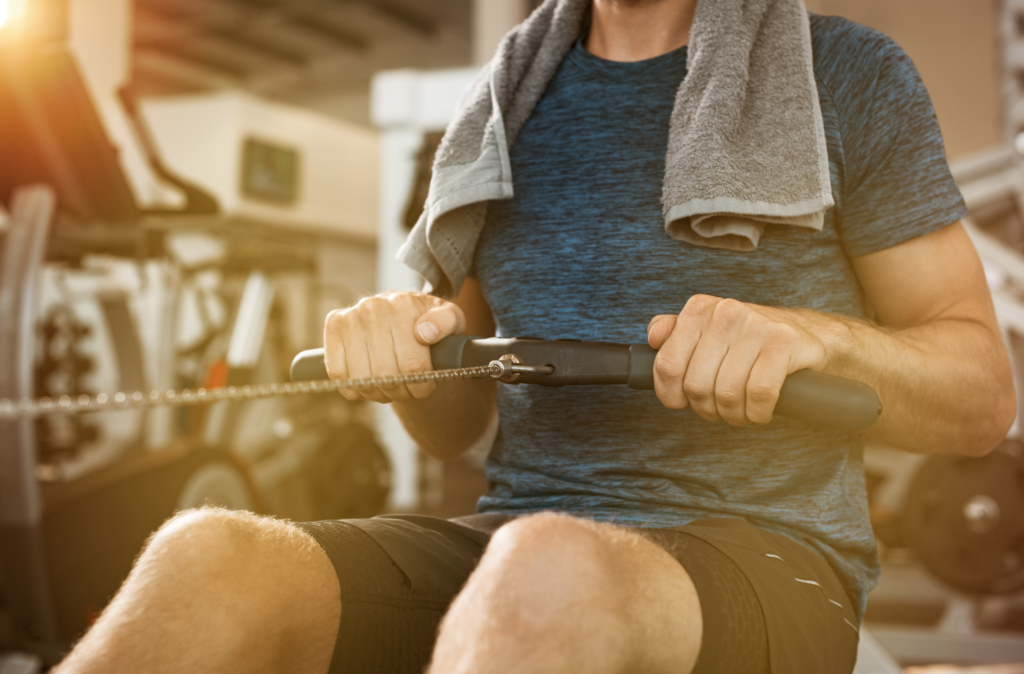 Sunny Health & Fitness has mastered the art of creating affordable fitness machines that actually work. Their Magnetic Rowing Machine (SF-RW5854), priced under $500, is a perfect example of this company at their finest.
It's going to be difficult to find a better magnetic rowing machine in this price range. Highlights for this affordable rower include 16 levels of adjustable magnetic resistance, 7 workout options, and a 300 lb weight capacity.
And being a magnetic rower, it provides a nearly silent workout, which is perfect for people who may be working out early in the morning or late at night and don't want to wake up sleeping family members.
For the price, the Pro Rowing Machine is a great buy.
But is it the right rower for you?
Well, that's what this review is here to help you figure out. In this article, we'll take an up close and personal look at everything this rowing machine has to offer.
After reading, you'll know everything you need to in order to make an educated decision.
Sunny Health & Fitness Magnetic Rowing Machine (SF-RW5854)
I mentioned in the intro that Sunny Health & Fitness (SHF) specializes in budget friendly exercise equipment. They offer a little bit of everything home fitness related and the majority of their products are priced under $500.
They offer several home rowers, including hydraulic, air, and water models as well as many magnetic machines.
It can be difficult to tell the difference between all the magnetic rowers in their lineup because all of their names sound the same. Looking at the model numbers is really the only way to tell them apart.
All of their magnetic rowers are fairly similar. The biggest differences are found in the weight capacities and the sophistication of the monitors.
The SF-RW5854, with its more sophisticated monitor, is their most advanced magnetic rower to date.
Pros
Enlarged digital monitor
16 levels of magnetic resistance
7 workout programs
300 lb weight capacity
Folding frame for storage
ANT+ heart rate monitor compatible
Pivoting foot pedals
Quiet operation
Easy assembly
Price
Cons
Resistance
This being a magnetic rower, the resistance is created magnetically (makes sense). This means magnets are brought closer or farther away from the spinning flywheel as you increase or decrease the intensity.
Magnetic rowers are popular because they are very quiet- you don't hear the "swooshing" sound you get from an air or water rower (although I find that noise soothing).
The resistance on these rowing machines is also constant regardless of how fast you are rowing.
With air and water rowers, the harder and faster you pull, the more resistance you feel, just like when rowing a boat on water. This is great because it mimics real rowing, but it makes it difficult to row slowly against any real resistance.
With magnetic rowers, you can pull against higher resistances at slower speeds.
SHF's magnetic rower utilizes an 11 lb flywheel and 16 levels of magnetic resistance, giving you a lot options when it comes to workout intensity.
As we've seen with spin bikes, having a heavier flywheel tends to provide smoother operation. At 11 lb, SHF has doubled the flywheel weight on this model as compared to prior models.
You also get to adjust the resistance level from the digital monitor instead of turning a dial on the side of the machine- another upgrade from other SHF models.
Overall, most users agree this rower can offer enough resistance for a solid workout. The upgrade from 8 levels of resistance to 16 gives you a lot more control over your workout intensity.
Frame
Frame strength and sturdiness is paramount for a rowing machine because you don't want to feel the frame rocking or wobbling during use (the last thing you should have to worry about is getting seasick on a stationary rower).
Looking at the weight capacity is one of the best ways to judge frame strength. Rowers with higher weight capacities must have stronger components.
SHF's magnetic rower comes with a 300 lb weight capacity, which is pretty impressive for this price range.
Having a weight limit this high demonstrates improved structural quality and allows this rower to accommodate most rowers safely.
The frame also folds easily for storage, which comes in handy if space is an issue.
Users agree the seat slides smoothly over the 45″ aluminum rail and the pivoting foot pedals can help ensure your ankles stay in a comfortable position throughout the entire rowing motion.
The handlebar is attached to the flywheel with a nylon belt. Belt drives are nice because they're quieter than chain drives, but chain drives tend to last longer.
Overall, this affordable rower scores highly with an impressive weight capacity and folding frame.
Monitor
Most affordable rowing machines come with small, LCD "monitors" that simply display your basic workout stats. Many are so small you can't see all the stats at the same time and you have to wait until your preferred metric scans across.
The SHF magnetic rower upgraded their monitor so that it would be large enough to view all stats simultaneously. The monitor itself is also position adjustable, allowing you to place it for optimal viewing during your workout.
The digital monitor is powered with an AC adaptor, so you don't have to worry about batteries, but you do need to make sure you place the rower near an outlet.
This rower comes with 7 total workouts to choose from including 4 custom workouts, 2 challenge modes, and a recovery option.
The recovery option is cool because it uses your heart rate (yes, this monitor is ANT+ heart rate monitor compatible) to gauge how long it takes for you to recover from a workout- a great metric to measure fitness and progress.
Overall, this rower comes with a more advanced monitor than most in its price range. It's nice to see an affordable rower that comes with workout programs.
Assembly
Putting the SHF magnetic rower together is a pretty straightforward gig. There aren't that many tasks to perform (only 6 steps, including plugging it in) and the instruction manual is easy to follow.
There are written directions along with an image for each step. The images are large enough to see what hardware goes with each piece.
All of the necessary tools are included.
Most able bodied folks should be able to assemble this rower themselves without having to pay for professional assistance. I'd expect to spend 30-60 min putting this model together.
Warranty
The SHF Magnetic Rowing Machine comes with the following warranty:
3 year frame
180 day parts
Considering the price of this rower, I think the warranty is fair. It's true, 3 years on the frame is a little short, but considering the famous Concept2 Model E (which costs over 2x as much) only comes with a 5 year frame warranty, it's not that bad.
The parts guarantee is short too, but it's to be expected in this price range.
All in all, not bad for the price.
Final Thoughts
Magnetic rowing machines offer some unique advantages over the other styles. Specially, they're more quiet and they offer constant resistance regardless of how fast or slow you row.
Sunny Health & Fitness's Magnetic Rowing Machine (SF-RW5854) is a budget friendly option that is easy to setup and easy to use.
I think the upgraded monitor is its most impressive feature. There aren't many rowers in this price range that offer programmed workouts, much less a competitive option that allows you to race against your previous scores.
I also like that this rower comes with a 300 lb weight capacity. In a market where most come with 250 – 285 lb limits, the higher capacity indicates improved frame integrity.
It's also nice to see 16 resistance levels compared to the 8 that most in this price range offer.
My only complaint would be the warranty, but even that isn't awful considering the price range.
Overall, I think the SF-RW5854 is a good buy. It would work best for beginner to moderate level rowers looking to add some rowing to their workout regimen.
More experienced rowers or families with multiple users should consider a more powerful machine, but all things considered, this is one of the best magnetic rowing machines around.