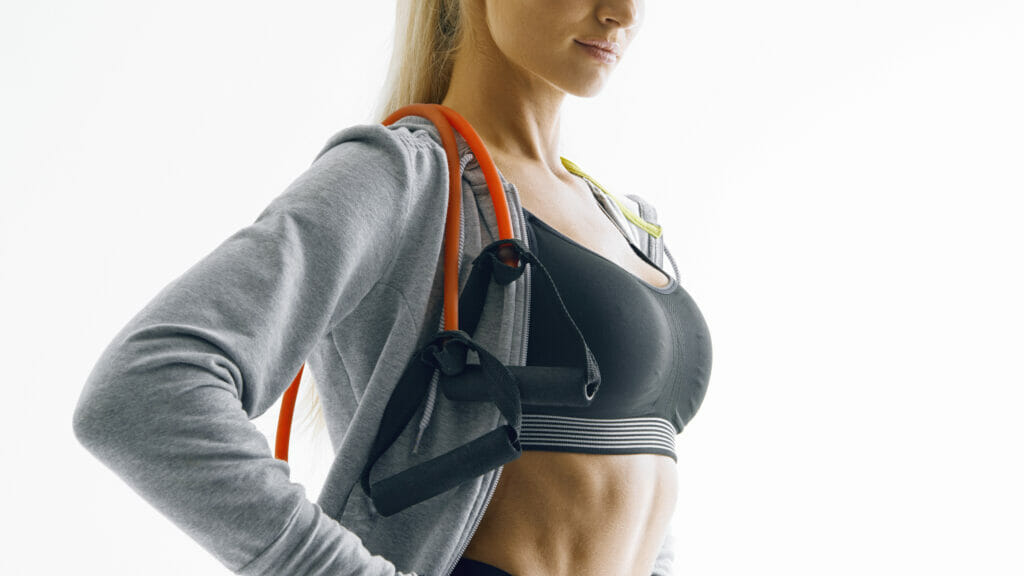 Resistance bands have been around forever, but they can still make great additions to any home gym because they can offer lightweight, portable resistance any time you need it.
And with more and more heavy-duty sets to choose from these days, bands can also offer enough resistance for effective strength training (even for the more gifted weight lifters out there too).
A great example of this is the new TORROBAND resistance band set.
With TORROBAND, you get a complete set of heavy-duty resistance bands (250 lb worth of bands), a pair of some of the nicest handles I've come across, a pair of ankle straps, a door anchor, a strap handle, a band cover, a carrying bag, and an extra set of carabiners.
And everything is covered by a 2 year warranty, which is solid for a resistance band.
All things considered, the TORROBANDS are easily some of the best resistance bands I've come across – but before you decide, you need to know exactly what to expect.
And that's where I can help.
In this review, I'll go over everything these resistance bands have to offer, as well as any downsides I can see to investing in them.
After reading, you'll know whether or not the TORROBANDS are the right resistance bands for your home gym.
Disclaimer: The good folks at TORROBAND where kind enough to send me a free set to try out for this review, but I wasn't compensated in any other way. This review is based solely on my personal experience with this product.
The TORROBAND Resistance Band Set
I had never heard of the TORROBAND brand before they reached out to me and I can't find much info regarding the company's history or anything like that.
As far as I can tell, TORROBAND is a relatively new brand that's based out of Miami, Florida.
They offer a few other products to choose from, but I would guess the resistance band set we're here to discuss now is their pride and joy.
As I'm writing this, the TORROBAND set is selling for $99, but comes with a full retail price of $199.
I don't know if/how long this decreased price will last, but I kinda hope TORROBAND decides to keep it for the long run – but more on price later.
Let's start off by going over the different components this resistance band set comes with.
Pros
Heavy-duty bands
Provide a lot of resistance
Heavy-duty, comfortable handles
Large carabiners
Easy to attach multiple bands
High-quality attachments
Travel bag
Great warranty
Cons
The Bands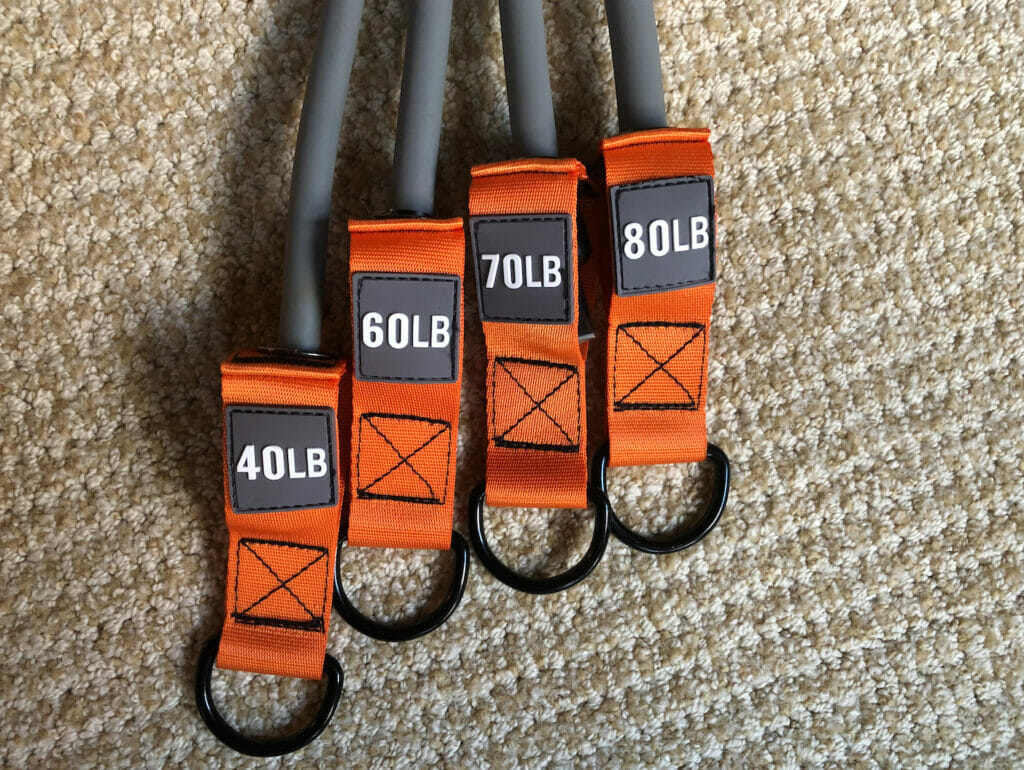 Resistance bands are very simple devices – there aren't a lot of different specs and features to really go over.
But that doesn't mean they're all created equal either.
If you think about it, resistance bands can come in a very different varieties, including literal bands (flat), resistance tubes, and the really heavy-duty closed-loop bands that can be used for pull up assistance and resisted weight lifting.
Well, my made up categories might not make that much sense to everyone, but that's ok – the point is, the TORROBANDS are of the resistance tube variety.
Resistance tubes are great for exercises utilizing a handle because their shape is very conducive to the attachment of handles.
Plus, the tubular shape allows them to glide easily through door anchor straps.
Anyway, I found the quality of the TORROBANDS to be quite impressive.
I like their dark grey color and the rubber used feels substantial.
I also really like the orange fabric ends with the sewn on pound indicators – very sleek.
And yes, it's true most decent resistance band sets come with similar features, but the overall heavy-dutiness of TORROBAND's finer features stands out to me.
And again, it just makes 'em look better than most of the resistance tubes out there too.
More importantly though, they can offer a lot of resistance.
To be specific, the TORROBAND set comes with:
1 x 40 lb band
1 x 60 lb band
1 x 70 lb band
1 x 80 lb band
So, that's a combined resistance of up to 250 lb worth of force (you can attach multiple bands to your handles at any given time, combining them in any way you like).
TORROBAND also offers additional bands, going all the way up to 120 lb (sold separately), allowing you to work against crazy amounts of resistance.
Now just like any other resistance band, the actual force you're working against is going to depend on how far you stretch the band – this is called variable resistance training.
Long-story-short, the farther you stretch the band, the more resistance you get.
So, the pound rating for any band is describing the max resistance that band can offer.
There are a lot of resistance band sets out there with similarly rated bands, so the fact that TORROBAND includes 70 lb and 80 lb bands with their set isn't really that big a deal.
No, it's the quality of the TORROBANDS that sets 'em apart from the other resistance bands I've used in the past.
Well, that and the handles.
The Handles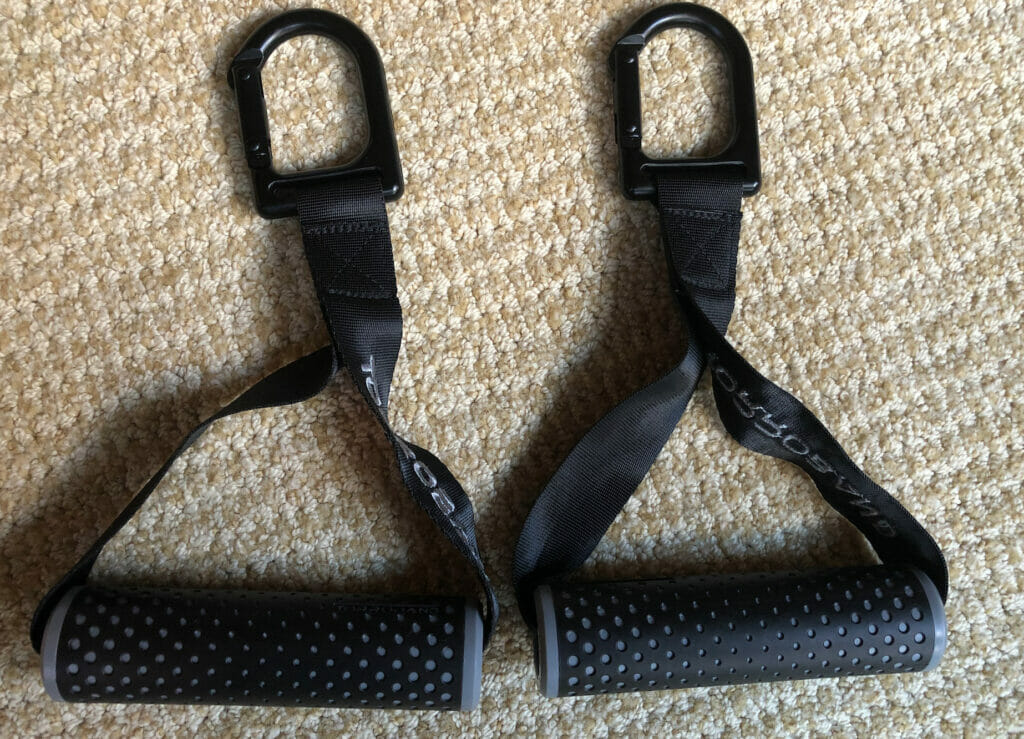 Yup, the actual bands with this set are high-end, but if you ask me, the real star of the show here are TORROBAND's handles.
Unlike the soft, squishy, foam based handles that come with a lot of cheaper band sets, the TORROBAND set comes with handles made out of a very firm plastic.
And then they wrapped that firm plastic with a layer of perforated rubber, for a comfortable, secure grip.
Each handle is then secured to a really heavy-duty carabiner, allowing plenty of room for the attachment of multiple bands at a time.
These handles are right up there with TRX's in terms of comfort and performance.
So yeah, again, I think the handles are easily the best part of this set. And since they work with any carabiner, you could easily mix and match bands with 'em.
You could also easily use them with a functional trainer too (I have a feeling I'll be using mine as an extra set of handles for my X15 Pro).
Accessories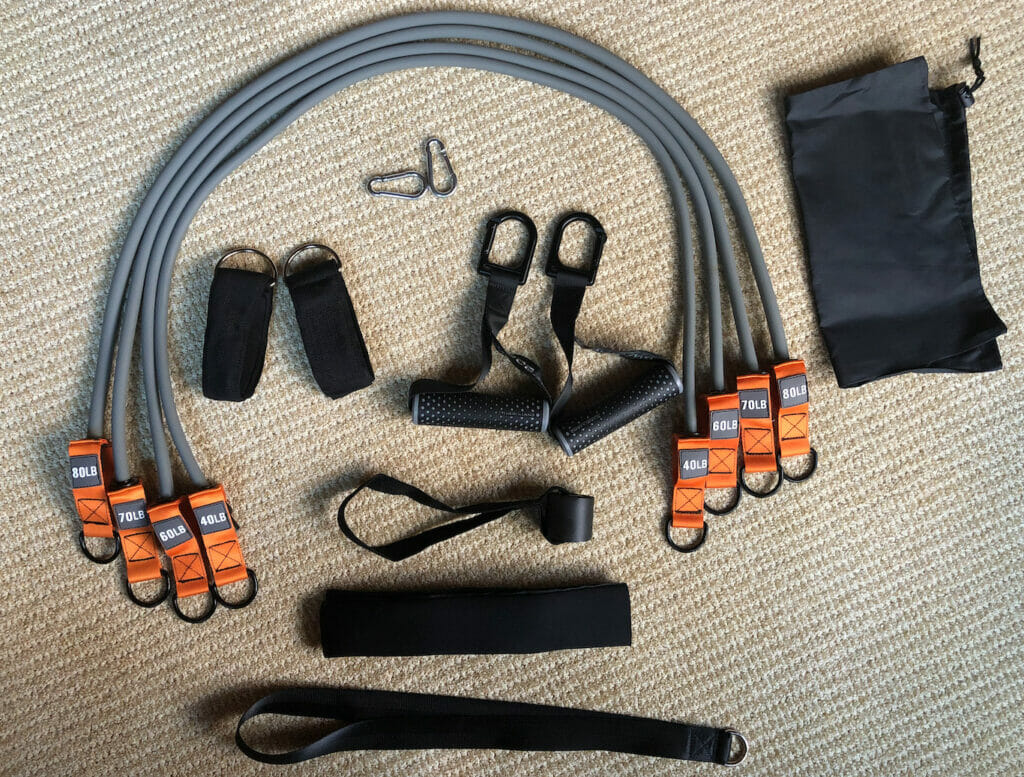 The resistance bands and handles are the meat and potatoes of the TORROBAND set, but they also include everything you need to get these bands up and running right out of the box.
Additional accessories that come with this set include:
A door anchor
2x ankle straps
Strap handle
Band cover
2x extra carabiners
Travel bag
The door anchor is a crucial tool, allowing you to attach the bands to door frames at various heights for moves like lat pulldowns, rows, tricep extensions, etc.
And the ankle straps allow you to connect the bands to your legs, for various lower body moves.
Speaking of the ankle straps, TORROBAND's have a little extra built-in cushion for a more comfortable feel on your ankles.
The extra strap handle could be used for functional moves or when you just want to use a different grip.
The band cover could be used to protect the resistance bands if you were wrapping them around a tree or some other surface that might irritate their rubber.
The travel bag makes it easy to take everything with you on the road and the extra set of carabiners are just a nice touch.
Overall, TORROBAND comes with everything you need to get your resistance band set up and running and then some.
Warranty
TORROBAND backs their resistance band set with the following home warranty:
This means the bands, handles, accessories, and everything else included in this set is covered for 2 years – which is pretty good for a resistance band set.
A lot of the other resistance bands I've seen and used have come with 6 – 12 month warranties, so a 2 year guarantee is legit.
Plus, you have to keep in mind that any resistance band is going to break down with enough use, that's just how it goes.
A band's lifespan will depend on how much you use it and what kind of wear and tear you put it through.
I've only used my TORROBAND's a few times, so I can't speak to how long they'll hold up, but based on the quality of the bands themselves, I wouldn't expect them to break down prematurely.
I had a $40 band set I got off Amazon years ago and those things lasted over 6 years… and I was using them 3x/week.
Final Thoughts
Alright, as I said, resistance bands are pretty straightforward devices, so there isn't really a ton of stuff to go over here, but that doesn't mean they can't be highly effective.
Plus, it's awesome to have a nice set to travel with, if nothing else.
All things considered, I think TORROBAND has a winner here.
As resistance band sets go, this is a very nice one (it's certainly a lot nicer than the bands I was using up in my attic for all those years).
The resistance bands are great and certainly offer a lot of resistance, but my favorite part of this set is still the handles – these things are great.
And again, the heavy-dutiness of the straps and carabiners makes it easy to use these handles with other applications too.
And the included accessories and warranty are generous for a band set.
The only real downside I see is that TORROBAND isn't cheap – $100 is kind of a lot for a resistance band set (it's a lot cheaper than the X3 Bar, but still).
But when you break it down, I don't really think the price is that bad.
A 250 lb resistance band set that isn't anything special can easily run $50; plus with TORROBAND, you get the awesome handles (which sell for $30 on TORROBAND by themselves).
Throw in the longer warranty and I don't think $99 is too crazy ($199 might be pushing it though).
So, overall, I think TORROBAND has a great resistance band set here. If you're looking to add a quality band set to your home or travel gym, these are a great choice.

And I'd like to thank TORROBAND again for giving me the opportunity to try their bands out, these things are great!