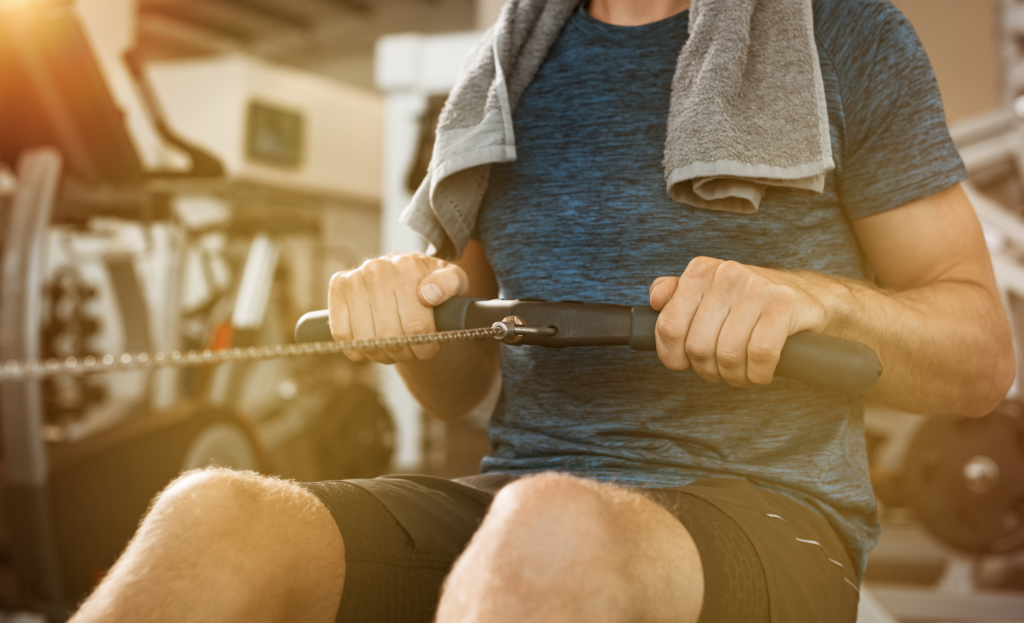 The Kettler Kadett is a dual-piston hydraulic rowing machine designed to mimic the feel of rowing with oars. It comes loaded with features that you don't always find on hydraulic rowers, like adjustable resistance, a sliding seat, and a decent warranty. It also comes with a higher asking price than most of the hydraulic rowers we are used to.
My goal for this review is to help you answer the following questions: is the Kettler Kadett worth the higher cost? or does it make sense to go with a similarly priced more traditional magnetic or air rower?
Hydraulic Rowers 101
I wanted to provide a quick introduction to hydraulic rowers for those of you who are early in your search process. Hydraulic rowers are one of 4 different types of rowing machines, the other 3 being magnetic, air, and water.
Rowers are categorized based on the type of resistance they provide. Hydraulic machines get their name from the fact that they use hydraulic pistons to provide resistance as you row. As the piston pushes through the tube with air/oil inside of it, resistance is created.
Hydraulic rowers are usually a lot smaller than full size magnetic and air rowers. For this reason, they tend to work well in homes with limited workout space. They are compact to begin with and most can be stored vertically when not being used.
Because of their smaller size, these rowers usually have smaller weight capacities. Most hydraulic rowers have a max weight limit of about 250 lb or so, making them more appropriate for smaller users.
These rowing machines are usually significantly cheaper than the other types of rowers because of their smaller size and type of resistance used. I say usually, because the Kettler Kadett does cost more than several full size rowers, but more on that below.
Hydraulic rowing machines can have one or two pistons. Two pistons will provide more resistance. These pistons can have fixed or adjustable resistance levels depending on the quality of the machine.
The seat setup varies on these rowers too. Some have sliding seats, like full size rowers do, others have fixed seats that don't move. Most people prefer a sliding seat because it gives you more of a full body workout and feels more like the full sized rowing machines most of us are accustomed to.
For more information, check out my hydraulic rowers buying guide.
The Kettler Kadett Rowing Machine
Kettler may not be a recognizable brand name to you, it wasn't to me either. They are actually a German company that started back in 1949. Since then, they have grown to a world-wide producer of furniture, fitness equipment, toys, and ping-pong tables with over 1500 employees.
They started supplying their products to the USA back in the early '80s and have developed a reputation over the years for making  durable products from quality materials.
In terms of fitness gear, they offer a little bit of everything from ellipticals and bikes to home gyms. Their rowing machine lineup currently consists of 4 different magnetic rowers and 2 hydraulic rowers (the other being the less expensive Kettler Favorit).
Their products are sold online, via catalog, and there's even a retail showroom in Virginia Beach.
The Kadett is their high-end hydraulic rower costing about $200 more than their Favorit model. The Kadett is actually one of the most expensive hydraulic rowers I've come across, costing as much as/more than many magnetic and air rowers.
Resistance
This rowing machine uses two pistons to provide your workout resistance. This is preferred to a single piston system because it essentially doubles the total amount of available resistance. Each arm is attached to its own piston instead of both arms pulling against the same piston.
It also means each piston has to withstand roughly half the force, meaning they should each last longer (theoretically speaking).
The resistance is adjustable on the Kadett- each piston has 12 different resistance settings. Users agree the resistance provided is pretty substantial and should be plenty to provide a solid workout.
Like all hydraulic rowers, some users have complained that the resistance on each piston feels different when they are both set to the same setting (ie, both set to level 5, but one feels stronger than the other). This happens sometimes because with use the oil in the piston warms up, making it easier for the piston to move through the tube.
If this happens, you may simply have to add an extra level of resistance. You also have to make sure the pistons are aligned correctly during assembly because that may affect your feel during use as well.
These are issues all hydraulic rowers have based on the functionality of the pistons. All things considered though, users seem to agree the resistance on the Kadett works well.
By the way, the resistance is changed by turning a knob on each piston. You have to stop rowing to do this, but the pistons are attached conveniently on each arm so they are easy to reach- meaning you shouldn't have to stop your workout for too long to adjust settings.
Seat
The seat on this rower is padded and it does slide along the rail. Rower seats, especially on the smaller hydraulic rowers, aren't known for being particularly comfortable. That said, users aren't complaining about the comfort on the Kadett. The seat is surprisingly comfortable and slides smoothly during use without any unwanted wobbling from side to side.
The seat rollers use sealed ball-bearings that provide the smooth feel. This higher quality construction ensures your seat will function smoothly for years to come. It also means you won't have to use any lubricants- low maintenance is always a plus in my book.
Arms
I mentioned earlier that the Kadett is designed to mimic the feel of rowing a real boat with oars. This is done through the design of the arms. They are designed with a wider angle and a pivot in the middle to produce a larger arc of motion during use, similar to the arc of motion that occurs when rowing with oars.
The circular motion feels smooth and fluid because of the rotational aspect of the arms. If you watch the video below, you'll also notice that the handles rotate too. This is a good thing because the handles are made out of plastic, which isn't particularly comfortable to hold on to. If they didn't rotate, the plastic would be rubbing against your palms throughout the duration of your workout- likely resulting in unwanted blisters.
Frame
The Kettler Kadett is built sturdy out of powder coated high carbon steel. Kettler boasts about its fully automated robotic welding process- sounds fancy and cool. The important thing here is that users all agree the Kadett feels sturdy the minute you sit on it and start working out. No complaints about the frame feeling flimsy or wobbling during use.
The dimensions of the Kadett are as follows: 59″ (L) x 67″ (W) x 18″ (H).
The strangely large width is including the wingspan of the arms during use. These arms fold inward for storage and drastically reduce the actual footprint required to house this rower.
This rower weighs about 51 lb fully assembled, which is actually pretty heavy for a hydraulic rower. This is a good thing though, because it means added stability. You don't want a lightweight machine that is going to move on ya during your workout.
It's also necessary to accomplish that user weight capacity of 285 lb. Which is higher than most hydraulic rowers that top out around 250 lb.
A lot of cheaper hydraulic rowers weigh 30-35 lb for comparison.
When it comes to assembly, most users are able to assemble fairly painlessly in 1-2 hrs, depending on your level of handiness of course. Some users complained about parts being bent or not fitting correctly but these incidents seem to be rare. The instructions are mostly in German, but there are English directions too under the Great Britain (GB) section.
The instructions are mostly illustrations you follow anyway.
Footplates
Most hydraulic rowers have poor footplates that are too small and have a hard time stabilizing your feet during use. There were a few complaints about the velcro strap on the Kadett, but far fewer than most cheaper hydraulic rowers.
One thing Kettler has done a little differently with this rower- the footplates actually pivot a little during use. The goal is to keep your ankle more neutrally aligned as you row for added comfort and stability. I'm not sure about the added stability, but the users seem to think it works well.
Monitor
The Kadett comes with an LCD monitor for tracking your workout metrics. The display is nothing too fancy, but it's a little larger than most other hydraulic rowers, making it a little easier to read during your workout. It tracks the following stats: time, distance, energy (calories), frequency (strokes/min), and pulse rate.
You shouldn't be alarmed, but the monitor is labeled in German- don't worry, the English translation is provided as well in smaller font.
The monitor is battery operated and turns on automatically when you start rowing. You can just row, or set the monitor to a workout goal (such as distance) that will end your workout when said goal is reached. The Kadett also comes with an ear lobe heart rate (HR) monitor that can be used to track your pulse as you workout.
This monitor also tracks your recovery heart rate after you finish exercising- a good indicator of overall fitness (the faster your heart rate returns to baseline, the better shape you're in).
It was a nice touch of Kettler to include the ear lobe HR monitor, but having it plugged in during use can be a little cumbersome. The Kadett is compatible with wireless chest strap monitors as well if you already have one or want to purchase one separately.
Most hydraulic rowers come with glorified watches as monitors that aren't compatible with HR monitors.
Warranty
Budget hydraulic rowers don't always come with a warranty and if they do, they are usually pretty short. The Kadett is no budget rower though. It comes with the following warranty:
Lifetime frame
3 year parts
This is a great warranty if you ask me and easily one of the best warranties I've seen on a hydraulic rower. The lifetime frame warranty is an indicator of how much confidence the company has in their quality construction. A 3 year parts warranty on a rower in this price range is also impressive.
I think warranty is one of the most important aspects to consider when purchasing fitness equipment and I'm always stressing the importance of comparing warranties amongst machines you're considering. Kettler has done a nice job here.
Final Thoughts
After taking a close look at what the Kettler Kadett has to offer, the first thing that's obvious to me is that this is not your typical hydraulic rower. I'm not trying to put down the budget rowers out there (because they too have value and their place), but the Kadett is playing in a different league.
This rower is well-built out of quality materials and is backed by an impressive warranty. It also offers dual-piston adjustable resistance, a sliding seat, and a fairly advanced monitor by comparison.
To summarize, the Kettler Kadett is one of the nicest hydraulic rowers on the market. Considering the quality and warranty, I think the price is pretty well justified.
Does it make sense to purchase the Kadett over a similarly-priced magnetic or air rower?- That depends on your needs.
If your workout space is too small for a full sized rowing machine, then yes I think the Kadett is a smart buy. The compact size makes it usable pretty much anywhere you can find a 5′ x 6′ plot of floorspace.
If you have the room for a full sized rower, you can get some really nice machines for the same price. I personally prefer the feel of an air rower but some people don't like the noise. The Kadett, being hydraulic, will be very quiet during use.
Overall, the Kettler Kadett is one of the highest-end hydraulic rowers available. It costs more than most hydraulic rowers, but you know how the old saying goes- you get what you pay for.