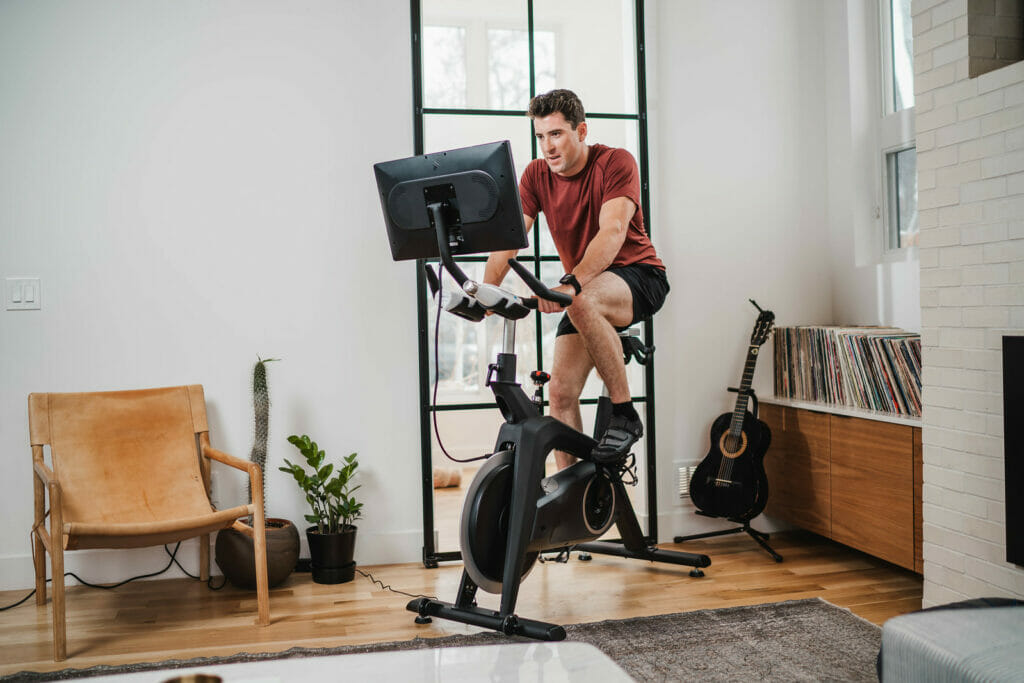 The Stryde is another new streaming cycle marketed as a more affordable alternative to Peloton. And even though it's getting harder to tell the difference between all of these streaming options, the Stryde definitely stands out from the pack.
The bike itself is high-end and commercial grade from top to bottom, but it's Stryde's take on the streaming platform that really sets it apart from the rest.
The 22″ HD tablet that comes with the Stryde includes an open internet browser, which allows you to download or stream any content you like- including competitor's fitness apps.
And even though Stryde offers their own streaming service, it's optional- and you can still use the browser and all other content whether you subscribe or not.
Put all this together and you've got the makings for a great streaming cycle.
If you're looking for a more budget friendly approach to home cycling, Stryde could be a great option- and this review is here to help you figure that out.
In this article, I'll go over everything the Stryde bike has to offer. After reading, you'll know everything you need to in order to decide whether or not this is the right choice for your home gym.
The Stryde Bike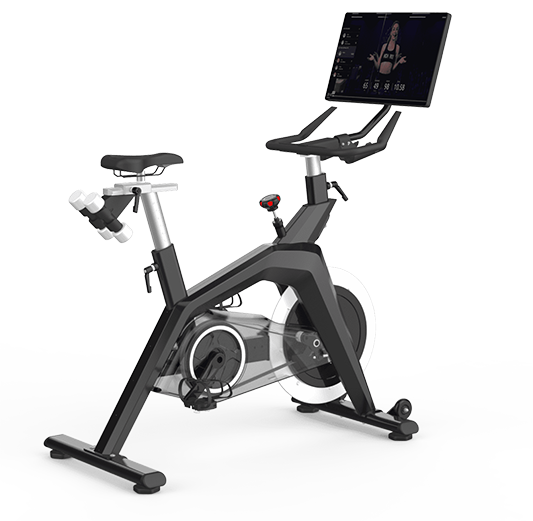 The Stryde is one of the newer streaming bikes to hit the scene. And much like the MYX Fitness Bike, they're making a name for themselves by offering folks a much more affordable way to stream cycling classes from the comfort of their home.
At the time of writing this, they only offer the 1 bike, but depending on how successful it is that could easily change.
I remember when Peloton only offered their original bike, now they've got 2 bikes, 2 treadmills, and plenty of accessories to choose from.
When it comes to price, the initial cost of the Stryde is a few hundred bucks less than the Peloton ($1600 vs $1900).
The monthly cost of Stryde's app is also less at $29/month vs Peloton's $39/month.
And since subscribing to Stryde's app is optional, you could easily save more by going with a more affordable streaming option, but more on that in a bit.
Let's start off by going over the specs of the Stryde bike itself, and then move on to the console features.
Pros
30.5 lb flywheel
Magnetic resistance system
100 levels of micro adjustable resistance
Fully adjustable seat
Dual compatible pedals
Heavy-duty frame
350 lb weight capacity
Compact footprint
22″ HD touchscreen display
Stryde's streaming service optional ($29/month)
Access and download additional entertainment/fitness apps
Bluetooth/ANT+ compatible heart rate monitors
Bluetooth headphones compatible
Dumbbell rack
Fair warranty
Good price
Cons
Handlebars aren't fully adjustable
No live classes on Stryde's app yet
Resistance
I like to start my spin cycle reviews by going over the resistance system. I think this is the most important performance spec to consider because it will effect the quality of every workout you do.
Right off the bat, the Stryde checks the correct box by using a magnetic resistance system.
A magnetic system is preferred to a friction system (sorry MYX) because they provide smoother operation and require less maintenance (no contact means less breaking down).
Magnetic systems are pretty much a given for any elite spin cycle these days, but you should always check anyway.
The Stryde pairs their magnetic resistance system with a 30.5 lb flywheel and a belt drive. The result is a smooth, quiet feel during use.
When it comes to flywheels, heavier is usually considered better because the more weight you have, the more momentum you'll build as that flywheel spins.
This momentum makes for smoother pedal action, eliminating any unwanted lag between pedal strokes.
At 30.5 lb, the Stryde is packing plenty of muscle to provide a smooth feel and the belt drive is a little quieter than traditional chain drives.
And like Peloton, Stryde designed this bike to use a resistance knob with 100 levels of resistance to choose from.
Not only does this make it easy for you to pair this bike with the Peloton app if you want to, but it also gives you 100 levels to work with- which is a ton of resistance levels.
Having so many levels gives you a lot of wiggle room to make small adjustments to your intensity during workouts.
Overall, the Stryde scores very highly in the resistance department. I like that it comes with a heavy flywheel, belt drive, and 100 levels of micro adjustable resistance to work with.
Seat
Pretty much all spin bike seats are the same- small, firm, and kind of uncomfortable for the uninitiated.
The seat on the Stryde isn't any different.
This bike comes with a standard road bike seat, much like the saddle you'd find on any road bike you've ever used (keep in mind spin cycles are designed to mimic the feel and sensation of riding a road bike).
If you're new to cycling, you might find it uncomfortable for the first few rides, but you'll get used to it with time.
What's more important though, is the fact that this seat is fully adjustable, meaning you can adjust both the height and horizontal (fore/aft) position easily.
This is a key feature for any high-end spin cycle because it gives you more options to customize your fit, ensuring a comfortable experience for any rider in your home.
Handlebars
The Stryde comes with multi-grip handles that are contoured for a more comfortable feel, allowing you to place your hands in any traditional riding position during workouts.
The handlebars are height adjustable, but you can't change the fore/aft position.
It would be nice to see fully adjustable handlebars too, because more customization options are always a good thing, but I don't see this as that big of a flaw.
Many of the high-end bikes don't offer this feature (Peloton included) and as long as you have the fully adjustable seat, I think most people will still be able to find a comfortable riding position without any issues.
There's also a pair of water bottle holders located conveniently near the handlebars, making them easy to access during workouts.
Frame
When you look at the assembled weight of the Stryde, it's pretty evident that this is a heavy-duty bike with a stable frame.
At 135 lb, the Stryde weighs exactly as much as the Peloton does, which I can say from experience is quite stable. You shouldn't have to worry about this bike feeling flimsy or wobbly during your workouts.
Another good way to get a sense of how heavy-duty a bike is by looking at the bike's weight capacity. Higher is always better, indicating a more structurally sound machine.
The Stryde scores very highly in this department with a max weight capacity of 350 lb.
This is great for any spin bike, but it's especially impressive considering compact this bike is. You only need a 4′ x 2′ floor space to fit the Stryde, making it a smart option for smaller workout areas too.
Overall, the Stryde has a commercial-grade, powder coated steel frame that should feel solid and stable during workouts. And the higher than normal weight capacity makes it approachable for larger folks as well.
Pedals
Many spin cycles come with pedals that are designed to be used with sneakers (toe cages) or riding cleats (usually SPD, but can vary).
Each has their advantages.
Toe cages are great because you can wear any shoe you like without having to worry about purchasing special shoes just to ride your cycle.
Cleats are awesome because they increase the efficiency of your ride, allowing you to reach faster cadences more comfortably.
Some bikes, like the Stryde, make life easier and come with dual compatible pedals that include both.
The pedals on this cycle have a toe cage on one side and an SPD compatible clip-in on the other.
This means you don't have to wear cleats if you don't want to, but you can if you already have 'em or want to invest in a pair.
Console
Ok, now we're getting to the good stuff.
I appreciate you bearing with me as we reviewed the bike itself piece for piece. And after looking at the entire bike, I'd say the Stryde scores very highly when compared to other high-end home cycles.
But let's be real, it's the console that most people are interested in.
The Stryde comes with a 22″ HD (1080p) touchscreen tablet as its monitor. This is the same size and level of definition that other streaming cycles, like Peloton and the NordicTrack S22i, come with.
Like other brands, this console is also compatible with bluetooth and ANT+ heart rate monitors as well as bluetooth headphones.
But when it comes to the streaming experience itself, Stryde differs greatly from every other streaming bike out there.
For one, Stryde doesn't create their own studio classes.
Well, that's not exactly right, what I should say is that they don't have their own dedicated instructors that are only creating Stryde workouts.
Instead, they have professional instructors from around the country filming classes in their respective studios.
This is awesome because you get to choose from classes and instructors from popular spin studios all around the US- each with their own style and flare.
The downside to this model is that some users have mentioned that the production quality isn't quite as high as some other streaming services.
On the plus side, subscribing to Stryde's streaming service is completely optional from the get-go.
Unlike Peloton or NordicTrack, or pretty much any other streaming bike out there, you don't have to join Stryde's streaming service to get access to all of its features.
If you choose to, that's great, but if you don't, no hard feelings.
Stryde's streaming fee is $29/month, which includes access to all of their spinning classes. At the time of writing this, Stryde only offers spin classes- no strength training, yoga, or anything like that.
They've got over 500 on-demand classes to choose from (no live classes yet) and they're adding about 2 classes a day.
Whether you choose to use their streaming service or not, that's up to you. Even if you don't, you can still use the browser and download other apps to the tablet.
If you ask me, this is probably the best feature the Stryde has to offer.
You can access entertainment apps like Netflix or Hulu for those days where you just want to zone and ride while watching a movie.
But you can also download and access other fitness apps.
What other bike lets you do this?
You can literally download the Peloton app to the console and watch Peloton classes from your Stryde. If you ask me, this is incredible.
And not only Peloton- you can download any app you want as long as it's Android based.
You could have an entire library of fitness apps at your disposal on this bike- whether you subscribe to Stryde's app or not.
And Stryde has recently updated their app so you can see your workout stats in a small window over top of other media- so if you're watching Netflix, you'll still be able to see you stats without having to exit out.
Overall, Stryde is taking streaming bikes to a new level with the openness of their tablet.
I think the accessibility of the tablet on this bike is amazing and easily one of the most compelling reasons to choose the Stryde over other similarly priced cycles.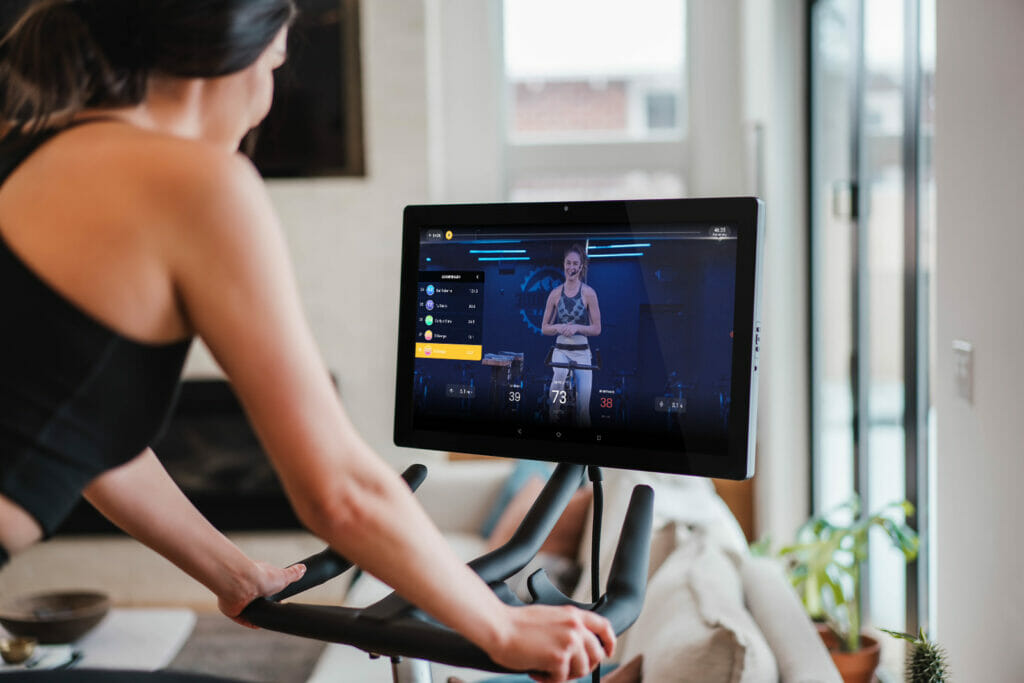 Warranty
The Stryde bike comes with the following residential warranty:
5 year frame
1 year parts/electronics
1 year labor
At first glance, this might feel a little short for a spin cycle in this price range, but it's on par for what other brands are offering (identical to Peloton's warranty).
It would be nice to see a lifetime frame guarantee, but it's unlikely you're going to have any structural issues anyway.
And a year on parts and electronics seems to be the going rate these days.
Overall, a fair warranty based on the comps.
Final Thoughts
I'll have to admit- at first glance, I didn't think much of the Stryde. It looked like another cookie-cutter streaming bike with nothing new to really offer.
But then I took a closer look.
The bike itself is great- it's heavy-duty and commercial grade all around and the micro adjustable resistance system is awesome.
But that console steals the show.
I think it was genius of Stryde to design the tablet with an open system. Having the ability to access and download other apps to the console is a game changer.
And I love that you don't even have to subscribe to Stryde's app for access.
Being able to download any fitness apps you want gives the Stryde unlimited workout potential.
It also means you can save a ton of cash by going with more affordable streaming services (or none at all if you prefer, you can still access entertainment apps without paying for a fitness app).
Overall, I think the Stryde is a smart buy. Folks looking for a more affordable Peloton alternative or access to multiple streaming apps will likely love it. Highly recommended.