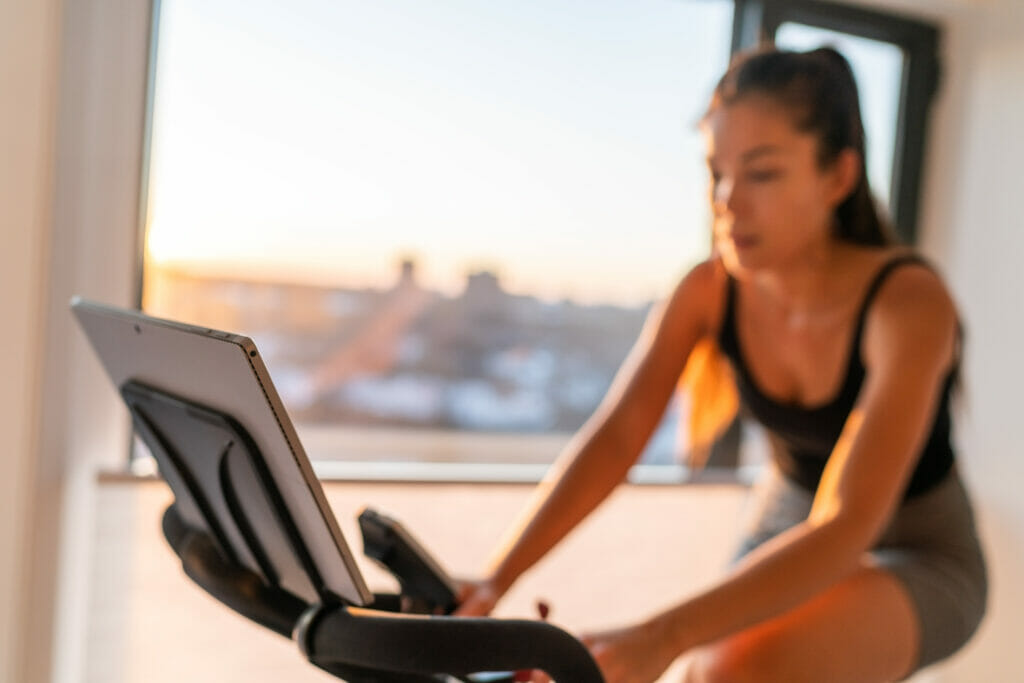 The MYX Bike is a commercial grade spin cycle that comes with a large, touchscreen display used for streaming workouts. If this sounds familiar, it's because it's been done many times by many brands over the last few years.
But unlike most of these other brands, the MYX system doesn't cost over $2000…far from it.
With an asking price just north of $1000, the MYX Bike is one of the most affordable streaming bikes on the market.
And just because the price is significantly lower doesn't mean this bike is skimping in the features department- the MYX comes with a 21.5″ touchscreen console that swivels, a 41 lb flywheel, and dual-compatible pedals.
MYX even includes a Polar chest strap with purchase.
Overall, if you're looking for a more affordable approach to in home spin class streaming, the MYX Fitness Bike is certainly worth investigating.
But it's not perfect.
In this review, I'll go over everything the MYX Bike has to offer- we're talking performance specs, features, and short-comings.
After reading, you should know everything you need to in order to decide whether or not this is the right bike for your home gym.
The MYX Fitness Bike
MYX Fitness is a relatively new brand, they've only been on the scene for a few years. But with the ever growing demand for affordable streaming fitness devices, I would think they've been doing quite well for themselves.
We all have Peloton to thank for the popularity of in home spin classes and the fact that they're priced so luxuriously makes plenty of room for the more affordable options to prosper.
At the time of writing this review, MYX Fitness only offers one product- their spin bike.
But like most other streaming services these days, you can access all kinds of workouts through their app. And the swiveling screen makes it easy to watch while performing non-spinning routines.
The MYX Bike is available for purchase individually (for $1299) or as part of a package that includes a set of dumbbells, a kettlebell, a mat, a resistance band, and a foam roller (for $1499).
Pros
41 lb flywheel
Heavy-duty frame (Star Trac)
Fully adjustable seat
Fully adjustable handlebars
Dual-compatible pedals
21.5″ swiveling touchscreen display
Access to tons of workouts
Bluetooth compatible
Polar OH1 heart rate monitor included
350 lb weight capacity
Cons
Friction brake resistance system
Warranty could be longer
Cadence, watt output not displayed
Flywheel
Since the MYX Bike is a spin cycle, let's start with the flywheel. Flywheel weight is usually considered one of the most important specs for a spin bike because it corresponds directly to how smooth and substantial your workouts are going to be.
Most home cycles are designed to utilize a heavy flywheel because adding weight to the flywheel is a pretty budget friendly way to improve the smoothness during operation.
The extra weight builds more momentum, which helps keep the flywheel spinning, which eliminates any unwanted lag between pedal strokes.
These days, it's not uncommon to see 40 – 50 lb flywheels on spin bikes.
Personally, I think anything over 20 lb is good enough to deem themselves "heavy", although both of the cycles I own have flywheels over 30 lb (Peloton 35 lb and Diamondback 510ic 32 lb).
And I can say from experience that a 30-35 lb flywheel offers a great feel during operation.
With all of this in mind, I want to point out that the MYX Bike comes with a 41 lb flywheel, which is more than enough weight to create a smooth pedal stroke during your workouts.
It's also heavy enough to ensure plenty of resistance during your workouts.
Speaking of resistance, the MYX uses a friction brake resistance system. This means that unlike a magnetic system, there is physical contact between a brake and the spinning flywheel.
You increase your resistance by turning the knob, which pushes the brake farther into contact with the flywheel (and vice-versa as you reduce your resistance).
It's not uncommon to see friction brakes on spin bikes, even commercial grade ones, but I prefer magnetic systems personally.
With magnetic systems, the resistance is created through the use of magnets, so there isn't any touching- the resistance is increased or decreased by brining the magnets closer or farther away from the spinning flywheel.
Magnetic systems tend be a little smoother, and since there isn't any touching, there's less maintenance generally (friction brakes will break down over time and need to be replaced, regardless of how nice the system is).
On the plus side, with a friction brake you aren't limited in how many resistance levels you get- you can keep turning that knob and getting more resistance as much as you want.
That said, using a friction brake probably allows MYX to keep the price down.
Overall, I like that the MYX Bike comes with such a heavy flywheel. I'd prefer a magnetic resistance system, but that would likely increase the overall cost of the bike.
Seat
The MYX comes with a traditional road bike saddle. This means it's small, firm, and probably a bit uncomfortable for anyone who isn't used to riding.
But this is the same seat that all spin cycles come with, so don't worry.
If you're looking for a little extra padding, you can always get an affordable gel cushion. After awhile though, your bum will get used to it and you'll be fine.
More importantly though, the seat on this bike is fully adjustable- this means you can adjust both the height and horizontal (fore/aft) position.
This is great, because it ensures you'll be able to find a comfortable riding position.
And according to MYX, their bike can comfortably hold most folks who are between 4'11" – 6'8″ tall.
Handlebars
The MYX Bike also comes with fully adjustable handlebars. This is a feature that not all spin bikes come with, even the high-end ones (the Peloton doesn't).
I don't think fully adjustable handlebars are quite as important as the fully adjustable seat, but it never hurts to have an extra layer of customizability (is that a word?)
The handlebars offer all the hand grip positions you'll need, no worries there.
Overall, the MYX is very customizable with the fully adjustable handlebars and seat.
Frame
One thing you'll notice on a lot of less expensive bikes is that they come with lighter frames- and lighter frames are more likely to move and wobble on ya during your workouts, especially when standing.
Luckily, this isn't the case with the MYX Bike.
This spin cycle comes with a heavy-duty frame that should feel rock-solid during your workouts.
The bike itself is actually a Star Trac that MYX has customized by adding the touchscreen console. If you're unfamiliar, Star Trac is a commercial grade brand that's owned by the same parent company that owns Schwinn, StairMaster, and a few others.
So the fact that MYX is using a Star Track bike is a great start.
But when you look at the bike's weight and weight capacity, it's also evident that the MYX is packing a substantial frame.
The MYX Bike weighs 134 lb without the monitor (about 150 lb with it) and comes with a 350 lb weight capacity.
For the sake of comparison, many budget friendly spin bikes weigh 100 lb or less.
With a capacity this high and the ability to hold users who are up to 6'8″ tall, there aren't many riders this bike can't safely and comfortably hold.
Overall, I think the MYX scores very highly in the frame department.
Pedals
Spin bikes can come with pedals that are designed to be used with sneakers (usually referred to as toe cages) or cleats- and there are different styles of cleat, so you always have to check to see what kind the pedal is compatible with.
Other bikes, like the MYX, come with dual-compatible pedals, that are designed to be used with both.
This is a great feature because it means you can wear any kind of shoe you want during your workouts. And it also means you don't have to invest in cleats if you don't want to.
These pedals are SPD compatible, so if you have SPD cleats, you're good to go.
If you've never used riding cleats, you really should consider it. Hooking into the pedals makes for a better workout experience- you pedal more efficiently, allowing for higher cadences and just a smoother feel overall.
Whether you want to use cleats or not, the MYX has got ya covered. With the dual-compatible pedals, you can wear whatever you want (although I'd think twice before spinning in sandals).
Monitor
That about does it for the performance specs, time to switch over to see how the MYX measures up in the tech department. One of the most notable features on this bike is its 21.5″ touchscreen display.
FYI- this is the same size as the screen found on the Peloton.
The monitor is large, making it easy to view during your bike workouts, but it also swivels 360° allowing you to view other non-cycling workouts without having to position yourself directly behind the bike.
Speaking of workouts, the MYX is a streaming device- this means you have to pay a monthly subscription fee to access their content.
The MYX subscription is $29/month, which is $10 cheaper than both Peloton and NordicTrack and their iFit subscription.
For that fee, you get access to hundreds of on-demand workouts (no live ones yet). MYX adds 40 or so new workouts each week, including cycling of course, but also yoga, strength training, HIIT, meditation, and more.
You get access to a large workout library here, but the cycling workouts themselves are a little different than any other you've probably ever done before.
They're instructor-led of course, but instead of focusing on metrics like resistance levels, cadence, or watt output, your workouts are based solely on your heart rate.
The monitor doesn't even display any of these metrics, which some may see as a downside.
Instead, the instructors lead you through your workout based on what heart rate zone you're suppose to be in (blue, green, or orange).
These zones are customized for you based on an assessment ride you do as your first workout- this gives the program an idea as to what your recovery and max heart rates are, as well as providing you with a fitness assessment (your "MYX score").
Since all of your workouts are based on heart rate, MYX includes a Polar wrist strap with purchase.
Using your heart rate to guide the intensity of your workouts is actually a great way to ensure you're working hard enough to reach your goals, but it could take some getting used to, especially for people who have used other cycling programs in the past.
As a Peloton user, I'd probably feel lost without the cadence, resistance, and watt cues from my instructor.
But that doesn't mean the MYX workouts are any less effective- it just means it's up to you to adjust your cadence and resistance to get your heart rate in whatever zone you're supposed to be in.
The MYX app can also be downloaded to your phone or tablet, so you can access when not near your bike.
The monitor is bluetooth compatible with wireless headphones as well, a nice touch. Oh, and speaking of sound, you can adjust the volume of the instructors and the music separately during your workouts.
If you don't feel like doing an instructor-led workout, you can also do a scenic ride or look at other entertainment features on the console, like the Newsy or Coach Diaries programs.
Overall, the MYX Bike comes with a sophisticated touchscreen monitor. With membership, you get access to a ton of workouts to choose from, just don't be surprised when everything is based on your heart rate.
Warranty
The MYX Bike comes with the following warranty:
5 year frame
12 month parts
Overall, this warranty is on par with other streaming cycles and is identical to what Peloton is offering on theirs. Personally, I like to see a "lifetime" frame guarantee, but I highly doubt you're gonna have any issues with this Star Trac frame breaking down.
A year on parts is a bit short. I'd like to see 2-3 years on parts for a bike in this price range, but again, it's exactly what Peloton offers (NordicTracks's S22i has 'em both beat with a 10 year frame and 2 year parts guarantee).
The parts warranty includes the touchscreen, the software, and all accessories as well.
Final Thoughts
That about does it for the MYX Bike. All things considered, I think it's a pretty good deal. This bike is certainly priced competitvely for what you get.
Especially if you go for the MYX Plus Package, which includes a 6 piece set of dumbbells, a kettlebell, a resistance band, a mat, and a foam roller.
I like the heavy flywheel, the heavy-duty frame, and the fully adjustable seat/handlebars. I also think the swiveling touchscreen display is very sophisticated for the price.
The biggest downside in my book is the friction brake resistance system, but something has to give in order for the price to be so low.
Overall, if you're looking for an affordable alternative to Peloton, I think the MYX Bike is a great choice (as long as you're comfortable with those heart rate workouts). Recommended.