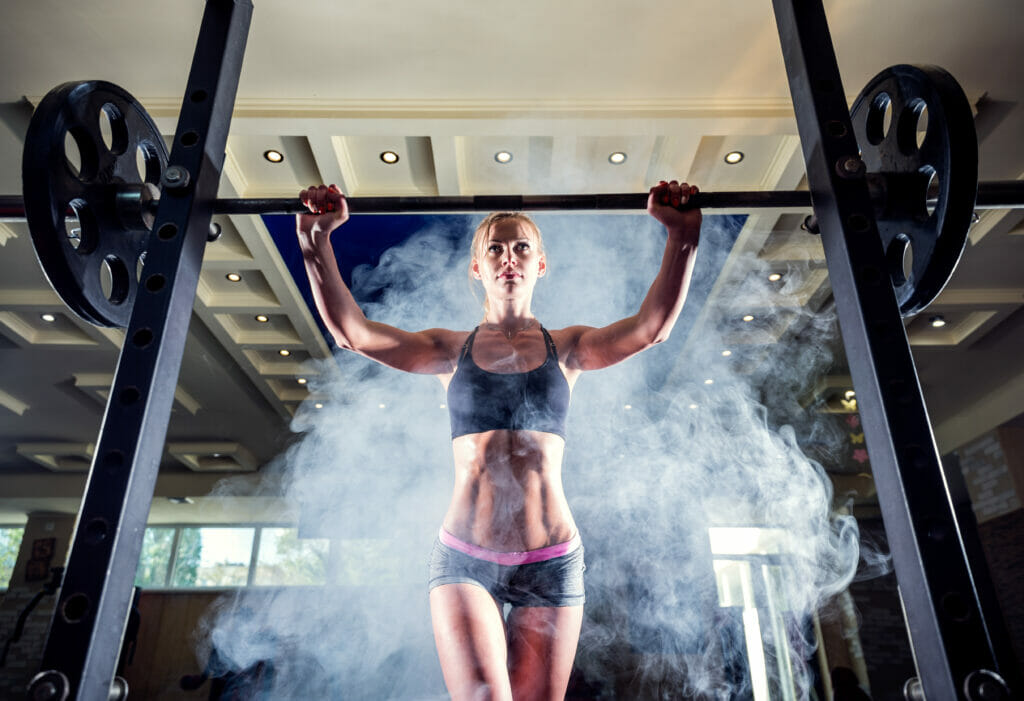 A heavy duty squat stand can instantly add street cred to any home gym.  Although simple in design, these highly effective strength training machines give you access to all of the best barbell exercises out there.
We're talking squats (obviously), but also bench press, shoulder press, dead lifts, rows, and so on.
But if you're looking for a high-quality stand, you have to be careful because there are a ton of racks on the market and most of them are, uh, how should I say… of lesser quality.
In order to avoid disappointment you have to know what you're looking for and where to find it.
Luckily, you've come to the right place.
In this comprehensive guide, I'm going to go over everything you need to know when looking for a quality squat stand, including all the key specs you should look for before purchasing.
I'll also provide my top picks currently available based on the criteria we discuss.
After reading, you'll be well prepared to find the best heavy-duty squat stand for your home gym.
Squats Stands 101
Before we dive right in and start talking about what you should be looking for, I wanted to start with a quick discussion on what squat stands were in the first place and how they differ from the other common racks out there.
I think the term squat stand gets thrown around a lot and it's not always the most accurate description of the product.
I think it makes sense to discern between squat stands (or half racks) and full power racks (or cages) because there are pretty significant differences between them.
A full power rack consists of 4 uprights, and with the connecting horizontal support bars, you end up with a "cage" that you exercise in.
These racks are awesome because they offer a ton of workout variety and with the built-in safety bars, can be very safe to use- even when alone.
Depending on the model, you can also add a lot of different accessories to really expand what your power rack can do.
A squat stand, or a half rack as it's sometimes referred to as (they mean the same thing), is basically a power rack that's been cut in half.
Instead of 4 uprights, you have 2.
So, you're not inside a cage with these stands, but you can still perform a lot of the same moves.
And a quality squat stand will also come with safety bars to spot you when lifting alone and the ability to attach some accessories (although not as many as a power rack would offer).
Squat stands are usually more affordable than power racks, making them a good alternative if you're working with a smaller budget.
Squat stands usually take up less floor space too, although this isn't always the case.
Depending on your home or garage setup, it might make sense to go with a folding squat rack– these are nice because they can fold flat against the wall when not in use.
Even though I like to differentiate between squat stands and power racks, you'll see the terms used a lot interchangeably.
The term "squat rack" can be used to describe pretty much any piece of equipment that allows you to perform a squat.
For the sake of this guide though, I'll be talking only about squat stands as described above (with 2 uprights).
Now that all the semantics are out of the way, let's move on.
How To Buy A Squat Stand The Smart Way
Now that we're all on the same page regarding what a squat stand is, it's time to dive into the specs and features I think you should consider when comparing models.
As you're probably aware, squat stands come in a lot of shapes and sizes.
Some are tall, some are short, some fold, others consist of 2 independent racks that aren't connected at all.
Before getting too stressed out about all the fine details, I think it makes sense to start with the most important spec you'll need to think about when looking for the right stand: weight capacity.
Weight Capacity/Uprights
A stand's weight capacity is easily the most important thing you should consider with these stands. After all, a squat stand is just a rack that holds weight.
That's all it does.
So doesn't it make sense to compare how much weight each rack you're looking at can hold?
In this guide, we're here to talk about the best heavy-duty stands, meaning most of the racks on my list will be able to hold at least 1,000 lb safely.
And even though most of us will never be able to squat this kind of weight, having a rack that can safely hold this amount tells us that it's sturdy and well-built.
And much less likely to fail during use (which could be really dangerous).
Weight limits will vary with squat stands. Most of the high-end models will come with 1,000 lb limits, others will even test them all the way up to 2,000 lb.
(P.S.- we're talking about static weight limits here, meaning the weight is just sitting on a barbell on the rack, not being dropped on the rack. Also, just because a rack has a limit of 1,000 lb, doesn't necessarily mean it can't hold more, it just means the company only tested it to that limit).
Cheaper, flimsier stands will come with 300 lb weight capacities.
A squat stand's weight capacity is dependent on the components it's made of.
These stands are very simple devices- they really just consist of uprights and supporting bars. The uprights will be made out of steel, but the size and gauge of the uprights will vary from rack to rack.
The larger the uprights and the thicker the steel, the better (remember that when talking gauges, the lower gauge means thicker steel).
The gold standard for a home squat stack would be 3″ x 3″ uprights made out of 11-gauge steel, but you'll see 2″ x 3″ and even 2″ x 2″ uprights with 12-gauge and even 14-gauge steel being used.
Size
The weight limit of a stand gives you an objective idea as to how sturdy it is, so it's important to find a rack that can safely hold the loads you plan on putting on your barbells.
But logistically, you have to make sure you squat stand fits in your home gym.
Don't worry, squat stands come in varying sizes, so you should be able to find one that fits your home- but I recommend you measure your floor space carefully before purchasing.
If you have low ceilings, you'll have to consider the stand's height as well.
In terms of floor space, most heavy-duty stands will require about 5′ x 5′ to use comfortably- this includes some wiggle room with adjusting plates and whatnot.
You can also find squat stands of various heights. Taller folks will want to go with a taller stand. Shorter folks, or people who just want a rack for benching, might want to go with a shorter model.
If you're looking for a pull up bar, you'll be looking for a taller stand as well.
Either way, you have plenty of options when it comes to the physical size of your stand.
Features
It's always a good idea to consider what additional features a squat stand has to offer. I mentioned that these racks are very basic by design, but that doesn't mean you can't get a few extras.
Some racks might come with pull up bars, others may include J cups and safety bars.
Other brands offer additional attachments that can be added, like bar storage, plate storage, band pegs, or even pulley systems.
When looking at features, make sure to check and see what exactly is included with purchase- often safety bars and J cups are not included, meaning you'll have to buy them separately.
Same goes for plates and benches.
It's a good idea to compare included features when price checking different stands, because a more affordable stand might not be that much more affordable if you have to buy everything else separately.
Speaking of which, I realize price is one of the biggest deciders when looking for any new fitness equipment.
In the case of high-quality squat stands, if you're looking for one that can safely hold a lot of weight, expect to pay somewhere in the $500 – $800 range.
There are more affordable and more expensive models out there, but this median price point should cover most folks' needs quite well.
Ok, without further ad0, I present to you…
The 5 Best Heavy-Duty Squat Stands For Home Use
#1 Rogue SM-2 Monster Squat Stand 2.0
When it comes to home racks and rigs, Rogue Fitness is the gold standard. Rogue has earned a stellar reputation for creating the heaviest-duty racks out there and then pricing them quite fairly.
I like their SM-2 Squat Stand because I think it has the perfect combination of quality, size, and price for many home gyms.
When it comes to the specs, I haven't see any racks that have this one beat. The SM-2 uses 3″ x 3″ uprights made out of 11-gauge steel for a weight limit of at least 1,000 lb.
Rogue then takes it up a notch by using huge, 1″ bolts for all connections.
The result is a beast of a squat stand that'll be able to stand rock-solid through any workout you can throw at it (let me put it this way- if this stand isn't heavy-duty enough for ya, you might be a super hero).
When it comes to features, the SM-2 comes with a pull up bar and a pair of J cups included. And this being a Monster rack, it's also compatible with most of Rogue's other Monster attachments (there are plenty).
The SM-2 is a tall squat stand and comes with the following dimensions: 50″ x 54″ x 93″ (L x W x H).
The only thing missing is the Westside hole spacing, but given everything else this stand is offering, it's far from a deal breaker.
I don't think could hurt this rack if I tried, but just in case, Rogue backs it with a lifetime guarantee.
Overall, if you're looking for a heavy-duty stand that'll last a lifetime, here it is. Easily the best squat stand around.

#2 Rogue SM-1 Monster Squat Stand 2.0
Yup, another Rogue stand- what can I say, they're the best. I could probably fill this entire list with Rogue racks and be justified in doing so, but I promise I won't.
This'll be the last one I promise.
The SM-1 is just a shorter version of the SM-2 mentioned above. The length and width are identical, but this stand is only 73″ tall, making it a better choice for shorter users or home with lower ceilings.
The shorter height means no pull up bar, but otherwise this stand is just as impressive as the SM-2 mentioned above.
The SM-1 is also part of Rogue's Monster series, so it too uses 3″ x 3″, 11-gauge uprights with 1″ hardware all around, giving it a weight capacity of 1,000+ lb.
The only included extra with the SM-1 is a pair of J cups, but this stand is also compatible with most Monster attachments.
This stand doesn't have Westside spacing either and is also backed by Rogue's lifetime warranty.
Oh, I forgot to mention this with the SM-2, but both of these squat stands are manufactured in the USA with US steel (built in Columbus, OH)- might not be a game changer, but if you like the idea of supporting local brands there ya go.
Overall, the SM-1 is just a shorter version of the amazing SM-2. If you won't miss the pull up bar and want to save ~$150, this is a great choice.

#3 Body-Solid Pro Clubline Adjustable Width Squat Rack
That name's a real mouthful, but Body-Solid is another great strength training brand with a huge lineup of equipment to choose from.
They really do have one of the biggest lineups of home gyms, racks, and strength training gear I've ever seen- and it's all of high-quality.
Body-Solid offers several different squat stands and power racks to choose from and this Pro Clubline is the most affordable of the bunch.
Which is crazy considering it's still a commercial grade rack.
The Pro Clubline comes with 3″ x 3″, 11-gauge steel uprights, just like the Rogue racks above, and it too has a weight capacity of 1,000 lb.
What's interesting about this simple stand is that you can adjust the width to fit your space.
You can choose between 3 settings to fit either a 5′, 6′, or 7′ (Olympic) bar. This ability to change the width of the rack might come in handy for homes with smaller exercise areas.
Or if you already have bars of different lengths.
This stand isn't compatible with many additional attachments other than optional safety bars that can be purchased separately, but it does come with a pair of J cups included.
And unlike the Rogue stands, the Pro Clubline does come with Westside spacing in the bench press zone.
And Body-Solid backs it up with a lifetime residential and commercial warranty.
Overall, if you're looking for a simple yet strong squat rack that won't break the budget, Body-Solid has got ya covered with their Pro Clubline (this rack is on sale for a great price at Fitness Factory).

#4 Torque Fitness High Squat Rack With Pull Up Bar
I have to admit, I'm not as familiar with Torque Fitness as I am with the other brands listed so far. I've come across their name a few times over the last few years, but I believe this is the first piece of their equipment I've taken a closer look at.
And I like what I see.
Torque's products, and this squat rack in particular, remind me a little of Rogue.
Like Rogue, Torque has a generous selection of heavy-duty gear to choose from. They don't have quite as many racks and rigs to select from, but the ones they do have are customizable.
You can select between a short rack or a tall one, there's also a folding model that anchors to a wall.
As a fairly tall gent, I'm partial to the high squat stand.
This rack is constructed with 3″ x 3″, 11-gauge steel uprights, which is impressive, although the weight capacity is a little lower at only 675 lb.
This squat stand comes with an included pull up bar and a set of J cups with purchase, but when it comes to additional attachments, Torque has several to choose from.
These include weight plate storage attachments, dip handles, benches, landmines, and safety bars.
The warranty on this stand isn't as generous as the other brands above- Torque only backs this stand with a 10 year frame/weld and 1 year parts warranty.
But otherwise, this is another heavy-duty squat stand with plenty of room to grow.

#5 Titan X-3 Series Tall Squat Rack
Rounding out our list is a very simple squat rack by Titan Fitness. Titan products don't always get the best reviews, but when you consider how affordable they are, they're definitely worth considering.
No one's going to mistake a Titan rack for a Rogue, but at half the price, it's not a bad buy if you're working with a smaller budget.
The X-3 is Titan's toughest squat rack to date. They also have their T-3 squat stand that comes with slightly smaller uprights.
As the name implies, this is a tall squat stand (91″ tall) and it comes with an included pull up bar. The base is very compact, only taking up a floor space of about 4′ x 4′.
This stand comes with 3″ x 3″, 11-gauge steel uprights and a weight limit of 1,000 lb, which is pretty good considering we'r talking about a $400 rack here.
When it comes to accessories, Titan doesn't have as impressive a selection as other brands, but this rack does come with a pair of J cups.
And the X-3 does have Westside spacing in the middle if that's something you're looking for.
You can also purchase spotter arms separately for added peace of mind when lifting solo.
The biggest disappointment with the specs is the lackluster warranty- Titan only backs the X-3 with a 1 year guarantee, which is pretty weak.
But if you're looking for a compact squat rack that takes it really easy on the budget, Titan's X-3 isn't a bad choice.

Final Thoughts
That about does it.
If you ask me, the above represent the best heavy-duty squat stands for home use today. I tried to include stands in different price ranges, but luckily all of these racks are under $1000.
That can easily change though if you start adding on benches and extra accessories.
When looking for a quality squat stand, I encourage to concentrate on the specs that matter: upright size and gauge, weight capacity, and size.
Price is obviously going to be a big factor for most of us as well, but again, squat stands aren't that expensive in the realm of fitness equipment.
It's also a good idea to think about what attachments are available for your chosen rack too, in case you want to expand in the future.
You should also think about whether you really want a squat stand or if it would make sense to go all in with a power rack– believe it or not, full racks don't always take up that much more floor space.
And they don't cost that much more either.
Something to consider.
Anyway, I hope you enjoyed reading. If you have any questions or comments please leave 'em below and I'll get right back to ya.