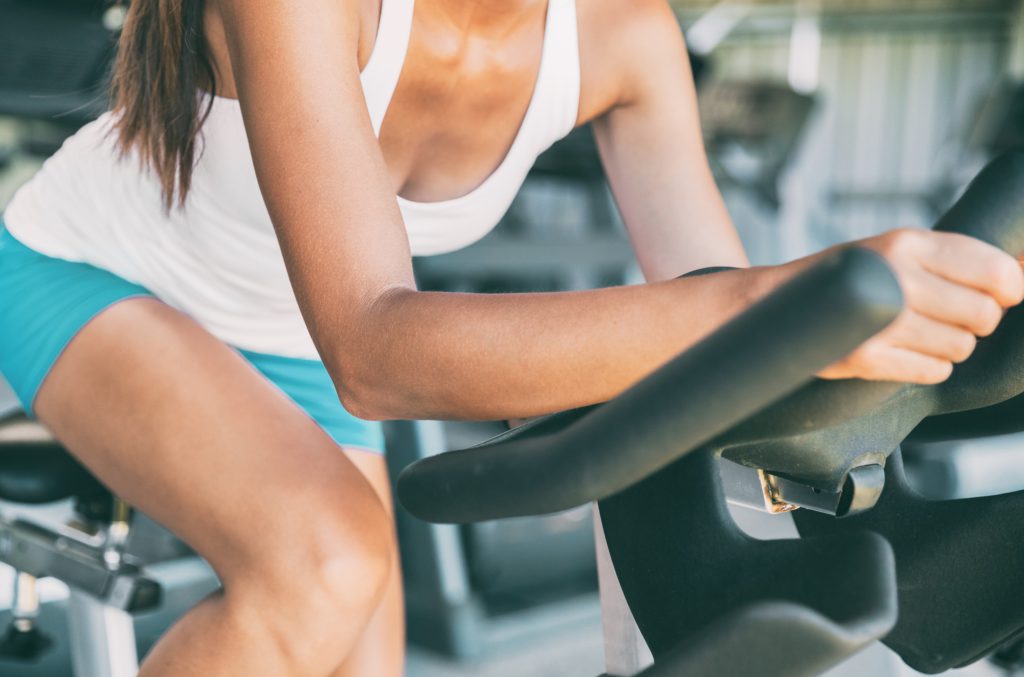 Sunny Health & Fitness's ASUNA 7150 get's bonus points in my book for its nickname alone- the "Minotaur". There's really no denying that that's an awesome name for a spin cycle.
And if first impressions are good for anything, then the Minotaur should be one of the most popular bikes in its class because this thing is as about as sleek looking as they come.
So, right off the bat we've got a wicked name and a cool looking frame, but does the ASUNA 7150 score highly where it really counts?
It actually does.
This bike comes with a 33 lb flywheel, a micro-adjustable magnetic resistance system, and a fully adjustable seat. It also comes with a quiet belt drive and a heavy-duty frame.
Long-story-short, the Minotaur is a solid bike. But there are a lot of solid bikes in this price range, so does it make sense to purchase this one?
That's the real question this review is here to help you answer.
In this comprehensive review, we'll go over everything this bike has going for it. After reading, you should know whether or not it's the right choice for your home gym.
Let's get rolling.
The Sunny Health & Fitness ASUNA 7150 "Minotaur" Cycle Exercise Bike
Sunny Health & Fitness has made a name for themselves having nearly two decades of experience providing high-quality, budget-friendly home fitness equipment.
They're based in Los Angeles, but their products are manufactured in China and Taiwan (which allows them to cut costs).
Sunny offers the usual home fitness related equipment, from treadmills to stationary bikes and jump ropes to kettlebells and their lineup is rather extensive. 
Aside from specializing in budget-friendly equipment, I believe they have a knack for crafting super solid indoor cycles too. In fact, their bikes sell like hotcakes and are highly-rated by users.
In 2017, they released a new series of spin bikes called ASUNA. The ASUNA series comes with more modern functionalities and features, like a heavier-duty construction, magnetic resistances, and a belt drive systems.
The ASUNA lineup consists of their most advanced fitness equipment and costs a little more than their usual lineup of machines.
The Minotaur is one of their highest-end spin cycles (second probably only to their ASUNA 6100) and definitely has the best name of any Sunny product I've ever come across (although their Obsidian Surge Rower is a close second).
Pros
33 lb flywheel

Heavy-duty frame

Micro-adjustable magnetic resistance system

Fully adjustable seat

Fully adjustable handlebars

Multi-grip handlebars

2 water bottle holders

Pedals with SPD cleats

330 lb max user weight capacity
Cons
No monitor

Can't track resistance level

Standard warranty
Flywheel
The flywheel is an important aspect of any exercise bikes as they directly determine the overall performance quality of your routine.
The flywheel is the big round disc that spins as you pedal. In the case of the Minotaur, it's located in the front of the bike. Others are placed at the rear-end, like on their ASUNA 6100.
Heavier flywheels are better because they create more momentum. More momentum leads to more resistance. They're also related to a smoother and more consistent operation of the machine.
I think it's a good idea to look for at least a 20 lb flywheel when searching for a home exercise bike. This rule certainly isn't written in stone, but it's a good rule to go by.
With this in mind, the Minotaur has a 33 lb flywheel, which easily surpasses our 20 lb guideline. 
This perimeter-weighted flywheel is more than heavy enough to help keep the spinning motion smooth and steady. It's also bi-directional, giving you the possibility of pedaling in reverse while retaining its tension (if you so choose).
Like most other commercial spin bikes, the Minotaur uses a magnetic resistance system. 
It's actually a micro-adjustable resistance system, meaning every time you turn the dial (regardless of how small the turn), the magnets get that much closer to the flywheel.
The benefit is that you get a tone of resistance levels at your disposal- you aren't limited by pre-determined resistance settings to choose from.
The downside in this case, is that there's no way to gauge what resistance level you're on (no monitor to display resistance setting). Instead, you have to purely go on the feel of it.
This is fine if you like to do your own workouts, but it can make following streaming workouts (like Peloton) more difficult (but certainly not impossible).
The same knob also acts as an emergency brake. Whenever you want to immediately stop the flywheel, just push it down.
The Minotaur has a heavy-duty belt drive that's quieter than a chain and requires less maintenance.
Overall, the Minotaur has enough muscles under the hood to satisfy the most advanced cyclists. I prefer to have a way to gauge my resistance setting, but I do like the micro-adjustable system. 
Seat and Handlebars
The Minotaur has a large, well-padded seat of 10.5″ L x 7″ W x 2.75″ H. It has a large longitudinal groove to improve ventilation and blood circulation during seated workouts.
But like most exercise bikes, the Minotaur's saddle isn't designed for comfort. Yes, it's cushioned, but it's a slim seat that might be uncomfortable to newbies.
With habitual use, I'm pretty sure you'll get used to it. If not, it has a standard design that you can replace with other alternatives. You may also get a gel cover instead.
The seat can be adjusted 4-way: up, down, back, and forth (fully adjustable). It can be adjusted to 10″, from 28.5″ to 38.5″. Hence, the Minotaur can accommodate users between 5'0″ and 6'7″ or those with inseams of 15.5″ to 27″.
The handlebar is also 4-way adjustable. It's padded with high-density foam for a comfortable grip even when your hands get extremely sweaty. 
It's multi-grip and has integrated aero bars. There are 2 bottle holders attached to the handlebar too.
Overall, both seat and handlebar are versatile, featuring large, adjustable levers that are easy to grip and turn. It should be super simple to find your perfect fit and maintain proper positioning as you ride.
Pedals
The Minotaur has a super solid crankset. It lives up to its reputation of being a commercial-grade unit. Its steel crank arms that can easily hold the entire weight of the rider.
The pedals are dual-sided, featuring SPD elements and toe cages with straps. These provide security and overall comfort for your feet, especially when spinning at higher speeds.
The bike's Q-Factor is 140 mm (Q-Factor is the spacing between the pedals). A lower number indicates that there's less gap or distance between the pedals, and that's what we should be interested in. It relates to a better lower body alignment for users.
You can position your feet naturally without the extra lateral stress on your knees or ankles. This yields reduced post-workout joint pains and longer workouts.
Overall, the Minotaur has great ergonomics for your feet's security and comfort. I like that the pedals are dual-sided, allowing you to pick whether you use cleats or sneakers.
Frame
The Minotaur features heavy-duty construction. It has a one-piece, all-steel frame that's precisely machined. The only frame parts that are attached by bolts are the bases.
It can readily support users up to 330 lb (which is great, but I'm actually a little surprised it can't hold heavier considering how solid this thing is).
The majority of the bike is coated with industrial-grade corrosion-resistant and scratch-resistant paint. Its seat and handlebar posts and sliders are in a chrome finish that's also corrosion-resistant. 
The only non-metallic parts of the Minotaur are the belt guard and the top guard of the flywheel and resistance pad. They're made of PVC material that you can easily remove whenever you have to lubricate the belt or brake pad.
The Minotaur is only available in black, which looks super sleek if you ask me. The Minotaur name is in white, while the logo is in blue.
It weighs over 130 lb, adding to its overall stability and frame integrity. It also has base tubes featuring adjustable stabilizers with rubber caps. 
Folks say that the Minotaur is super stable to ride on. It doesn't rock or wobble even if they've tried spinning at higher speeds.
Unfortunately, the Minotaur isn't a compact bike. It has a larger footprint than most at 51.5″ L X 27.5″ W X 47.5″ H. 
But relocating it won't be an issue as it has a set of transport wheels. You'll only handle more than half of the bike's weight when moving it.
Overall, the Minotaur has a rock-solid frame that can readily support you even during insane workouts. It has high-quality materials that'll less likely require maintenance in the long haul.
Assembly
The Minotaur is pretty easy to assemble. The flywheel, belt, crankset, and their covers are already attached to the frame. Hence, you simply have to attach the bases, seat, handlebar, and pedals.
The package contains everything you need for the assembly, like the basic tools and the assembly manual.
The process is pretty straightforward, but if you ask me, the instructions could be a little easier to follow. They aren't awful, but I'd like to see it broken down into more steps with less going on in each step- looks less cluttered that way.
But that's just me nitpicking.
Overall, assembly shouldn't be an issue, most users were able to finish the task in 30 minutes or so. 
Warranty
The ASUNA 7150 Minotaur comes with the following warranty:
5 year frame
180 days parts
Five years on the frame sound short considering this bike is over $1000, but it's pretty on par for bikes in this price range (the luxury Peloton only offers 5 years on their frame for comparison).
But 180 days on parts is short no matter how you look at it. I'd like to see at least a year on parts.
Overall, this warranty isn't awful, but it could definitely be better. Warranties tend to be one of Sunny's weaknesses after all.
Final Thoughts
Besides the awesome name, the Minotaur has a lot going for it. Not only does it look great, but it's a very robust bike.
It does remind me of a bike you'd see in a commercial spin studio, with the heavy frame, heavy flywheel, and overall largeness of it.
Honestly, the only real downside I see is that you can't track your resistance setting (other than going by feel), which I think could be an issue with home workouts.
It would certainly make it more difficult to follow streaming workouts, where instructors are telling you to set your resistance to certain levels throughout the workout (if you're looking for a bike that can do this, check out my guide on best Peloton alternatives).
But even if you're ok with that, I don't see any reason to purchase the Minotaur over Sunny's ASUNA 6100, which is cheaper, has a heavier flywheel, and comes with a monitor.
All things considered, the Minotaur is a great bike. But I think there are better options for the price.