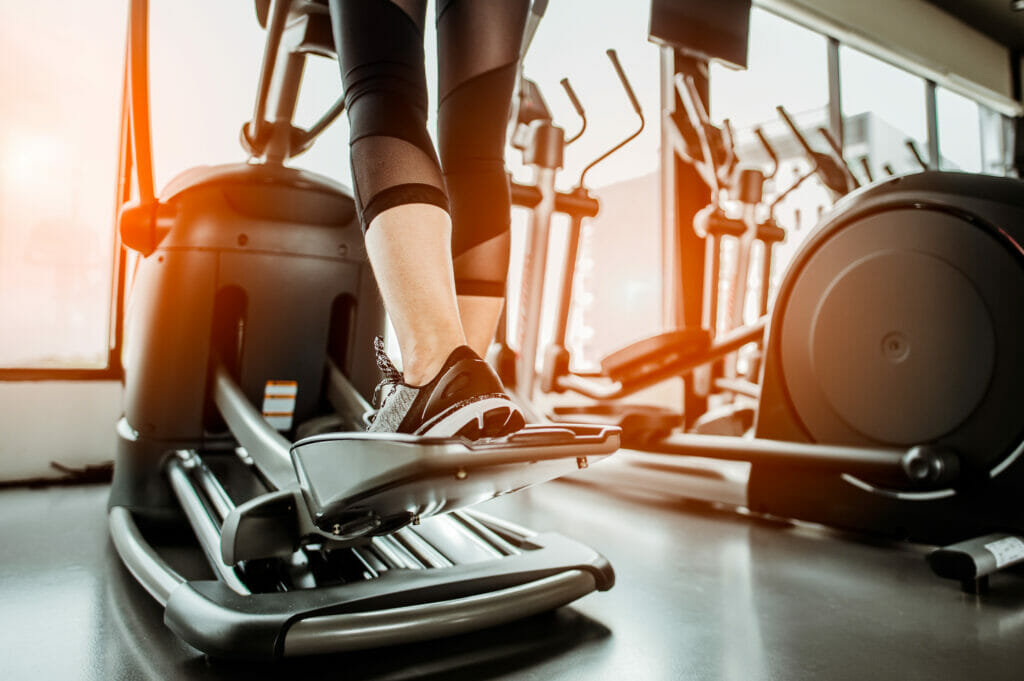 The XE795 is Spirit Fitness's highest-end residential elliptical machine to date and as such, it comes with an impressive ratio of features to price.
With a 30 lb flywheel and 40 levels of magnetic resistance, this elliptical trainer is well-equipped to provide smooth and challenging workouts.
Additional highlights include a commercial-grade steel frame, a self-generating power source, and an included chest strap heart rate monitor.
And since this is Spirit Fitness we're talking about here, of course the XE795 is backed by one of the best residential warranties on the planet.
Overall, if you're looking for a high-end elliptical machine, Spirit's XE795 is a top choice, but before you decide, you have to learn all the facts.
And that's where I come in.
In this review, I'll go over everything this elliptical has to offer, as well as the areas where it falls a bit short.
After reading, you'll know whether or not this is the right elliptical for your home gym.
Let's begin.
The Spirit Fitness XE795 Elliptical
It's no secret I'm a big fan of Spirit Fitness as a brand, but I'll be honest- even I find it hard to tell the difference between some of their elliptical machines.
They offer 5 different models designed for residential use- well, 6 if you count the XE395ENT, but that's really just the XE395 with a fancier console.
Regardless, you have to really do your homework to tell the difference between their XE295, the XE395, and the XG400- the prices are all very similar and there are only subtle differences between the features.
I think I get what they're doing- they want to offer ellipticals at varying price points, so they adjust the features just a little here or there to justify the price changes.
I get it and I'm not hating or anything, but from the consumer's point of view, all these machines kinda look the same.
Luckily, this isn't an issue when you check out their highest-end, XE795.
There are some notable upgrades with this model, as we'll soon discuss, but honestly, it's lacking a few key features you might expect from this price point too.
Speaking of price, the XE795 goes for about $2700 full retail, but you can usually get it for a few hundred bucks cheaper through Fitness Factory.
Pros
20″ stride length
30 lb flywheel
40 magnetic resistance levels
Heavy-duty frame
400 lb weight limit
Self-generating power system
Dual rail system for pedals
12 workout programs
Chest strap heart rate monitor included
Amazing warranties
Cons
No adjustable incline
No bluetooth
No handlebar controls
Stride Length
An elliptical's stride length is an important spec to consider.
Although it simply tells you how far your feet will be traveling apart from each other with each step, it also tells you whether or not you'll fit the machine.
If your elliptical's stride length is too short, you'll feel like you're marching in place; too long, and you might feel like you're having to stretch out too far with each stride.
Either situation is less than optimal and can affect the quality of your workouts.
The XE795 comes with a 20″ stride length, which is right in the sweet spot for home ellipticals.
At this length, folks of most heights should fit comfortably (this is why the 20″ stride has become the gold standard for home ellipticals).
(For more info on finding your right stride length, check out my full stride length guide).
This elliptical comes with a spacious stride, which is great, but it also comes with a heavy-duty frame.
It's true, the term "heavy-duty" gets thrown around a lot by us fitness bloggers and more times than not, it doesn't really mean a lot.
But when I use this term, I try to be as literal as possible.
Like the XE795 which weighs in at 229 lb fully assembled.
Seeing such a high item weight is a good thing because it means the elliptical is going to feel more secure during use- meaning you shouldn't have to worry about this machine feeling wobbly or flimsy.
I'd like to also point out that the XE795 comes with a dual rail system for the pedals- if you look below each pedal to where the wheel makes contact with the rail, you'll notice there's 2 of them.
This feature adds bulk to the system, making for a more secure machine (it should also add a little extra smoothness to the pedal motion).
The overall heavy-dutiness of the frame is also evident when we take a look at the weight capacity- with a weight limit of 400 lb, the XE795 can safely hold larger folks as well as the smaller ones.
Seeing a weight capacity this high is another great sign of how robust the frame is.
Overall, the XE795 scores very highly in the frame department. The 20″ stride is the perfect size for most users and with such a high weight limit, folks of all sizes can safely access this elliptical.
Resistance
A quality elliptical should also have a sophisticated resistance system that's capable of challenging users of all skill levels and feeling smooth while doing so.
The best way to get an idea as to what to expect from the resistance system (without being able to try it out first) is to look at the flywheel weight.
Just like spin bikes, ellipticals packing heavier flywheels usually feel smoother during operation.
This is because the extra weight builds more momentum as it spins, which actually helps keep it moving between pedal strokes (or strides in the case of an elliptical).
Flywheels come in all weights these days, but I think anything over 20 lb is sufficient enough to offer a fairly smooth workout.
With this in mind, the XE795 comes with a 30 lb flywheel.
This is a lot of muscle under the hood for a home elliptical – actually, when I think about it, I'm not sure I've come across any ellipticals with a flywheel heavier than 30 lb…could be an interesting topic for a future post.
Anyway, 30 lb is heavy for an elliptical, but the XE795 also comes with 40 magnetic resistance levels to work with.
Having this many resistance levels is nice because it gives you a lot of wiggle room to play with the intensity.
Keep in mind, having more resistance levels doesn't necessarily mean more maximum resistance output, it just means you can make smaller incremental changes to that resistance.
Which in itself is a benefit.
The XE795 is the only Spirit elliptical that comes with more than 20 resistance levels (20 levels is pretty common for most home ellipticals).
This elliptical scores highly with a heavy flywheel and lots of resistance levels, but it's missing a very popular feature- adjustable incline.
Yup, surprising as it is for an elliptical in this price range, the XE795 doesn't come with any adjustable incline settings.
When I think about it, I believe the XE395 is Spirit's only residential model that comes with an incline feature.
I think the lack of power incline is probably this elliptical's biggest flaw, and I find it quite surprising, considering how popular this feature is with so many users.
So, if you like the idea of being able to adjust the incline to change the feel and target different leg muscles, this elliptical certainly isn't the right option for ya.
Otherwise, the XE795 scores highly with its resistance system.
Features
The Spirit XE795 Elliptical comes with the following features:
7.5″ LCD console- the console on this machine isn't that fancy or anything, but it's big enough and blue backlit to make it easy to see during workouts.
12 workout programs- this elliptical comes with a couple more workouts than most of their other models. Workouts include a manual mode, several standard workout profiles (fat burn, cardio, interval, etc), 2 heart rate guided workouts, and 2 custom user workouts.
Self-generating power- ah, this is one of the nicest features on this elliptical: you don't have to plug it in. It comes with a self-generating power source, meaning you power it while you work out. This means you can put this elliptical anywhere you want without having to worry about having an outlet nearby.
Included chest strap- you can grab the stationary handles to get an idea of what your heart rate is, but the included chest strap offers a much more accurate assessment.
Audio jack- you can plug your phone or mp3 player (do people still use those?) into the included audio jack to listen to your favorite workout tunes through the built-in speakers. Bluetooth speakers would be nicer, but I don't consider it that big a deal either way.
Cooling fan- there's a built-in swivel fan to help cool ya down during those harder workouts.
Water bottle holder- this handy feature gives ya a place to put your, uh, water bottle… hey, hydration is important!
Assembly
If you decide to purchase the XE795, unpacking it and getting it assembled shouldn't be too difficult.
I usually complain about Spirit's assembly instructions, but the ones they provide with this model are actually pretty good.
They've broken the process into more steps, which makes it easier to see (and concentrate on) what's going on with each one.
There are images and well-written instructions describing the process for each step along the way, and luckily, the process itself isn't that complicated.
The main unit comes pre-assembled, so don't worry about messing with the flywheel or anything like that.
You'll simply be responsible for attaching the stabilizer feet, the console/mast, the handles, the pedals, and a few covers.
All of the required hardware and tools are included.
Overall, the assembly process for the XE795 should be very doable for anybody even a little handy, I doubt many will need to pay for professional assistance.
Warranty
Spirit backs their XE795 Elliptical with the following residential warranty:
Lifetime frame
Lifetime brake
10 year parts
1 year labor
Spirit is renowned for their generous warranties and it's easy to see why- this guarantee is almost impossible to beat.
A lifetime warranty for the frame/brake is great, but it's really that 10 year parts guarantee that impresses me most. I say that because most high-end brands stop at 5 years…not Spirit though.
A year on labor is standard, nothing too special going on there.
Spirit also backs the XE795 with an impressive commercial warranty:
Lifetime frame
5 year brake
3 year parts
1 year labor
Not only is it impressive for an elliptical in this price range to come with a commercial warranty, but the one it comes with is better than most.
Overall, a great warranty.
Final Thoughts
Ok, that about does it for the XE795.
I like that this elliptical comes with such a heavy flywheel and the 20″ stride length is right where most folks are going to want it to be.
I also love how heavy-duty this thing is – a 400 lb weight limit is impressive.
And the self-generating power system could be really convenient if you planned on putting your elliptical somewhere that might not have access to a power outlet.
But this elliptical is missing out on some key features most other models in this price range are offering.
Most notably, power incline and bluetooth.
If you don't think you'd miss having incline options and really want that self-generating power, I could see purchasing the XE795 because it really is an elite elliptical.
But personally, I think Spirit's XE395 is a better buy – comes with the same 30 lb flywheel and same great residential warranty, but it also comes with 20 levels of incline and bluetooth (plus it's about $300 cheaper).