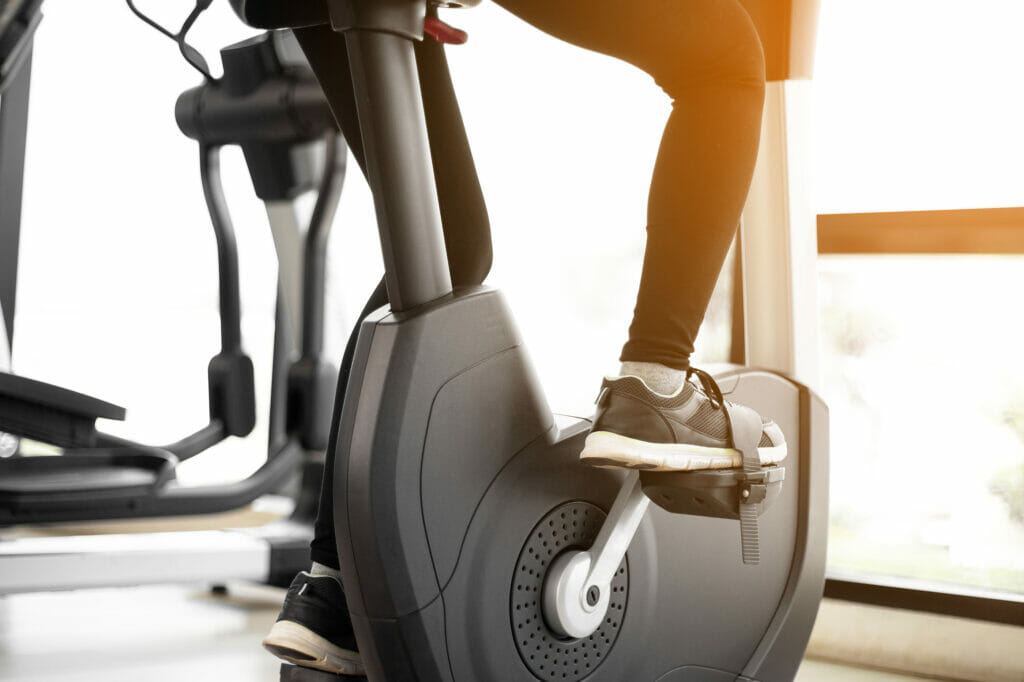 The XBU55 is Spirit's only residential upright bike to date- I guess when you get it right the first time, there's no need to keep trying.
And by that, I mean this is one impressive upright model.
Highlights of the XBU55 include a 30 lb flywheel, 20 levels of magnetic resistance, and a commercial-grade structural steel frame that can safely hold folks weighing up to 355 lb.
And if that wasn't enough, it's also backed by the best residential warranty you're gonna find.
If you're looking for an elite upright bike that's built to last a lifetime, Spirt's XBU55 is a great option. But before you buy, you gotta do your homework- and that's where I come in.
In this review, I'll discuss all the key specs and features this bike has to offer.
After reading, you'll have a much better idea as to whether or not this is the right option for your home gym.
Let's get rollin'.
The Spirit Fitness XBU55 Upright Bike
Spirit is one of the best home fitness brands around. There, I said it.
I like Spirit because their machines are heavy-duty, straightforward, and backed by awesome warranties. What more could you really want?
Well, if you're looking for access to entertainment apps or workout streaming, Spirit probably isn't the brand for ya (although their commercial ENT consoles do offer these features).
Spirit offers both residential and commercial models to choose from and they offer all the standard cardio machines you'd expect.
The XBU55 is the only residential upright bike they offer, but there are a few other commercial rated ones to choose from (the XBU55 is also commercial rated, fyi).
The XBU55 comes with a full retail asking price of $1,699, making it a moderately priced model, but you can usually find it even cheaper through sites like Amazon.
Pros
30 lb flywheel
20 levels of magnetic resistance
355 lb weight capacity
Large, comfortable seat
7.5″ LCD console
10 workout programs
Bluetooth compatibility with fitness apps
Chest strap heart rate monitor included
Audio jack
Easy assembly
Amazing warranty (residential and commercial)
Cons
Resistance
Even though upright bikes aren't usually known for their ability to provide intense workouts, doesn't mean that they can't. If an upright bike has a sophisticated resistance system, it can provide as intense a workout as you want.
The key is having a flywheel heavy enough to get the job done.
And yes, these are the same flywheels we talk about with spin cycles.
Having a heavier flywheel is beneficial for a couple of reasons- for one, the extra weight usually provides a smoother feel because it builds more momentum as it spins (which eliminates lag between pedal strokes).
A heavy flywheel also provides a more substantial workout because it takes more energy to get that extra weight moving.
Personally, I consider any flywheel over 20 lb to be considered "heavy".
With that in mind, the XBU55 scores very highly in this department with a 30 lb flywheel, which is quite heavy for an upright model.
This extra muscle under the hood allows this bike to provide a smooth ride, but it also means it can provide a challenging one.
This heavy flywheel is paired with 20 levels of magnetic resistance, giving folks a lot of control over the intensity of their workouts.
One thing to keep in mind about resistance levels is that having more doesn't necessarily mean more overall resistance- but it does mean that you can make smaller adjustments to your intensity.
Instead of having to make drastic changes with each selection, you can make more subtle adjustments, allowing you to fine tune your workout experience.
Overall, I think the XBU55 scores very highly when it comes to the resistance system. I'm impressed with how heavy the flywheel is (which is rare for an upright bike).
Frame
A quality exercise bike needs an impressive resistance system, but it should also have a stable frame to make sure you don't feel any wobbling or shaking during use.
The best way to tell how heavy-duty a bike is (second to taking it for a test drive) is to look at 2 key specs: the weight limit and the assembled weight.
Seeing higher numbers in both of these specs is a good sign that the bike will feel stable during workouts.
The XBU comes with a 355 lb weight limit, which is very good for a residential upright bike.
It comes with an assembled weight of 100 lb, which is actually lighter than I'd expect, considering comparable bikes like the Sole LCB weighs in at 130 lb (same flywheel weight too).
Spirit machines always tend to be a little lighter than others, and nobody complains about them not feeling stable, so I don't think this is something to worry about there.
Especially considering how high that weight limit.
With an assembled footprint of only 43″ x 22″, this bike doesn't take up much space either.
Overall, the XBU55 scores highly in this category too. With a durable steel frame and high weight limit, you shouldn't have to worry about this bike feeling flimsy or wobbly.
Seat
One of the best things about a quality upright bike is that it comes with a more comfortable seat- especially when compared to indoor cycles.
The large, cushioned seat on this bike is not only comfortable, but it's also fully adjustable, which means you can adjust the height and horizontal (fore/aft) position.
Having a fully adjustable seat is a nice perk because it ensures you'll be able to find a comfortable riding position.
I don't really anything else to say about the seat. Overall, it's large, adjustable, and users seem to agree it's more comfortable than most.
Handlebars
The XBU55 comes with multi-grip handles that allow for multiple hand positions during workouts. This is pretty standard on any self-respecting bike, but it's still nice to be able to change grip during workouts.
There are built-in grip heart rate monitors in the handles as well, allowing you to measure your pulse anytime you like.
The handlebars on this bike aren't height adjustable, but I don't think many users will mind.
Overall, nothing too special going on when it comes to the handlebars.
Features
The Spirit XBU55 comes with the following features:
7.5″ LCD console- the screen isn't super sophisticated or anything, but it's blue backlit to make it easier on the eyes and it's large enough to see easily during workouts. It also displays all your workout metrics at the same time, so you don't have to wait for them to scroll across one by one like you have to on some smaller screens.
10 workout programs- this bike doesn't come with a ton of workouts, but there's enough to get the job done. The workouts include  manual, hill, fat burn, cardio, strength, interval, 2 heart rate programs, and 2 custom programs.
Included chest strap- I mentioned the grip heart rate monitors earlier, but the XBU55 also comes with an included chest strap monitor for more accurate readings.
Bluetooth compatibility- you can connect this bike to several fitness apps for metric tracking and whatnot. These include Spirit's free app, as well as others like MapMyFitness and Fitbit.
Heart rate profile- if you're measuring your heart rate during a workout, you'll also get a reading on the  % profile indicating which heart rate zone you're in.
Audio jack- you can plug your mp3 player up to the console and listen to your workout jams through the built-in speakers.
Cooling fan- there's a built-in fan to help keep ya more comfortable during workouts.
Water bottle holder- yeah, nothing too fancy here, but hey, ya gotta stay hydrated.
Assembly
Putting the XBU55 together should be pretty easy for most folks, although this of course depends how handy you are.
The assembly procedure is very straightforward though.
The main unit comes pre-assembled, so you won't have to worry about doing any of that.
You'd be responsible for attaching the stabilizers, attaching the console mast, the console, and then the seat and pedals.
The trickiest part will probably be snaking the wires through the console mast to attach to the console, but even that shouldn't be that bad (just make sure not to pinch any wires).
The assembly manual is easy to follow too. With large images and well-written instructions, it's easy to figure out which hardware goes where.
Overall, putting this bike together shouldn't be that bad. I'd expect most people can get it done in 30-60 min.
Warranty
Spirit Fitness backs their XBU55 with the following residential warranty:
Lifetime frame
Lifetime brake
10 year parts
1 year labor
Like I said, Spirt warranties are no joke.
You can't beat a lifetime frame guarantee and 10 years is 2x as long as the 5 year warranty most other elite brands offer.
A year on labor is pretty standard, nothing too special there.
Spirit also offers a commercial warranty on this bike:
Lifetime frame
5 year brake
3 year parts
1 year labor
The commercial warranty is also quite impressive, especially for a bike in this price range.
The fact that Spirit offers a residential warranty also goes to show how well-built this bike really is.
Final Thoughts
Ok, that about does it for Spirit's XBU55.
Honestly, I don't have much to complain about here.
I love that it comes with such a heavy flywheel, because this is where most home upright bikes fall short.
I also like that it comes with such an impressive weight capacity, allowing it to accommodate the larger folks out there too.
The console is pretty standard. There aren't any particularly interesting features to speak of, but it's very straightforward to use, so if you like the idea of just hopping on and pushing a button, you'll appreciate this.
The warranty speaks for itself.
Overall, I think this is easily one of the best upright bikes on the market.
The only model in this price range that might have it beat is the Sole LCB, which comes with more resistance levels and bluetooth speakers, although Spirit's parts warranty is 2x as long.
Either way, you can't wrong. Highly recommended.