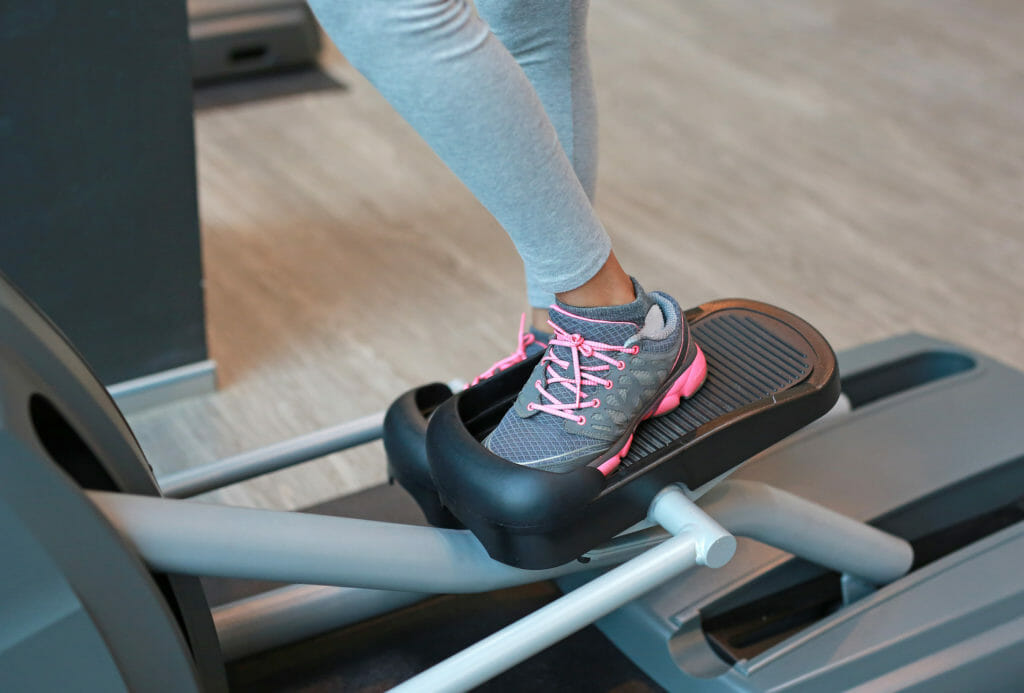 ProForm has a way of meeting all of their consumer's demands, be it style, performance, or budget. The 295 belongs to ProForm's CSE series that's described to be perfect for beginners.
Well, in a nutshell, it's equipped with all the basic tools and functionalities to get you started. 
Priced cheaply at around $400, you get a 14" stride length, 13 lb flywheel, 12 resistance levels, and 12 workout programs. It's a very decent offering for such an affordable machine.
I know it's very tempting to go for the most affordable option out there- especially when you're working with a limited budget. But before you do, it's a good idea to do your homework.
The 295 CSE is a good pick among the cheapest ellipticals. If you want to know why then you need to keep reading. 
In this review, I'll take you on an up-close-and-personal tour of the compact 295 CSE.
After reading, you'll have a much better idea as to whether or not this entry-level machine is worth taking home.
The ProForm 295 CSE Elliptical Trainer
Before getting into the good stuff, let's get to know ProForm.
ProForm is a popular fitness brand. They have been in the industry for 30 years, offering high-quality machines at affordable prices. 
If you're looking for a nice piece of equipment for your home gym, you might've seen several options from ProForm. It's a good buy for most, especially if you want to enjoy a commercial-grade machine at a low cost.
They have treadmills and HIIT trainers, which sell like pancakes. But when it comes to cardio training and ellipticals, you get a competitive selection too.
When comparing their ellipticals, there are plenty of options for you in terms of price, performance, and durability. They're categorized into 4 series: Endurance, Pro, CSE, and Hybrid.
Can you guess which of these ProForm elliptical series offers the cheapest machines?
You got it right if you said CSE. Under its wing are the 295, 495, and 695 models.
So, if you're working on a tight budget, ProForm's CSE series is a great place to start. But remember, affordable ellipticals are usually affordable for good reason.
Ellipticals under $500 are going to come with smaller stride lengths, lighter flywheels, and less advanced consoles. The warranties (if any) will also be less generous.
Pros:
12 levels of magnetic resistance

12 workout apps

iFit-enabled

Pulse grip sensors

Integrated tablet holder

Transport wheels

250 lb weight capacity
Cons:
No incline

Small stride length

Small flywheel

Not telemetric

90-day warranty only
Stride Length
The stride length measures how far your feet move front to back during the elliptical's motion.
You should prioritize stride lengths when looking into ellipticals as they can make or break your workout experience. If the stride length is too small, it's going to feel like you're marching in place. If it's too long, you'll feel stretched and off-balanced. 
But how long is good enough?
The optimal stride length for most users is 20″, which is perfect for users who are 5'3″ to 6'0″ tall. But if you're shorter, you can aim for 16" to 18" and probably get along just fine.
As I mentioned above, stride length and price often go hand in hand, with cheaper ellipticals coming with smaller stride lengths.
Just because a machine comes with a small stride length doesn't mean you can't get a solid workout in on it, it just means it's going to feel a whole lot different than the ellipticals you've used at Gold's before.
This said, the 295 CSE has a 14″ stride length.
This is very small when compared to the 20″ gold standard for home ellipticals. But when compared to other ellipticals in this price range, it's pretty average.
With a stride length this small, I think it's safe to say shorter users are going to be more comfortable than taller ones.
The 295 CSE has a sturdy steel frame to ensure a stable, durable workout. This frame can handle users up to 250 lb, which isn't bad for a machine in this price range.
Overall, considering the price range we're in here, the 295 CSE has a decent offering with its stride length and weight capacity. That said, this elliptical is better suited for shorter and smaller folks.
Flywheel
Ellipticals use a perimeter weighted flywheel to provide the resistance. As you pedal, your flywheel spins and creates your resistance with its magnetic system. These machines use flywheels just like spin bikes.
When searching for an elliptical to add to your home gym, it's a good idea to aim for heavy flywheels because the extra weight builds more momentum as it spins. This usually gives a smoother ride, and oftentimes, a quieter operation.
Much like stride length, flywheel weight seems to correspond directly with asking price. More expensive models usually come with heavier flywheels and vice versa.
How heavy is heavy enough to ensure smooth operation? Well, there's no rule written in stone here, but personally, I'd go for at least a 20 lb flywheel. 
Machines with flywheels this heavy are more likely to provide smooth workouts. They're also more likely to be able to provide enough resistance for more intense workouts.
ProForm's 295 CSE comes with a 13 lb flywheel. This is very light, but given the price range, it's actually pretty average. Remember, ellipticals this budget friendly are so priced for reasons.
Don't expect to get an intense, hardcore workout from a flywheel this small, but for people looking to get the blood flowing and the heart rate up a little, it should get the job done.
This elliptical offers 12 digitally controlled resistance levels. This is actually pretty good for an elliptical in this price range, definitely gives you some control over your workout intensities. 
What's actually missing here are the incline features that we often see from ProForm's elliptical selections. Inclines are great because you can focus on specific muscle groups and add some variety to your workouts.
But again, for this price point, it's forgivable.
Overall, the flywheel is quite small on this model, but you do get 12 digital resistance levels to work with.
Features
The ProForm 295 CSE comes with the following features:
LCD feedback display: You can watch your power output right on the console. It shows your workout parameters for easy tracking.
12 workout programs: The 295 CSE is loaded with effective workout programs that are designed by professional trainers. Having this many training options is a solid alternative if you decide against the optional iFit subscription.
iFit compatibility: iFit is a fitness app that gives you unlimited access to exercises led by virtual coaches. This lets you track all your workout data, access scenic trails, and more. If you buy the 295 CSE, you get to enjoy a free 1-year iFit subscription. After that, you'll have to pay a monthly subscription fee to access.
EKG pulse grip sensor: The 295 CSE comes with a standard grip heart rate monitoring feature. You can get your pulse readings by gripping its movable handlebars.
Oversized pedals: They're oversized and cushioned for a more comfortable workout session. 
Dual 2" speakers: The port is compatible with iPod and most MP3 players and other devices, and the dual speakers come with volume. 
Water bottle holder: Hydration is important in every workout session.
Integrated tablet holder: The tablet holder is conveniently located above the display screen. You can easily watch a movie or browse your social media apps while exercising. 
Assembly
This model, even though significantly smaller than the other CSE units, involves more assembly to get it running. The other CSE models are more or less ready to go right out of the box- the 295 CSE requires a little work.
It's nothing too complicated, but there are plenty of steps that involve attaching the stabilizers, attaching the upright and console, as well as the handlebars.
You even have to attach the pedals on this model.
Luckily, this elliptical is really small and easy to move around. ProForm also does a pretty good job with the assembly instructions. They provide written directions as well as images for each step, making it pretty easy to figure out what goes where.
Overall, most users should be able to get this elliptical up and running on their own, I doubt many will require professional assistance. I'd expect to spend an hour or so putting the 295 CSE together.
Warranty
The ProForm Pro Smart Strider 295 CSE comes with the following warranty:
Parts: 90 days

Labor: 90 days
This seems a huge drop from the warranty offered of the next model up, the 495 CSE, which offers a lifetime warranty on its frame and 1 year on parts and labor.
But this is what we usually see in the sub-$500 price range. Honestly, there's no guarantee that machines in this price will come with any warranty at all.
The short warranty offered on this model doesn't provide much peace of mind.
Final Thoughts
If you're looking for an elliptical in that $300-$400 range, it's a good idea to have realistic expectations. If not, you're almost guaranteed to be disappointed.
The reality is, ellipticals this affordable are going to come with smaller stride lengths, smaller flywheels, and pretty crappy warranties.
Again, this is why these machines are cheap to begin with.
But, when you're on a tight budget, you gotta do what you gotta do.
When compared to other machines in this price range, ProForm's 295 CSE scores pretty highly. Although the stride length and flywheel are small, at 14″ and 13 lb respectively, it could be worse (as other cheap models demonstrate).
The console here is surprisingly sophisticated and comes with a generous selection of workouts to choose from.
All things considered, the 295 CSE is easily one of the best cheap ellipticals around. For the price, you're not going to find better.