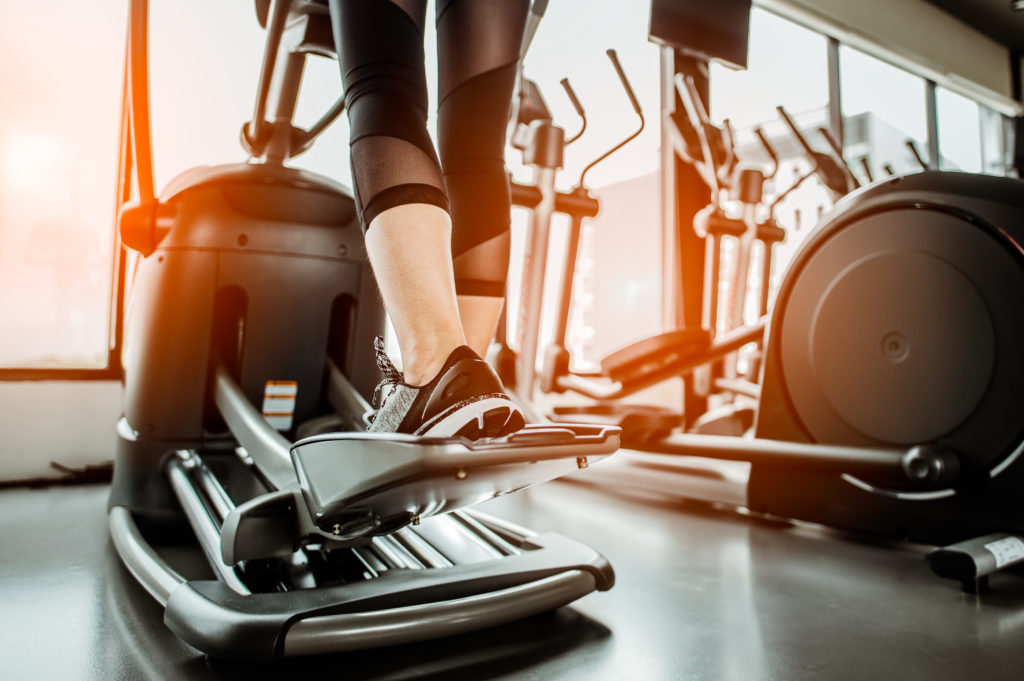 ProForm's Smart Strider 895 CSE is a rear-drive home elliptical with a pretty nifty space-saving feature…it folds. This is a game changer for the smaller workout areas that wouldn't be able to fit a full size elliptical otherwise.
But let's be real- just because it folds doesn't mean it's a good buy.
There are all kinds of crappy folding ellipticals available these days, all of which are proof that being compact and folding isn't necessarily a good thing when it comes to ellipticals.
Is ProForm's Smart Strider 895 CSE any different?
Well, that's what this review is going to help you figure out. This article will take you on an up-close-and-personal tour of everything this elliptical machine has to offer: the good, the bad, and everything else in between.
I want to start things off with an introduction to ProForm.
ProForm 101
ProForm is one of the biggest names in home fitness. I say this without any real data to back it up, but they're definitely one of the most recognizable home fitness brands around.
They're especially well-known for their treadmills and HIIT trainers, but I think their ellipticals are some of the best around too.
The ProForm brand is part of the larger home fitness dynasty known as ICON Health & Fitness. ICON owns another top fitness brand you may have heard of before- a little brand by the name of NordicTrack.
Between ProForm and NordicTrack (as well as a few other brands), ICON gets their hands on a large chunk of the cash we spend on home fitness equipment.
ICON also owns iFit, their fitness technology brand. This is why all ProForm and NordicTrack equipment is compatible with this fitness app.
It's also why ProForm pushes it on you so aggressively, but more on that later.
Overall, ProForm has a great reputation. They've been in the fitness game for over 30 years and have expanded to include a little bit of everything cardio related.
They concentrate on providing budget friendly and moderately priced equipment that is well-built and user friendly.
They're also known for backing their equipment with sold warranties, something we shouldn't take for granted these days.
ProForm currently has 3 different elliptical series to choose from: the Endurance series (their most budget friendly machines), the Pro series (most high-end), and the CSE series (folding).
The ProForm Smart Strider 895 CSE Elliptical
I think we can all agree the full name for this elliptical is a real mouth-full, so I'll simply refer to it as the 895 CSE from now on.
The 895 CSE is ProForm's highest-end option in their CSE series and is the only folding elliptical ProForm sells directly from their website. You can still find their other CSE models (495 CSE and 695 CSE) on Amazon.
Even as their most expensive folding model, the 895 CSE is priced as a budget elliptical (under $1000).
Pros
Convenient folding frame
24 levels of resistance
10° of power adjustable incline
32 built-in workout programs
7″ HD touchscreen display
iFit compatible
325 lb weight capacity
Chest strap heart rate monitor included
Adjustable position pedals
Easy assembly
Great warranty
Cons
Only an 18″ stride length
Only an 18 lb flywheel
Some complaints about customer service
Stride Length
I like to start my elliptical reviews off by examining the stride length. Personally, I think this is the most important spec on an elliptical. And it's because this is what's going to make or break it when it comes to comfort.
Just in case you aren't sure what I'm talking about here, the stride length is the actual distance the pedals move apart from front to back when you're using the machine.
This distance is measured in inches and is crucial to the feel of an elliptical. If the stride length is too small, you're going to feel like you're marching in place.
It's rare to have a stride length that is too long, but if that were the case, you'd feel like you were stretching out too far between strides- something that would probably be just as uncomfortable.
The optimal stride length for home ellipticals is 20″- at this size, most users can use an elliptical comfortably.
The 895 CSE comes with an 18″ stride length, which isn't awful, but it would be better if they'd stretched it out and given us that 20″ distance.
I'm willing to give ProForm a little slack here since the 895 CSE is designed to fold vertically for storage- maybe the design worked better with the smaller stride length.
But the Horizon Evolve 3 was able to fit a 20″ stride length on a folding frame… just saying.
Speaking of frames, the 895 CSE comes with a solid steel one that can hold users up to 325 lb. This is pretty impressive considering this frame is designed to fold for storage.
Overall, this elliptical's stride length is a little on the small side, but knowing that the frame is strong enough to hold 325 lb users and still fold for storage is a definite plus.
Flywheel
The flywheel is another important feature to consider when comparing ellipticals. The flywheel is responsible for turning and creating the resistance during use.
When it comes to flywheels, heavier is usually better because the extra weight creates more momentum, which results in a smoother ride with less chopping between strokes.
For an optimal feel, 20 lb flywheels or heavier are preferred.
The 895 CSE comes with an 18 lb flywheel. Just like the stride length, this is decent, but could be better. This is in the range we should expect for ellipticals in this price range, but again, there are plenty of other similarly priced ellipticals with much heavier flywheels.
To give you control over that flywheel, this elliptical comes with 24 levels of ProForm's patented magnetic resistance (SMR- silent magnetic resistance).
This is a lot of resistance to play with and will give you a lot of control to fine tune the intensity of your workouts.
The 895 CSE also offers power adjustable incline up to 10°- a nice feature to add some extra variety and intensity to your routines. It's nice to see power incline on this machine because a lot of budget ellipticals don't have it.
You can control both the resistance and the incline with the quick touch buttons on the console. Simply hit a button and you can instantly adjust your settings (comes in handy for interval training).
Overall, the 895 CSE comes with a decently sized flywheel, but could be heavier to ensure a smoother ride. On the other hand, it comes with a ton of resistance control and the inclusion of power incline is a great feature.
Features
Speaking of features, the 895 CSE comes with the following:
32 workout programs- this elliptical comes with a boat-load of workouts to choose from. Even if you don't want to go in on the iFit subscription, you'll have plenty of options to choose from.
7″ HD touchscreen display- ProForm prides itself in their hi-tech displays. No wonder, an HD touchscreen on an elliptical in this price range is rare. It'll come in handy if you use the iFit workouts.
iFit membership- ProForm throws in a complimentary 1 year membership to their fitness app, iFit. With this app, you can access to unlimited custom workouts from personal trainers right on your elliptical. After the year is up, it'll cost you about $15 a month to access. Just know you can still use your elliptical without an iFit membership.
Wireless chest strap included- not only is this elliptical compatible with chest strap heart rate monitors, ProForm includes one with your purchase.
Folding frame- I've mentioned this already, but this is a folding elliptical. You can fold it in half and store it vertically with the pull of a pin. Great space saving feature.
Adjustable position pedals- you can adjust the position of each pedal to ensure a comfortable fit. Each pedal can be adjusted to one of 3 available positions.
Tablet holder- the built-in device holder has a clamp to make sure your tablet doesn't come lose and fall during your workout.
Audio port- plug your mp3 or smart phone into the audio port to jam out to your favorite music through the built-in speakers.
Cooling fan- the built-in fan has 2 speeds to choose from to help keep you cool and comfortable as you exercise.
Assembly
ProForm designed the 895 CSE to be as ready-to-use out of the box as possible. They actually did a pretty good job. There's only a few steps between opening the box and having this elliptical ready to roll.
You basically just have to attach the stabilizer feet and connect the handles to each leg. Everything else really comes pre-assembled.
If you really take your time on it, it might take you 30 minutes, but I bet it'll be closer to 15 min.
The instructions are easy to follow with images and written directions. Overall, assembly on this elliptical is a piece of cake. Just keep in mind this thing weighs about 200 lb, so you might want a second person around for moving it.
Warranty
ProForm backs this elliptical up with the following warranty:
Lifetime frame
3 year parts
1 year labor
This is a great guarantee for an elliptical in this price range. You can't beat lifetime on the frame and 3 years is as good as it gets for a budget elliptical. A year on labor is also industry standard. Overall, well done here ProForm.
Final Thoughts
ProForm's Smart Strider 895 CSE is a budget friendly elliptical with some respectable features. Having the ability to fold in half and be stored vertically is quite impressive and will definitely allow this machine to fit in homes that otherwise wouldn't have the space.
But besides the folding feature, the 895 CSE has plenty to offer.
This elliptical is loaded with pre-installed workout programs and the large, touchscreen display makes viewing and choosing your workouts a breeze.
I also like the power incline settings, which aren't a given on ellipticals in this price range.
My only real complaint here is that the stride length and flywheel are a little on the small side. But if you're looking for an entry level elliptical, I don't think it'll be much of an issue.
Otherwise, I think this is a nice home elliptical with a great warranty. I would definitely consider this a good buy.