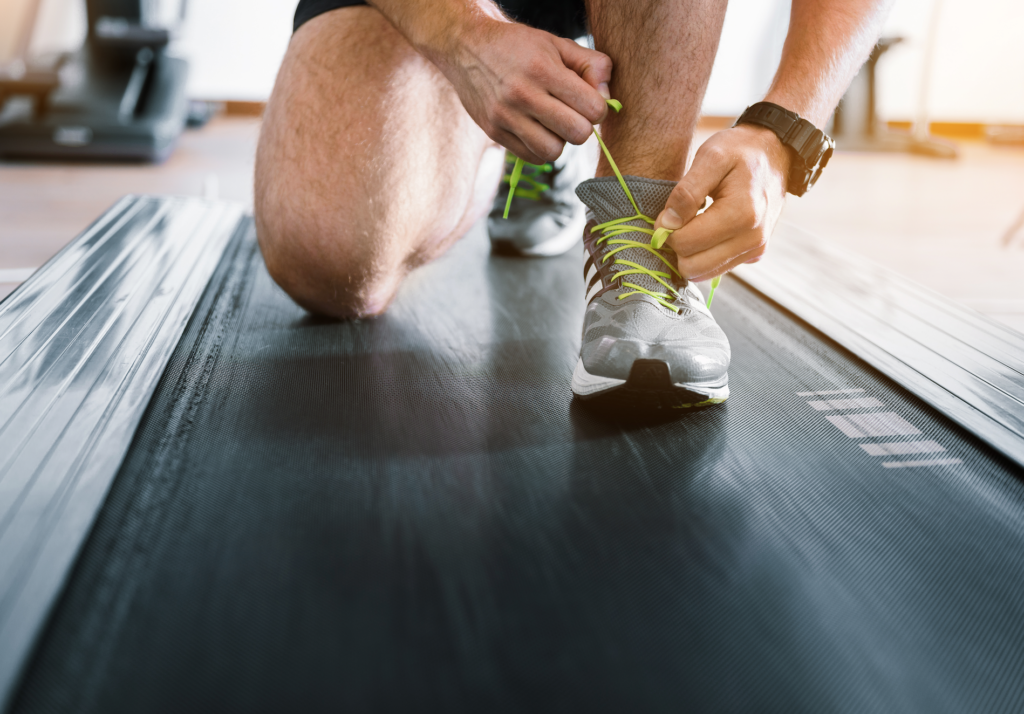 It's easy to get excited about the ProForm Pro 1000 Treadmill. This machine is all about beauty, sophistication, and functionality- and it's a pretty good deal in its price range.
It has a top speed of 12 mph, a large frame motor, and iFit program access. But there's more- it also comes with a 6″ backlit display and 22 onboard workouts. 
The ProForm Pro 1000 treadmill also features incline training with powered, automatic adjustability. Paired with its Google Maps (TM) training, you can select any route across the globe for a unique, entertaining and completely customized experience. 
Want to casually jog along Grand Park? Check. Take an uphill adventure in Runyon Park? Check.
It's also foldable, so you won't have to sacrifice your living space for your fitness habit. 
In a nut-shell: the Pro 1000 has a lot to offer.
If you're eyeing this model for your home gym, then keep reading. This review will give you an idea if it fits your training needs and personality. 
The ProForm Pro 1000 Treadmill
Before we dig into the Pro 1000, let's get to know its manufacturer, ProForm.
ProForm is a popular home fitness brand. They've released premium machines at reasonable prices for over 30 years.
Their equipment lineup falls mostly in the $500 to $2000 price category, which I think seems fitting for the high-quality machines they're offering. 
ProForm is a sister company of other famous brands like Weider and NordicTrack. They all belong under the ICON Health & Fitness company, a large multi-brand organization that also owns the iFit brand.
That's why all these brands offer machines that are iFit compatible.
What people love about ProForm is that they design their products with super durable frames, sophisticated software, and great warranties. Qualities that are guaranteed to make you popular.
ProForm has a variety of options for cardio training and ellipticals, but they're best known for their HIIT trainers and treadmills. 
Long-story-short: ProForm is a trusted home fitness brand. The Pro 1000 is one of their older models and has since then been improved upon with more updated models like the Pro 2000, 5000, and 9000.
Pros
Foldable frame

Large running surface (20″ x 60″)

Top speed 12 mph

Power incline to 12%

22 built-in workout programs

iFit Ready

Tablet shelf

6″ backlit LCD

Smartphone-compatible with port 

2″ speakers

Cooling fan

325 lb max weight capacity

Lifetime guarantee on frame and motor

3-year parts warranty
Cons
Standard roller size

No telemetry heart monitoring
Running Surface
If you're new to treadmills and you're thinking about buying one, there are a number of elements you need to consider, like comfortable features and motor. But above all, you have to prioritize assessing its running surface.
Running surface describes the actual dimensions of the belt area you will be using (walking or running). It's measured in inches (width x length).
Running surfaces that are too small can make you feel cramped. Too narrow, and you'll fear to fall off if you stray a little. If it's too short, you may need to shorten your stride.
These situations make you feel self conscious as you exercise, reduce your comfort level, or put you at risk of accidents.
Treadmills that offer more legroom give you a more comfortable workout experience. The gold standard for home treadmill treadmill running surfaces is 20" x 60".
At this size, most users can comfortably walk or run without having to alter their stride.
The Pro 1000 has a running surface of 20" x 60".
The 60" length gives your legs plenty of room to stretch out your stride, while the 20" width offers more elbow room. Both short and tall users should be able to stretch out comfortably while running at top speeds, without shortening their stride length.
I love how the Pro 1000 offers a spacious running surface because it gives the machine a more commercial feel. Moreover, it has a heavy-duty frame that can accommodate a maximum weight capacity of 325 lb.
Most treadmills come with a 300 lb capacity, but there are many models out there that can handle users between 350-400 lb. 
At 325 lb, the Pro 1000 is considerably more than what's usually expected and can accommodate the majority of users safely.
The deck is also equipped with the brand's ProShox™ Cushioning system. It's designed to give you softer landing with every step. It reduces stress on your joints, thereby letting you enjoy a longer workout session and a faster recovery time.
With its awesome cushioning system, the Pro 1000 is perfect for those users dealing with arthritis or joint pain.
Folding treadmills are common these days. It's a nice space-saving feature, a hallelujah if you have a limited workout space at home. And for machines under this price category, it's somehow expected.
The Pro 1000 comes with a small footprint of 59.25″ x 36.63″ x 79.62″, but you can also fold it up and out of the way when you're done with your workout. With its EasyLift™ Assist, you can easily collapse your machine and store it at a corner.
To wrap it up, the Pro 1000 is a piece of impressive equipment. From its running surface, frame durability, and simple, hassle-free storage, it surely scores highly from any price point.
For an entry-level selection, the Pro 1000 scores highly in the frame department.
Motor
Now, we're getting into the next big thing when buying treadmills — the motor.
Motor strength is very important as it ensures how smooth and quiet your exercise will be. Stronger motors give smoother, quieter, and more long-lasting workouts (because the motor won't have to work as hard during use).
Ideally, treadmill motors should be within the 2.0 to 4.0 CHP range. 
The Pro 1000 comes with a 3.00 CHP Mach Z™ Commercial Plus Motor. It's a large-frame motor that stays cool through the toughest workouts, which seems pretty awesome for heavy use. 
It has a top speed of 12 mph. Well, not everybody can run at 12 mph, but it's good to have a machine that can totally match sprinters at a crazy speed.
The Pro 1000 has QuickSpeed® buttons so you can adjust your intensity instantly.
But a favorite feature of the Pro 1000 is its 0 to 12% Digital Quick Incline™ Control. This means you can practice walking or running on an incline position, which is best in preparing yourself for a road race or hiking adventure.
Since the Pro 1000 is a pioneering model in its series, you can expect its successors to have better incline AND DECLINE settings, like the Pro 2000 that gives -3 to 15%.
With a motor this strong, it's about right (and necessary) that the Pro 1000 has 1.9" precision-machined, balanced, non-flex rollers. They help decrease the tension as you exercise, keeping wear and tear to the belt and rollers to a minimum. 
Larger rollers also do wonders with improving the grip and reducing noise on every performance. That's because they make more contact with the belt when propelling it. 
The 1.9" rollers are standard, and 2.5" is more preferred. But most users agree that the Pro 1000 operates very well.
Overall, the Pro 1000 does not disappoint with its motor strength. It can handle users at any pace, comfortably and smoothly.
Features
Below are the features of the Pro 1000:
6" Backlit Display: It's a good screen size that lets you easily see the important parameters of your workout, like speed, time, distance, inclination, heart rate, scan mode, and calories burned. It works very well with the iFit app too.
22 Programs: They are designed by a certified personal trainer. This gives a variety of challenges that will target any of your fitness goals, whether calorie-burn or speed.
iFit-enabled: You can connect your smartphone or tablet to the Pro 1000 and enjoy new workouts with your iFit app. This seems really enjoyable as it has an iFit® Coach that will lead you to GlobeTrek™ and LiveCast™ workout classes. 
You can watch video workouts with celebrity personal trainers or choose trails from Google Maps™. The machine will automatically adjust the incline to match your chosen terrain. 
It's super cool and I love this feature. The only downside is that you have to pay a monthly fee for the iFit subscription. You have 3 options: a Yearly Family Plan for $396/yr, a Monthly Family Plan for $39/mo, and a Yearly Individual Plan for $180/yr.
Should you subscribe to iFit? Well, that depends on your preferences. 
You can exercise and burn tons of calories without the iFit subscription. But if you like taking on new adventures with your Pro 1000 and enjoy new feats during your workout, then it's a good add-on to your experience.
Bluetooth-ready: You can connect your smart gadgets wirelessly through Bluetooth, but this machine also has ports if you want to hook up your devices.
EKG Grip Pulse Heart Rate Monitor: The handlebars of the Pro 1000 has two hand-grip sensors. It's a nice touch for any fitness equipment as it lets you monitor your heart rate as you train. However, some users complain that these sensors aren't accurate. Wireless heart monitoring features would be better.
Cooling fan: It comes with 2 settings to keep you cool and comfortable. Other models have cooling fans that are so weak you wouldn't even know they exist. So far, users can agree that the Pro 1000's cooling fan does its job.
Tablet holder: You can read or watch movies conveniently without blocking the LCD screen.
Assembly
The Pro 1000 comes with straightforward 18-step assembly instructions. They are illustrated and easy enough to follow. 
The packaging comes with an Allen wrench, but you need additional tools like the Phillips screwdriver and a wrench. It would've been nice if the company is generous enough to provide all of these tools. But at this price point and premium features, it's forgivable.
Putting up the Pro 1000 is simple, but it's a big and heavy treadmill so it's better to have someone else to help you.
This may take some time before getting everything done perfectly. But if you're skillful enough, you might finish the assembly in about an hour.
Warranty
ProForm is known for having products with generous warranties, and it's one of the many things I adore from their Pro 1000:
Frame: Lifetime

Motor: Lifetime

Parts: 3 Years

Labor: 1 Year
All treadmills on the ProForm website are sold with 30-day money-back guarantee as well.
The lifetime warranties are pretty fantastic, and the 3-years on parts is very fair at this price point. 1-year labor seems standard. Overall, a very solid warranty on this treadmill.
Final Thoughts
I think ProForm's Pro 1000 has a lot going for it. For an entry-level treadmill, it has a strong motor, spacious running surface, and plenty of workouts to choose from.
And if you're interested in streaming workouts, the iFit compatibility gives you access to hundreds of workouts to choose from.
The Pro 1000 is also backed by a generous warranty, something that shouldn't be taken for granted in this price range.
Even though this is one of ProForm's older models, it could be a good fit for users looking for a good deal. ProForm has discontinued this model, but you may still be able to find it through third party sites.
If you're looking for a larger screen and upgraded tech, you may want to consider their Pro 2000– the price difference is small.