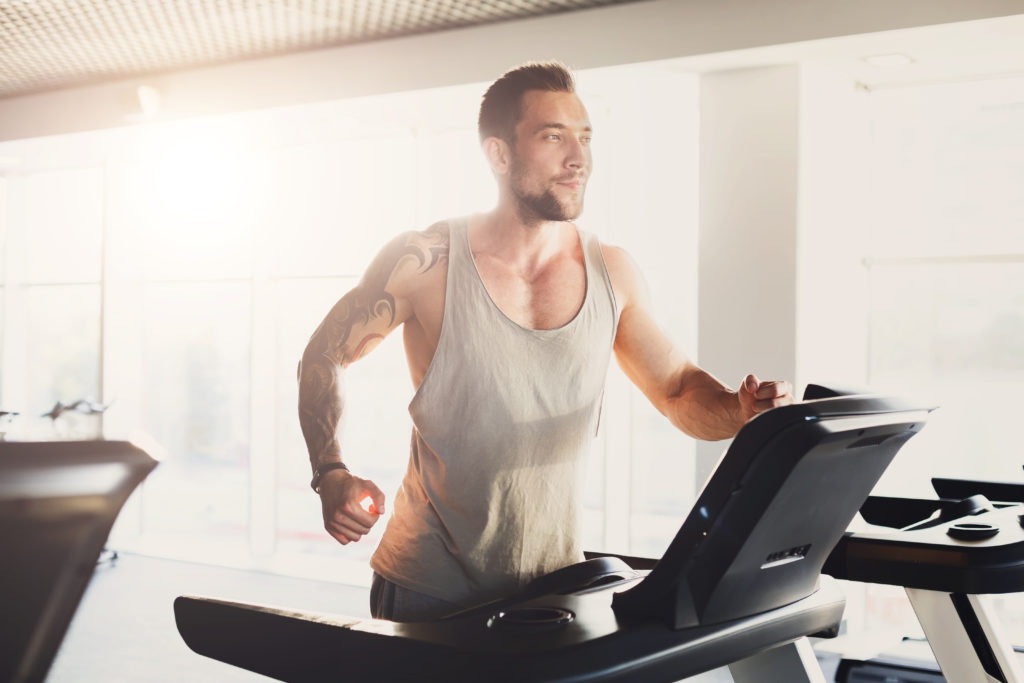 The ProForm Power 995i is an awesome treadmill for under $1000. It has a solid build with some fantastic features like a large 60" workout area, 12 mph quick speed controls, and up to a 15% quick incline.
It's 30 workout apps are very promising as it offers a variety of training options for your home gym. Pair that with a 3.0 CHP motor and you can enjoy smooth and quiet workout sessions with the Power 995i.
It's also iFit-ready, giving you access to almost unlimited workout options. You can train with a celebrity coach or pick any location from Google Maps and the machine will automatically adjust its incline according to your chosen terrain.
Sounds fun right?
If you're thinking about purchasing the ProForm Power 995i, you've come to the right place.
In this review, I'll walk you through everything you need to know about this treadmill. After reading this post, you'll be able to decide whether or not  it's worth taking home.
Let's get started!
The ProForm Power 995i Treadmill
Before we get to the meat of the matter, here's a bit of an appetizer.
Did you know that ProForm is under the ICON Health & Fitness company?
Yes, you read it right.
ProForm is owned by ICON Health & Fitness. It's also the mother company of Weider and NordicTrack and even the popular fitness app called iFit. This should explain why machines manufactured by these famous fitness brands are all iFit-ready.
When it comes to high-quality machines, ProForm always makes the list. Being in the industry for over 30 years, they've proven well enough that they're one of the superstars in their niche.
They've made quite a name when it comes to home fitness machines with fun features. Think about interactive workouts and touchscreens. With ProForm, exercising doesn't have to be so boring. 
But amidst ProForm's crazy training challenges and sophisticated consoles, what really captures my heart is their lifetime warranty offerings. 
I know everybody has different preferences when looking for home gym equipment. Mine just happens to be about warranty.
Longer warranties make me feel secure with my purchase. Finding out that ProForm offers lifetime warranties, was like music to my ears.
But we'll get to that later.
ProForm is known for their treadmills and HIIT trainers. But they also offer an interesting selection of exercise bikes and ellipticals.
Their Power 995i is a popular model, however it doesn't look like ProForm is still offering it directly. Luckily you can still find it on 3rd party sites. So without further ado, here's the Power 995i in a nutshell:
Pros
Foldable frame

Large workout area (20″ x 60″)

3.0 CPH

Top speed 12 mph

Power incline of 0—15%

30 built-in workout programs

iFit Ready

Tablet shelf

7" backlit display

Smartphone-compatible with port 

2″ speakers

Cooling fan

350 lb max weight capacity

Great warranty
Cons
No touchscreen LCD

No telemetry heart monitoring
Running Surface
Whenever I start examining a treadmill, I always start with the running surface.
The running surface is the belt area of the machine. It's where you do all your walking and running. Its actual dimensions are measured in inches (width x length).
The running surface should be spacious enough to make you safe and comfortable during training. It must provide enough legroom to stretch your legs. Too narrow and you'll feel uneasy, fearing about falling off anytime as you run or walk.
Too short and you may have to shorten your stride. Both situations are less than optimal.
The gold standard for home treadmills is a running surface of 20" x 60". This should be the most sufficient size for users of most heights to comfortably do their workouts.
It can accommodate those with longer legs. Those with shorter limbs should have no problem at all.
The Power 995i comes with an exact 20" x 60" running surface area. This means most people should be able to run at top speeds and incline levels comfortably without running out of space.
This treadmill comes with a heavy-duty frame that can safely hold up users weighing up to 350 lb. Many treadmills in this price range come with a 300 lb capacity, so it's quite awesome for ProForm to offer 50 lb higher than what's usually expected.
They have widened their user range just by stepping up their max user capacity. Having a higher weight capacity is indicative of frame strength (with higher equating to stronger).
The Power 995i also has a reinforced deck equipped with the brand's ProShox™ Cushioning system. It gives a softer landing with every step. It reduces the impact on your joints and improves your recovery rate.
This seems very important, considering that they offer a fun mix of training levels. Whether you do soft or hardcore training with the Power 995i, your joints won't suffer as much as other training brands.
ProForm mentioned on their site that their ProShox™ Cushioning system is 28% gentler on your joints compared to pavement training. If this claim is true, the Power 995i should be a wise choice for your home gym, especially to those with joint problems.
Factor in its space-saving design and you've got a winner. The Power 995i is foldable. After using it, you can easily fold its tread belt upwards without breaking a sweat. 
The Power 995i already comes with a small footprint when not in use, so this shouldn't occupy too much space at home. But its foldable design and Easy Lift Assist technology can be very handy for those with limited training spaces.
Overall, when it comes to the frame department, I'm impressed.
It's truly an impressive machine and it offers more than what's expected in its price range. It has a roomy belt area, a heavy-duty frame, and a simple storage system. 
Motor
Let's check the next big thing when considering a treadmill: motor.
When it comes to treadmill motors (and probably all motors), stronger is better. That's because stronger motors don't have to work as hard as weaker ones to provide the same output. 
This means they should last longer, as well as provide quieter and smoother operation.
Treadmill motors ranging from 2.0 to 4.0 CHP should be strong enough to provide smooth workouts.
The Power 995i has a 3.0 CHP Mach Z™ Commercial Pro Motor.
The 3.0 CHP is pretty average for this price range, but this should give you enough power consistency throughout your session. It's also good for heavy use without experiencing hiccups or pauses as you train.
The Power 995i has a top speed of 12 mph. Not everyone can sprint at 12 mph but it's a good option for an increased training variable. It's also easy to shift your speed from 0 to 12mph with its digital buttons placed right in front of you.
It's cool for the Power 995i to have up to 15% incline level. It's perfect for when you want a low-impact exercise while burning some serious calories, such as walking at a 10% incline.
Other ProForm options, like the ProFrom Pro 2000, offer -3 to 15% incline levels. You can enjoy some uphill or downhill challenges.
It's a very exciting feature if you'll use it with Google Maps. The machine will automatically adjust its incline levels depending on your chosen terrain.
But if you ask me, the Power 995i is pretty impressive considering the price. It offers a mix of challenging workouts with its incline and speed settings. This should be enough to target any of your training needs.
Its 2.5" non-flex rollers are perfect to support your workouts with the Power 995i. They help decrease tension as you exercise as well as the wear and tear of the belt and rollers. 
Of course, the larger the rollers the better. Large rollers can provide better grip and noise reduction on every operation, and that's because they make more contact with the belt.
Most machines carry 1.9" rollers. It's the generic size. The Power 995i, on the other hand, has large rollers with 2.5" diameter. 
So far, the Power 995i has a lot to offer. I like that it has a powerful motor and larger than normal rollers. The top speed an incline settings are what we'd expect from a quality budget treadmill.
Features
7" Backlit Display: Large LCDs are best because it's easier for you to monitor your training parameters like speed, time, distance, inclination, heart rate, scan mode, and calories burned. 
Many users complain about squinting on the screen just to see their training metrics. Luckily, the Power 995i has a large, backlit screen with a very vivid display. 
Looking at its screen must be very nice, especially if you're using the iFit app. You can enjoy watching the celebrity coach or seeing the topography from your chosen Google Map destination at comfortable screen size.
Its large backlit display is fantastic, but many newer models at this price point offer touchscreens already. 
30 Programs: The Power 995i is filled with many fun challenges to target your training goals. You can choose from its 20 calorie-burning workouts or 10 workout routes powered by Google Maps. 
iFit-enabled: Using the iFit would give a powerful punch to your workouts. You can get unlimited access to different training sessions, coaches, and many more. However, it's worth mentioning that you need to pay for the subscription.
I believe you can get the most experience of your Power 995i with the iFit. But given its 30 pre-set workouts and incline and speed settings, these should be enough to enjoy many exciting challenges even without the iFit subscription.
Bluetooth-ready: A wireless connection is possible with the Power 995i, but if you want to hook up your device, it also has ports available. 
2" Bluetooth speakers: Many users mentioned that the speakers work really well. This should give you that extra boost when you listen to your favorite workout playlist.
EKG Grip Pulse Heart Rate Monitor: The Power 995i has contact pulse sensors located on its handlebars. It's a standard feature so you can easily monitor your cardio health as you exercise. Even cheaper models have them, so I'm not surprised to see this from a fantastic machine priced under $1000.
However, telemetry heart monitoring could've been better. Grip EKG monitoring can be tricky, and its reading can be easily affected by several factors like your handgrip strength.
Coolaire workout fan: It comes with 2 settings to keep you cool and comfortable. It also has a water holder to make hydration easy.
Assembly
The Power 995i is easy to assemble.
The package consists of all parts, a basic toolkit, and a manual. The assembly instructions have illustrations, so it's pretty simple to get your machine up and running.
However, you might consider asking someone to help you since treadmills are big and heavy. It could take an hour or so to get everything settled with your Power 995i, but if you're skilled for this task, you might finish the assembly earlier.
Warranty
As I mentioned earlier, I went gaga over the lifetime warranties of ProForm machines. Their Power 995i comes with the following:
Frame: Lifetime

Motor: Lifetime

Parts: 3 Years

Labor: 1 Year
The lifetime warranties are sweet.
The 3-year warranty on parts and 1 year on labor seem good enough. Most machines in this price range offer a 2-year warranty on parts. The 1-year difference might sound insignificant, but it offers better reassurance that the company has your back for a year more than its competitors.
Buying the Power 995i is an investment, and it's great to see that ProForm helps you protect your equipment for the long haul. I'm a sucker for lengthy warranties, so this scores highly for me.
Final Thoughts
ProForm's Power 995i warrants serious consideration if you're looking for a high-quality treadmill. It's an investment that will last long with its super sturdy materials backed by lifetime warranties.
This machine runs smoothly and offers a variety of increased training variables. It has 30 workout programs to keep you motivated and an iFit-ready feature for unlimited challenges. You can get all these and more for under $1000. 
As one of ProForm's older models, it may be hard to find this one. If you'd like to see some other awesome options, check out our budget treadmill guide.
Overall though, the Power 995i is a nice machine for the price.