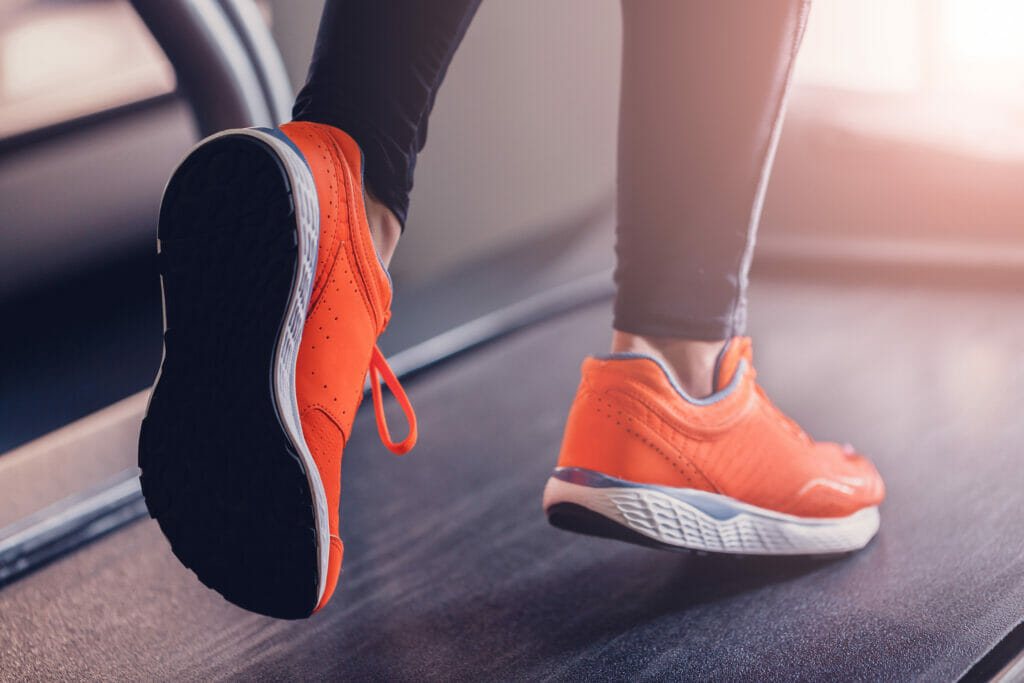 ProForm's Carbon T10 is one of the most affordable streaming treadmills on the market.
With a 10″ HD touchscreen console, the T10 is well-equipped to handle the endless supply of instructor-led workouts iFit has to offer.
The console is truly the most impressive feature on the T10 because when it comes to performance, this treadmill is pretty mediocre.
With only a 20″ x 55″ running surface and a 2.75 HP motor, there are certainly more impressive treadmills in this price range.
But again, none of those other treadmills are packing an HD touchscreen console.
Oh yeah, there' also the fact that you can get one of these bad boys for free with a 3 year iFit commitment – I have to admit, that's not a bad deal.
Overall, I think the T10 is best suited for smaller folks who are looking to access streaming workouts without breaking the budget.
If you fall in this demographic, this might just be the treadmill you've been looking for.
Larger users or folks interested in doing some serious running should keep looking.
But I'm getting ahead of myself.
In this review, I'll go over everything you should know about this treadmill. After reading, you'll know whether or not this is the right model for your home gym.
Let's begin.
The ProForm Carbon T10 Treadmill
ProForm is owned by ICON Fitness, the same company that owns NordicTrack. This is also the same company that owns iFit, the streaming fitness app.
So, as you can see, it makes sense that all ProForm and NordicTrack machines push joining iFit.
Not that that's necessarily a bad thing.
iFit is probably the 2nd most popular streaming fitness app around behind Peloton (hell, these days it might be #1).
And iFit does have features that Peloton doesn't, like outdoor cycling classes.
Anyway, iFit is definitely a legit app.
ProForm has 6 treadmills to choose from these days and their divided into 3 lineups: the highest-end "Pro" series, the more affordable "Carbon" series, and the cheapest "City" series.
The T10 we're here to discuss now is the mid-range model in the Carbon series, which also includes the lower-end T7 (which I think is probably a better deal) and the higher-end T14.
At the time of writing this, you can get the T10 for "free" through ProForm if you sign up for a 3 year iFit commitment ($1404), or you can make a one time payment for the same amount.
If that sounds like a bit much, I think you can still purchase it through Amazon too without the long commitment.
Pros
10″ HD touchscreen display
iFit compatible
Access to unlimited instructor-led workouts (iFit)
Automatic trainer control (iFit)
Scenic runs (iFit)
Metric tracking (iFit)
Bluetooth compatible
Quick touch resistance/incline buttons
Folding frame
Affordable
Cons
Rather small running surface
Weaker motor
Warranty could be longer
Small rollers
Running Surface
I know the most interesting part of this treadmill is that touchscreen console and the streaming possibilities, but I still think it's a good idea to talk performance first.
And when it comes to treadmills, nothing's more important than the running surface.
This spec tells you how much room you'll have during your workouts and no matter what fancy features the treadmill comes with, if the treadmill isn't comfortable to use, you won't use it for long.
If a treadmill's running surface is too small, you might find yourself having to shorten your stride when running (of even walking if it's really short).
The Carbon T10 comes with a running surface of 20″ x 55″.
The 20″ width is fine, but at only 55″ long, it's quite a bit shorter than the 60″ length most treadmills in this price range come with.
Walkers and shorter runners might not notice, but taller runners probably will.
On Amazon, the description even mentions that this treadmill is best suited for people who are 6'2″ or shorter- definitely something to keep in mind.
The running surface is on the small side, but what about the rest of the frame?
The T10 comes with an in box weight of 223 lb, which means its assembled weight has got to be well under 200 lb- which is fairly lightweight for a treadmill.
And having a heavy treadmill is a good thing because it'll feel more stable during workouts.
For the sake of comparison, the similarly priced Sole F63 weighs 254 lb… just sayin'.
The T10 also comes with a shock absorbing system and a 300 lb weight capacity, which is pretty standard for any treadmill in this price range.
Overall, the T10 comes with a smaller running surface and lighter weight frame than many treadmills in this price range. Based on these specs, it's definitely designed with smaller users in mind.
Motor
Ok, so the frame and running surface are kinda wimpy, let's move on and see how the T10 scores when it comes to the motor.
Most $1000 treadmills come with a motor somewhere in the 3 – 4 HP range.
When it comes to motors, more strength is a good thing because it means the motor won't have to work as hard to keep up.
A 3 HP motor and a 4 HP motor might both have a max speed of 12 mph, but the 4 HP motor will be able to get there and maintain it a lot more efficiently.
Which makes for a smoother feeling treadmill.
In terms of strength, people who plan on doing a lot of running or running at higher speeds should opt for a treadmill with at least 3 HP under the hood.
That's a good benchmark to keep in mind to ensure you get a treadmill with enough power to handle your workouts.
Walkers and lighter joggers can get away with weaker motors.
With all of this in mind, consider that the Carbon T10 comes with a 2.75 HP motor.
This isn't way off the expected range I mentioned, but it's still lower than expected for this price range.
It's also below the threshold we discussed for optimum running treadmills.
Given the strength of this motor, again I would say the T10 is best suited for smaller users and walkers/joggers as opposed to serious runners.
With this motor, the T10 can reach a top speed of 10 mph (which is slower than the 12 mph top speed most treadmills offer) and a max incline of 12%.
I also want to mention that this treadmill comes with 1.9″ rollers, which are also on the small side for quality treadmills in this price range.
The rollers are the parts that allow the belt to glide smoothly over the deck and having larger ones is beneficial because they make more contact with the belt itself, which makes for a smoother feel.
Larger rollers also tend to last longer, as well as put less stress on the motor and belt.
For the sake of comparison, many top treadmills in this price range come with 2.5″ rollers (like the aforementioned Sole F63).
Overall, the motor on the T10 is a little weaker and the rollers are a little smaller than a lot of comparable treadmills. Again suggesting that this treadmill is best suited for smaller individuals who don't plan on running often.
Features
The ProForm Carbon T10 Treadmill comes with the following features:
10″ HD touchscreen console- the console is the coolest feature on this treadmill by far. With the 10″ HD touchscreen display, you can easily navigate through iFit to access your workouts and track your metrics. Few treadmills in this price range offer an HD console.
iFit compatible- as I've mentioned a few times already, this treadmill is designed specifically to connect with iFit, ProForm's streaming app. Through this app, you get access to unlimited instructor-led workouts, both live and on-demand. You can also do scenic hikes and all that stuff. iFit costs $39/month regularly.
Automatic trainer control- through iFit, you can take advantage of the automatic trainer control if you like. This allows the instructors to automatically adjust your speed and incline during your workouts. You can always manually adjust as well.
Bluetooth- you can connect a wireless heart rate monitor up to the console via bluetooth, although a monitor isn't included.
Quick touch buttons- these buttons allow you to instantly set the speed and/or incline with the touch of a button. Very handy when it comes to interval workouts.
Cooling fan- there's a built-in fan to help keep ya cool and comfortable during workouts.
Built-in speakers- there's an audio port that you can use to hook up an mp3 player (does anybody still use these?) to listen to music through the speakers in the console.
Folding frame- I forgot to mention this earlier, but the frame on this treadmill can fold up for storage after workouts.
Assembly
If you do purchase the T10 and decide to assemble yourself, don't worry- it's a pretty straightforward process.
The deck comes mostly preassembled, so you won't have to deal with anything under the hood.
You'll be responsible for attaching the 2 uprights, connecting the console, the handles, and a few covers.
The trickiest part will probably be snaking the cable wires through the upright and making sure nothing gets pinched- having a second set of hands available for this part makes it a lot easier.
The T10 also requires you to attach the hydraulic pump under the deck that's used for lifting and lowering the deck- this comes preassembled on a lot of treadmills, but it shouldn't be that big of a deal.
ProForm's assembly manual is pretty easy to follow and all the necessary tools and hardware are included.
Overall, most fairly handy individuals should do just fine with putting the T10 together themselves.
Warranty
ProForm backs their Carbon T10 Treadmill with the following residential warranty:
10 year frame
1 year parts
1 year labor
This isn't an awful warranty, but there's definitely room for improvement.
Ten years on the frame is ok, but most of the best home treadmills offer lifetime frame guarantees.
A year on parts is also pretty short, considering most other brands in this price range are offering 2-3 years.
A year on labor is pretty standard operating procedure for any price range.
Overall, not a great warranty, but not awful.
Final Thoughts
Ok, I think it's about time to wrap this thing up.
By now I think it's pretty obvious that the T10 isn't my favorite treadmill.
But to be fair, I tend to prioritize performance over tech features – and performance just happens to be where this treadmill falls the most short.
In other words, when it comes to performance, there are much better options in this price range.
For $1000, you can get stronger motors, larger running surfaces, faster top speeds, larger rollers, and better warranties.
Now that I've got that off my chest, if you're looking for a streaming treadmill with an HD touchscreen display, there aren't many options to choose from in this price range.
Honestly, I can't think of another treadmill with a screen this large for this price, so kudos to ProForm for that.
So, if that's what you're looking for, it makes sense to go with the Carbon T10.
Plus, if you're confident that you're going to be using iFit for at least a few years, it could make a lot of sense because you really are getting a free treadmill.
An iFit membership costs $39/month by itself; and with ProForm+, they give you a T10 for the same $39/month payment for 36 months.
Not bad.
All things considered, the Carbon T10 certainly has its flaws, but it's going to be harder to find a better deal when it comes to streaming treadmills.