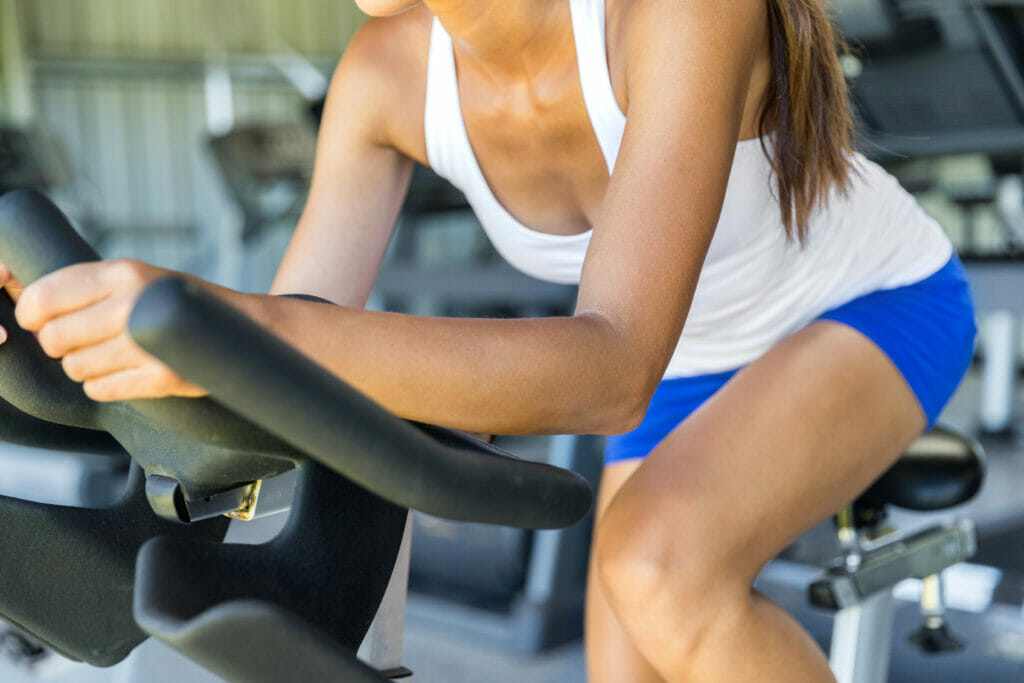 NordicTrack's Commercial S15i is the little brother to their insanely popular S22i Studio Cycle. And even though it seems like this bike has been lost in its sibling's shadow, I think it deserves a little more recognition.
Because I'm going to let you in on a little secret- there's not that much difference between them.
The S15i is still packing some impressive features, like a 14″ rotating HD touchscreen console, the ability to incline/decline, and access to all the good stuff through iFit.
And in terms of performance, the S15i packs the same 32 lb flywheel as the S22i and comes with 22 magnetic resistance levels, giving you plenty of control over your workouts.
Overall, if you're looking for a more affordable option to the S22i, I think the S15i is a brilliant choice, but is it really the right exercise bike for your home gym?
Well, that's exactly what I'm here to help you figure out.
In this review, I'll go over all the specs and features this bike has to offer. After reading, you'll know everything you need to in order to make the right call.
Let's roll.
The NordicTrack Commercial S15i Studio Cycle
NordicTrack has 3 indoor cycles in their current lineup- the S15i, the S22i, and the S27i (yes, it does have a 27″ console).
I was kinda joking in the intro about the S15i being lost in the S22i's shadow, but I still think it's true. I feel like the S22i is always being praised and compared to the Peloton and we all forget about the S15i.
But as we'll talk about below, the S15i can hang toe-to-toe with the S22i when it comes to performance.
All of these cycles come with large HD consoles because they're both designed to pair with NordicTrack's streaming service, iFit.
I want to point out that iFit is an optional service (even though at times NordicTrack doesn't make it sound optional) and you can use the S15i without signing up.
Although to be completely honest, it doesn't make sense to invest in the S15i and not use iFit.
That's what that gorgeous screen is there for, after all.
Anyway, I'm getting ahead of myself, we'll come back to that point later on.
The S15i is a bit cheaper than the S22i and will cost ya somewhere around $1000 or so depending on how you purchase.
Pros
14″ HD touchscreen display
32 lb flywheel
22 levels of magnetic resistance
-10% – 20% incline/decline feature
Heavy-duty frame
350 lb weight limit
Unlimited workouts through iFit
30 day iFit membership included
Automatic trainer control (iFit)
Scenic rides (iFit)
Bluetooth compatible
Pair of dumbbells included
Fully adjustable seat
Quick touch resistance/incline buttons
Cooling fan
Good warranty
Cons
iFit membership kind of expensive
Dual compatible pedals would be nice
Resistance
The resistance system is important for any exercise bike, but even more so for an indoor cycle.
That's because these bikes are designed first and foremost to replicate the feel of riding a road bike, but they're also designed to provide killer workouts.
A spin bike's resistance system basically consists of the flywheel and the resistance mechanism (friction brake or magnetic).
Although there are certainly exceptions to the rule, most generally agree that having a heavier flywheel is beneficial because the extra weight creates a smoother pedaling motion.
Indoor cycles these days are packing some seriously heavy flywheels (upwards of 50 lb +), but I think anything over 25 lb or so is heavy enough to get the job done for most casual riders.
All that said, the S15i comes with a 32 lb flywheel.
This is easily heavy enough to provide a smooth ride and it's also comparable to what the other big names in the field are putting on their bikes.
It's also the same flywheel found on NordicTrack's S22i.
NordicTrack pairs this fairly heavy flywheel with 22 levels of magnetic resistance, which is just 2 shy of the 24 offered on the S22i.
When it comes to resistance levels, having more is a good thing because it gives you the ability to make smaller adjustments, but it doesn't necessarily mean you get more total resistance.
Bikes vary a lot on the amount of resistance levels they come with.
Personally, I like the 100 level system used by Peloton and on Bowflex's C6, but it's all relative.
With 22 levels though, that's still plenty of opportunity to control the intensity of your workouts.
Overall, the S15i scores highly with a heavy flywheel and a smooth operating magnetic resistance system.
Frame
I always like to try and get an idea as to how heavy-duty a bike will be and feel during workouts.
And the best way to do this, without being able to test drive a bike, is to look at the assembled weight and weight limit- seeing higher numbers in these specs is a good indicator to how stable the bike will feel.
The S15i comes with an in box weight of 203 lb.
It's kinda annoying that NordicTrack gives us this spec instead of the assembled weight because it's hard to tell how much the packaging weighs.
But if you subtract a conservative 50 lb or so for packaging, that gives you an assembled weight of somewhere around 150 lb, which is impressive for an indoor cycle.
I know that my Peloton weighs about 135 lb and it feels as stable as a rock.
The S15i comes with a max weight limit of 350 lb too, which is great for an indoor cycle and allows riders of all sizes to safely use it.
With a footprint of about 5′ x 2′, the S15i is a foot or so longer than many spin bikes, but still quite compact (I'm assuming the extra length is due to the incline/decline mechanism).
Overall though, the S15i is a heavy-duty bike (literally). You shouldn't have to worry about this bike wobbling or feeling insecure during workouts.
Features
Ok, time to get to the fun stuff. NordicTrack's Commercial S15i comes with the following features:
14″ console- this bike comes with a 14″ HD touchscreen display that can rotate, allowing you to watch non-cycling workouts comfortably when not on the cycle. This smaller screen is the biggest difference between the S15i and S22i.
iFit compatible- the S15i comes with that gorgeous screen because it's designed to work with iFit, NordicTrack's streaming app. With iFit, you get unlimited access to instructor-led workouts, scenic rides, metric tracking, and all that jazz. iFit has studio classes and outdoor classes that give you the feeling of riding on scenic trails, which is pretty cool. An iFit subscription costs $39/month (or a little cheaper by the year) and is optional, although without it I don't really see the point of investing in this bike.
Incline/decline- one of the coolest features of this bike is its ability to incline/decline to replicate the feel of going up/down hill. The S15i can incline up to 20% and decline down to -10%. You can control this manually during rides as you do resistance.
Automatic trainer control- Or, if you're using iFit, you can take advantage of the automatic trainer control function which sets your resistance and incline automatically based on the workout you're doing. This is a cool feature for the folks who just want to start a workout and focus on exercising, instead of having to keep messing with resistance and incline settings.
Bluetooth- the S15i is bluetooth compatible with headphones and heart rate monitors.
Quick touch controls- these buttons allows you to instantly set the resistance and incline/decline settings.
Fully adjustable seat- the seat on this cycle is fully adjustable, meaning you can adjust both the height and the horizontal (fore/aft) position for a comfortable fit.
Toe cage pedals- this bike comes standard with toe cage pedals, which are designed to be used with sneakers. This is good for the people who don't want to mess with cleats, but for those of you who do like cleats (I know I do), you could easily swap 'em out if you wanted to.
Cooling fan- one thing NordicTrack bikes have on most other cycles is that they do come with cooling fans. Not sure if that's a big deal either way, but, there ya go.
Pair of 3 lb dumbbells- I do like that NordicTrack includes a pair of dumbbells with purchase. Some other brands (*cough* Peloton) make you pay extra.
Dual water bottle holders- there are also 2 water bottle holders, which come in handy for holding your water bottles.
Assembly
Putting the S15i together is a pretty straightforward process.
One of the nice things about spin bikes is that they're relatively small (compared to treadmills) and easy to assemble.
NordicTrack's assembly manual is easy to follow- the images are easy to see and the written directions are actually helpful, unlike some.
The main housing for the flywheel and all that is pre-assembled.
You would be responsible for attaching the stabilizer feet, connecting the handlebars, the console, the seat, the pedals, and a few covers.
As always, be really careful when connecting those console wires and make sure nothing gets pinched when attaching the console to the frame.
If you have your own seat or pedals, you can swap them out for the standard ones if you like.
Overall, most folks who are at least a little handy should be able to put this bike together without any problems.
That said, it's still helpful to have a second person around to hold that console while you attach it.
Warranty
NordicTrack backs their Commercial S15i with the following residential warranty:
10 year frame
2 year parts
1 year labor
Whatever happened to a lifetime frame warranty? Is Sole the only brand that still does that?
Anyway, 10 years on the frame is actually really good compared to the 5 years Peloton offers and 2 years on parts is on par with what everyone else is offering too.
A year on labor is standard operating procedure as well.
All things considered, NordicTrack offers a pretty generous warranty on this bike (it's also identical to the guarantee on the S22i).
Final Thoughts
Ok, that's about all I got for the S15i.
I really don't have much to complaint about here- which is unfortunate, because I enjoy complaining.
This cycle has a lot going for it.
In terms of performance, it comes with a pretty heavy flywheel and plenty of magnetic resistance levels to work with. It also comes with a heavy frame and a solid warranty.
I realize though, that it's the features that are drawing most people in and it's pretty easy to see why.
The S15i scores highly with a large HD touchscreen and access to all the streaming workouts, but it also comes with automatic trainer control and the ability to incline/decline.
They even throw in a pair of dumbbells.
Overall, I think NordicTrack has a winner here.
When it comes to purchasing, you have a couple of options- you can buy through a site like Amazon and pay a lot less (around $1k at the time of writing this), or you can get this cycle for free through NordicTrack with a 4 year iFit membership (at the time of writing this anyway, I'm not sure how long that deal will last).
Certainly something to consider.
Regardless, I think the S15i is a great bike in its own right and a great deal when compared to the more expensive S22i. Highly recommended.