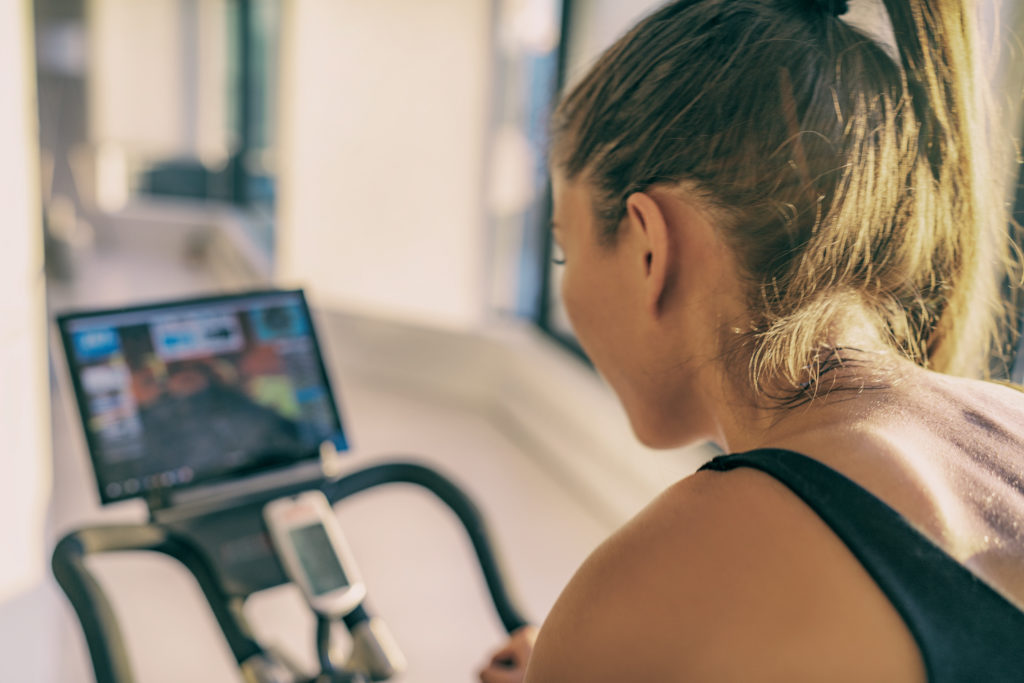 The Nautilus U614 Upright Bike is a quality at-home cycling machine. It's fun, and most importantly to some, comes with an aggressive sale price of roughly $300. 
At first glance, you can really tell it is made from durable materials with convenient features like stereo speakers, a USB port, and a three-speed fan.
Much like the Schwinn 130, the U614 is well designed with ergonomic designs. It's also whisper-quiet to start and generally easy to use. 
Top features include tracking your health and fitness progress as you sweat, and/or choosing to transfer your workout data from the machine and upload them to your Nautilus health tracking app.
If you're looking for a solid, nice looking upright bike without hurting your budget, the U614 is a competitive choice. But before you swipe your credit card, make sure you're not skipping a word from this in-depth review. 
In this post, I'll tackle everything you need to know about the U614. From its pros and cons to its unique features, you'll get to know the Nautilus U614 Upright Bike better and determine if this model is exactly what you need for your home gym.
Let's get started!
The Nautilus U614 Upright Bike
Nautilus, Inc. is a household name when it comes to home fitness. They've produced many budget friendly fitness machines over the years.
Likewise, the brand doesn't compromise its quality amidst its cost-cutting offerings. Nautilus, Schwinn, Bowflex, and Octane Fitness are also branches of the same corporation. 
Nautilus continues to please its patrons with its array of training equipment. Currently, they can offer you many options for upright bikes, treadmills, recumbent bikes, and ellipticals. 
The U614, which I am reviewing in this post, is one of the three different models under its upright bike selection. The other two are its upgraded successors, the U616 and the U618.
The U614 is their lowest-cost model, but for the price, it comes with surprisingly impressive specs and features. 
Pros:
Solid frame design

22 predetermined training programs

20 resistance levels

Health and goal tracking

Media shelf inclusion 

MP3 port ready

Simpler and smaller footprint

Convenient transport system

Easy to use 

Low maintenance

Easy assembly instructions and tools
Cons:
Non Adjustable handlebars

Uncomfortable seat

No backlit LCD

Limited warranty
Flywheel
One of the first things you need to consider in an exercise bike is its flywheel. Flywheels are responsible for the feel of your riding experience. The heavier the flywheel, the more momentum it creates. Hence, it results in a better and smoother riding motion.
A good flywheel can range anywhere between 30 – 50 lbs. This should be more than enough to give you really smooth rides during your workouts.
Although the heavy flywheels are usually found in spin bikes, upright bikes are starting to incorporate them as well.
Now, the U614 comes with a 13 lb flywheel. I know, this may seem a bit disappointing, but consider that most upright bikes in this price range have 12 to 14 lb flywheels (it's one of the reasons these bikes are in this price range to begin with).
So, I'm not that surprised or disappointed really, that the U614 has such a humble flywheel. 
But do take note that many of its users shared that the U614 gave them excellent riding experiences, and that's what really matters.
The U614's perimeter weighted flywheel comes with a high speed, high inertia drive system. This gives you an easy start-up and smooth, consistent workouts, with less friction and noise. 
If you're looking for that natural riding outdoor experience, this might fall a bit short of that expectation, especially if you have experience with spin bikes.
But if you're just looking for a comfortable ride, the U614 will likely get the job done.
Although the flywheel is on the light side, it does come with 20 levels of eddy current brake resistance. 
Note- you need to plug your equipment in to benefit from its varied functionalities, most especially its tension levels. Although you can use the U614 bike without plugging it in a wall socket, this can only give you the lowest resistance level.
Having this many resistance levels to choose from is a good thing. It gives you more control over the intensity of your workouts.
You can make small incremental increases or decreases during your drills, making it suitable for both therapeutic use or more intense calorie burning workouts.
Generally, the U614 comes with a mediocre flywheel for its price range, but plenty of resistance levels to work with.
Seat
The U614 comes with a contoured and padded seat. You can adjust the height of the seat, but you can't adjust the horizontal (fore/aft) position.
This is a bummer, because a fully adjustable seat provides users with a more customized fit.
Fortunately, Nautilus fixed this area of concern and does offer a fully adjustable seat on their upgraded U616 model.  
According to clients' testimonials, the U614 has a seat that can accommodate users as short as 4'10" (147 cm) or as tall as 6'5" (195 cm). However, some fitness giants with a height of 6'5" found difficulties riding their U614 at maximum seat height.
Nautilus relies heavily on leg length. The length between the lowest pedal and the seat at the highest setting is 39″ (99 cm). It's quite a smooth fit for those users with average heights.
But if your legs are longer, then it might be a challenge riding the U614. Take this into consideration before making the purchase as it may cause you some leg pain or injury in the long run.
Aside from failing to consider long-legged riders in their blueprint, most users could agree that the U614's seat is uncomfortable to use.
This is a common concern among stationary bikes, especially in this price range, so I'm not going to pin this too hard on the U614. However, fitness brands might want to figure out a way to make their seats more comfortable in the future. 
If you do find the seat too uncomfortable to use, you can easily add a gel-padded seat cover. The U614 also comes with a standard attachment system to its slider, making the seat replacement easy and hassle-free if necessary.
If you're really worried about comfort on an upright bike, you may want to consider looking into a quality recumbent bike.
Handlebars
To cut to the chase, this bike's handlebars are mull-grip and angle-adjustable. 
This is a great feature as you can customize your comfort level on every ride. You can tilt it forward, down, or upward.
Also, the U614 has handlebars that are nicely padded with rubber foam. You'll likely get a good, comfortable grip on any of your routines, even if your hands become sweaty.
Frame
One of the U614's selling points is its appealing and well-thought frame design.
It is sturdy, being made of steel that's coated with anti-corrosive paint. Unlike other bikes that would look worn out after many years of use, the Nautilus U614 will look just as you've unboxed it.
The U614 comes with a small footprint, making it a good purchase for those with smaller rooms. 
Even though small in stature, this bike is tough enough to handle users weighing up to 300 lb, which is pretty impressive for a bike in this price range.
And if you're concerned about the potential nerve-wracking, motivation-losing wobbles as you ride, Nautilus has already taken care of that with this model.
Its frame bases are finished with stabilizing levers. This guarantees full stability if you use this machine on even or uneven flooring. 
It has a good pedaling system that also comes with standard size straps. This keeps your feet secure and in the right position during riding without slipping off.
Relocating your bike or positioning it at home? Easy-peasy. The front base comes with transportation wheels, making your relocating endeavors a breeze.
Maintaining a U614 doesn't require much work. It needs minor TLC like keeping it squeaky clean at all times, and wiping away dust, moisture, and sweat after using.
Another great maintenance practice is to make sure the screws and parts are tightened in place. This can be a good precautionary measure too.
In fact, I suggest you make it a habit before hopping on your bike, just to know you're safe and free from accidents and injuries as you ride.
Features
The U614 comes with several features including a two display screen console where you can monitor your workout data. 
Its handlebars have pulse grips to track your heart rate, which is reportedly to be pretty accurate when users compare it with their other heart monitoring devices. 
Nautilus's more sophisticated models, the U616 and U618, offer telemetry monitoring. This isn't available on the U614. It would be nice, but given the price, it isn't too surprising.
With the U614, you can choose from its 22 preprogrammed workout options to reach any of your fitness goals. But if you like to customize your routines, you can still do so with two custom user programs.
The display uses a Dual Track LCD. This works fine, but it would be nice if the screen was backlit for better visibility. 
The machine also comes with standard features like a water bottle holder, an adjustable 3-speed cooling fan, and built-in speakers. 
The USB charging port allows you to slow-charge your devices or save the battery during your training. It also lets you transfer your workout data to your Nautilus Connect Fitness account.
Assembly
Piecing the U614 together is an easy 10-step task.
After buying your machine, you'll find a pre-assembled frame, some other parts, an assembly guide, and a basic toolkit.
All you have to do is to bolt and tighten the stabilizers, attach the pedals, bases, and console, and connect the handlebars and seat post. It's a no-brainer, really.
Many clients have put together their U614 in less than an hour using the package manual, while others find it easier to watch some video tutorials instead.
The assembly manual is pretty easy to follow, but if you find yourself struggling to properly wire the console (like some users), you can get a lot of help from online directions instead of the assembly directions from the box.
Warranty
The Nautilus U614 comes with the following warranty:
Frame: 10 years

Parts: 2 years

Electronics: 1 year

Labor: 90 days
It's a pretty average warranty with industry-average protection. It would be nice to see a lifetime warranty on the frame, but for its price range, it's tolerable.
At under $300, the U614's warranty is way better than its price point competitors, like the Sunny Health & Fitness SF-B901 or the  Exerpeutic 900XL Recumbent Bike.
Read on to The 10 Best Exercise Bikes Of 2020 [For Under $200] to see more very budget friendly options.
Final Thoughts
Nautilus is a trusted name in home fitness. They've made a name for themselves by providing affordable exercise equipment that works better than most.
The U614 is no exception.
For the price, it's going to be tough to find a better upright bike. Its specs and features are impressive. It has everything you need for a low impact workout at home. 
In other words, the U614 is indeed a good bang for your buck.
The biggest downside is probably the light flywheel. This should work fine for users looking for light to moderate intensity workouts, but users looking for more intense exercise should consider a heavier-duty bike.
Ultimately, it'll boil down to your budget and workout needs. If you're looking for an easy-to-use, affordable upright bike, the U614 is a great choice. I'd even argue it's one of the best stationary bikes around.