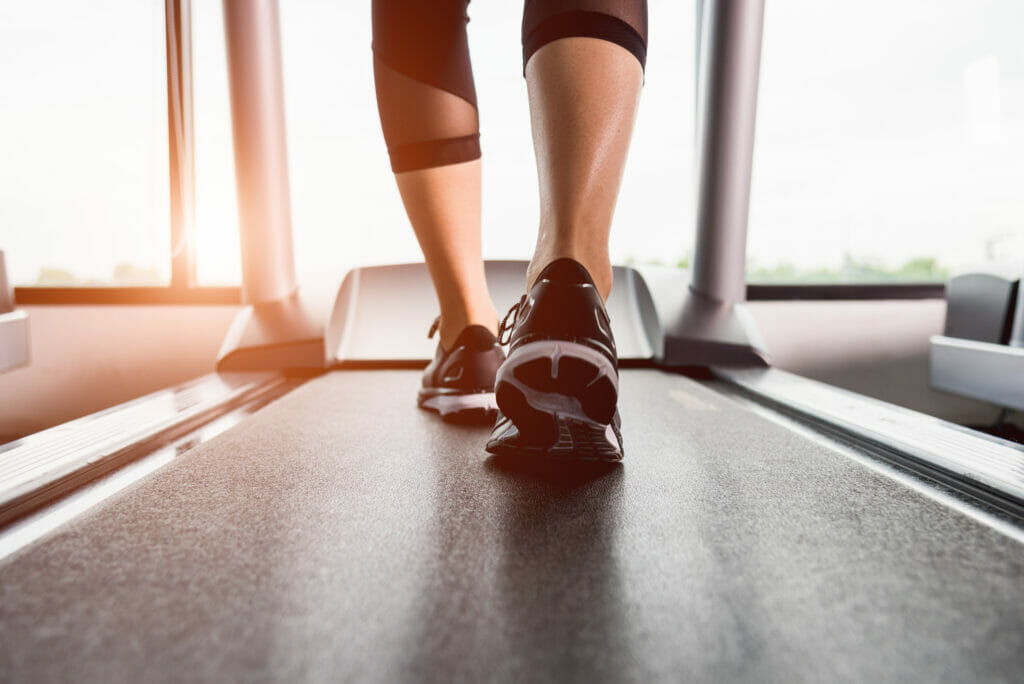 The T618 is Nautilus's most advanced treadmill to date, and as such, comes with a pretty impressive combination of performance specs and console features.
And with an asking price under $1500, it still takes it pretty easy on your budget.
Highlights of the T618 include a 20″ x 60″ running surface, a 3.5 CHP motor, 2.75″ rollers, and 26 built-in workout programs to choose from.
And the warranty sticklers out there (like myself) will appreciate the generous guarantee Nautilus offers on this model.
All things considered, the T618 has a lot to offer for a moderately priced treadmill, but is it really worth investing in?
Well, that's exactly what this review is here to help you decide.
In this article, I'll go over everything this treadmill has to offer. After reading, you'll know everything you need to in order to decide whether or not this is the right machine for your home gym.
The Nautilus T618 Treadmill
Believe it or not, the Nautilus brand has been around for nearly 50 years or so. This is a long time for any company, but especially long for the fitness industry, where fad brands pop up and disappear all the time.
The Nautilus brand is one of several owned by the larger Nautilus, Inc. company.
You may've heard of some of their other brands too- names like Bowflex, Schwinn, and Universal.
Bowflex is definitely the highest-end brand in their portfolio, but Nautilus and Schwinn are also fairly high-quality for their respective price ranges.
Nautilus and Schwinn are actually very similar brands, although Schwinn is probably a little more well-known.
Nautilus is a budget friendly brand with a pretty lean lineup. They only offer recumbent and upright bikes, treadmills, and ellipticals and they only have 2 models of each.
You can still find some of the older models through other retail sites though.
The T618 is their highest-end treadmill to date. It's a little stronger and a little heavier-duty than their slightly more affordable T616.
Pros
20″ x 60″ running surface
3.5 CHP motor
2.75″ rollers
26 built-in workout programs
Top speed of 12 mph
Top incline of 15%
Folding frame
Bluetooth compatible
Chest strap heart rate monitor included
4 user profiles
Quick touch speed/incline buttons
Handlebar speed/incline controls
USB charging port
350 lb weight capacity
Great warranty
Cons
Console a little dated looking
Running Surface
You can tell a lot by looking at a treadmill's running surface. It's a simple spec, but it immediately tells you whether or not you'll fit on the machine comfortably.
And it also gives you a general idea as to the overall quality of the machine- cheaper, lower-quality treadmills tend to come with smaller running surfaces.
This spec refers to the literal size of the belt, which is measured in inches and usually written as "width x length".
Larger is better, because it's going to make for a more comfortable workout.
Most quality home treadmills these days are coming with running surfaces of 20″ x 60″ (or larger) because at this size, a treadmill can comfortably hold pretty much all users regardless of speed.
We tend to stretch out farther, increasing our stride length when running at faster speeds- if you're especially tall or the treadmill has a short running surface, you might not have enough room to stretch out fully when sprinting.
This situation isn't optimal and it'll reduce workout satisfaction.
With all of this mind, the Nautilus T618 comes in with a running surface of 20″ x 60″.
This is exactly what we like to see out of a home treadmill because it means it's large enough for most folks to run on at full speed without having to shorten their stride.
In this price range, you'll find treadmills that come with 22″ x 60″ running surfaces (like Sole's F65)- the extra width is nice, but I wouldn't say it's necessary.
When thinking about the deck and frame in general, I also think it's a good idea to consider the weight capacity.
Not only do you have to ensure the treadmill is able to safely hold your weight, but looking at this spec can also give you an idea as to how heavy-duty the machine is.
Seeing a higher weight limit is indicative of a stronger frame and overall better quality of build.
The T618 scores very highly in this department with a weight limit of 350 lb.
This means this treadmill can safely hold larger users. It's also a good 50 lb higher than most models in this price range.
And with an assembled weight of just over 250 lb, it's pretty easy to see that this treadmill is built solid.
Overall, I like that the T618 comes with a large running surface and heavy duty frame- it's big enough and tough enough to accommodate heavier users safely.
Motor
If the running surface is the first spec I always look at when researching a new treadmill, the motor strength is always the second.
Looking at what a treadmill is packing under the hood is crucial because you're gonna want to know whether or not it's strong enough to power your workouts.
Residential treadmills usually come with motors somewhere between 1.5 HP and 4.0 HP.
If you're planning on only walking, you can probably get by with a motor under 3 HP, but if you plan on running, it's highly recommended to go with a treadmill with at least 3 HP under the hood.
This is going to ensure the motor is strong enough to reach and sustain those higher speeds without crappin' out on ya.
Stronger motors don't have to work as hard as weaker motors to sustain the same output- since they're more efficient, technically stronger motors should be quieter too.
Nautilus doesn't make it easy to determine the strength of the motors on either one of their treadmills- it took me a while to find this key spec (which ultimately was reported in the video for the T618).
And I'm not sure why Nautilus hides this fact- with a 3.5 CHP motor, the T618 is packing some serious heat.
This is even stronger than the Sole treadmill I mentioned earlier (which I consider to be the best treadmill in this price range, fyi).
Anyway, the T618 comes with a very strong motor and is capable of reaching a top speed of 12 mph and a top incline of 15%.
The motor is impressive in itself, but what I'm really impressed by is the fact that Nautilus pairs it with 2.75″ rollers.
Roller size isn't always easy to find when looking at treadmill specs, but it's a good idea to find it if you can.
The rollers are the parts that allow the belt to glide across the deck as the motor does its thing. With rollers, larger is better because they make more contact with the belt.
This results in less stress on the motor, the belt, and the rollers, which is great, but it also makes for smoother operation during your workouts.
Treadmill rollers vary in size, but most are somewhere between 1.6″ and 3″- with higher end models using larger sizes.
Seeing 2.75″ rollers on a treadmill in this price range is rare (this even beats the F65's 2.5″ rollers).
Overall, I think the combo of the powerful motor and large rollers is this treadmill's most distinctive feature- very impressive.
Features
The Nautilus T618 comes with the following features:
26 workout programs- this is a ton of workouts to choose from. These include all of the standard options you'd expect like intervals, calorie burn, fat burn, etc. There are also heart rate programs which use your heart rate in real time to guide your workout.
4 user profiles- you can save data for up to 4 users, making it faster to sign in and customize your workouts.
Bluetooth- this treadmill is bluetooth friendly with fitness apps. You have to download the Nautilus free app, which then can sync with a bunch of other popular fitness apps. You can also connect with the Explore the World app for scenic routes and whatnot.
Chest strap heart rate monitor- not only is the T618 compatible with telemetry heart rate monitors, but Nautilus includes one with purchase, making it easy to access those heart rate workouts from day one.
USB charging port- you can plug your devices into the included USB port to keep 'em charged up during workouts.
Media rack- the media rack is conveniently located above the console's screen, so you won't have to block your view while using your tablet.
Quick touch speed/incline buttons- you can instantly set the speed or incline with the push of a button (a handy feature when it comes to making your own interval workouts).
Handlebar controls- you can also control the speed and incline manually from the conveniently located handlebar controls.
Speakers- there are built-in speakers in the console in case you want to connect your phone or mp3 player up via the audio jack.
Cooling fan- there's a 3 speed fan for added comfort during strenuous workouts.
Water bottle holder- plenty of space to hold your beverage of choice in the large compartments on each side of the console.
Assembly
Getting the T618 unboxed and assembled should be a fairly simple process. The assembly manual is easy to follow and the images are large and clear.
And the process itself is pretty straightforward.
The deck comes preassembled. If you plan on assembling yourself, you'd be responsible for attaching the uprights, the console, and a few covers.
All of the necessary tools and hardware are included.
It's a good idea to have a second person around when it comes time to attach the console- it can be difficult to hold it while trying to position it correctly.
Also keep in mind this is a heavy treadmill- having another person around will make moving things around a lot easier.
Overall though, self assembly should be very doable for most able bodied folks out there.
Warranty
Nautilus backs their T618 Treadmill with the following residential warranty:
15 year frame
15 year motor
5 year parts/electronics
2 year labor
Overall, I think this is a great warranty for this treadmill.
The only room for improvement would be in the frame/motor departments- I prefer to see "lifetime" in both of these areas, but realistically speaking, I wouldn't be disappointed if this treadmill's frame or motor broke down after 15 years of use.
Five years on parts is generous, as many brands are only offering 2-3 years. Two years on labor is also better than the 1 year we usually see in this price range.
All things considered, Nautilus is backing the T618 with a very generous guarantee.
Final Thoughts
Well, that about does it for the T618. I think this treadmill has a lot to offer in this price range. I like that it comes with such a strong motor and I love that it comes with such large rollers.
It's also packing a heavy-duty frame with a higher than normal weight capacity.
And the folks out there that like using the built-in workouts will appreciate that this one comes with so many options to choose from.
Plus Nautilus backs it up with a great warranty.
There's really not much to complain about here- the console is a bit dated looking, but it's easy to use, so I don't really hold that against it.
In this price range, I personally think Sole's F65 is a better buy (because it comes with a larger running surface and lifetime frame/motor warranty), but it's debatable.
The T618 does come with a slightly stronger motor, a lot more workout programs, and a better parts guarantee.
Either way, I think Nautilus has a winner here. A smart buy indeed.