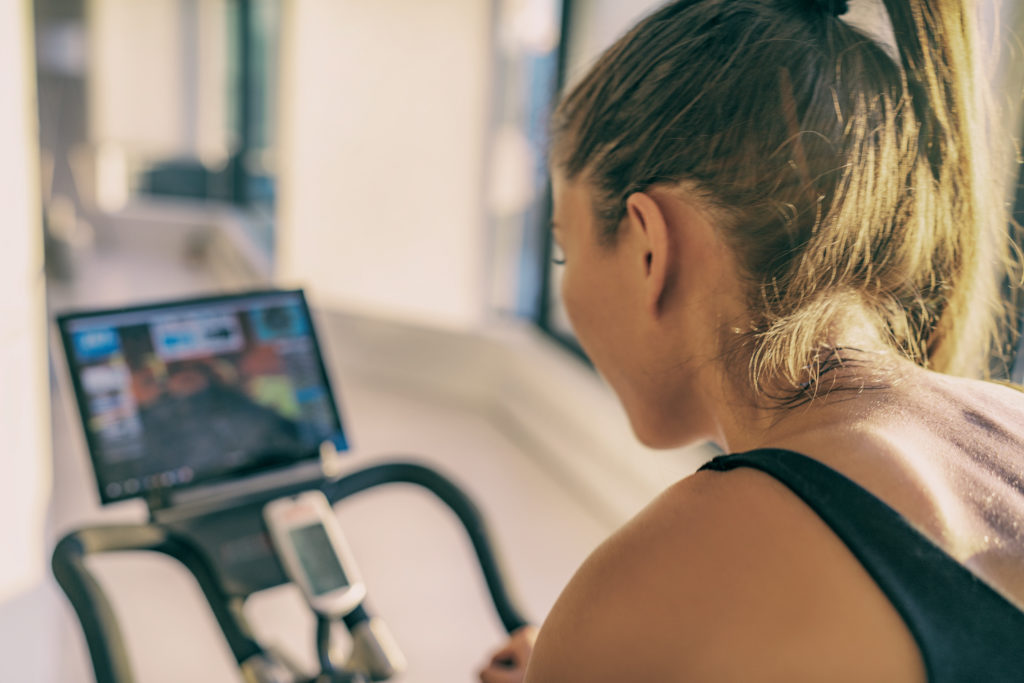 The Nautilus R616 Recumbent Bike comes with a lot more features than you'd expect from a bike in this price range.
Highlights include a ton of workout programs, a bunch of resistance levels, and bluetooth capabilities for fitness tracking.
Although I do think the R616 is one of the best home recumbent bikes around, it's not perfect – that flywheel could certainly be a little heavier.
But more on that below.
All things considered though, I think the R616 is a great recumbent bike for most homes.
This review will take you on an in-depth tour of the Nautilus R616, presenting all the pluses, minuses and everything else in between.
After reading this, you should have a better idea of whether or not this is the right piece of equipment for your needs.
Let's start with a quick word on Nautilus.
A Quick Word On Nautilus
The Nautilus brand started in the late '60s when Arthur Jones came up with his patented strength training equipment that made strength training approachable to the masses.
His brilliant design used spiral cams (that looked like nautilus shells) and the idea of variable resistance training to provide efficient workouts that didn't require barbells and plates.
Long-story-short, it was a huge success.
Jones became a millionaire (many, many times over) and the Nautilus brand shot to stardom.
Over the years, the company took different names as it combined with other brands and their products.
Today, the Nautilus brand is part of Nautilus, Inc- a family of fitness brands that includes many other heavy hitters like Schwinn, Bowflex, Universal, and Octane Fitness.
Nautilus products still hold a great reputation for being well-made and affordable.
Nautilus concentrates on treadmills, exercise bikes, and ellipticals. Their ellipticals and treadmills are fine, but I think they do a really nice job on their recumbent bikes.
Their other brand, Schwinn, also does a pretty good job with bikes- perhaps you've heard of them before?
Joking aside, Nautilus is a well-respected brand for good reason- they make products people like.
Now, let's get to a product that I like…
The Nautilus R616 Recumbent Bike
The R616 is one of 2 different recumbent models currently being offered by Nautilus.
It's their entry-level bike now that the R614 has been discontinued, both in terms of price and features.
That said, I don't think there's a huge difference between this and their highest-end recumbent, the R618, which comes with a few upgrades (most notably an upgraded gel seat cushion with an adjustable backrest).
Pros
Solid, step-thru frame
300 lb weight capacity
Comfortable, oversized seat
29 workout programs
25 levels of magnetic resistance
USB charging port
Bluetooth compatible
Dual LCD screens
Easy assembly
Great price
Great warranty
Cons
Frame/Flywheel
This recumbent bike comes with a pretty sleek design.
My first impression is that this bike looks cool. I think the black frame with the grey and blue accents is pretty spiffy looking.
The vented seat back is pretty awesome looking too, but more on that in a sec.
Not that general appearance should play a large part in your decision making process, but personally, if I'm stuck between 2 models, I'm gonna go with the better looking one.
Anyway, the R616 comes with a nice step-thru frame that makes it really easy to get on/off of.
A step-thru frame is one where you don't have to step over anything to access the seat.
You'll notice the open space between the seat and the console.
This is especially handy for people with achy joints or mobility issues that might have a hard time getting on a more traditional upright exercise bike.
Nautilus gave this recumbent a pretty solid frame- this bike is capable of holding users that weigh up to 300 lb.
This is kind of the standard limit for any decent exercise bike, especially in this price range.
There are bikes that can handle heavier users, but with a max weight capacity of 300 lb, the R616 will be able to accommodate most folks safely.
Nautilus markets that this bike has a perimeter weighted flywheel, but they don't specify how heavy it is.
I know from experience, that this usually means the flywheel is pretty light.
Well, with a little digging I found that it weighs 13 lb, which is pretty light (considering higher-end recumbents come with 20 – 30 lb flywheels).
But honestly, this is to be expected from recumbent bikes in this price range.
We have to keep in mind that affordable bikes are affordable for good reasons and a lighter flywheel happens to be one of 'em.
And the reality is, for this price range, 13 lb is about as good as it gets.
The R616 actually has the exact same flywheel found on the R618.
The important thing here, is that with the belt drive and magnetic resistance system, the R616 is capable of providing a very smooth and quiet workout experience.
And I like that the R616 comes with 25 resistance levels to work with (which is a lot for this price range).
Having a lot of resistance levels is a good thing because it gives you more control – you can make smaller changes between levels.
Overall, the R616 does come with a pretty light flywheel, but users still seem to agree that the pedal motion is very smooth and that the resistance can get high enough for a challenging workout.
Seat
I already mentioned the trendy open back on this bike.
Well, turns out it's helpful for ventilation during your workout- air flow and all that jazz.
I still think it looks cool.
Besides the cool, ventilated backrest, the R616 has a large, padded seat that is easy to adjust along the sliding rail.
One of the big perks of getting a recumbent bike is the enlarged seat. These sure are a lot more comfortable than the road bike seats found on spin cycles.
If you look closely at the seat's backrest, you'll notice the angle.
Having the backrest recline a little should help increase the lumbar support it provides as you exercise.
Overall, users tend to be happy with the comfort level of this bike.
Features
The Nautilus R616 comes with the following features:
29 workout programs- this bike comes with a ton of workout options. With this many built-in workouts to choose from, you shouldn't have to worry about your workouts getting too stale.
25 resistance levels- having this many levels of resistance gives you a lot of control over the intensity of your workouts. Fine tune the magnetic resistance to work as hard as you want to.
Dualtrack LCD screens- the larger screen shows you a visual display of your workout as well as your intensity and heart rate gauges. The smaller screen below displays additional stats like your speed, heart rate, and distance.
Bluetooth capabilities- you can sync this bike up to your favorite workout apps with its bluetooth connectivity. You can use Nautilus's Trainer 2 app if you don't have a personal favorite.
RideSocial App- you can also connect to the RideSocial App through bluetooth and ride virtually through different scenic routes around the world. You can also join others or invite friends to ride with you. Pretty cool.
Mp3 port- connect your smart phone or mp3 player up to the console and listen to your favorite music through the built-in speakers.
USB charging port- the USB charging port is a great feature because you can keep your smart devices powered up during your workout. It's nice not having to worry about draining your phone battery while you jam out.
3 speed fan- the fan will come in handy on those long, sweaty rides.
Media rack- the rack is positioned so you can read a book or magazine during your workout. You could also watch Netflix on your tablet (and charge it) if you prefer.
Assembly
Putting the R616 together is pretty straightforward.
The instructions they provide are easy to follow and the images do a great job of specifying which part goes where, and what hardware should be used.
The necessary screwdriver and Allen wrenches are provided, but it's always more comfortable to use your own screwdriver (I hate those tiny little screwdriver hybrids).
Overall, you don't have to be too handy to get this job done. The instructions are really easy to follow.
Most folks should have this thing unpacked and functional within an hour.
Warranty
The Nautilus R616 comes with the following home warranty:
10 year frame
3 year parts
1 year labor
All things considered, I think this warranty is fantastic, especially when compared to the warranties found on a lot of other affordable bikes.
Ten years on the frame is about 2x as long as most other decent budget bikes are offering.
And 3 years beats out the 1-2 years most offer on parts.
One year on labor is pretty standard for even elite bikes, but it certainly shouldn't be expected for bikes in this price range.
Overall, this is easily one of the best warranties you're gonna find on a bike in this price range.
Kudos Nautilus!
Final Thoughts
Ok, that about does it, time to wrap things up.
The Nautilus R616 is a budget-friendly recumbent bike that has a lot going for it: it's loaded with workout programs, is bluetooth compatible, and has a heavier-duty frame than most.
It also comes with a ton of resistance levels giving you complete control over your workouts.
The only real flaw I see is the light flywheel – but for the price range, even this isn't that bad.
So, to answer my original question- no, the R616 isn't the perfect recumbent bike (ps- I don't think there is a perfect exercise bike).
But it's pretty damn close.
Overall, when you consider the combination of specs, features, and price, I think the R616 is a great option. I actually think it's one of the best affordable recumbent bikes on the market. Highly recommended.