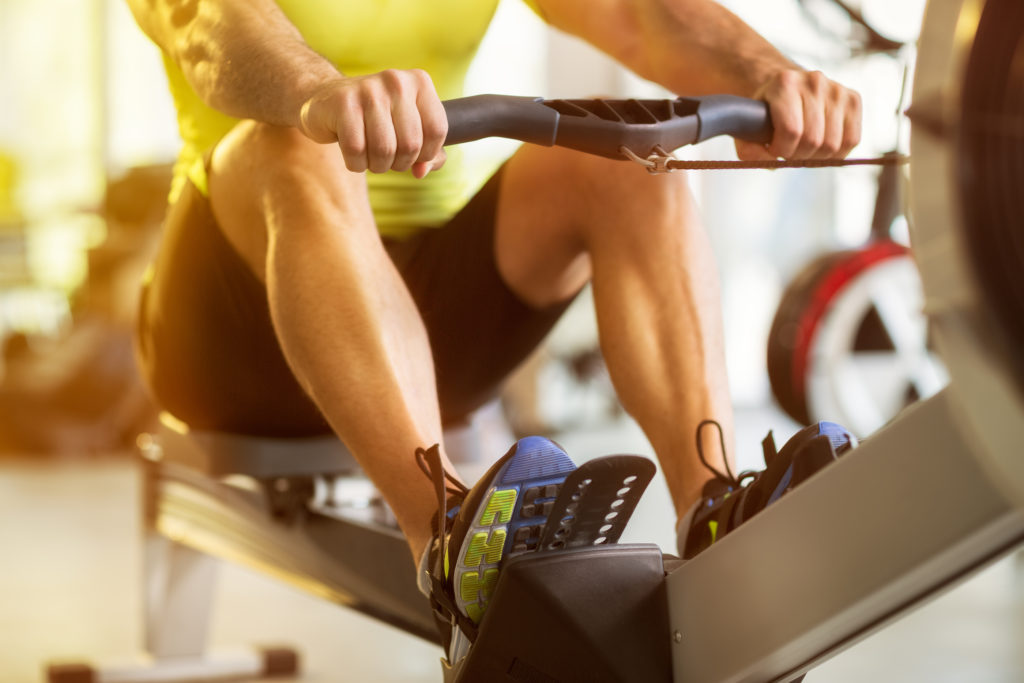 The RW7000 Commercial Rowing Machine is LifeSpan's most advanced rower, and as such, comes with a great combination of performance specs and features.
It's designed with the intention of being able to handle the toughest workout sessions and to be able to accommodate folks of every fitness level.
As a commercial-grade machine, the RW7000 certainly looks the part ― sleek, robust, and durable.
It certainly packs a punch with its 16 resistance levels powered by its hybrid resistance system that takes advantage of both air and magnetic systems. 
But it also comes with a sophisticated monitor that comes with several built-in workout programs and it's backed by a great warranty.
But is the RW7000 the right rower for your home gym? 
Well, that's what this review is here to help you figure out. Keep reading to learn everything ya need to know about this high-end rower.
The LifeSpan Fitness RW7000 Commercial Rowing Machine
LifeSpan is a reliable brand in the fitness industry and has been providing high-quality machines for the past 2 decades.
LifeSpan is known for using quality hardware, meeting international standards with its vast customer base. They're based in Utah, USA but they run their business spanning close to 30 countries across the globe.
They've become one of the market leaders and have built a reputation for bringing revolutionary fitness ideas to the table.
The brand has amazingly come up with creative fitness solutions (like in their treadmill desks and bike desks), leading people towards a healthier lifestyle. 
They have an impressive lineup of different machines such as treadmills, bikes, indoor cycles, ellipticals, and rowers, earning the recognition of being a powerhouse of performance offering incredible results.
Moreover, their units are user-friendly. You won't have a hard time operating their machines the first time. No fuss, all are straight-forward, from its assembly, use, and storage.
LifeSpan currently offers 2 rowers, the RW7000 that we're here to discuss and the less advanced RW1000.
We'll get to the nitty-gritty details of this machine in the following sections, but as a quick introduction, here's the RW7000 in a nutshell:
Pros
Hybrid resistance system (air + magnetic)

16 adjustable resistance levels

Quiet operation

Commercial-grade steel

350 lb max user weight capacity

Foldable frame

Aluminum monorail chain

19" contoured seat

Non-slip handles

Adjustable footrests

5.5" blue backlit display

Adjustable monitor

Great warranty
Cons
Resistance
When inspecting rowers, I'd like to start with the type of resistance that's being used. 
Rowing machines work by pulling the handle to make the flywheel spin. As it spins, resistance is created to give you a full-body, low-impact workout.
Now, generally speaking, there are 4 different types of resistance — magnetic, air, hydraulic piston, and water. 
Magnetic resistance is great for residential rowers because of its quiet operation. They also come in compact units, making them a wise choice for apartments or those space-savvy users.
Another perk of magnetic resistance is that it provides a constant intensity level regardless of how fast you row- this means you can row slowly and still have plenty of resistance to pull against (unlike air and water rowers).
With other resistance types, like water and air, you need to row harder to generate more resistance and get a good workout.
The RW7000 is a hybrid of both air and magnetic resistance systems, giving you the best of both worlds. 
So how does this combo work?
With the magnetic eddy current resistance, you get to set your base intensity level for slower speeds. No matter how fast your row, you're going to get at least this much resistance (this machine comes with 16 magnetic levels to choose from).
As you start rowing faster, the air system is going to kick in, which increases the resistance based on how fast you're rowing.
The air resistance gives you the natural feel of rowing on water, ready to offer you strong resistance at higher speeds.
The combination takes advantage of the perks of both systems- you get constant resistant at slower speeds, but can take advantage of the increased resistant when rowing faster (which more closely mimics rowing on water).
Users seem to agree that the RW7000 is more than capable of providing intense workouts.
They like how powerful this rower works while maintaining a whisper-quiet operation. You can easily fine-tune your resistance levels by rotating the button, manually increasing or decreasing when needed.
Overall, the RW7000 packs a punch by being a hybrid machine of both air and magnetic resistance systems. It's quiet and smooth, with its 16 resistance levels providing a tough task to users of all skill levels.
Frame
Considering the RW7000 is made with commercial-grade standards, we should expect heavy-duty components, but that isn't always the case.
To size up the frame integrity, you can try inspecting it visually, but looks can be deceiving. 
The ideal process is to give it a try if you can. If it's too flimsy or if it wobbles a lot during use, forget about it. You don't want to put your money into something that may harm you or won't last you for years.
But if you're shopping online or won't get the chance to give it a ride, the next best trick is to inspect its user weight capacity- this is the most objective way to measure frame integrity.
A really sturdy frame should have a higher weight limit- after all, it has to be stronger to accommodate the larger users. 
The RW7000 is built with commercial-grade steel, making it a robust machine that can hold users weighing up to 350 lb. 
This is pretty impressive for rowing machines and certainly high enough to hold most folks safely. There are plenty of rowers with higher capacities (like the Concept2 Model E for example), but this rower's limit is high enough to indicate quality craftsmanship.
The RW7000 has a dimension of 98.4" L x 24.7" W x 48" H, which means it takes up a fair amount of space during use (as most rowers do).
The good thing is, it's foldable for easy storage between workouts.
Its quick-release unlock mechanism helps in separating the rower into two pieces for adequate storage capacity. There are transport wheels available too.
Overall, I'm pleased with RW7000's robust frame. It can handle users of different sizes, and its foldability is awesome making it usable for smaller homes.
Seat & Handles
Most folks agree that the RW7000 has a comfortable seat. It's a contoured, U-shaped seat cushion that offers support and comfort for your spine. It has a height of 19″ that's easy to get on and off during use.
The handles are curved and non-slip, giving you a good grip even when your hands are sweating. 
It comes with a high-strength, aluminum chain monorail surface that delivers smooth, consistent strokes. The upside of an aluminum chain is that it requires minimal upkeep.
Now as we go down to our inspection, the RW7000 has adjustable footrests. You can personalize it to your desired fit, allowing you to flex and extend your ankles for better comfort and stability.
Overall, the RW7000 is designed to keep its users comfortable. Its ergonomic seat and handles are perfect to help reduce strain and discomfort during use.
Monitor
Rowers usually don't come with many hi-tech features that we often see in treadmills and bikes (the Hydrow excluded of course). But they do have monitors though, so you can see all your metrics as you workout.
Some rowers don't have screens, especially when they have a very straightforward operation. But at this price point, you can expect a rower to have a tiny screen monitor.
They're nothing fancy but do their job in keeping you updated with your stats. 
The monitor on this rower is just a blue backlit screen that can only show you important metrics like Goal Time, Total Time, Distance, Watts, Calories, HR Pulse, Race, and High-Intensity Interval Training (HIIT).
The good thing is though, it's very reader-friendly. With its 5.5" screen, you can vividly see your workout metrics and display modes while rowing.
It also has an adjustable angle feature, so you can tilt the monitor for better viewing.
When compared to other rowers, the RW7000 scores pretty highly in the monitor department. Not only does it come with several goal oriented workouts to choose from, but there's also a racing mode which can make working out a little more fun.
You can also view the power of your strokes via a bar chart or force curve, which might come in handy when trying to improve overall efficiency for more advanced rowers.
Overall, the RW7000 brags an easy-to-use console with a decent, high-contrast monitor to keep you updated on your workout progress. I like that it comes with built-in workouts and the stroke force curve is a cool feature.
Assembly
Putting this rower together should be a pretty straightforward process. There are only a few steps involved and LifeSpan does a great job with their written instructions and large, easy to see images.
Most folks should be able to get the job done within an hour (and many probably even within 30 min).
It might be nice to have a second person available to help just in case, but I think this process is doable for a single person.
It's interesting that this rower detaches at the rail, which is how you fold it for storage
Warranty
LifeSpan Fitness backs their RW7000 commercial rower with the following residential warranty:
Frame: Lifetime

Parts: 5 years

Labor: 2 years
This is an impressive warranty regardless of price range. It's always nice to see a lifetime guarantee on the frame, but you'd be surprised that there aren't that many companies offering lifetime warranties.
Five years is great on parts and 2 years is also very generous for labor.
LifeSpan also offers a commercial warranty on this rower (6 hr/day max usage): 10 year frame, 3 year parts, 1 year labor.
Overall, the RW7000 comes with a great warranty.
Final Thoughts
The LifeSpan RW7000 rower is a hybrid commercial rowing machine, giving you the best of both worlds with its magnetic/air resistance system. 
It's ready to power through your toughest workouts with its 16 resistance levels, and it comes with an ergonomic saddle and handles to help you achieve your longest training sessions.
Its robust frame, aluminum chain monorail, and awesome warranties make this commercial rower durable, allowing it to keep up with the whole family for years to come.
Overall, I think the RW7000 is a winner. It has a lot to offer when it comes to both performance specs and features. I also think it's fairly priced for everything you get. Recommended.