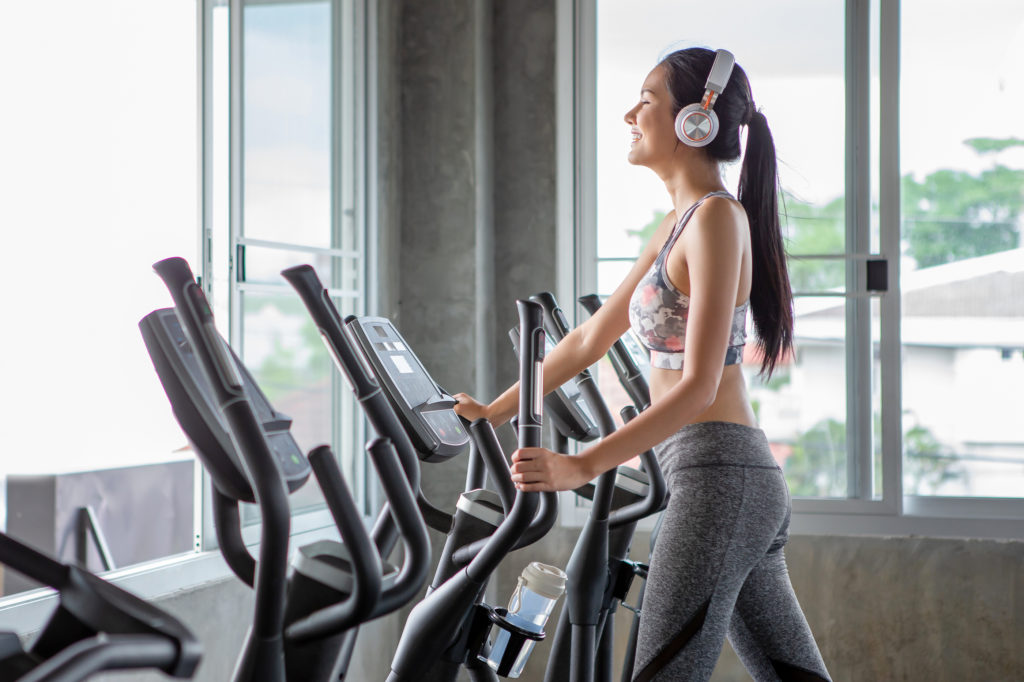 The E3i is LifeSpan's mid-range elliptical cross trainer and as such, it comes with a great features-to-price ratio. 
It's comes with some notable upgrades over the brands most affordable elliptical, the E2i. With improvements on the console, flywheel, and weight capacity, the E3i is the better option for all fitness enthusiasts.
Highlights of the E3i include a 34 lb flywheel, a 20″ stride length, 20 incline levels, 20 resistance levels, and 21 built-in workout programs.
If that wasn't enough, LifeSpan also backs this elliptical up with a fantastic warranty.
In other words, the E3i is a quality mid-range home elliptical with a lot to offer. That said, it's not perfect.
If you're looking for a new elliptical, this model could make sense, but before you decide to purchase, keep reading. In this review, we'll take a thorough look at everything the E3i does and doesn't have going for it.
After reading, you'll be able to make an educated decision as to whether or not this is the right choice for your home gym.
The LifeSpan Fitness E3i Elliptical Cross Trainer
Before we talk about the E3i, let's have a little background check on its proud manufacturer, LifeSpan Fitness.
LifeSpan Fitness is a provider of home fitness equipment. We're talking treadmills, cycle trainers, ellipticals, and much more.
After starting the business in the early 2000s, they've made a name for themselves by being one of the highest-quality, most budget-friendly options in the market.
LifeSpan Fitness isn't really a household name, they certainly don't have the brand recognition of Bowflex or NordicTrack.
But that doesn't mean Lifespan's machines can't stand toe-to-toe with these more well-known names.
Speaking of names, LifeSpan isn't to be confused with Life Fitness, the luxury commercial/residential brand. Unlike Life Fitness, Lifespan products are on the more affordable side.
In a nutshell, LifeSpan Fitness' machines look ordinary but boast some high-level performance specs. 
They have several award-winning machines, mostly on their treadmills. I've admired their inventive and revolutionary concepts, especially with their treadmill desks and cycle boxers as well.
Now going back to their E3i. This is their mid-range offering and will probably cost ya around $1500 depending on where you buy.
Pros
20″ stride length

34 lb flywheel

20 levels of magnetic resistance

20 levels of power ramp

21 built-in workout programs

Quiet and frictionless operation

CoreBalance technology

Pulse grip sensors

Wireless heart rate monitoring enabled

2 front-mounted transport wheels

375 lb weight capacity

Awesome warranty
Cons
No cooling fan

Using the tablet shelf can block the console display
Stride Length
I prioritize stride lengths when looking into elliptical trainers because they help me determine if the unit is comfortable to use or not.
For the newbies out there, the stride length measures how far your feet move front to back with the elliptical motion.
Size matters, and here's why:
If the stride length is too small for you, your exercises will most likely feel as if you're marching in place. If it's too long, you'll be off-balanced or feel stretched.
Either of these situations offers discomfort in your fitness routine, or worse, put your safety at risk.
Stride lengths are really something…personal. It's a matter of finding the best size that matches your height.
A 20" stride length is considered the gold standard for home models. This size can accommodate a wide spectrum of users with heights ranging from 5'3" to 6'0".
If you'll get an elliptical for the entire household, this is your safest option. 
For shorter users, stride lengths of 16" to 18" may suffice. 
The E3i has a 20" stride length, which is right where most users want it. A lot of people like how it feels more natural and comfortable to use. 
Cheaper ellipticals often come with smaller stride lengths in the 13" to 18" range. Not only are these uncomfortable to most users, but they're also usually flimsy and unstable. 
These are things you shouldn't worry about the E3i with its good stride size and heavy-duty frame. It's very robust with a max user weight limit of 375 lb.
The standard capacity for many home ellipticals is 300 lb. It's decent enough, but of course, higher numbers are better. 
With a sturdier frame, users of various sizes feel safer working out on the machine. It won't wobble or feel like it's on the verge of a breakdown during high-intensity training. 
The E3i comes with the dimensions of 80" (L) x 24" (W) x 69" (H). It's not the most compact unit in the market, but it can fit just about any home workout gym. 
If you're into compact machines, you might want to check out our guide on folding ellipticals.
Overall, the E3i meets my initial qualifications for a good elliptical trainer – a 20" stride length and a heavy-duty frame. Given its capacity to accommodate users of most heights and weights, this machine is meant to serve every household.
Flywheel
The next thing we should consider is the flywheel.
Flywheels are responsible for the resistance you're getting when using an elliptical trainer. As you pedal, you're spinning the flywheel and creating resistance.
Flywheels come in various weights, and you should look into the heavier ones. Heavier is better because the extra weight gives more momentum. It offers more resistance, which is important for a more effective workout.
Many home ellipticals have flywheels in the 14 to 18 lb range. Personally, I prefer ellipticals with flywheels of at least 20 lb. They often provide a good workout experience and tend to be a little smoother. 
The E3i packs a lot of muscles under the hood with its 34 lb flywheel and users are impressed with how smooth this heavy flywheel operates.
Heavy flywheels also tend to give more challenging routines. Makes sense, after all it should take more energy to get the heavier wheel rotating.
In terms of resistance, the E3i comes with 20 levels to choose from. It also comes with 20 levels of incline, giving you a lot of options in terms of your workout intensity.
Adjusting your resistance and incline level is very easy requiring only a press of the button. This convenience allows you to stay focused on your session with accurate results.
The E3i uses a Magnetic ECB (Eddy Current Brake) resistance. This technology is known for providing a frictionless and very quiet operation.
It's very reliable with little to no maintenance costs. It's the best kind of resistance for elliptical trainers, and you can find ECB on high-end machines. 
Overall, the E3i is admirably powerful, smooth, and quiet with its heavy flywheel. I also like that it comes with 20 resistance/incline levels, allowing it to challenge both amateur and pro trainees alike.
Features
There's no doubt that the E3i has top-notch quality and performance to keep your muscles engaged. But does it also offer impeccable features to keep you entertained? Let's find out:
7.5″ display: This large, blue backlit display shows your fitness meter like distance, time, date, speed ramp, and CoreBalance. You can also see your heart rate, calories burned per hour, and stride count per minute.
21 onboard workouts: These include 17 preset programs (for weight management, sports training, and healthy living), 2 heart rate programs, and 2 customized user programs.
CoreBalance technology: This is actually one of my favorite features of the E3i. LifeSpan Fitness uses its exclusive CoreBalance technology that allows the integrated footpad sensors to detect how much weight you're putting through each foot during pedaling. 
Having this is an advantage as it lets you avoid imbalances and helps you distribute your efforts more evenly. This results in a more balanced, stronger, and safer performance.
Grip pulse sensors: You can keep track of your heart rate by grasping the sensors found on the stationary handlebars. The E3i is also telemetric, meaning it allows wireless heart rate chest strap monitoring. 
Wireless is better than grip pulse sensors for convenience and accuracy, but you need to buy the chest strap separately. Nevertheless, it's cool that you get this alternative.
Bluetooth-enabled: You can transfer your workout data to your mobile devices wirelessly.
Built-in jack and speakers: Get that extra motivational boost by listening to your workout playlist. The speakers work with MP3 players and iPods.
USB port: Yes, you can charge your phones or tablets while exercising.
Tablet shelf: You can watch Netflix or multitask with your tablet while working out as the E3i has a tablet shelf placed in front of the console. Its downside, however, is that it'll cover all or some of the console window if you'll use your tablet. You won't be able to monitor your workout stats.
Easy transport: It also has 2 front-mounted wheels that help in the smooth and effective forward and backward movement. It's a generic feature in any machine for an excellent storage benefit.
Water bottle: Of course. Just to make sure you're well-hydrated all through your sessions.
Assembly
The E3i comes with a fairly involved assembly process, although it's not a terribly complicated one.
The package includes the pre-assembled frame, parts, accessories, basic tools, and the manual. LifeSpan Fitness provides a well-written and straightforward assembly guide that should help you get the job done as painlessly as possible.
In fact, most E3i owners didn't have any problem with putting up the machine. Even if you're not especially skilled, I'm positive that you can get it done in an hour or so.
Ellipticals aren't as huge and heavy as treadmills, but they may still be quite a challenge to move around all by yourself. So seek help if you can.
Having a companion makes the process easier and more fun (especially while watching TV, listening to music, or nibbling snacks).
Warranty
LifeSpan Fitness backs their E3i Elliptical Cross Trainer with the following warranty: 
Frame: Lifetime 

Parts: 5 Years

Labor: 2 Years
I'm always impressed with LifeSpan Fitness' warranty offerings. They're very generous, and that's because they place so much confidence in their products.
A lifetime warrant on the frame is what we expect from a quality product. Five years on parts is also quite generous, as is 2 years on labor (considering 1 year is pretty standard these days).
Overall, LifeSpan does a great job with their warranties. 
Final Thoughts
The E3i is a high-grade unit that has a lot to offer when it comes to performance specs and features.
Right off the bat, it comes with a heavy flywheel and a stride length most people should find comfortable (if you're over 6′, you should check out our guide on the best ellipticals for tall people).
The E3i also comes with a generous selection of workouts to choose from and plenty of resistance and incline levels to keep your routines interesting.
It's also backed by a great warranty.
The biggest downside I see is the lackluster console- it's not particularly sophisticated and the placement of the media holder could use some work.
Otherwise, I think the E3i is a pretty good buy.