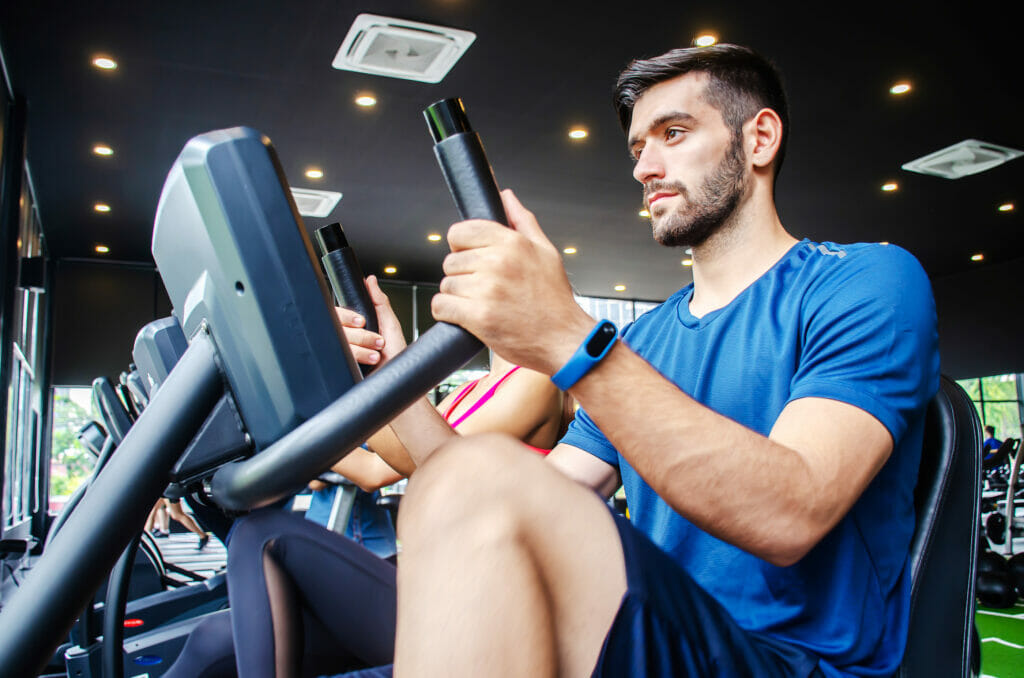 If you're looking for a comfortable, heavy-duty recumbent bike to add to your home gym, Life Fitness' RS3 Lifecycle might be a great fit.
With a robust frame, an upgraded seat, and a reclining back rest, the RS3 is about as comfortable as recumbent bikes come.
But it's also packing 20 levels of resistance and the option to choose between 2 consoles depending on your needs.
Throw in a generous warranty and you've got the makings for a home run.
But as they say, nothing in life is perfect –  the RS3 isn't cheap (and I've got a few issues with those consoles).
All things considered, if you're looking for an elite recumbent bike, I think the RS3 is a great choice, but before you buy you gotta do your homework.
And that's where I can help.
In this review, I'll go over everything this bike does and doesn't have going for it. After reading, you'll know whether or not it's worth the investment.
Let's begin.
The Life Fitness RS3 Lifecycle Recumbent Bike
Few brands have had the success that Life Fitness has had.
Most of us probably know them more as a commercial brand, but they're also one of the premiere home fitness brands in the world too.
They've got a generous lineup of cardio machines and home gyms to choose from these days and all of their equipment comes highly regarded.
Even their most expensive, highest end models (Platinum Club Series) are in high demand and regularly sell out.
When it comes to recumbent bikes, the RS3 is one of their more affordable models.
The RS3 is basically an upgraded version of their more affordable RS1. Then there's their higher-end Club Series + and Platinum Club Series models that'll cost ya a pretty penny.
By the way, I love that name, "Platinum Club Series" – it's they're sayin' "we're baller and we know it".
Anyway, the RS3 we're here to discuss now comes with a price tag of around $3k, give or take a little depending on which console you go with.
Which is pretty expensive for other home brands, but actually quite affordable for Life Fitness.
Pros
20 lb flywheel
20 levels of magnetic resistance
Belt drive
Self generating power
Heavy-duty frame
400 lb weight capacity
Comfortable seat
Adjustable backrest
Choice of consoles
Self-balancing pedals
Heart rate monitoring
Great warranty
Cons
Track Connect console too expensive
Resistance
Even though most of us are probably thinking more about the comfort factor a recumbent bike offers than performance, I still think it's a smart idea to always check out the resistance system first.
And that's because the resistance system is responsible for giving a bike it's "feel".
You know, how smooth (or not smooth) it feels while pedaling.
And even if you don't plan on throwing a ton of resistance on there, most of us still probably want a bike that offers a smooth pedaling motion.
When comparing bikes, I like to check out their flywheel weight because generally speaking, bikes with heavier flywheels tend to offer a smoother feel.
This rule isn't written in stone and the quality of the magnetic system certainly plays a part in it too.
That said, recumbent bikes aren't known for packing the massive flywheels that indoor cycles are known for (40 lb +).
In the world of recumbent bikes, anything 20 lb or higher is heavy in my book..
With this in mind, Life Fitness doesn't disclose the weight of the RS3's flywheel, but I reached out to them and found out that the flywheel on this recumbent weighs 20 lb.
This is the same size flywheel found on their RS1 as well, fyi.
At 20 lb, the flywheel on this bike isn't huge, but it's easily heavy enough to provide a smooth feel – and users overwhelmingly agree.
The RS3 also comes with 20 levels of magnetic resistance, giving you a fair amount of control over the intensity of your workouts.
By the way, having more resistance levels doesn't mean you get more overall resistance; it just means you can make smaller changes to that resistance between levels.
With 20 levels, you shouldn't feel like you're having to jump up or down too much with each adjustment.
Overall, the RS3 scores highly with a smooth acting pedal motion and plenty of resistance levels to work with.
Frame
One of the biggest things that separate commercial grade machines from the cheaper options is size and weight – commercial machines are bigger and weigh more.
This gives them that stable, secure feeling we all want in a fitness machine.
When comparing home models, I think it's a good idea to compare assembled weights and max weight limits because these specs give ya a good idea as to how heavy-duty you can expect your bike to be.
With an assembled weight of 154 lb, the RS3 is very heavy for a home recumbent bike.
For the sake of comparison, Schwinn's affordable 270 comes in at around 87 lb.
And Sole's LCR, one of the heaviest-duty recumbents around, only comes in at 145 lb.
With this much weight, you won't have to worry about the RS3 feeling rickety or lightweight. It's going to give you that secure, commercial grade feel.
The RS3 also comes with a max weight limit of 400 lb, which is another sign of how robust this thing really is.
With a length of 64″, this bike isn't the most compact recumbent out there, but it's pretty average.
Overall, I think the RS3's heaviness is one of its most redeeming features – this is what really gives it it's commercial feel.
Seat
Recumbent bikes are know for being the most comfortable style of exercise bike and it's their large seats and backrests that are to thank.
Even so, recumbent bikes vary a lot within themselves when it comes to comfort.
Most folks seem to find the seat on the RS3 to be quite comfortable though.
The seat is cushioned and contoured and the backrest comes with a little lumbar support built-in.
It's easy to adjust the height position for the seat along the rail, but you can also adjust the angle of the backrest – something few bikes offer.
This is a nice feature for people dealing with achy backs because it makes it more likely that you'll be able to find a comfortable riding position.
Overall, this upgraded seat is a great feature; it's also one of the biggest differences between the RS3 and the more affordable RS1.
Features
Speaking of features, let's take a look at the other features the RS3 has to offer:
Track Connect/Go Console- like most Life Fitness machines, with the RS3 you get to choose between the Track Connect and the simpler Go consoles. The biggest difference between these 2 consoles is that the Track Connect is bluetooth compatible and the Go console isn't. The Track Connect also comes with a few more workout programs and the ability to create more custom workouts, as well as a very small media shelf. The Go console comes with a fair amount of workout programs itself too though (12). Going with Track Connect console adds an additional $500 to the price of the RS3, which is really my only complaint with this bike – I think that's too expensive just to get bluetooth.
Self-balancing pedals- the pedals on the RS3 are weighted, so they always stay facing the right direction for easy foot placement.
Heart rate monitoring- there are built-in grip monitors in the side handles and the console is compatible with strap monitors as well.
Water bottle holder- there's a convenient place to keep your beverage within reach.
Assembly
Life Fitness requires white glove installation when purchasing some of their higher-end models, but this isn't the case with the RS3.
And if you do want to save a little cash and assemble yourself, the process should be very doable.
The main frame comes pre-assembled, so you won't have to mess with anything under the hood.
You'll be responsible for attaching the stabilizers, the seat, the console mast, the console, and the pedals.
The trickiest part is probably making sure you don't pinch any of the cables when connecting the seat or console.
Overall though, the assembly process is pretty straightforward, so the folks out there that are at least a little handy shouldn't have any issues.
Just keep in mind this is a heavy bike, so not a bad idea to have a second person around.
Warranty
Life Fitness backs their RS3 Lifecycle Recumbent Bike with the following residential warranty:
Lifetime frame
5 year parts
3 year console
1 year labor
Ok, so a pretty awesome warranty here.
I'd expect to see a lifetime frame warranty on a bike of this caliber, but you never know.
Five years is also pretty generous for parts – few brands offer more, although Spirit does offer 10 year parts guarantees on many of their models.
A year on labor is pretty standard regardless of price range.
Overall, I think Life Fitness offers a great warranty on the RS3.
Final Thoughts
Ok, that about does it for the RS3.
I like this recumbent bike and I think it has a lot to offer – especially for the folks out there looking for a nicer bike that'll last.
The biggest perks I see are the heavy-duty frame and the comfortable seat, both of which help give the RS3 that commercial grade feel.
I also like that it's backed by a great warranty.
My only complaint is that I don't particularly like the consoles – this day in age, everything comes with bluetooth, so I don't see having to pay extra for it.
But at least having that option gives folks the ability to opt out and save a little money I guess.
Speaking of money, I think the RS3 is priced fairly at around $3k, especially considering how heavy-duty it is.
And the fact that it's a Life Fitness bike.
All things considered, if you're looking for a high-end recumbent that's comfortable and easy to use, I think the RS3 is a very smart choice.