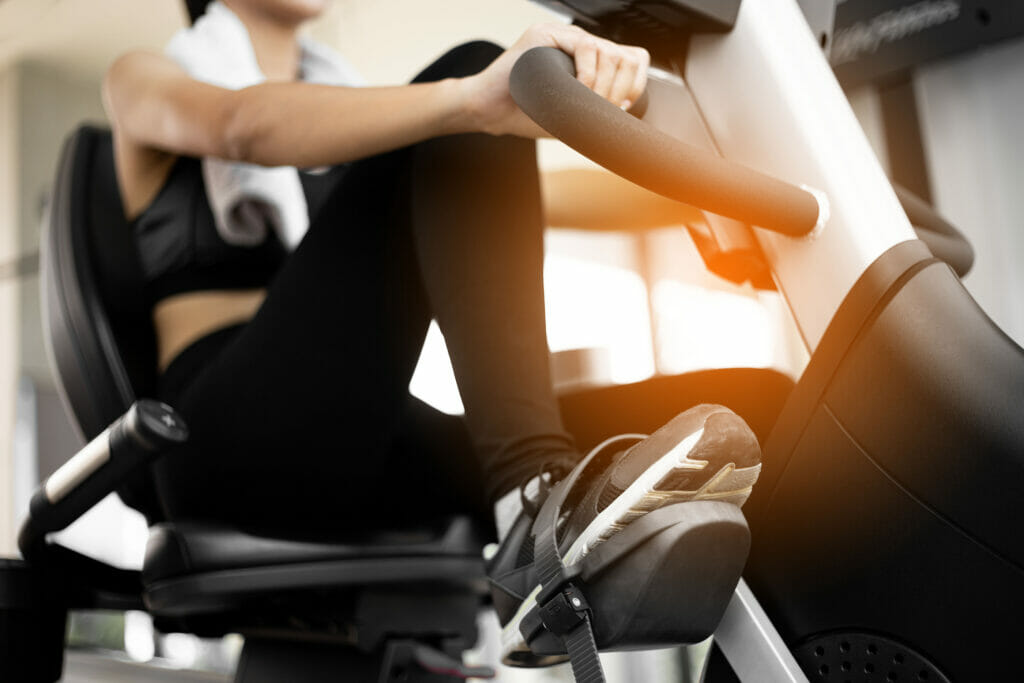 The RS1 is Life Fitness' most affordable recumbent bike to date, but this is Life Fitness we're talking about, so of course it's high-end from top to bottom.
Highlights of his entry-level recumbent bike include 20 resistance levels, self-balancing pedals, and a heavy-duty, ergonomically designed frame for easy access.
And like most Life Fitness machines, you can choose between 2 different consoles depending on your needs.
Life Fitness also backs the RS1 up with a generous home warranty for added peace of mind.
All things considered, I think the RS1 is a very nice recumbent bike and a good option for folks looking for an easy-to-use, dependable cycle.
But before you buy, you gotta be smart and do your homework.
And I'm here to help.
In this review, I'll cover everything the RS1 LifeCycle has to offer, including specs, features, warranties, and pretty much anything else you can think of.
After reading, you'll know whether or not this is the right recumbent bike for your home gym.
The Life Fitness RS1 Lifecycle Recumbent Bike
Life Fitness has a reputation most fitness brands can only dream of.
A lot of folks, myself included, consider them to be one of the best fitness brands in the world and they earned this reputation through years of providing quality products to very happy customers.
And even though they're known mostly as a commercial brand, they have a rather large selection of residential machines to choose from too.
And yes, Life Fitness is certainly what I'd consider a luxury brand – they're machines tend to be expensive.
But they offer more affordable models too, like the RS1.
Of course, the term "affordable" is relative here.
With a starting price of around $2200, the RS1 is affordable for a Life Fitness bike, but it's about as expensive as most brands' top tier models.
But, you know what they say: you get what you pay for
Pros
Heavy-duty frame
Step-thru frame design
20 lb flywheel
20 levels of magnetic resistance
Comfortable seat
300 lb weight capacity
Choice of 2 consoles
Plenty of built-in workout programs
User profiles
Self-balancing pedals
Heart rate monitoring
Great warranty
Life Fitness has great reputation
Cons
Track Connect console too expensive
Resistance
I realize that the RS1 is a recumbent bike, so thinking about it's resistance system might not be the first thing on your mind, but it's still a good idea to consider it because a bike's resistance system is largely responsible for the feel of the pedal motion.
We all want a bike that feels smooth to pedal, regardless of how much resistance we're working against.
Most home bikes are designed with a weighted flywheel system, where having a heavier flywheel is beneficial because it provides a smoother feel.
That said, Life Fitness doesn't share the weight of the flywheel on the RS1, but with a little digging (reaching out to Life Fitness), I was able to find that the flywheel on the RS1 weighs in at 20 lb.
This isn't the heaviest flywheel in the world, but it's still plenty of weight to create a smooth pedal motion – especially when combined with Life Fitness' magnetic resistance.
This bike comes with 20 resistance levels to work with, giving you a fair amount of control over the intensity of your workouts.
Having more resistance levels doesn't mean more resistance, it just means you can make smaller changes between resistance levels.
Plenty of recumbent bikes offer more than 20 resistance levels (Sole's LCR comes with 40 levels), which isn't necessarily a big deal.
It all just depends on what you're looking for.
Overall though, the RS1 comes with a heavy flywheel and plenty of magnetic resistance levels to work with. And users seem to be very happy with the pedaling motion and feel of the resistance.
Frame
As a recumbent bike, the RS1 is designed with the horizontal alignment we should expect.
This is what makes recumbent bikes more comfortable and easier on the joints than other upright bikes.
Anyway, I always like to look at assembled weights and weight capacities when comparing bikes because these numbers give ya an idea as to how heavy-duty and stable the bike should feel.
And if you ask me, heavier is always better.
The RS1 comes with an assembled weight of 133 lb, which is easily heavy enough to offer a stable ride.
It's also in the same ballpark as some of the other top recumbent bikes (Sole's LCR weighs 145 lb and Spirit's XBR95 weighs 147 lb).
Although to be fair, both of those bikes pack really heavy flywheels that contribute to those high weights and I have a feeling the RS1 isn't packing a huge flywheel.
Regardless, the frame is quite substantial and you shouldn't have to worry about it feeling cheap or lightweight.
The RS1 also comes with a max weight capacity of 300 lb, which is high enough to accommodate most folks, but it's a little lower than I'd expect for a bike in this price range.
Most other elite recumbents come with weight capacities in the 350 – 400 lb range (300 lb is pretty average).
The step-thru design of the frame makes it very easy to access the seat from either direction, which is great.
With a length of 66.5″, the RS1 is a good 10″ or so longer than the Sole and Spirit models just mentioned.
If space is limited, this might be an issue, but if not the extra length is probably a good thing because it'll make for a more spacious feel.
Overall, the RS1 comes with a sleek looking heavy-duty frame that's easy to access. The weight capacity could be higher, but it's still high enough to safely hold most users.
Seat
Recumbent bikes are popular for their larger, more comfortable seats and the fact that they come with backrests can be a game changer for folks dealing with achy backs.
The seat on the RS1 is pretty standard all around.
It's cushioned, but nothing fancy and the backrest rests in a standard reclined position.
The seat can be adjusted to 13 different positions, allowing people of most heights to be able to find a comfortable position.
Some recumbents come with an adjustable angle backrest, however the RS1 does not (this feature is pretty rare to be fair).
Overall, there's nothing too special going on in the seat department, but users seem to overwhelmingly agree that the RS1 is very comfortable to sit on and use.
Features
The Life Fitness RS1 Lifecycle Recumbent Bike comes with the following features:
Track Connect/Go Consoles- like most Life Fitness machines, you get to choose between the higher-end Track Connect and the more basic Go consoles. The Track Connect comes with a few more workout programs and a little media shelf, but the biggest difference is that it's bluetooth compatible with fitness apps (and the Go console isn't). Opting for the Track Connect console adds about $500 to the price, which I think is kinda ridiculous, but more on that later.
Workout programs- depending on which console you go with, you'll get 12 – 16 built-in workout programs to choose from, as well as several customer workouts to create. Regardless of which console you go with, you'll have access to plenty of workouts.
Heart rate monitoring- there are built-in grip monitors in the side handles and the Track Connect console is compatible with bluetooth strap monitors as well.
Self-balancing pedals- the pedals are weighted, so that they're always facing the right direction for putting your feet in them. A small feature, but a convenient one.
Water bottle holder- there's a small water bottle holder on the side, giving you somewhere to put your beverage of choice.
Assembly
If you decide to purchase the RS1, assembly shouldn't be too daunting a task, although the manual I got my hands on could've used a little work.
The images are fairly large, but it would be nice if the parts were identified a little better for each step.
Even so, the actual process isn't too complicated.
Like most recumbents, you're really just bolting stuff to the main frame.
You'll have to attach the stabilizers, the seat, the console mast, the console itself, and the pedals.
You also have to attach the seat adjustment mechanism separately as well.
The trickiest part will likely being sure not to pinch the cables in the seat attachment (for the contact heart rate monitors) or in the console.
Overall though, I think most folks who are at least a little handy should be able to self-assemble without too much heartache.
Warranty
Life Fitness backs their RS1 Lifecycle Recumbent Bike with the following warranty:
Lifetime frame
5 year parts
3 year console
1 year labor
Ok, I'm happy with this warranty.
Lifetime is what I'd expect for a frame in this price range, although some luxury brands do disappoint.
And 5 years on parts is also good for this price range, matching what most other top brands offer (although Spirit does have 'em beat with their 10 year parts warranties).
A year on labor is pretty standard for any price range, so no complaints there.
Overall, I think this is a great warranty for this recumbent bike.
Final Thoughts
Well, that about does it for the RS1.
In terms of performance, I think the RS1 has a lot to offer and it holds up pretty well against the other lead competitors in this price range.
The comfortable seat and 20 levels of resistance are certainly crowd pleasers.
And with a 20 lb flywheel the pedal motion should feel very smooth.
Otherwise, the frame is heavy-duty and comfortable to use and this bike is backed by a great warranty.
My only beef with this bike is that I think it's silly that Life Fitness thinks the upgraded console is worth an extra $500.
I mean, most bikes come standard with bluetooth anyway these days…an extra $500??? Personally, I think the RS1 is a pretty good buy at $2200, but I'm not so sure for $2700…
Overpriced consoles aside, I think the RS1 is a very impressive entry-level recumbent bike and let's be real- having the Life Fitness name behind it goes a long way.
Folks looking to access Life Fitness luxury at a more affordable price will likely be happy with this one.