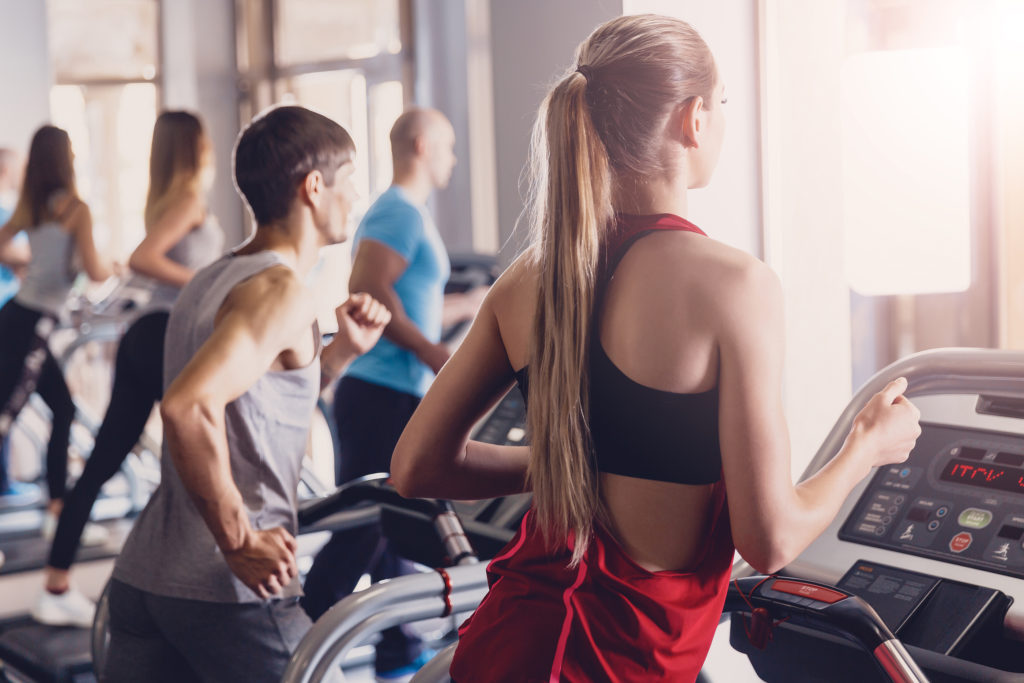 Sole's new and improved TT9 is their most advanced treadmill to date- and that's saying a lot considering how many impressive models they offer in their full lineup.
The TT9 comes with the same high quality construction and awesome warranty we've come to expect from Sole, but they did add one surprise you may not expect- a DC motor.
We'll discuss this more down below, but you rarely seen DC motors on home treadmills because they're usually reserved for commercial machines.
Its massive size and 10″ touchscreen display also set the TT9 apart from the rest of the treadmills in Sole's lineup.
Long-story-short: this is Sole's highest-end, most durable treadmill. It could fit nicely into any light-commercial setting without missing a step.
But is it too much treadmill for the home setting?
Well, that's what this review is here to help you decide. In this article, we'll take a close look at everything the TT9 has to offer, including its drawbacks. After reading this, you'll know whether or not this is the right treadmill for ya.
Sole TT9 Treadmill
Sole is a well known provided of home fitness equipment and their treadmills have become especially popular because they tend to work great and last longer than a lot of the competition.
It's no secret that Sole is one of my personal favorites. I celebrate pretty much everything the come out with.
For me, it's the warranty department that gives them an instant advantage. Simply put, Sole offers better warranties than most brands.
And I'm a sucker for a long warranty.
The TT9 comes with a great home warranty, but is also qualified for light commercial use.
This is Sole's most expensive treadmill to date and will cost you roughly $3500 to purchase. This is a substantial investment, and depending on your needs, may be a lot more than you need to spend to meet your goals.
But when compared to other commercial grade treadmills that can cost ya $6000-$7000 without blinking an eye, it's pretty well priced.
Pros
22″ x 60″ running surface
3.0 CHP AC motor
Cushion Flex Whisper Deck technology
450 lb weight capacity
0.5 – 12 mph
15 levels of incline
6 levels of decline
3″ rollers
Extra thick, commercial grade belt
10″ touchscreen display
Bluetooth compatibility
USB charging port
Chest strap compatible
Cons
Large treadmill
Doesn't fold
Running Surface
When looking at any treadmill, I always start at the the running surface. The running surface is how much usable space you have on the belt and is measured in inches (width x length).
As you might guess, larger is better.
And that's because no one ever complained about a treadmill being "too spacious". Small treadmills on the other hand, can significantly reduce your comfort level.
If a treadmill is too short, you may have to shorten your stride, especially if you're a taller person and you're running. Almost as annoying, is when a treadmill is too narrow- it makes you feel like you're running on a balance beam.
Most quality home treadmills come with a running surface of 20″ x 60″. At this size, most folks should be able to walk or run comfortably without running out of space.
The TT9 comes with a running surface of 22″ x 60″.
The extra-wide belt is going to feel even more spacious, giving the feel of a treadmill you'd find at your local gym. The extra width gives you plenty of wiggle room, which is nice if you tend to sway a little side to side during your workouts.
And at 60″ long, this treadmill has plenty of length for the taller users to stretch out fully during sprints.
The deck isn't all brawn either, it's got some brains too. The TT9 has Sole's patented Cushion Flex Whisper Deck to keep your workouts quiet and comfortable.
This shock absorbing system is capable of reducing the strain through your legs by up to 40% (according to Sole). I'm not sure how they come up with their numbers, but Sole treadmills are comfortable.
A lot of local sporting goods stores have them displayed and you can try them out for size. I have a Dick's Sporting Goods near me and they always carry Sole treadmills.
Anyway, the deck is designed to reduce the impact you feel during your workouts. The deck is also built for strength- the TT9 is capable of holding users who weigh up to 450 lb.
This weight capacity is truly commercial grade. Most home treadmills, even high-end ones, usually tap out around 400 lb. At 450 lb, the TT9 can safely accommodate larger users as well.
Overall, the TT9 scores very highly with its spacious running surface, its Cushion Flex shock absorption system, and its high weight capacity.
Motor
Ok, now to the motor. I hinted in the intro that this treadmill offers something a little different in the motor department. Well, now we get to dive into that in a lot more detail.
Most home treadmills come with DC motors. Most commercial treadmills come with AC motors. I'm not an electrical engineer, but I've done some research to try and figure out the difference between these motors.
Basically, DC (direct current) motors are used in home treadmills because they are cheaper and use less electricity. They also tend to be a little quieter.
AC (alternating current) motors require more electricity to run, but run cooler and last longer. This is why they're used in commercial settings where multiple users are using them for hours and hours a day.
AC motors also usually come with lower horsepower ratings because they work more efficiently than their DC counterparts.
For example- a 3.0 CHP AC motor might provide the same quality workout that a 4.0 CHP DC motor might provide, but it's kinda hard to say.
What we do know, is that AC motors are a more advanced motor technology for treadmills and that they hold up better to extended use.
That said, the Sole TT9 comes with a 3.0 CHP AC motor that is capable of reaching a max speed of 12 mph. It also comes with 15 levels of incline and 6 levels of decline.
Not many treadmills come with decline levels, but it's actually pretty handy for people who like to mimic the feel of running (or walking) outside. Comes in handy when training for a race.
To go along with the advanced motor, Sole threw on their thickest belt to date. Their commercial grade belt has 4 layers for added durability and comfort. It's also self-lubricating, so that's one little maintenance task you don't have to worry about.
Sole also uses 3″ rollers on this treadmill. The rollers are the part that makes contact with the belt and propels it along the deck. Larger rollers are preferred because they offer a smoother feel as well as prolong the life of both the belt.
Many home treadmills use 2 – 2.5″ rollers. At 3″, Sole has a lot of the other brands beat.
Overall, the TT9 scores very highly with an efficient AC motor that can handle hours of daily use without over heating or breaking down. The extra-thick belt and larger rollers are nice touches as well.
Features
The Sole TT9 comes with the following features:
10″ LCD touchscreen- Sole isn't known for their tech, but the TT9 comes with a large, 10″ touchscreen display that makes it easy to select your workouts as well as see all your stats. Their new touchscreen can even connect to the internet, giving you the ability to surf the web or check emails.
Bluetooth compatibility- if you like tracking workout data, you can easily connect the TT9 to Sole's free workout app or one of your other favorites via bluetooth.
10 workout programs- this treadmill comes loaded with 10 standard workout programs as well as 2 custom workouts. It also gives you the ability to save settings for 2 different user profiles.
Built-in speakers- you can easily connect your mp3 player of smart phone up to the built-in speakers and listen to your favorite music right through the console.
USB charging port- the built-in charging port ensure you don't kill your battery while listening to your workout music.
Chest strap compatible- the TT9 is compatible with chest strap heart rate monitors, but one isn't included.
Cooling fan- nothing too crazy here, but the built-in fan will keep ya more comfortable during those more intense workouts.
Assembly
I think Sole does a pretty good job with their assembly manuals. They provide a to-scale image of all the hardware for each step before you dive into the assembly, which I think is really helpful.
There are only 4 steps to get the job done here, but the images could be a little bigger. There's a lot going on in some of these images.
All of the hardware for each step is labeled, so you can easily reference back to ensure you're using the right piece.
Overall, the assembly is pretty straightforward, but due to the size and weight of this treadmill it's recommended you have at least 2 people to get the job done.
And by size and weight, I mean this machine weighs 400 lb. This treadmill is huge and doesn't fold, so make sure you have enough room for it (and enough people to move it to wherever it's going to end up).
If you don't have any help for moving or are worried about assembly, you might want to pay extra for the professional assembly.
Warranty
The Sole TT9 comes with the following warranties:
Lifetime frame
Lifetime motor
Lifetime deck
6 year electronics
3 year labor
This is the residential warranty it comes with. I told ya Sole doesn't mess around when it comes to warranties. I think this guarantee is top notch all around.
You can't beat lifetime on the frame, motor, and deck. Six years on electronics is pretty awesome too. Three years on labor is unheard of. No seriously, I'm not sure I've ever seen a labor warranty that long before. Most stop at 1 year on labor.
The TT9 also comes with a light-commercial warranty:
Lifetime frame
5 year motor
5 year deck
3 year electronics
1 year labor
Final Thoughts
I've learned to expect a lot from Sole treadmills. It's their fault really- if they didn't provide such great products I wouldn't have such high expectations.
Well, high expectations or not, the TT9 doesn't disappoint. I love how unapologetically big and tough this treadmill is. It's built like a tank and knows it.
The spacious running surface allows even taller runners to stretch out comfortably and the powerful AC motor will be able to keep up without crapping out.
The extra thick belt and large rollers also add to overall comfort.
In terms of tech, the TT9 is by far Sole's most advanced machine. The tech department is where most Sole treadmills fall a little short, but with its large, touchscreen display, it seems the TT9 has decidedly solved this issue.
And when it comes to the warranty, there's very little room for improvement.
When you put all this together, it's pretty easy to say that the TT9 is the full package. There's really no denying that this is a great treadmill anyway you look at it. Easily one of the best treadmills on the market.
But is it the right treadmill for you? That's a tougher one.
Well, maybe it's not that tough. If you have the room and are looking for a commercial grade experience, the TT9 is a smart choice.
It's also a good choice if you have multiple users in your household who plan on using the treadmill regularly. The TT9 is designed for light commercial use and that AC motor is well-equipped to handle hours of daily use without missing a step.
If you're a more casual user just looking for a nice treadmill to use walk or jog on a few times a week, you can save yourself a lot of money and go with a more affordable option. If interested, check out my budget treadmill guide for some great ideas.
Overall though, the Sole TT9 is a top of the line luxury treadmill with a ton to offer. If you're looking for commercial grade in the comfort of your home, it's a smart buy.